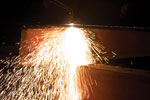 The pros and cons of local manufacturing
September 2009, News
What is happening in the local security manufacturing market? Listening to the varied news reports one can be forgiven for thinking the recession is forever, or that it ends at the end of every quarter, or anything between those two extremes. Hi-Tech Security Solutions decided to find out the state of the local security manufacturing market for ourselves and find out some of the challenges they face by inviting a few manufacturers to join us for a round-table discussion.
At the round-table we discussed some of the challenges facing the industry and some of the benefits of being a South African manufacturer. Globalisation can be a benefit as local products can be sold around the world, but it can also be a problem as cheaper goods flood the market. So what is happening out there in the real world?
The first question to ask these days has to be about the recession. The manufacturers around the table sell goods locally and internationally, and would be affected in different ways by the economic slowdown.
Centurion Systems' Ian Rozinsky says that while the recession in South Africa was not as severe as in other parts of the world, it did have an impact on Centurion. "We certainly saw the recession hit us, but we felt it later than we anticipated. There was a definite lag between what was going on globally and what happened here.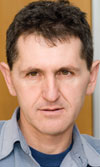 Ian Rozinsky
"Also, it did not hit us to the extent that we expected it might, which is good news, but we are still a bit concerned that in the coming months we might again see a late effect coming through."
Rozinsky says there definitely was a slowdown locally, as well as a noticeable slowdown in a number of export markets.
Centurion's marketing manager, Adam Butchart echoes this sentiment, noting that most of Centurion's sales are still local. The overseas market is beckoning however, as he notes that IFSEC Securex SA brought a surprising number of enquiries and visitors from outside the borders, especially from the rest of Africa.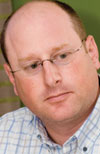 Adam Butchart
RDC's Brent Andreka noted that RDC is "treating the recession as an opportunity rather than anything else. Obviously we have been impacted and have seen a definite shift from customers buying new equipment to upgrading and maintaining their current implementations. We have had to scale up our service resources to ensure we are able to meet the demands for maintenance and upgrading."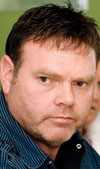 Brent Andreka
Another feather in Africa's cap comes from Alastair McPhail, business development manager for Impro Technologies. He says Impro's African markets have remained steady throughout and not taken the knocks other countries have. "We have large distributors in the UK and in the US. The UK markets have especially taken a massive knock and the impact of the recession is far greater than we are feeling down here.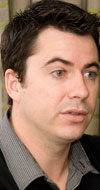 Alistair McPhail
"At Securex we had such a positive response from the likes of the Ivory Coast and Zimbabwe," says McPhail. "There were quite a few African officials and security managers coming through. The follow up work we have done with them has been quite positive and I hope the great projects they are talking about come to fruition.
The South African market has not done too badly for Impro and McPhail is hoping they have come through the worst and they are looking forward to the second half of the year with a positive outlook. He notes that it is too early to say for certain that things are looking up, but many government projects that were shelved due to budget restrictions are again being taken out of mothballs, which is a good sign.
The other side
Of course, it cannot all be good news. Butchart says the downturn has impacted the smaller players in the local security market more severely. "There are small guys copying the innovations we do, operating with no research and development (R&D) budgets and, as a result, living on much lower margins and they are definitely hurting as they have no way to tide them over the lean times."
Despite the optimism over Africa, the recession may yet deliver a blow to the continent. Nemtek's Ray Wilsenach is one who believes the recession may still hit the continent. "South Africa was late in following the rest of the world and Africa is following us. I have seen it in some of their budgets going forward, their projections show it will definitely affect the continent. This is the time for us to clean up our act, baton down the hatches and tighten our processes as we wait for the rebound."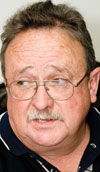 Ray Wilsenach
South Africa is likely to be an important part of growth in Africa over the years as the people in the country have a better understanding of Africa than those from the EU or US, according to Keith Vieira of FSK Electronics. He continues that even though they can possibly get the technology from abroad, the European mannerism and way of dealing and doing things, for example, is very different to what we do in South Africa. It is an opportunity the country's businesses cannot afford to miss.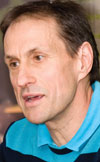 Keith Vieira
IFSEC Securex SA
Since most of the attendees were exhibiting at South Africa's premier security exhibition this year, the question of what their thoughts were of the show had to be asked. This topic opened a can of worms as many companies were unhappy with the show, but felt they were compelled to be there because their competitors were there, while their competitors felt compelled because they were there. Not all were negative, however.
Butchart confirms that the enquiries Centurion had from Africa at the show were more than double he was expecting resulting in an overall positive view of the event. However, Vieira notes that he found the opposite to be true. "I found that the level of people coming through was much lower," Vieira says. "I had lots of people coming through, but the amount of sales was much less than normal." He adds that this was his personal experience, acknowledging the impact of the recession as well.
The general agreement is that despite some positives, Securex has lost its flavour and is more suited as a retail show than a trade exhibition. The fact that Securex is now owned by the same company running the IFSEC show in Birmingham was acknowledged, but Wilsenach says the organisation in Birmingham is day and night compared to the local event. Nemtek has exhibited at IFSEC UK for the last three years and has already booked a fourth year, he is uncertain about IFSEC Securex.
RDC's Lee-Ann Andreka expressed her irritation with the show by noting, "we feel more that we have to be there rather than want to be there, to be seen whereas we could be spending that marketing spend on something a lot more effective in terms of generating leads."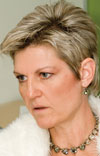 Lee-Ann Andreka
At the same time McPhail says there were mixed positive and negative feelings at Impro. There were many visitors, more from the rest of Africa than ever before, but he would have liked to have seen more high-quality visitors pulled into the exhibition.
Getting things done right
A long-time complaint of many leading manufacturers the world over is the ability for some companies to avoid doing any R&D, simply copying the industry-leaders at reduced margins – as noted above by Butchart. This, says Wilsenach, is simply a fact of doing business, "there are always leaders and followers."
Rozinsky admits it is a problem for companies that spend a fair amount on R&D, but says the reality is simply that these firms need to find other, better ways to compete. "We have to differentiate ourselves in terms of service and quality. Copycats are simply a reality that we have to live with."
Brent Andreka also admits this poses a dilemma "because RDC has always been quite insistent on doing things properly and so you have to spend a bit more money and time which the smaller companies do not want to do and do not have."
This problem can be incorporated into the larger issue of standards and training. Although there are almost endless industry authorities and bodies in the country, they are generally toothless and unable to enforce standard practices and certifications with any consistency. The few bodies with bite are the exceptions proving the rule of chaos.
The reality is that standards and training cost money and it is only the larger companies that can demand certain skills or certifications from their clients. Those companies exporting to the EU or US have no choice but to manufacture to specific standards, high standards, which, while adding to their costs, also adds to the quality of the final product they deliver.
While not an optimal situation, this scenario does provide opportunities for some in terms of training. If one's installers and integrators are well trained, they can deliver a better result to the end user, supporting the company's brand. Unfortunately, once again, while some areas of the industry have training bodies and certification authorities, these are limited in their power and scope.
The problem is also one of an uneducated end user. Users do not know to ask for specific standards or to insist on installers that are certified, opening the door to under-qualified and unscrupulous service providers. Buying on price is a common practice that results in endless loops of repair maintenance and upgrade, often involving the manufacturers who are not responsible for the installation. Most complaints about poor products are in fact directly related to poor installation.
This is an issue manufacturers have had to deal with for years and will deal with for years to come. Lee-Ann Andreka notes that industry change is difficult as many companies like the status quo and are loathe to have to pay to improve processes, certify staff or meet standards.
Foreign competition
The question of quality is not merely one to highlight the quality issues of certain companies. We have all heard or even commented on the poor quality products produced in China and then retailed here for less than local companies can manufacture them for. In the past, the Chinese goods have all been cheap and nasty products, but this is changing.
Rozinsky says the image of cheap and poor quality Chinese products is largely outdated. "We have certainly seen some really top notch stuff coming out of China lately. It is quite scary at the end of the day. We have brought in units to have a look at which we could not even buy the steel in those products for the price that we are buying it. So there are some interesting things going on there. I think they are a very real threat we will have to deal with in the near future."
"There is no doubt the Chinese are going to come up to our standards here," adds MAMI's Gianni Comoretto. "If you think 20 or more years ago Japanese goods were viewed as rubbish. Then look at what Japan became. Taiwan and Korea are other examples of quality products – and China is 100 times bigger than any of those economies. You can imagine where they are going to go. Their determination is to produce good stuff and they want to get into the international market."
Gianni Comoretto
In response to the Chinese threat, one of the manufacturers admitted his company had looked at making their products offshore. The reality is the company could get the same product at the same quality at a 30% discount. Manufacturers are living in interesting times.
"We have investigated it [offshore manufacturing] because times are tight now and we need to improve our efficiencies if we want to remain competitive," said one of the participants. "We certainly do not want to do it, but circumstances could force our hand.
"One of the big problems we have right now is that our labour costs are incredibly high, as we all know. We have constantly educated our work force about the threats out there, about the need for higher efficiencies and yet we do not get the response that we would like to see. We have got a major social responsibility to our people, their families and the country and at the end of the day, we will do everything we can not to do that [offshore], but the reality is ultimately, if you are going to go out of business, what are your alternatives?"
Another market mentioned in the debate, one that most people are somewhat aware of, is India. This country is also quietly gearing up to become an even more influential global player and cannot be ignored.
The skills question
Skills is always another area of contentious debate in South Africa, no less so in the manufacturing field. On the one hand, some companies manage to find top-notch skills, while others have had to come to the realisation that good qualifications mean nothing and the business has to invest in the people to get them up to speed over a number of years. As always, the threat of headhunters searching for qualified people always comes up, with a mention of the very high salaries luring people away just as they start delivering value. This does no company any good.
McPhail notes, however, that Impro's mentorship programmes have seen incredible skills emerge along with a core of people who have been with the company for nearly two decades.
Apart from the questions on the lack of traditional engineering or IT skills, Comoretto takes issue with the learning institutions in the country because they do not focus on quality control, which is crucial in any manufacturing process, and perhaps specifically in the electronics game.
Centurion echoes this thought and has implemented strict automated quality control processes that each piece of equipment it sells must pass before it moves out the door.
Despite the issues, including labour unrest problems that local security manufacturers have to deal with, the best products in South Africa can and do compete with the best in the world. In many cases, local products are far more rugged and reliable because of the conditions they need to handle in this country.
Sadly, the rest of the world sees South Africa and Africa as 'a bunch of wood carvers' and many companies have to set up different companies on foreign shores, avoiding all mention of South Africa in their products and manuals.
Outlook
Despite the numerous challenges facing local manufacturers, when looking into their crystal balls and talking about what they expect from the market over the next few years, expectations were generally positive although still cautious.
"From my perspective, the next one to three years will still see some recessionary impact, but as with all recessions we will come out of it and I think Centurion will come out of it a bit cleaner, more efficient and stronger," says Rozinsky. "I think there is going to be greater opportunity on the other side if we are able to prepare ourselves to take advantage of it.
"Centurion is looking at significant opportunities to expand international sales into Europe and South America, and potentially even the USA. I think we have many bright people in this country, we have many good ideas, we have a lot of talent and I think there are great opportunities and I think we have what it takes to be the next China if we could get it together. I think South Africa's biggest threat is internal."
Wilsenach adds: "It is a difficult one. Expansion is definitely on the cards for Nemtek as, unfortunately, we are in the position where crime will increase.
"Then there are a lot of opportunities in exports – we realised this three years ago we started to exhibit it except in Birmingham. We have found that the last three years have been exceptionally good from a learning curve point of view. We have learnt a lot regarding international distribution by exhibiting a show like that, it does cost a lot of money though, very expensive school fees. Going forward there is export opportunity around the world, especially in our sector."
"I think in terms of the future it appears that the recession has bottomed out and that we are on a recovery trail which is positive," says Brent Andreka. There will be a knock-on effect where people do still have less disposable income and because of that crime rates will remain high. I do not know what the appointment of the new police commissioner is actually going to do for crime levels in the country – there seems to be both positive reactions to it and negative.
"I think 2010 is going to boost the economy in general, which will be good for all of us. For RDC, opportunities lie in new ideas, new products and new technologies in the future."
Lee-Ann Andreka adds that the temptation to compromise on quality in favour of quantity in the security manufacturing market needs to be addressed. "RDC will be focused on reliability and enhancing our technology capabilities, especially while the economy is still struggling, as well as improving our service offering to clients."
Ever the optimist, Comoretto says what goes down must come up and the recession "is only a cycle. So to me a recession is a different opportunity to invest both in development, in premises, in doing the things that you do not have the time to do otherwise.
"There is another aspect which I think is coming in to play in the security sector and that is the market of replacement. Security in South Africa is quite young, but it has developed very quickly and soon we will see people that have had equipment for 20 years or longer starting to replace it because they need new technology to match the technology of the thieves."
"I think Impro Technology, as an access control manufacturer, will come out of the recession a lot stronger," says McPhail. "Many competitors seem to be diversifying at the moment, but we continue to focus specifically on manufacturing access control hardware and software.
"The quality of the product is what we pride ourselves on. We have employed new manufacturing techniques, bought automatic online inspection machines, imported pick-and-place machines from Sweden to enhance our quality and deliver capability."
"We are predominantly manufacturers of radio equipment and I see the biggest threat coming from the other communication means that are growing in the world right now," says FSK's Vieira. "In the very near future we will see a broadband connection in every house that can afford an alarm and that will be the means people will use to send signals out of the house. It will be efficient and it will be able to send a lot more information and integrate other security systems such as video images into the signal. We are focusing some of our R&D on this area."
Butchart ended by noting there is tremendous insecurity in the world today and that is not going to change in the short term. "I think people are always striving to have a better way of life, or for convenience and to feel safe within their homes, and that is something that the security industry as a whole can address. So, I think the security industry is probably a good place to be to see out the recession. Make sure you have your ducks in a row and the future is bright."