printer friendly version
Track and trace vehicles in estates
Issue 1 2020
Commercial (Industry)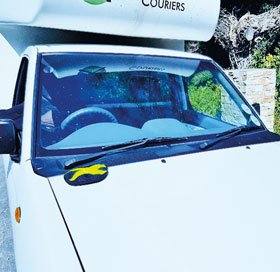 eTrac provides a solution to tracking courier, contractor and visitor vehicles within housing and commercial estates using live real-time monitoring software and AI.
The security guard at the boom gate places an eTrac on the vehicle (see image) in a high-visibility area. The guard then scans the vehicle VIN number and driver's licence and enters the eTrac ID number. Once the data is captured by the scanner, the vehicle enters the estate.
The eTrac can now track and monitor the vehicle every 30 seconds by streaming data and alerts about location, speeding, entering restricted areas, as well as alert on vehicles that have been stationary for exceptionally long periods of time.
When the vehicle returns to the exit gate, the security guard reverses the process by re-scanning the vehicle's and driver's details. The scanner will indicate that an eTrac was attached, the guard removes it and the vehicle is allowed to exit. If there were any incidents within the estate, the suspect's vehicle with the eTrac attached can easily be traced by route history reports.
Key elements
• Intelligence gathering via constant 30 second data streaming.
• Adding a new dimension of secure monitoring of vehicles.
• Ease of deployment – seconds to place on vehicle.
• Live track and trace of vehicles entering and roaming around on an estate.
• Powerful management tool with reports and visual playback.
• Instant alerts on speeding and entering restricted areas.
• Always on duty 24/7/365, data tracing every 30 seconds.
• Proven reliability with BetaTrac's AIMSS monitoring software.
Credit(s)
Further reading:
An unbiased witness always present
Technews Publishing Betatrac Telematic Solutions doculam Forbatt SA Secutel Technologies CCTV, Surveillance & Remote Monitoring Integrated Solutions Products
Smart Security Solutions ask a number of body-worn camera providers for their take on the market and what features and functionality their latest solutions include.
Read more...
---
New algorithm for OT cybersecurity risk management
Industrial (Industry) Cyber Security News Commercial (Industry)
OTORIO's new risk management model and attack graph analysis algorithm technology, calculates OT cybersecurity threats and provides risk mitigation actions, prioritised according to actual exposure and potential impact on operations.
Read more...
---
Smart buildings require smarter networks
Commercial (Industry) IT infrastructure
The smart building is not a new concept, but it's more than just four walls built sustainably, but a network that interconnects people, processes, data, and things. Lots and lots of things.
Read more...
---
The next generation of Point of Sale
Commercial (Industry) Security Services & Risk Management Products
New digital point-of-sale (POS) platforms are gaining traction, which means payment providers and investors should take note.
Read more...
---
Vehicle entrance control
ZKTeco Access Control & Identity Management Commercial (Industry)
Secure your premises and control who enters with access control systems from ZKTeco. The company offers various types of entrance control terminals for pedestrians and vehicles.
Read more...
---
New R2 billion Pick n Pay super distribution centre
Flow Systems Access Control & Identity Management Products Commercial (Industry)
Flow Systems Manufacturers was selected to be part of the security infrastructure at the new Pick n Pay inland distribution centre, which covers an area of 36 ha.
Read more...
---
Post-pandemic access control features
Paxton Access Control & Identity Management Products Commercial (Industry)
Access control features introduced at the height of the pandemic are still useful as effective, integrated entrance control mechanisms today.
Read more...
---
Integrated security management platforms with biometrics
ZKTeco Access Control & Identity Management Commercial (Industry)
Biometric solutions have become the focus in many discussions as businesses seek more sophisticated security solutions beyond the traditional identification badge and access control system.
Read more...
---
Complete solutions, delivering complete protection
Gallagher Access Control & Identity Management Integrated Solutions Commercial (Industry)
The recent release by Gallagher of Command Centre v8.80 and Command Centre Web enables all organisations to make security easier, faster and more efficient.
Read more...
---
Redefining access control in the commercial sector
Axis Communications SA Commercial (Industry) Access Control & Identity Management
Technology is key to keeping assets and personnel safe and secure, especially in the face of concern surrounding proposed new trespassing laws.
Read more...
---