printer friendly version
TAPA conference 2019 explores layered approach to security
September 2019 News & Events, Transport (Industry)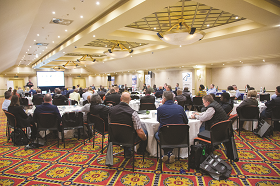 The Transported Asset Protection Association (TAPA) held its annual South African conference at Emperors Palace in Johannesburg on 26 July 2019. The event came together through the efforts of Andre du Venage, chairman of TAPA South Africa, and Massimo Carelle, who serves on the committee of the TAPA South Africa working group, in coordination with Dominique Bowen, events manager at Technews Publishing.

Andre du Venage.
Current and future developments

Massimo Carelle.
Following a welcome given by du Venage, the recently appointed president and CEO of TAPA EMEA, Thorsten Neumann, informed delegates on the ways in which TAPA can help manufacturers and logistics service providers achieve supply chain resilience. It does this by providing tools such as:
• Security standards for facilities, trucking and secure parking.
• A cargo crime incident intelligence database to help plan secure supply chains and manage risk.
• A route mapping tool to avoid crime hotspots.
• Online and classroom security training.
• Intelligence sharing and networking conferences and events.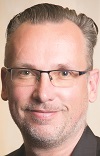 Thorsten Neumann.
Neumann underlined the many threats that face today's supply chains, which include terrorism, cyberattacks, organised crime gangs, opportunists, fraudulent pick-ups, manipulation of online freight exchanges, bogus police stops, truck hijackings, 'curtain-cutting' of parked trailers, thefts from moving vehicles, internal thefts and clandestine intrusions.
He also emphasised that many attacks now involve violence or the threat of violence, with more and more criminals using weapons, and innocent lives being lost. According to his presentation, the true cost of loss can be five to seven time the value of the stolen goods. In Europe alone, one EU study estimated the cost of cargo crime to be some 8.2 billion Euros annually.
One of the most powerful tools TAPA provides, and therefore one of the major benefits of becoming a TAPA member, is the Incident Information Service (IIS), which provides cargo risk and incident alerts; a searchable crime database; insights into when and where losses occur; updates on criminals' modus operandi; monthly, quarterly and annual intelligence reports; and a route planning tool to avoid hotspots and park securely.
He also outlined the importance and benefits of adopting TAPA's certified industry standards, which include the Facility Security Requirements (FSR), Trucking Security Requirements (TSR) and Parking Security Requirements (PSR) standards. Currently under development are enhancements such as a modular approach to TSR, multi-site FSR certification, and supply chain cybersecurity standards.
Behaviour pattern recognition vs. ethnic profiling

Eytan Nevo.
Eytan Nevo, managing director of ATL (Advisory, Technology and Logistics) SA, delved into behavioural detection/behavioural pattern recognition (BPR), which is essentially a more politically correct term for profiling.
He used the example of how customs officials at airports approach the difficult task of identifying people who may be potential threats. Rather than looking for illegal items, they focus on the person, and are on the lookout for any 'red flags', or combinations of red flags, that may tip them off that something is amiss.
Nevo addressed why profiling need not necessarily be a dirty word and how it can be used effectively without discrimination. On the face of it, profiling appears to be subjective, but in fact profilers are looking at reactions rather than the person themselves. For, example, profiling for a Muslim man who might be carrying a bomb doesn't actually work, because there have been infamous cases where terrorists have duped friends or family members into unwittingly carrying bombs in their luggage.
Speaking to the conference's theme, Nevo pointed out that a layered approach can be applied throughout the various areas of an airport to achieve the 'five Ds' objectives: deter, detect, delay, deny, defend.
The role of an effective treasury function

Neil Le Roux.
Neil Le Roux from Diligent Advisors explained how business continuity (BC) is as much a risk to the security of a logistics company's assets as any other risk. Throughout TAPA's TSR and FSR standards, themes such as risk mitigation, safeguarding of assets, industry best practices all relate to business continuity.
He suggested that, to be a responsible service provider to the South African transport and logistics industry, companies should focus on two key areas of corporate treasury:
1. Corporate cash management – manage the risk of underfunding and maximise return on idle funds.
2. Currency risk – match income and expenses, control the timing and size of deals, and planning.
Le Roux informed the audience on the various financial mechanisms that are available to achieve these objectives, including hedging, forward exchange contracts, and collaring. He also emphasised that business risk analyses and the resulting policies and procedures need to be formalised and driven at board level, because similar to other TAPA prescriptions, an effective treasury function does not happen by accident, but is rather a product of meticulous and diligent planning by knowledgeable and experienced personnel.
Firearm law vs. criminal law
When it comes to the unfortunate necessity for people transporting cash and other goods to carry a firearm, it is important to know the legal requirements and what your rights are. HFG Attorneys' Heinrich Gonzales detailed the constitutional rights to access of information, just administrative action and access to courts, and how they apply to firearm law.
His presentation made it clear that the current situation is anything but clear. For example, in 2018 the Northern Gauteng High Court decided in the matter of 'Minister of Safety and Security v South African Hunters and Game Conservation Association' that sections 24 and 28 of the Firearms Control Act of 2000 are unconstitutional. However, this decision was overturned by the Constitutional Court, which means that the decision of the Northern Gauteng High Court is of no effect and force.
Luckily for gun owners in South Africa, he said, there is outstanding litigation against the South African Police Service (SAPS) and the Minister of Safety and Security by the Gun Owners of South Africa (GOSA) and the South African Hunters and Game Conservation Association (SAHGCA) in the so-called 'green licences case' of 2009.
This provides interim protection for South African gun-owners, but there is still much controversy and confusion concerning the various different types of gun licences that have been in effect at different times, and what their validity is today. The result is that many firearms that were legally obtained and licenced are strictly speaking illegal, but on the plus side SAPS is considering an amnesty policy while the ongoing "complete disorder and chaos" gets sorted out in the courts.
Closing remarks and sponsors' presentations
Massimo Carelle closed proceedings by going through the various security layers that are addressed by the TAPA standards, namely:
• Perimeter.
• Outside walls, roof and doors.
• Office and warehouse entry and exit points.
• Inside warehouse and office.
• Security systems; design, monitoring and responses.
• Training and procedures.
• Workforce integrity.
Throughout the day, presentations were given by the various sponsors of the conference, highlighting what their companies offer to the South African logistics sector. The sponsors in question were Bridgewater Logistics, DQS, Online Intelligence, Pulsit and TopicWorks.
Bridgewater Logistics – Richard Venter, general manager
We are proud to announce that in the year since our last TAPA conference, we have added a fully-fledged truck stop/centre which started as a humble parking area for trucks, with a small canteen and ablutions, but now offers the following benefits and services over and above mere truck parking:
• It is a TAPA approved facility – the first in Africa.
• Truck wash which can wash a 22 m super-link in a mere 10 minutes.
• Truck tyre fitment centre.
• Valet car parking for travellers from OR Tambo International Airport. We meet you at the airport, drive your car to our secure facility, and meet you upon your return with a washed car.
• A 400 square metre, fully licenced restaurant offering a wide variety of quick meals to full sit-down menu.
• Contract truck parking.
Situated at 9 Maple Road, Pomona, Kempton Park, the facility has 24-hour security and armed response, and is probably the safest facility of its kind locally.
Credit(s)
Further reading:
Pentagon appointed as Milestone distributor
Elvey Security Technologies News & Events Surveillance
Milestone Systems appointed Pentagon Distribution (an Elvey Group company within the Hudaco Group of Companies) as a distributor. XProtect's open architecture means no lock-in and the ability to customise the connected video solution that will accomplish the job.
Read more...
---
SA fleets face internal and external pressures
IoT & Automation Transport (Industry) Logistics (Industry)
Thousands of trucks clog South African border points and ports, causing shipping companies to levy congestion surcharges; fleet managers must enforce safety rules, develop comprehensive training programmes focusing on early warning systems and AI-powered technology
Read more...
---
Re-introduction of the booking system
PSiRA (Private Security Ind. Regulatory Authority) News & Events
[Sponsored] PSiRA is reintroducing the booking system for branch visits. Effective Monday, 4 December 2023, clients will be required to book a slot to visit any PSiRA branch.
Read more...
---
From the editor's desk: A sad but exciting goodbye
Technews Publishing News & Events
Welcome to the final monthly issue of SMART Security Solutions. This is the last issue of the year and the last monthly issue we will print. The SMART Security Solutions team wishes all our readers and advertisers a relaxing festive season and a peaceful and prosperous 2024.
Read more...
---
Regal celebrates successful golf day
Regal Distributors SA News & Events
Regal Distributors held its first official Regal Golf Day on 18 October at the Glendower Golf Course in Johannesburg. SMART Security Solutions was there on a hot summer's day to meet many players and sponsors around the course.
Read more...
---
Gallagher Security releases Command Centre v9
Gallagher News & Events Access Control & Identity Management Integrated Solutions
Richer features, greater integrations, with the release of Gallagher Security's Command Centre v9 security site management software designed to integrate seamlessly with various systems and hardware.
Read more...
---
Regal launches direct-to-branch WhatsApp communication
Regal Distributors SA News & Events
With a quick scan of a QR code and a few taps on your phone, installers, integrators, technicians or even end-users can chat directly with the team at their preferred Regal branch via WhatsApp
Read more...
---
FM Expo highlights industry trends and challenges
Securex South Africa News & Events Facilities & Building Management
Keeping tabs on what is happening within the building/facilities management arena can be frustrating, however, a quick way to find out what current trends, challenges, and solutions are available can be found at the Facilities Management Expo.
Read more...
---
All aspects of data protection
Technews Publishing Editor's Choice Information Security Infrastructure AI & Data Analytics
SMART Security Solutions spoke to Kate Mollett, Senior Director, Commvault Africa, about the company and its evolution from a backup specialist to a full data protection specialist, as well as the latest announcements from the company.
Read more...
---
South Africa shows a 1200% increase in deepfake fraud
News & Events Risk Management & Resilience
Sumsub released its third annual Identity Fraud Report of the year, analysing identity fraud across industries and regions based on millions of verification checks across 28 industries and over 2 million fraud cases.
Read more...
---