printer friendly version
Foresight means secure offices
June 2019 Commercial (Industry), Surveillance, Access Control & Identity Management
If you're responsible for a medium or large-sized office, it's more important than ever that you have access to a means of ensuring people's safety, managing risks and fraud, and protecting property. Any security system that you employ must therefore meet the most demanding commercial requirements of today's and tomorrow's offices.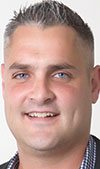 Quintin van den Berg, CCTV product manager at Bosch Building Technologies.
This means thinking beyond a basic intrusion system and specifying a comprehensive solution that integrates smart features like access control, video management and intelligent video analytics. Because only then will you have security you can trust, and detection you can depend on.
Are you leaving the door open to opportunists?
Access control is becoming increasingly important for ensuring the security of office buildings, but as the modern workplace evolves you're unlikely to find a one-size-fits-all solution. Today it's commonplace to control entry to individual rooms or restricted areas, and cater to more flexible working hours that extend beyond 9 to 5, so a modern and reliable access control system that exceeds the limitations of standard mechanical locks is indispensable.
Bosch Security and Safety Systems developed access control systems that guarantee reliable entry management for indoors and outdoors. They use readers and controllers to restrict access to certain areas, ensuring only authorised individuals can get in. With video cameras located within close proximity you can then monitor and record any unauthorised access attempts. The system can also undertake a people-count to ensure only one person has entered using a single pass.
As previously mentioned, there is no one-size-fits-all system, but thanks to the scalability of the hardware components, Bosch systems can adapt to your changing security requirements. For example, you can install the Access Professional Edition (APE) software for small to medium-sized offices, then switch to the more comprehensive Access Engine (ACE) of the Building Integration System (BIS) when your security requirements grow. And, because the hardware stays the same, any adaptations are simple.
The APE software administers up to 512 readers, 10 000 cardholders and 128 cameras, making it ideal for small to medium-sized buildings. With functions like badge enrolment, entrance control monitoring and alarm management with video verification it provides a high level of security and ensures only authorised employees and visitors are able to enter certain rooms and areas.
Of course, there will always be situations when, for convenience, you need certain doors to be permanently open, such as events and open days. APE has a solution to that with a 'permanent open' functionality that allows employees and guests to enter designated areas easily and conveniently.
Growing with your business?
You simply switch to the Bosch Building Integration System (BIS), without having to switch hardware. This is a software solution that manages subsystems like access control, video surveillance, fire alarm, public address or intrusion systems. All on a single platform. And, because it's designed for offices with multiple sites, it's the ideal solution for large companies with a global presence.
The BIS Access Engine (ACE) administers up to 10 000 readers and 80 concurrent workplace clients per server, and 200 000 cardholders per AMC. An additional benefit to security officers is the ability to oversee cardholders and authorisations through the central cardholder management functionality, and monitor all access events and alarms from every connected site. What's more, for consistency, multi-site cardholder information and access authorisations can be created on a central server and replicated across all connected site servers, which means the cardholder information is always up to date and available in every location.
The right intrusion alarm system
Securing all perimeter doors is vital when protecting your employees, visitors and intellectual property. Doors are opened and closed countless times during business hours, and when intentionally left open, your office is vulnerable to theft, and the safety of your employees is compromised. For this reason, Bosch designed the B Series and G Series intrusion control panels, developed with advanced features to ensure all perimeter doors are properly closed, even when the system is not armed.
If a door remains open for a period of time (you can specify anything from one second to 60 minutes), the system can be programmed to automatically take action. For example, it can activate an audible alert at the keypad to give employees time to close the door. Then, if it is still not closed, it will send a report to a monitoring centre or a text directly to the office manager, and when integrated with video it can even send an image of the incident to a mobile device.
What about people who need to access your building outside of working hours, like cleaning crews? Bosch allows you to customise the way your intruder system operates with a single press of a button or swipe of a card. This level of control enables you to disarm specific areas, bypass points and unlock doors for cleaning crews or after-hours staff, whilst keeping server rooms, stock rooms and executive offices safe and secure.
Bosch B Series and G Series intrusion control panels can also send personal notifications via text or email. You can program the panel to send you opening, closing, and other event alerts, which means you don't have to be on-site to keep track of movements in and around your facility.
Managing video, audio and data?
Every office building has different video security requirements depending on the location, size and nature of the business. Some offices may only need basic functions, such as recording and playback, whereas others may need full alarm functionalities and access to different sites.
A video management system will add a next level of security to your access control system. For example, the Bosch Video Management System (BVMS) provides seamless management of digital video, audio and data across IP networks for small to large office buildings. It is fully integrated and can be scaled according to your specific requirements.
The entry-level BVMS Viewer is ideal for small offices that need to access live and archived video from their recording solutions. With forensic search it enables you to access a huge recording database and scan for a specific security event in a matter of seconds.
For larger offices, Bosch has embellished the security functions for the BVMS Professional version so it can manage up to 2000 cameras and offers full alarm and event management. It's also resilient enough to remain operative should both management and recording servers fail; reassuring if you have critical office applications that need to be secured 24/7.
Bosch has the experience to understand that large multi-national companies often need access to video surveillance systems at numerous sites, which is why BVMS Professional allows you to access live and archived video from over 10 000 sites across multiple time zones from a single BVMS server. When integrated with the BVMS Enterprise version, multiple BVMS Professional systems can be connected so every office in the network can be viewed from one security centre, which provides the opportunity to monitor up to 200 000 cameras, regardless of their location.
Video analytics beyond security
If your strategy is to significantly improve levels of security, video analytics is an essential part of the plan. It acts as the brain of your security system, using metadata to add sense and structure to any video footage you capture. In effect, each video camera in your network becomes smart to the degree that it can understand and interpret what it is seeing. You simply set certain alarm rules, such as when someone approaches a perimeter fence, and video analytics alerts security personnel the moment a rule is breached.
Bosch has developed smart analytics in two formats. Essential Video Analytics is ideal for small and medium-sized commercial buildings and can be used for advanced intrusion detection, such as loitering alarms, and identifying a person or object entering a pre-defined field. It also enables you to instantly retrieve the right footage from hours of stored video, so you can deal with potential threats the moment they happen.
Essential Video Analytics also goes beyond security to help you enforce health and safety regulations such as enforcing no parking zones, detecting blocked emergency exits or ensuring no one enters or leaves a building via an emergency exit; all measures that can increase the safety of employees and visitors inside the building.
Bosch's Intelligent Video Analytics has the capability of analysing video content over large distances, which makes it suited to more expansive office grounds or securing a perimeter fence. It can also differentiate between genuine security events and known false triggers such as snow, rain, hail and moving tree branches that can make video data far more difficult to interpret.
The final piece in your security jigsaw is an intelligent camera. The latest range of Bosch 'i' cameras have the highest image quality, latest data security measures, and bitrate reduction of <80%. And, with video analytics as standard, they take data usage to a whole new level.
Credit(s)
Further reading:
Pentagon appointed as Milestone distributor
Elvey Security Technologies News & Events Surveillance
Milestone Systems appointed Pentagon Distribution (an Elvey Group company within the Hudaco Group of Companies) as a distributor. XProtect's open architecture means no lock-in and the ability to customise the connected video solution that will accomplish the job.
Read more...
---
Gallagher Security releases Command Centre v9
Gallagher News & Events Access Control & Identity Management Integrated Solutions
Richer features, greater integrations, with the release of Gallagher Security's Command Centre v9 security site management software designed to integrate seamlessly with various systems and hardware.
Read more...
---
Hik-Connect for Teams released
Hikvision South Africa Products & Solutions Surveillance
Hikvision has released an update for its security management platform; Hik-Connect for Teams not only meets the specific needs of individual users, but also caters to various medium-sized businesses (SMBs) and multi-site management scenarios.
Read more...
---
The human factor side of video management systems
Leaderware Editor's Choice Surveillance Risk Management & Resilience
A video management system (VMS) is central to, and the most vital element to any control room operation using CCTV as part of its service delivery, however, all too often, it is seen as a technical solution rather than an operational solution.
Read more...
---
Lock down your access control with Alcatraz AI
C3 Shared Services Healthcare (Industry) Access Control & Identity Management AI & Data Analytics
Alcatraz AI, represented in South Africa by C3 Shared Services, changes access control by harnessing the power of artificial intelligence and analytics at the edge, where facial recognition becomes the essential credential autonomously.
Read more...
---
Revolutionise your security with integrated solutions
Secutel Technologies Products & Solutions Surveillance
By merging the capabilities of SecuVue and Secutraq, Secutel has forged a robust system empowering users to fine-tune analytics and harness facial recognition, pose detection, and XFS, among other features.
Read more...
---
From damage management to false alarm prevention
Dallmeier Electronic Southern Africa Transport (Industry) Surveillance Logistics (Industry)
Video surveillance is undergoing an exciting evolution; today's IP-based solutions can be fully integrated into digital systems. With the increasing integration of artificial intelligence (AI); logistics, in particular, can make processes more transparent and exploit previously untapped potential.
Read more...
---
New generation of cyber-focused controllers
Gallagher News & Events Access Control & Identity Management Products & Solutions
The C7000 gives users an opportunity to leverage their hardware and firmware to build a platform designed to catapult their organisation into the future, with cybersecurity baked in from inception.
Read more...
---
New T&A terminal features revolutionary AI technology
Suprema News & Events Access Control & Identity Management AI & Data Analytics
Suprema has launched BioStation 2a, the world's first deep learning-based fingerprint recognition solution, providing powerful access control features and an improved ability to extract templates from low-quality fingerprints.
Read more...
---
Marshall Security partners with Blacklight to introduce Reconeyez to KZN
News & Events Surveillance Power Management
Marshal Security has joined forces with Blacklight Group to launch Reconeyez, a cutting-edge battery-powered surveillance platform with mesh network capability, in the KwaZulu-Natal market.
Read more...
---