printer friendly version
Platforms and community lead the future
May 2019 Editor's Choice, CCTV, Surveillance & Remote Monitoring, News, Integrated Solutions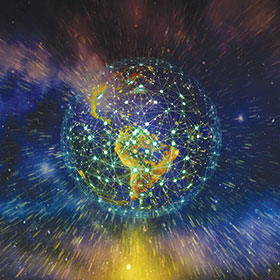 Milestone System held its annual Milestone Community Days (MIPS) in March 2019. The event was held in Copenhagen, Denmark and saw nearly 1000 partners and customers from EMEA (Europe, Middle East and Africa) attending to hear the latest developments from Milestone and many of its partners who exhibited at the event.

Malou Toft
There was too much going on at the event to report on everything, but in this article we highlight a few of the notable announcements Malou Toft, Milestone's vice president of EMEA spoke to Hi-Tech Security Solutions about.
Before getting onto the Milestone announcements from MIPS, it's worth taking note of the keynote presentation by futurist Brian Solis (www.briansolis.com). Solis presented a keynote focusing on Digital Darwinism. The presentation touched all the important buzzwords going around these days, artificial intelligence (AI), machine learning, innovation, disruption and so on.
What Solis did differently, was that he put all the buzzwords into context, integrated them and made them all relevant to today's rapidly changing world. While two of the greatest disrupters today are AI and machine learning, these are also two of the greatest drivers of innovation today. With these as a foundation, Solis explained that effectively balancing business as usual and disrupting that business with new innovations is the key to future success.
It's normal, Solis said, that companies and industries ride on their successes of the past, and that is good. However, you can't ignore the changes that are happening in front of us – riding on the past without innovating for the future leads to 'Kodak moment' where you completely lose the plot and are made irrelevant when the world changes.
Innovation and understanding the future of your market is therefore the key to longevity. Most importantly, he said, is to understand that innovation is constant. Uber may have seemed to appear overnight, but there was a long development and growth period before it became an overnight success.
Solis suggested companies need to build disruption into their business models to ensure continued innovation in your space and to ensure you remain relevant. More specifically, to highlight that disruption is not simply a marketing idea, but critical to the future of every business, he noted: Disruption is a gift you receive or give someone else.
The full keynote with far more information from Solis can be watched at www.securitysa.com/*MIPS2019_1 (redirects to https://www.milestonesys.com/live/emea-brian-solis/).
Supporting the open community
Milestone has always been an open platform that partners with a variety of companies in the security industry and beyond to deliver value to the end customer. This openness and focus on community was further augmented at the MIPS conference.
In her presentation, Malou Toft noted that power is the product of innovation and reach, and while a company like Milestone is continually innovating, its community is the mechanism through which it reaches users and empowers them to achieve their business goals. Currently there are over 200 000 installations of Milestone software around the world, most of which are enhanced by additional value-adding products from its community of partners. "Reach is powerful when combined with innovation," said Toft.
To support this community approach, a major focus of the conference was the launch of Milestone Marketplace. The Milestone Marketplace is the equivalent of an online store where partners can market their Milestone solutions to thousands of partners, integrators and customers. The market is not only a place to sell software, but also the associated services and hardware designed around the platform, as well as a source for additional information, like installation guides etc.
After some 20 years of growing its network across the globe, the Milestone Marketplace makes what is potentially the widest network in the industry available to large and small partners. This means partners who develop add-on products to the platform can now market themselves to potential customers and partners around the globe. At the time of the conference there were already 150 partner solutions available in Marketplace, less than two months after its launch.
A path to cloud
No event dealing with technology could ignore the impact cloud computing has, is and will have over the next few years. Toft says that while Milestone has catered for onsite solutions in the past, it is also helping customers make the transition to the cloud in a phased manner.
The company, along with its parent, Canon, launched Arcules as a 'cloud first' approach to intelligent video. This is the disruption Solis spoke about in action as Arcules may be ahead of the pack as a cloud-based solution. Toft notes that Milestone realises that all companies cannot simply switch to cloud services immediately and Milestone is working with its community to create a hybrid approach where some cloud and some onsite services are integrated to deliver the optimal solution.
Milestone is 'deconstructing' its management platform to create a new architecture in which customers will be able to build the solution they require via 'building blocks'. These building blocks will allow companies to choose a hybrid cloud and onsite approach that meets their requirements today, but which can evolve as time goes on and their needs change. Freedom to choose the solution that best suits your needs is the key to the company.
Technology and ethics
As a surveillance leader, Milestone has also taken the ethical lead by highlighting the concerns many have about privacy and confidentiality in today's world of technology and AI enhancements. The company will be including a new 'Copenhagen Clause' in its end-user licensing agreements to support the 'responsible use of technology'.
Technology can't tell the difference between good and bad. It is therefore imperative that those creating and using technology ensure it is used ethically and responsibly. The questions Milestone will ask in future when selling its solutions include: Who do we sell to? Who do we partner with? And, what is our technology used for?
The Copenhagen clause is based on the Copenhagen Letter, a document published in 2017. It has been signed by over 5000 people at the time of writing. The letter calls for "organisations to consider the impact of technology on humans ahead of what it could potentially do for their business or profits".
The idea of responsible use of technology will see Milestone and others joining the move from "human-centred design to humanity-centred design". The original Copenhagen Letter can be found and signed at www.copenhagenletter.org
To view Toft's presentation, readers can go to www.securitysa.com/*MIPS2019_2 (redirects to https://www.milestonesys.com/live/emea-malou-toft/).
Credit(s)
Further reading:
Social media and intelligence-led surveillance
July 2019, Leaderware , Editor's Choice, Integrated Solutions, Security Services & Risk Management
Social media has become a major feature of most people's lives in the last few years and they can be invaluable as a source of information for companies and security organisations.
Read more...
---
Advanced integration and performance with NUUO
July 2019, Forbatt SA , CCTV, Surveillance & Remote Monitoring
Established in 2004, NUUO is a global security industry leader specialising in the manufacturing of open architecture video surveillance products, with deployments worldwide and an ever-growing base of professional industry-experienced staff.
Read more...
---
The 4th Industrial Revolution
July 2019, Wolfpack Information Risk , Editor's Choice, Cyber Security, Security Services & Risk Management, Industrial (Industry)
Most major industries have turned to and are reliant on technology to run their operations. This is a time of great promise, but also one of frightening peril.
Read more...
---
You can't isolate, so integrate
July 2019, Axis Communications SA , Industrial (Industry), Integrated Solutions
One of the most exciting trends to emerge from the Industry 4.0 revolution is that technologies and hardware that were originally developed for the security market are increasingly being co-opted to enhance organisational productivity.
Read more...
---
Data protection more challenging
July 2019 , Editor's Choice, IT infrastructure
The number of businesses unable to recover data after an incident nearly doubled from 2016, according to the Global Data Protection Index surveying 2 200 IT decision makers from 18 countries.
Read more...
---
Cyber-attacks target operational technology
July 2019 , Editor's Choice, Cyber Security, Industrial (Industry)
Focus on operational technology security increasing as around 74% of OT organisations come under attack in the past year, finds a new Fortinet report.
Read more...
---
Controlled intelligence
July 2019 , Industrial (Industry), Integrated Solutions
Connected intelligence and 5G technology are set to profoundly impact the way the industrial sector approaches quality control.
Read more...
---
Ingo Mutinelli moves to IDEMIA
July 2019, Technews Publishing, IDEMIA , Editor's Choice, News
IDEMIA, the security and identity management company has announced that Ingo Mutinelli will be taking on the post of regional sales director for the southern Africa region.
Read more...
---
Transom Capital Group Acquires Pelco
July 2019 , News, CCTV, Surveillance & Remote Monitoring
Transom Capital Group (Transom), an operations-focused middle market private equity firm, announced it has acquired Pelco from Schneider Electric.
Read more...
---
Residential Estate Security Conference 2019: Integrating man and machine for effective security and operations
July 2019, Technews Publishing , Editor's Choice, News, Residential Estate (Industry), Conferences & Events
The Residential Estate Security Conference 2019 will delve into how estates and their service providers can better integrate man and machine for more effective security and operations.
Read more...
---