printer friendly version
Wide-area surveillance on estates, farms and other large properties
April 2019 Access Control & Identity Management, Integrated Solutions, Agriculture (Industry)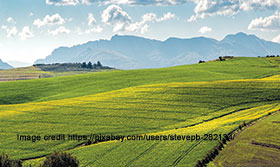 When protecting large open areas, security camera systems face significant limitations. In order to detect intrusions at large distances, the cameras require narrow beams (telephoto lenses), but this comes at a price. Moreover, telephoto lenses can only cover small areas, which might be good for perimeter detection down a straight fence line, but it doesn't help with area surveillance. As these cameras are relatively expensive, it is also not a viable option to simply install large numbers of them. In addition to the narrow view and price, such areas cannot easily be illuminated, limiting visibility during hours of darkness.
Fortunately technology has changed a number of things.
• Very high resolution cameras allow one to have enough pixels on the target even with wider viewing angles.
• Very low-light cameras allow some visibility even in fairly dark situations.
• Thermal cameras' cost has dramatically reduced over the years.
• Short range radar has also become a viable option for intruder detection, and depending on the environment and available resources, might be a good option.
There are also a number of practical problems, not easily solved with pure technology.
In South Africa such open areas are generally also populated with wild animals. In addition, when looking at wide areas, light conditions change over the expanse of the area throughout the day and indeed change over seasons, quite dramatically so. In order to create a solution for wide-area surveillance, one has a few alternatives.
Firstly, one can cover the whole area with cameras, daylight and thermal. Such a brute-force approach will work, but it is not only unnecessarily expensive, it also destroys the atmosphere of a place and will have huge aesthetic and possibly ecological impact.
A second approach would be to protect only the perimeter. This will be less costly and more technologies are available. However, this is not without problems. Because of the very long perimeters it often takes time to reach a point where the perimeter was breached. Once a response team reach the breached point, intruders could quite easily have disappeared into the protected property making it very difficult to find them again, especially at night.
A third solution would be to use scanning technologies like radar or optical scanning. Radar works on the principle of detecting motion which would be very successful in detecting intruders. However, radar is very expensive and also limited by line-of-sight, limiting coverage due to high costs. As stated previously, radar cannot easily identify targets and may not be able to distinguish between animals and humans. This limitation will generally result in the radar being enhanced with a high focal length camera to zoom into a target for identification, which further increases the cost.

Long range optical solutions
A newer approach is the use of long focal length thermal cameras in a scanning action. This solution is significantly less costly than radar, resulting in the possibility of placing more sensors on the ground, especially in undulating terrain. However, because the whole terrain isn't covered with sensors and only one or a few sensors need to be placed, the system can benefit from using high quality products.
Like radar, this system can geo-locate targets resulting in precise location of a target and also the ability to track the target as it moves along the terrain. While radar can only identify the existence of a moving object, thermal cameras can detect stationary objects as well. In addition to detection, the system can identify to some extent, even the thermal object, but using the high-resolution camera the targets can themselves be accurately identified. Such a system can be operated automatically to a large extent, allowing operators to only observe and react to alarms.
This system is typically equipped with a bore-sighted daylight camera which can be used for identification. Typical ranges for this solution is a 2 km radius from the camera. While better thermal sensors can increase this to 8 km or 10 km, this is very expensive and undulation in terrain also minimises the benefit to be gained. An addition to this would be a long-range spotlight, also bore-sighted to the cameras which can be used to illuminate a target at ranges of 2 km to 3 km. This allows the much higher resolution daylight camera to zoom in and offer detailed identification.
This has the added benefit of being a deterrent as intruders know that they have been spotted. If anonymity of detection is required, the illuminator could operate in the near Infrared band. By using smart positioning, the system can furthermore be configured to cover sensitive areas more regularly and avoid areas where intrusion is impossible altogether. Naturally, alarms can be detected in predefined areas only so as to limit possible nuisance alarms.
Environmental issues to consider
A system like this which is deployed in a harsh, remote environment should be designed with reliability in mind. Varying sun positions, motion on the mast, exposure to moisture and high temperatures should all be taken into account. The cost of maintaining such a product can be directly impacted by choosing high quality components to use in the system.
Accurate geo-location
When attempting to geo-locate objects at long ranges it is important that systems are able to be steered and measured accurately. In addition, wherever feasible, the terrain contours should be taken into account. The ability to geo-locate accurately brings a number of exciting possibilities. Weather permitting, a drone could be sent, automatically, to the target location (even at night) for a direct view of the target. If nothing else, a response team (helicopter where available) can be directed straight to the
target as its movement will also have been observed. This can, in the case of poaching, be used to intercept a threat proactively, instead of having to track the poachers from the carcass.
In conclusion, technology has improved to the point where large area surveillance is a viable option for any large property. The costs have significantly reduced over the last few years, while the technology has steadily improved. By using a smart scanning system, wide area surveillance can be achieved at a fifth of the cost of covering an entire area with traditional security systems.
Dr Coetzer can be contacted at Protoclea Advanced Image Engineering ( benniec@protoclea.com, www.protoclea.com), a company specialising in the development of products such as those described in this article.
Further reading:
Improved security health check tool
Gallagher Access Control & Identity Management Products
Gallagher Security has streamlined its free Security Health Check tool, making it easier than ever to protect against potential system risks and improve business efficiencies.
Read more...
---
Suprema showcases integrated security solutions
Suprema Access Control & Identity Management Products
Apart from being an access terminal that supports multiple credentials such as facial recognition, RFID, mobile and QR codes, the BioStation 3 also supports VoIP Intercom and real-time video monitoring features to make it a truly multi-functional reader.
Read more...
---
Success in business process best practices
Technews Publishing Kleyn Change Management Editor's Choice Integrated Solutions Security Services & Risk Management
This month we commandeer time with the woman who is spearheading our national conversation on Women in Security, Lesley-Anne Kleyn, to get to know the lady herself a little better.
Read more...
---
Local electronic locks
Access Control & Identity Management
YeboTech is an electronics manufacturing company, founded in 2005, which designs, markets and sells an electronic key and locking systems, aimed at replacing all conventional mechanical locks.
Read more...
---
Selecting the correct access control system
Enkulu Technologies Access Control & Identity Management
Frazer Matchett, Managing Director of Enkulu Technologies, suggests the right questions to ask when selecting an access control solution; not just the access system, but the integrated solution that fits your requirements.
Read more...
---
Integrated guarding services
XtraVision Integrated Solutions Access Control & Identity Management Industrial (Industry)
XtraVision offers a few tips on how to go about planning and setting up an integrated approach to sustainable and successful security services, from the initial risk assessment to the technology and people required.
Read more...
---
Paxton secures multi-tenant office in Cape Town
Paxton Integrated Solutions Access Control & Identity Management Products
Cecilia Square in Paarl, Cape Town is an office building from where several businesses operate. The multi-tenant site has recently undergone a full refurbishment, including a complete upgrade of its security system for access control.
Read more...
---
AI face recognition OEM module
Suprema News Access Control & Identity Management Products
Suprema AI, a company specialized in artificial intelligence–based integrated security solutions, recently launched its high-performance face recognition OEM module called 'Q-Face Pro' in response to the growing need for contactless security solutions.
Read more...
---
KWAL raises a glass to security upgrade
Turnstar Systems Access Control & Identity Management Products
The Kenya Wine Agencies Limited (KWAL) was in need of an integrated security upgrade. This is where Turnstar came into the picture to provide a solution that would keep KWAL secure and efficient.
Read more...
---
Dahua Insider Series for touchless access
Dahua Technology South Africa Access Control & Identity Management Products
The Insider Series Access Control Solution offers touchless access (via Bluetooth) using the DMSS mobile app; it has three distance modes and two trigger modes (normal and shake).
Read more...
---