printer friendly version
Wise choices decrease fire risks
October 2018 Editor's Choice, Fire & Safety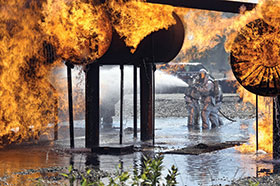 In the past two months, multiple fatal fires shocked South Africa. These fires occurred not only on mines and industrial plants, but also in buildings throughout South African cities.
Fire safety at the workplace is a topic that is easily neglected and many businesses do not devote enough attention to it. The topic quickly becomes top of mind when people lose their lives or when a whole building, or a substantial part of an industrial plant, is destroyed by fire.
Employees, customers, suppliers and contractors at a workplace are often not even aware of the fire risks which exist on that specific site, or even if they do, they may not be trained for the eventuality.
In many instances, businesses want to address their fire risks, but they do not know where to start the process or where to get appropriate guidance on the issue. Fire safety is a very wide and specialised field and even if someone at that workplace, possibly responsible for safety, is tasked to look into the fire risk, they might not know how to approach the subject, resulting in inadequate policies and measures.
South Africa has strict fire safety legislation in place, but this legislation is often only considered when a new building or plant is being built, or when the insurance companies get involved. Unfortunately, understanding and managing fire risk at the workplace on a continuous basis is the focus of a very small group of people, even though the lack of understanding of the subject matter potentially impacts everyone at the workplace.
How can this situation be improved and a culture of fire safety be instilled in the workplace? Dr Niel Jordaan, engineering manager at Sperosens, sheds light on practices that can be helpful to decision makers in this regard.
A culture of safety
One approach would be to investigate the best practices implemented by organisations where fire risk is managed and monitored on a daily basis, like the mining industry.
Mines understand and acknowledge that substantial parts of their operations are inherently risky and pose danger to employees and assets. Mines take fire safety very seriously. It is an integral part of the Mine Health and Safety Act, which governs their operations.
The Department of Mineral Resources also plays an active role in promoting safety at mines, and published a document in 2016 (DMR 16/3/2/4-B3), called the 'Guideline for the compilation of a mandatory code of practice for prevention of fires at mines'. Quoting directly from this document:
"3.1 The main objective of this guideline is to enable the employer at every mine where a fire could pose a significant risk to the health and safety of persons, to prepare a COP which, if properly maintained and complied with, would improve control measures aimed at preventing fire incidents."
"3.2 The guideline provides guidance of a general nature on the required format and content of the COP and details sufficient technical background to enable the drafting committee at the mine to prepare a comprehensive and practical COP for their mine."
The application of the above is compulsory at mines and provides a very good general guideline which can be adapted for fire risk management in other industries, even though the Mine Health and Safety Act may not be applicable in those industries, because the general approach is still valid and can go a long way in addressing fire risks at the workplace.
One of the most useful tools from the DMR document is a flowchart which can be used to implement and manage a fire risk process at the workplace. The flowchart depicts a general process can be implemented, not only on mines, but in any workplace. It is depicted in Figure 1.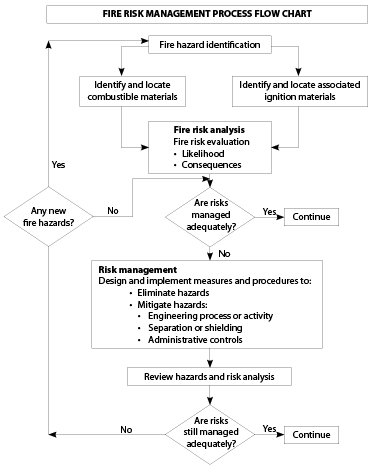 Figure 1.
Ensuring fire safety
This process can be used by fire safety practitioners at the workplace to systematically address the following:
• Identify the fire hazards at the workplace.
• Evaluate the risk associated with the fire hazard by identifying the likelihood and consequences of the hazard occurring.
• Identify if a hazard is managed appropriately or not.
• If not, identify the steps that can be taken to reduce or eliminate the fire hazard.
Once the hazards are identified, it is much easier to find ways of improving the situation. Often only simple things are required to improve the situation substantially, for example:
• Keep emergency exits clear and clearly marked.
• Improve housekeeping to reduce flammable materials.
• Improve emergency training of employees.
• Integrate the fire risk assessment with other safety considerations like; water supply for fire suppression, evacuation plans, ventilation, emergency power and the like.
In some instances, it will become apparent that the legally required fire equipment was never installed or maintained as per the National Building Regulations. In such instances it would be prudent to acquire the services of a professional fire services provider or a life safety assessor to give expert advice on how to rectify and improve the situation.
In order to improve the fire safety of workplaces in general and to protect the lives of people and valuable assets, it is important that the various segments of industry communicate with, learn from and share with each other the successful tools and practices which they have developed.
Sperosens provides environmental monitoring and fire protection solutions to the African mining industry and has done so with an impeccable track record for 30 years.
The company's products and services are categorised in three separate but linked groups:
• Instrumentation systems designed to remotely monitor safety parameters and equipment performance in underground mining environments.
• Fire protection systems with a focus on the specialised risk category to detect, alarm/warn, contain and extinguish fires in underground and industrial installations.
• IoT-based measurement and management systems designed to remotely measure and monitor a wide variety of parameters (including safety), as well as equipment performance, in industrial installations and large campus environments.
For more information contact Marihette Hattingh, Sperosens, +27 12 665 0317, marihette.hattingh@spero.co.za, www.spero.co.za
Credit(s)
Further reading:
Key criteria in the selection of CCTV control room operators
Issue 5 2020, Leaderware , Editor's Choice
Some people are better at aspects of the job of CCTV operator than others, and some companies put in a lot more effort in choosing their operators than others.
Read more...
---
Leaders in risk and security: As long as there are people, there will be risk
Issue 5 2020, iFacts, Technews Publishing , Editor's Choice
Jenny Reid is a self-made success, focusing on people, the risks they create and the potential they have.
Read more...
---
XProtect available on AWS
Issue 5 2020, Milestone Systems, Technews Publishing , Editor's Choice
Milestone recently announced the availability of XProtect on Amazon Web Services. Hi-Tech Security Solutions asked Keven Marier for more information.
Read more...
---
From data centre to edge, from one source
Issue 5 2020 , Editor's Choice
First Distribution (FD) is better known in South Africa as an ICT distributor with an enterprise focus. Its offerings in this regard range from client solutions through to hosted solutions, data centre ...
Read more...
---
Paxton launches access and video management
Issue 5 2020, Paxton Access , Editor's Choice
Paxton's next-generation access control and video management system, Paxton10, officially launched in South Africa on 2 July 2020. Paxton10 is the next step in complete security solutions and combines ...
Read more...
---
The evolution of security in residential estates
Residential Estate Security Handbook 2020 , Editor's Choice, Integrated Solutions, Security Services & Risk Management
Two large estates discuss their security processes and the ever-expanding scope of responsibilities they need to fulfil.
Read more...
---
The COVID test for estate business continuity planning
Residential Estate Security Handbook 2020, Technews Publishing , Editor's Choice
Many estates were caught unaware when the COVID-19 pandemic and subsequent lockdown hit. Helderberg Village was ready for the challenge.
Read more...
---
Bang for your security buck(s)
Residential Estate Security Handbook 2020, Alwinco , Editor's Choice, Security Services & Risk Management
Hi-Tech Security Solutions asks how estates can maintain a good security posture in the time of the ever-shrinking budget.
Read more...
---
Local or remote management
Residential Estate Security Handbook 2020, Xone Integrated Security, Vox Telecom, Fidelity ADT , Editor's Choice
Hi-Tech Security Solutions asked three companies well versed in offering control room services – either remote, local, or both – what's happening in the estate monitoring and/or management market.
Read more...
---
Residential Estate Security Conference 2020
Residential Estate Security Handbook 2020, Technews Publishing , Editor's Choice
Back in the old days when conferences that people attended in a single location were a thing, Hi-Tech Security Solutions held its Residential Estate Security Conference 2020 at the Durban Country Club.
Read more...
---