printer friendly version
Securex 2018 pulls the (right) crowds
July 2018 Access Control & Identity Management, CCTV, Surveillance & Remote Monitoring, Cyber Security, Integrated Solutions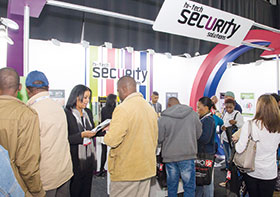 Judging by the attendance at Securex 2018, the security industry is getting back into the swing of things. With over 6000 visitors over the three-day event, and exhibitors expressing their satisfaction with not only the number, but also the calibre of the visitors, this year's Securex has to be described as one of the best.
The organisers had a tough job over the past year, especially with the local economy looking bleak and the seemingly never-ending political shenanigans that are a trademark of this country making people nervous, and they deserve a pat on the back for pulling it off.
The stands at Securex this year covered the range from large to small, all of them seeing a regular flow of visitors, keeping the staff on the stands busy. The exhibitors ranged from companies offering solutions for guarding support through to card printing and weapon sales (no firearms, of course), through to access control and T&A (card, PIN and biometrics), surveillance technologies (including thermal and the latest software supporting video surveillance), as well as alarms and perimeter solutions.
Among all those were other companies offering supplemental solutions, such as GPS or GSM tracking software, hardware and services, turnstiles and booms, electronic locks, power management solutions and a number of security associations, and of course, Hi-Tech Security Solutions.
On the first day of the show, SAIDSA (which celebrates its 50th anniversary this year) hosted a breakfast featuring guest speaker David Cohen from BDO. Cohen gave a talk on cybercrime, encompassing a global perspective on the extent of the problems faced by modern organisations as well as some real-world scenarios encountered as part of BDO's work consulting and doing penetration testing for its South African clients.
In addition to presenting some truly horrifying statistics, he emphasised the fact that an organisation's cybersecurity is only as strong as its weakest link – which in most cases is its least cyber-savvy employee – and therefore a holistic strategy is required across all departments and at all levels.
The presentation theatre was well attended throughout the event and offered a number of talks on various subjects, from local regulations like PoPIA, cybersecurity, trends and numerous issues of interest to local security companies.
One presentation that stood out was by Roger Truebody, who made a strong case for the convergence in companies of the physical security department and the IT or cybersecurity department. Weak physical security is a risk to cybersecurity, and weak cybersecurity is a risk to physical security, so as long as the two departments work independently, they are putting their companies at risk.
Truebody used a warehousing company in Gauteng as an example. The company found that it had 'lost' R 12 million worth of stock at some stage. The person responsible for physical security was asked to explain what happened, but couldn't as there had been no break-ins, no hijackings and there was no sign of how the goods were stolen. Not a good position for someone in security to be in.
However, while he was updating his resume, an independent audit found that the criminals had sent a phishing email to a low-level employee who had clicked on the link, accessed the infected website and had their computer infected with malware. Once the bad guys were in, they worked their way through the company until they had the right credentials to create fake documents – invoices, purchase orders etc.
After that, all they needed to do was send a truck with the fake documentation, which the warehouse staff would accept as they had the matching documentation, and collect the goods. The company's staff helped load the truck and away they went, never to be seen again. As noted above, a cyber breach led to a physical breach, which is why those two departments should not only work together, but as some have already done, they should be combined into a holistic security department.
News from the floor
It is obviously not possible to include every exhibitor in an article, but there were a few newsworthy snippets we picked up from the show.
The show saw the first official launch of Longse Africa. Longse is a Chinese company that has been manufacturing cameras for years, mostly on an OEM basis. The company is now focusing on its own brand of cameras which are sold globally, and also has local feet on the ground. Longse Africa will be the African distributor of the brand, and will also handle warranty and repair work for the many customers the brand already has in the country.
Powell Tronics is a regular at Securex and this year was demonstrating new additions to its product portfolio. One newcomer was Impro's 'Access-in-a-Box' solution, making small access control installations as fast and as simple as possible. Powell Tronics also introduced the AJAX intrusion detection brand to the country, a deal that was concluded just in time for the show. And the company announced that it would be selling the Hikvision range of video intercoms as well.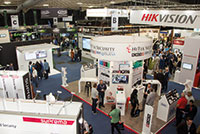 Comb Communications displayed its IoT platform and access solutions, as well as its growing relationship with iPulse, South Africa's own biometrics manufacturer. iPulse is about to launch a new Access Control as-a-Service offering globally, which Hi-Tech Security Solutions will cover in the next issue. Paxton was another returning exhibitor talking about its new Premium Monitor - www.securitysa.com/59870n - as well as its new electronic locks, which are available as networked or standalone solutions.
Graphic Image Technologies (GIT) teamed up with FLIR to demonstrate the latest FLIR body-worn cameras with a 10-hour battery life (five hours of live streaming). The camera records and streams video and audio and is attached to a helmet or spectacles so that the control room can see exactly what the wearer sees. Each camera can be charged and have its video downloaded at the same time in the company's own charging arrays. It can also be assigned to a user so that operators know exactly who is using and is responsible for which camera.
At the same time GIT introduced the latest version of FLIR's VMS with a cloud service that allows integrators to perform health checks on their clients' installations in order to be proactive and add value through preventative maintenance. It also had COP products on display, including converters that allow for IP video to be transported over coax cables.
IDEMIA was demonstrating the latest version of the MorphoWave contactless fingerprint reader, this compact version is more affordable and fits into any access solution. The company also entertained guests with some interesting virtual reality demonstrations.
The above is a mere sprinkling of news we discovered during the three days of the show. As noted, we can't cover everyone at the show, safe to say that visitors this year had more than enough to keep them occupied for the duration of the show and the sentiment expressed by the exhibitors can only lead to a better Securex in 2019.
Credit(s)
Further reading:
Smart water management
Axis Communications SA CCTV, Surveillance & Remote Monitoring Integrated Solutions
South Africa is currently facing a water crisis, with scarcity and inefficient water management posing significant challenges to sustainable, consistent access to water. Smart technology and powerful partnerships may offer a proactive solution to SA's water crisis.
Read more...
---
Helping retailers optimise monitoring and security
Guardian Eye Retail (Industry) CCTV, Surveillance & Remote Monitoring
From a smart retail perspective, it is crucial to understand that monitoring stock and other assets through camera surveillance and a variety of Internet of Things (IoT) sensors stretches further than the stores themselves.
Read more...
---
What South Africans need to know about smart devices
Technews Publishing Editor's Choice
We live in a world surrounded by smart devices, from our pockets to our driveways and living rooms.
Read more...
---
A surge of cybersecurity for the energy sector
Government and Parastatal (Industry) Cyber Security
With a rapid transition towards renewable energy, the energy sector has an increased reliance on technology. This makes it particularly vulnerable with regards to cybersecurity, as it depends on interconnected systems and digital technologies.
Read more...
---
Empowering Istanbul's public transportation
Dahua Technology South Africa CCTV, Surveillance & Remote Monitoring Integrated Solutions
Dahua's intelligent transportation solution, using technologies like DSM and AI-based passenger flow counting, has facilitated an intelligent system upgrade for nearly 6 400 minibuses and electric buses in Istanbul.
Read more...
---
Secure backup strategies imperative for business continuity
IT infrastructure Cyber Security
Cybercrime is on the rise, and businesses need to adjust how they manage their data to fend off attackers, or risk irreparable damage, writes Lisa Strydom, Senior Manager Channel and Alliance for Africa at Veeam Software.
Read more...
---
Securing a luxurious residential estate
Turnstar Systems Residential Estate (Industry) Access Control & Identity Management
Turnstar Systems recently partnered with Balwin Munyaka Residential Estate to secure the entrance to its Crystal Lagoon, ensuring only authorised residents and guests can access the site.
Read more...
---
CHI selects NEC XON as trusted cybersecurity partner
News Cyber Security Industrial (Industry)
CHI Limited, Nigeria's leading market player in fruit juices and dairy products, has engaged in a strategic cybersecurity partnership with NEC XON, a pan-African ICT systems integrator.
Read more...
---
Visitor management via QR code
ATG Digital Access Control & Identity Management Products
ATG Digital has launched its QR Code Reader to enhance access control's security and efficiency. The new QR Code Reader enables seamless, contactless access control, creating an efficient user journey.
Read more...
---
District secures activity centre
Paxton Access Control & Identity Management Products
Paxton's Net2 access control solution is a user-friendly and flexible networked access control system, which made installing and managing access control security at an activity centre straightforward.
Read more...
---