printer friendly version
Throwing the book at visitor management
June 2017 Access Control & Identity Management, Perimeter Security, Alarms & Intruder Detection, Integrated Solutions
Doubtless, every single person reading this article has signed into an estate or business facility using the ubiquitous visitors' book. Ever wondered what happens to the information you quickly scribble into the allocated space? Or how the person tasked with tracing visitors can possibly interpret the hieroglyphics that are meant to pass for credible personal information? Hi-Tech Security Solutions considers the (hopefully) imminent death of the tatty visitors' book.
There are a number of portable devices that can be used to replace the visitors' book, all of which offer a heightened level of security and accuracy in terms of the data that is collected at entrance points.
John Powell
John Powell, CEO of Powell Tronics, says that these devices are suitable not only for residential and business estates but also for standalone building reception areas. "These portable devices, that can decode drivers' licences and vehicle licence discs and which run on software like Powell Tronics' PT-Guest and PT-Rollcall, far surpass any manual system."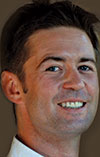 Walter Rautenbach
Walter Rautenbach, MD of neaMetrics and a distributor for Suprema, agrees that the ideal platform is a handheld device at entrance points, but that choice depends on user requirements and the lay of the land. "If the entrance is into a gated community, where access needs to be granted by a physical guard, then that entry point is ideal for a portable device. Many proprietary solutions exist but we find that an open platform such as Android allows one to design custom applications to cater for specific user needs."
The most basic need for visitor management is to record who entered the facility. To make this useful at all and to avoid incorrect or ridiculous entries such as 'Mr G Raffe' and 'Superman' it is essential to validate the information, he adds. The most convenient way to do this is by electronically capturing the drivers' licence, thereby retrieving text data off the card, and validating the drivers' licence through the unique barcode. For evidentiary purposes, it is advisable to retain a photograph of the licence and the driver. Taking this one step further, one can link this data to the physical vehicle, to provide additional data elements that will add credence to the visitors' profile.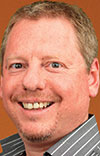 Gary Chalmers
Gary Chalmers, CEO at iPulse Systems, points out that the visitors' book is no longer compliant under any privacy laws, and even less so under the PoPI (Protection of Personal Information) Act. Using an electronic identity collection mechanism, such as iPulse Systems' eSkan or VisitorIQ console, allows for automated and accurate collection of real data, which can be managed and stored according to privacy law standards. More importantly, it can also be reported on, giving accurate and valid data when required for events such as theft, fire, visitor history or even Sarbanes-Oxley Compliance reporting.
Integrated with access
All interviewees agree that visitor management can be integrated with access control solutions. Chalmers in fact believes that a visitor management system that is not integrated into one's access control system is an unacceptable breach of security. "It fascinates me that organisations will spend millions of Rand implementing an access control system to control the entry of their staff, then simply allow a security guard to hold open a boom for a person or group of people, about whom little is known."
Powell says that they have had a number of very positive instances where this integration has helped to increase security levels, especially with respect to large sites. The integration component is almost essential due to the sheer volume of visitors that can be experienced on large business estates or gated communities. Another important factor around integration with access control is that it provides a single source of data and links the visitor to a particular erf or home, and also eliminates any risk of favouritism and errors that may be associated with manual registration by a security guard manning the entrance point.
Rautenbach adds that by issuing a card to a visitor or using a biometric reader to register their fingerprint at the point of initial capture, visitor credentials can be recorded. Typically these credentials would be linked to a generic visitor access control profile, allowing for access to specific areas, during certain times. The system could then assign an access profile based on the person being visited, granting the visitor access to the specific access points required to reach the intended person.
Assuming that the visitor management system is integrated with an access control solution, once the visitor passes through the gate, any tracking of the physical user (visitor) is performed through the access control platforms, which record the specific access points as the visitor moves through the facility or estate.
Chalmers says that most new large offices are designed in a way that once you pass through the reception area or front desk, you enter a shared space, typically hosting facilities such as bathrooms, a canteen and a number of meeting rooms. These open plan spaces, where often the meeting rooms are locked, do not require a visitor to be managed, as there is no access to the offices, which are typically behind access-controlled doors.
Who is responsible?
This brings us to the point of exactly who is responsible for the visitors once they are on site. Powell says that there are a couple of schools of thought on this matter. On some sites it is the responsibility of security to perform this function, but there is a growing trend for the onus of the visitor responsibility to be taken by the resident/tenant/employee on site.
In the instance of a residential estate, integration allows the linking of the visitor with the resident, who will take responsibility for them while they are on site. It is important to ensure that the system allows for an exit transaction, to ensure accurate monitoring of the full duration of the visitor's visit to the premises.
"In more secure environments, the system should print identification badges for the visitors, and link them to an employee. Access should only be granted when both the employee and the visitor swipe a visitor card at an access control point, as with the 'Follow Me' function in our VisitorIQ system. Under these circumstances, any unidentified person found wandering around in the facility can be easily linked to the individual who admitted them, thus forcing a measure of accountability," says Chalmers.
Keeping data safe
The sensitive issue of protection of personal data (as outlined in the PoPI Act) has to be addressed and resolved as citizens become more aware of the importance of ensuring that their data is not used for nefarious purposes. Powell recommends the issuance to every visitor of a non-disclosure document which explains how the estate or facility will be using the data. Powell Tronics software has an added feature which allows the viewing of the non-disclosure document on the portable devices used for visitor management.
Rautenbach says that implementing a visitor management system and managing the related data requires clearly defined procedures. These procedures should be available on request to visitors and it is highly recommended that guards/receptionists are aware of the procedures to enable them to answer questions from visitors relating to this issue.
According to Chalmers, by automating your data collection onto a system that does not require a guard's intervention, you make it easier for everyone involved to be compliant. The guard can do his job, without having to be a data collection point, and the visitor can easily take control of their own data capture.
Tick, tock
One of the concerns voiced by estate and building managers is whether an electronic visitor management system will waste valuable employee, resident and visitor time. Although the converse is actually true, a couple of focal areas can be addressed to ensure that the system does not cause bottlenecks.
Change control and training of system operators using a proven and mature visitor management product that is being successfully used is a prerequisite, says Powell. Time saving can be further achieved by deploying a fully integrated system which eliminates the manual capture of data. For example, scanning the vehicle's licence disc will provide one with the colour, make and model of the vehicle as well as its validity to be on the road, within a few seconds. Further time savings are provided by linking the visitor to the host and by using pre-authorisation, which allows the host to connect the visitor to the correct erf by having them punch in a unique code once they are on site.
The primary reason for implementing a visitor management system will determine how much users can be inconvenienced. "If the implementation requires high levels of security and highly restricted access, then in certain cases the users could follow the process of scanning the drivers' licence, vehicle licence discs and fingerprints; take a photograph of the visitor, and even possibly use an online identification validation check. In most cases however, the visitor capture should be streamlined to the maximum and here one relies on the effectiveness of the particular software used for the purpose," says Rautenbach.
Ideally the software needs to be highly customisable to cater for the most efficient process based on user requirements. Another possibility is to register certain visitors as frequent visitors, which will only require reactivation of the visitor's profile on subsequent visits and which will avoid the re-registration of a visitor. This, however, has to include an opt-in option, with the visitor clearly providing permission to do so and it should include the ability of a user to opt-out at any point in time.
Chalmers cites the company's VisitorIQ system, where enrolment of a new guest takes approximately the same amount of time to expedite, albeit it with far more accurate and valuable information being captured in the process, as would be required to fill in a visitors' book. However, the real benefits arise for returning guests, where the time to re-register takes on average less than 25% of the time it takes to fill in the visitors' book. "These economies of scale are felt very rapidly, as our statistics show that for most businesses, over 65% of all visitors are returning visitors, who have been there at some stage in the past."
For more information:
iPulse, 0860 IPULSE, info@ipulse.co.za, www.ipulse.co.za
neaMetrics, 0861 632 638, info@neametrics.com, www.neametrics.com
Powell Tronics, 0861 787 2537, marketing@powelltronics.com, www.p-tron.com
Credit(s)
Further reading:
Tertiary education wants real security
Issue 2 2020, Powell Tronics , Education (Industry)
Portable devices continue to offer a cost-effective and reliable alternative for a number of applications, especially in the education sector.
Read more...
---
Secure vehicle access in residential estates
Issue 2 2020, Protoclea Advanced Image Engineering , Access Control & Identity Management
Can technology offer a cost-effective solution that will provide both secure access control and free-flowing traffic in estates?
Read more...
---
Managing people's attendance and time
Issue 2 2020, Secutel Technologies , Access Control & Identity Management
Managing people's attendance, along with access control is a basic, yet critical challenge for any organisation.
Read more...
---
Modular ANPR camera solution
Issue 2 2020 , Access Control & Identity Management
Videalert has announced the immediate availability of Stingray, a new modular ANPR camera solution designed for use with mobile enforcement vehicles.
Read more...
---
Digital document revolution
Issue 2 2020 , Access Control & Identity Management
A new white paper that examines the implications of the transition from physical to digital security documents has been published by Reconnaissance International.
Read more...
---
Facial access control for ministry
Issue 1 2020, ZKTeco , Access Control & Identity Management
The Ministry of Culture in Saudi Arabia has adopted ZKTeco's facial recognition technology and fingerprint biometrics to manage access control into its building.
Read more...
---
New Door Pilot app from dormakaba
Issue 1 2020, dormakaba South Africa , Access Control & Identity Management
With new dormakaba Door Pilot, automated doors can also now be operated on the basis of remote control technologies. The system, comprising the Door Pilot app for smartphones and a Wi-Fi interface for ...
Read more...
---
Identity lifestyle
Issue 1 2020, Suprema , Access Control & Identity Management
Once the technology of the future, biometrics has quietly snuck into our daily lives through smartphones and access controls into our places of work.
Read more...
---
Securing BP's new head office
Issue 1 2020, ISF SFP , Access Control & Identity Management
ISF SFP was awarded the contract to secure the first development phase for Oxford Parks, the new head office for BP South Africa.
Read more...
---
Combining aesthetics and access control
Issue 1 2020, Turnstar Systems , Access Control & Identity Management
Prestigious law firm Bowman Gilfillan recently upgraded its physical security with the addition of four Turnstar Speedgate Express access control lanes.
Read more...
---