printer friendly version
Smart services reduce costs
May 2017 Editor's Choice, Asset Management, EAS, RFID, News, Integrated Solutions, Security Services & Risk Management
Naxian Systems is the dynamic fusion of the accumulated knowledge, experience, resources and intellectual property of two industry specialists. Officially launched in May 2017, Naxian Systems is driven by owners Bernard Senekal and Gerhard Furter.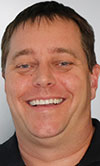 Bernard Senekal.
Recognising a need in the market to adapt to the increasing trend towards the Internet of Things (IoT), Furter's work on PSIM (Physical Security Information Management) and Senekal's involvement in providing advanced physical security systems, led to the development of Naxian's core smart services solution. This Service-Oriented Architecture (SOA) is underlined by its modularised design and collaborative abilities, created for maximised flexibility and scalability.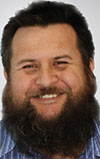 Gerhard Furter.
"We believe that as things get smarter with the dogged march of IoT, there is a definite point of departure between physical security for electronic security devices and cyber security. The basic SNMP (Simple Network Management Protocol) and ICMP (Internet Control Message Protocol) used by the electronic security industry is nowhere near the functionality of the latest technology used in the IT industry. Unfortunately, physical security systems are open to the relatively easy gathering of system information and subsequently are vulnerable to attacks. The solution Naxian offers addresses this divide and provides for optimised system and device health," says Senekal.
Furter explains that the Naxian platform works on basic network protocols with the addition of their own 'secret sauce'. It firstly takes the information collected from devices and attaches processes to them which are followed automatically, and furthermore it instructs operators on what actions to perform.
Therefore, in the event of a security incident, Annie – Naxian's artificial intelligence (AI) agent – looks for the closest resource available using resources such as Google Maps to factor in traffic and possible delays. This then allows the system to match resources to needs by deploying the most suitable response.
Smart Services
Annie is a classic example of an adaptive organic machine learning system. As an example, if 'x' is identified as the problem, then Annie knows that 'y' is the probable solution. Therefore Annie creates probabilities based on accumulated learning for the quickest and most expeditious solution.
In addition to consistently learning about systems and probable solutions, Annie also learns about the people used to support a site in terms of their capabilities. Thus, Annie not only selects route optimisation for response to an event, but also selects the best skills to resolve the event. If the selected human resource is not currently available, then Annie searches for and selects the next best available human resource. Furthermore, if Annie detects ongoing deficiencies in a particular person, it will pull this data into an e-learning platform, highlighting issues and creating constructive ideas and recommendations for addressing these deficiencies.
Not only does the Naxian Systems solution benefit end users directly but it also provides system integrators (SIs) with an opportunity to increase their profits. "Typically, when SIs increase their service revenue, their expenses concurrently grow. By using Naxian to manage the sites, the SI is able to focus on their core competency – installation – thereby reducing the number of resources required for servicing clients. By intelligently analysing and managing each site, Naxian is able to correctly advise on the resources and parts required for each maintenance event," says Senekal.
By using Naxian's smart services, SIs can generally achieve an increase in profit margins from between 9 and 11%, up to in excess of 40%. Naxian's managed site services entail the system performing continual checks on the site devices and informing Naxian that there is a problem or that a specific part is needed, thereby allowing the right person and part to be dispensed in order to quickly rectify the problem.
The system is completely agnostic to technology disciplines and brands. It currently supports most key electronic security brands, including but not limited to, Geutebrück, Avigilon, Hikvision, Dahua, Arteco and Uniview surveillance equipment; as well as Impro, Saflec, Softcon, ViRDI and Morpho access control products. It also allows integration with Texecom, Paradox, IDS and DSC alarm panels and various building management and fire systems. A mobile app – Everywhere – allows users to access information remotely and the geolocation tool lets them see exactly where their resources are situated at any given time.
Other than system and device health services, Naxian also offers total process visualisation solutions. As an example, in warehousing supply chain and logistics environments, video analytics are combined with business process, linking into warehouse management systems such as SAP or RedPrairie. For example, linking a warehouse management system with scanning and video allows for a business to immediately be notified, with video evidence, should 10 boxes have been ordered, but only nine are scanned. When the truck is dispatched to the warehouse, the system will scan its licence plate and as it enters the delivery area, the licence plate is once again scanned to ensure that the delivery is correctly scheduled.
The system can also be programmed to instruct the vehicle to park in a specific docking bay and the management system can then scan the boxes and provide instructions on where they should be offloaded. Complete control by combining traditionally standalone systems into a singular operating and reporting interface such as this allows companies to quickly identify the needle in the haystack, mitigating risk and increasing bottom line profits.
Everything as a Service
Naxian Systems employs the Everything as a Service (XaaS) principle and by using secure, managed and always available Cradlepoint LTE technology the company is able to ensure that networks operate at optimum efficiency. Furter points out that XaaS is very disruptive in the market since the company is now selling a service rather than a product, allowing users to change expenses from CAPEX to OPEX, providing obvious tax relief and operational benefits.
Successful solutions
Senekal says that the company's first sites are live, with installations at Melrose Arch and 104 sites for Bidvest Bank. Bidvest Protea Coin has also invested in Naxian's Synapse and PSIM for its control rooms. Bidvest has reported a phenomenal cost saving in site servicing since Naxian took over the management of the sites.
Data security is completely ensured as Naxian never has direct access to a customer's site information within its SAIDSA-approved control room. This is achieved by using a secure staging area between both end user client and Naxian, from which Naxian extracts the required information.
Naxian is currently engaged in over 30 proof of concept (POC) projects with key security industry players inside almost every vertical market sector in the economy. Senekal says that the company has developed a dedicated team of specialists to perform POCs. "Anything related to security and the maintenance of sites is commonly perceived as a grudge purchase, but by offering a POC, we are able to demonstrate the real value of our system. In essence, we are able to clearly indicate what it would costs a client to not have a management system in place."
In one POC example, a number of retail stores are using Naxian's smart services to provide counting of people entering stores, heat maps, as well as scales which are integrated with video coverage, to provide additional return on investment. Senekal says applications like video verification allow stores to reconcile the video footage to actual orders and deliveries to ensure that the two match, and in cases where there is a dispute, credits can be issued to the wronged party.
The stores are also integrating the service with their POS database to provide prediction of trends with each event recorded and to alert to events like sweet hearting as it occurs. This is a good example of integrated video coverage from the warehouse to the store's POS, allowing more control over what is received and dispatched. Clients are able, in real-time, to access a web portal that allows them to view any issues and their resolution progress.
Coming up
"The services concept makes perfect sense since fewer resources are required by the SI due to the fact that they can now leverage Naxian's resources and infrastructure, at a much lower cost. In addition to managed services, we will continue to market our Synapse IoT-PSIM platforms and Synapse will be released as a PaaS (platform as a service) platform at the end of 2018. Therefore, instead of buying and installing PSIM in one's control room, end users will be able to use it as a service via Naxian," says Senekal.
While it's artificial intelligence and deep learning technologies are now patented, Naxian will expand on this to include cognitive abilities in the future. This will allow the company to expand far beyond just the security environment.
For more information contact Naxian, +27 (0)87 820 0620, bernard@naxian.co.za, www.naxian.co.za
Further reading:
Key criteria in the selection of CCTV control room operators
Issue 5 2020, Leaderware , Editor's Choice
Some people are better at aspects of the job of CCTV operator than others, and some companies put in a lot more effort in choosing their operators than others.
Read more...
---
Leaders in risk and security: As long as there are people, there will be risk
Issue 5 2020, iFacts, Technews Publishing , Editor's Choice
Jenny Reid is a self-made success, focusing on people, the risks they create and the potential they have.
Read more...
---
XProtect available on AWS
Issue 5 2020, Milestone Systems, Technews Publishing , Editor's Choice
Milestone recently announced the availability of XProtect on Amazon Web Services. Hi-Tech Security Solutions asked Keven Marier for more information.
Read more...
---
From data centre to edge, from one source
Issue 5 2020 , Editor's Choice
First Distribution (FD) is better known in South Africa as an ICT distributor with an enterprise focus. Its offerings in this regard range from client solutions through to hosted solutions, data centre ...
Read more...
---
Paxton launches access and video management
Issue 5 2020, Paxton Access , Editor's Choice
Paxton's next-generation access control and video management system, Paxton10, officially launched in South Africa on 2 July 2020. Paxton10 is the next step in complete security solutions and combines ...
Read more...
---
The evolution of security in residential estates
Residential Estate Security Handbook 2020 , Editor's Choice, Integrated Solutions, Security Services & Risk Management
Two large estates discuss their security processes and the ever-expanding scope of responsibilities they need to fulfil.
Read more...
---
The COVID test for estate business continuity planning
Residential Estate Security Handbook 2020, Technews Publishing , Editor's Choice
Many estates were caught unaware when the COVID-19 pandemic and subsequent lockdown hit. Helderberg Village was ready for the challenge.
Read more...
---
Home-grown, cloud-based safety and security solutions
Residential Estate Security Handbook 2020 , IT infrastructure, Integrated Solutions
BeSecure has taken security and communications technologies and turned them into what is best described as care and safety solutions for the estate community in South Africa.
Read more...
---
Bang for your security buck(s)
Residential Estate Security Handbook 2020, Alwinco , Editor's Choice, Security Services & Risk Management
Hi-Tech Security Solutions asks how estates can maintain a good security posture in the time of the ever-shrinking budget.
Read more...
---
Local or remote management
Residential Estate Security Handbook 2020, Xone Integrated Security, Vox Telecom, Fidelity ADT , Editor's Choice
Hi-Tech Security Solutions asked three companies well versed in offering control room services – either remote, local, or both – what's happening in the estate monitoring and/or management market.
Read more...
---