printer friendly version
The toughest fire challenges?
February 2017
Fire & Safety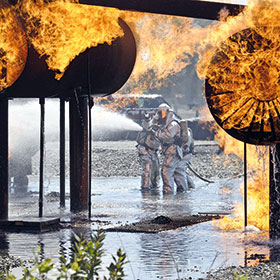 While today's range of smoke and heat point detectors and fire alarm control panels provide excellent fire detection for most buildings, some sites demand more specialised solutions. Such sites, including industrial settings, complex corporate buildings, major infrastructures and areas where harsh environmental conditions prevail, may require the deployment of a much wider range of detection technologies and techniques.
There is a wide range of tried-and-tested detection solutions available and a combination of detection techniques can often yield the best results. Different types of detectors, working on different principles and with particular advantages, can be interfaced to develop a unique solution. For example, some environments encompass a wide range of temperatures and atmospheric conditions as well as conditions that change rapidly.
Facilities such as manufacturing sites, power plants, and data centres may also include risk profiles that require rapid detection of incipient fires or minimisation of false alarms. In these locations, device performance may be the most important factor in the choice of detection technique. Degradation of detection devices can be resolved by using ruggedised sensors or by removing the detector from direct contact with the harsh environment.
Simple but effective
Point detectors are often the preferred choice for general office and residential spaces, providing an adequate balance between detection performance, cost and false alarm resistance. But they should not be overlooked when it comes to more difficult sites. Typically, these detectors use electronic thermistors to sense heat and light beams to detect smoke particles.
For more demanding environments, false alarm immunity can be achieved by using a combination of multiple devices that offer smoke and heat-sensing capabilities. Sensor information, absolute readings and rates of change are then assessed by selected algorithms to either speed up detection response or provide more reliable alarms.
By their nature, point smoke sensors are vulnerable to contaminants in their vicinity and may require enhanced maintenance and replacement regimes. System designers should also be aware of the full range of specialised sensors. For example, ruggedised heat probes can be located in places such as cooker hoods that would not be suitable for traditional point detectors.
No wiring?
In many applications, the challenge comes not from the environment, but from the limitations placed on the installation. A point-type detection system requires cabling through a risk area to link all of the detection devices to the fire alarm control panel. This can be a challenge in sites where the fabric of the building does not lend itself to the routing of cables or drilling of walls.
Wireless detection technologies have become more robust and reliable. They provide point-type detection and the interfacing of other detection devices without the need for cabling. Many systems offer a simple loop interface module that can expand an existing wired loop by adding wireless devices. Other systems provide a hub and cluster solution which can create a completely wireless detection system comprising multiple loops.
Robust, effective sensor cable solutions
Linear heat detection is a simple, dependable technology, which is ideal for applications such as floating roof fuel storage tanks, conveyer belts, cold stores, tunnels and rolling stock. Its robustness makes this technology a cost-effective solution for many applications.
The range of linear heat detection technologies has grown over the years from the simple digital technologies using two core cables, which short circuit at their alarm temperature, to analogue systems that provide variable alarm temperatures, pre-alarm and alarm thresholds. Fibre optic systems can provide absolute temperature monitoring.
Many of these systems incorporate control units, which identify the location of an alarm event along the length of the sensor cable allowing a rapid emergency response to an incident.
With a wide range of protective outer sheaths providing environmental, chemical and mechanical protection, there is a linear heat detection solution for most environments, even the harshest. Linear heat detection sensor cables, unlike many other forms of detection, can be installed within hazardous areas while the control units are located in a safe area.
Aspirating smoke detection (ASD)
Aspirating smoke detection systems have increasingly become the system of choice in applications where point detection systems cannot cope with the environmental conditions. Problems such as high airflow in forced air environments, stratification in high-ceilinged areas as well as high and low temperatures can be overcome using ASD.
ASD systems use a distributed pipe network containing sampling holes connected to a detection unit that contains a fan and high-sensitivity detection chamber. Air is drawn from the protected area along the pipework by the fan to the detection unit. Flexibility in the design of the aspirating pipework ensures an early detection of smoke by placing the sampling points in the best locations.
The detection unit can be located outside the risk area where it will not be affected by adverse environmental conditions. The air can then be treated before it enters the detectors by inserting filters. These can mitigate the problems caused by extremely dusty environments, for example. Similarly, heater boxes can offset the effects of extremely cold environments.
One of the main advantages of ASD systems is the cost of ownership. Maintenance, repairs and testing are often quicker and easier than with other systems as the detection unit is mounted at low level. This removes the need for working at height and the additional equipment and procedures this would require. For restricted access areas, the detection unit can be mounted externally thus maintaining the security of the risk area.
Using ASD can have advantages for many different applications. At critical sites such as data centres, the ability to provide an early indication of smoke is essential for protecting high-value equipment and reducing the potential cost of business downtime. In other situations, extra time may be needed to enable controlled evacuations. This would be particularly important in public buildings where large numbers of people may be present. And where access for maintenance is an issue, ASD can prove especially useful.
Rapid detection of visible flame
Smoke detectors can be very effective in areas where smoke is generated, but are not as effective where clean-burning fires are a possibility. Liquid fuel fires generate a flame but not necessarily smoke until other forms of solid fuel are involved. Line of sight flame detectors provide a quick alarm response to the presence of a flame by detecting either the ultraviolet (UV) or infrared (IR) radiation. It's important to note that UV and IR radiation can be generated by many sources so it is essential that the risk of false alarms be mitigated. The combination of multiple sensors, such as UV/IR, dual IR, and triple IR, can improve performance while reducing the false alarm risk.
Flame detectors are generally installed in extremely hazardous areas where the main risk is a liquid chemical or fuel fire, such as in fuel storage depots or aircraft hangars. These are areas where the presence of any flame, no matter how small, can be catastrophic.
For this reason many flame detectors are available in Ex certified enclosures which, unlike many other forms of detection, allows them to be installed in potentially explosive atmospheres. Unlike many other forms of detection, these can be installed within the hazardous environment. Flame detectors are suitable for open areas, either indoors or outdoors.
Linear beam as an alternative to point detectors
One of the restrictions of point type detectors is that the height of installation can affect performance. In buildings with large open areas, such as factories and warehouses, linear beam smoke detectors are a good solution.
Consisting of a transmitter and a receiver, beam detectors work through light obscuration. The transmitter sends out a beam of infrared light which is detected by the receiver. The generation of smoke within the risk area will begin to obscure the infrared light beam. When the level of smoke reaches the point that the receiver can no longer detect enough infrared light, an alarm is activated.
Beam detectors can effectively cover distances of up to 100 metres. Previous installation issues with the alignment of the transmitter and receivers, and misalignment due to flexing of the building structure, have been corrected by auto-aligning the beam detectors.
Good old sprinkler bulbs
Let's not forget that sprinkler bulbs that initiate sprinkler valves are a robust and effective technology for industrial environments. Sprinkler systems can be expensive but offer detection of a fire as well as fire fighting media to suppress or control the spread of fire.
Hazardous environment solutions
Where there is a risk of explosions (including all areas defined as hazardous by BS EN 60079 and its sub-parts), it is essential to use equipment designed and approved for such areas. There are three main types of equipment categories for hazardous areas:
1.) Intrinsically safe: Electrical equipment that has been designed to limit the electrical and thermal energy it generates, preventing it from causing ignition of a flammable or combustible atmospheric mixture.
2.) Increased safety: Equipment that is designed to eliminate the possibility of sparks and hot surfaces which would be capable of igniting a flammable atmosphere.
3.) Flameproof: Electrical equipment housed in an enclosure that will contain an internal explosion preventing the ignition of a surrounding explosive atmosphere.
Many other categories for hazardous area exist such as purged and pressurised, encapsulation and oil immersion. It is the responsibility of the facility owners to classify areas where potentially explosive atmospheres may occur, defining them as either zone 0, highest risk category, or zone 1 or 2, which are lower risk categories. Due to the risk associated with hazardous areas, it is important that installers and designers be experienced in this type of application and work closely with the facility owners to ensure safe practices are followed.
System integration
The emergency procedures that are implemented when an alarm is activated by one of the many detection systems mentioned above are also critical. The effectiveness of this implementation can be enhanced by interfacing the site's fire and security systems into a seamlessly managed single solution.
Many advantages can be gained from interfacing fire and security solutions with a central control and monitoring user interface such as the UTC Fire & Security ATS8600 Advisor Management Software. ATS8600 brings together video, intrusion, access control and fire systems through a graphical user interface. In the event of fire alarm activation, a remote view of the area where the alarm has been triggered can prove invaluable.
There are many other benefits to the software. For example, ATS8600 can provide connectivity between the detection zone in alarm and any security cameras located in the area so that a remote view is obtained. This can give valuable information for the emergency services including confirmation of a fire and the approximate size of the fire, without putting any members of staff at further risk.
The ability to visualise and manage both the fire and security systems on a site can significantly enhance the effectiveness and safety of a response during an emergency situation.
Conclusion
It is important to note that there can never be a 'one size fits all' fire detection solution as buildings and the activities carried out within them all vary. Therefore, it is essential for system designers to be aware of the wide choice of technology, products and solutions to provide the best level of performance for any situation.
All sites must have a risk assessment done to highlight areas requiring special consideration. And, of course, to ensure the suitability of a particular detection type for an application it is also advised that a site survey be undertaken prior to any designs being completed.
Credit(s)
Further reading:
Workplace fire detection: early warning is key
Fire & Safety
Workplace fire detection systems should be correctly installed and regularly tested to ensure they provide proper cover and are able to assist staff members to safely escape and alert you before a fire becomes an inferno.
Read more...
---
Fire safety in financial organisations
Financial (Industry) Fire & Safety
The data that drives modern finance is physically stored and processed by banks of equipment in cabinets where they give off a significant amount of heat as a side effect to their furious electronic activity.
Read more...
---
ZYTEQ Fire offers EN54 certified range
ZYTEQ Fire Fire & Safety
Cape Town-based ZYTEQ Fire, a manufacturer and supplier of electronic fire detection equipment, offers a range of addressable, conventional and extinguishing equipment that is certified in Europe to the EN54 standards.
Read more...
---
Technoswitch appointed as FST distributor
Technoswitch Fire Detection & Suppression News Fire & Safety
Technoswitch's appointment as a distributor for the Fire & Security Techniques (FST) range of fire suppression solutions forms part of the company's strategic plan to expand its range of suppression solutions.
Read more...
---
Perimeter and fire protection
Hikvision South Africa CCTV, Surveillance & Remote Monitoring Fire & Safety Perimeter Security, Alarms & Intruder Detection
Hikvision's HeatPro is a new series of thermal cameras designed to provide affordable all-weather deterrent and alerts, aimed at perimeter protection and fire prevention applications.
Read more...
---
Integrated fire protection for mines
FS Systems Fire & Safety
A recent installation of the latest fire detection and gas suppression technologies with custom integrations into the Mining Fire Control Network, was completed by the FS Group in 14 E-Houses for a mining client in West Africa.
Read more...
---
Suppression solutions by Technoswitch
Technoswitch Fire Detection & Suppression Fire & Safety Products
Technoswitch supplies an extensive range of trusted fire suppression solutions for various applications.
Read more...
---
ORYX conventional fire panel range update
Technoswitch Fire Detection & Suppression Fire & Safety
Technoswitch recently added the redesigned ORYX repeater panel range to its second-generation ORYX conventional fire panel range. The repeater panels offer control functionality with silence buzzer, silence alarm, sound alarm and reset buttons.
Read more...
---
EN54-4 certified power supplies
Technoswitch Fire Detection & Suppression Fire & Safety
The Technoswitch EN54-4 certified range of power supplies deliver additional built-in performance features that most others fail to provide. These features ensure that the PSUs provide reliable power and continuously monitor total performance.
Read more...
---
Five things you can do for workplace fire safety
Fidelity Services Group Fire & Safety
Any responsible business owner or office manager should be concerned about workplace fire safety and whether or not there are enough preventative measures to avoid an emergency.
Read more...
---