printer friendly version
Seamless access to multiple doors
Access & Identity Management Handbook 2019
Access Control & Identity Management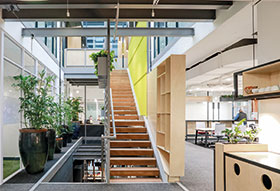 Open Workspaces creates environments for working, meeting and innovating. The company has locations all over South Africa, allowing members access Open environments in different cities as they require. As a co-working space, Open needed to be able to control access to meeting rooms, conference rooms and auditoriums using a system that is easy to use, scalable and offers multi-site functionality.
When looking at an access control system that would meet its requirements, the business found that traditional access control solutions were too expensive as Open wanted to control every door in real time. In addition, as a premier location, aesthetics were important and many access control readers, whether biometric or tag based, are large and clunky. Open required seamless access control to match its design aesthetic. The company also found that traditional access control systems required dedicated hardware, skilled operators, clunky software updates.
The directors of Open then found SALTO KS and after a rigorous due diligence decided this was the solution to their access control problem. Open Workspace's Mark Seftel says the benefits SALTO offered were varied, and include the following:
• Low cost per unit/door compared to traditional access control.
• Easy to manage and see who's using what room at what time. An intuitive online web-platform makes using the system easy.
• Aesthetically pleasing. Access control is integrated into the actual door lock. No bulky or ugly add-ons are needed.
• No cabling needed to the lock. Existing doors can be activated by replacing the existing lock with an electronic lock.
• Door locks are battery powered, typically lasting 30 000 operations. The door locks will operate during a power failure and are non-dependent on individual battery backups or UPS power.
• Open members can use one tag for multiple sites.
• Open team members can monitor user access and door status from anywhere, even on their mobile devices.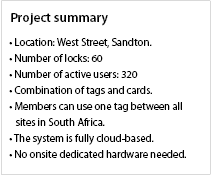 Accessing Sandton
Open Sandton, which has about 60 doors to manage, chose the new XS4 escutcheon for their doors. The BLE (low-power Bluetooth) version was specified to future-proof Open for when the BLE functionality is available on SALTO KS. Each meeting room door has its own SALTO KS XS4 Escutcheon and intelligent mortice lock. The mortise lock is able to send an alert when a door had been left open, has an inbuilt panic function and an anti-pick latch.
PoE SALTO KS IQs (hubs) were deployed. These IQs are powered by PoE switches strategically placed on each floor. PoE IQs saved money for Open because they did not have to provide a power point to each IQ.
The IQs used at Open in Sandton were connected to the cloud via Ethernet. However, for future projects, an IQ with an integrated GSM SIM card will be used. The SIM connects to available cellular networks in the absence of an Internet connection. This is a benefit because if the Internet goes down on-site, the SALTO KS system will still be online.
The commissioning and installation was handled by SALTO partner, Concept Store. To make sure there was minimal disruption to the location, progress was measured door by door. Once a door was online, it was tested and signed off by the client. Because no local servers are required it is quite easy to do a sign-off per door instead of completing the entire site and only then do sign-off (once the server is up and running), which is the norm for access control installations in South Africa.
For more information contact SALTO Systems, +27 11 543 8489, [email protected], www.saltosystems.com
Credit(s)
Further reading:
Powder coating provides durable finish
Turnstar Systems Access Control & Identity Management Industrial (Industry)
Turnstar's powder coating line provides corrosion resistance, high-quality surface finishing and a long-term environment-friendly impact for all access control components the company manufactures.
Read more...
---
Local makes lekker parking bay management technology
Access Control & Identity Management
South African born-and-bred technology platform Parket builds a seamless bridge between supply and the ever-increasing, but fluid – and often temporary – demand for parking bays.
Read more...
---
Local innovation continues
BoomGate Systems Access Control & Identity Management
While having local manufacturing facilities presents its own set challenges in South Africa, Boomgate Systems makes full use of its in-house local manufacturing and R&D.
Read more...
---
CathexisVision integrated with Suprema's BioStar2
Technews Publishing News Access Control & Identity Management Integrated Solutions
This integration uses BioStar2 access control events to trigger automated actions on the CathexisVision system, including alerts, recording a camera and commands such as locking and unlocking doors, and clearing an alarm.
Read more...
---
Maximise parking lot security
Hikvision South Africa Access Control & Identity Management
Hikvision has created its range of TandemVu PTZ cameras which provide wide-angle and close-up visibility of incidents, real-time alerts for security teams, and sound and light alarm deterrents in commercial parking spaces.
Read more...
---
Linux-based biometric access control
ZKTeco Products Access Control & Identity Management
The SpeedFace M4 is a Linux-based multi-biometric access control and time attendance terminal with visible light facial recognition and palm verification.
Read more...
---
Hospitality in the post-pandemic world
Salto Systems Africa Access Control & Identity Management
COVID-19 has forced the hospitality industry into reconfiguring hotel operations, but it has also provided a new opportunity to transform them for the better.
Read more...
---
ACaaS: The future of access control systems
Suprema Access Control & Identity Management
As many SaaS-based cloud services in other industries have shown, ACaaS will improve quality, making it more convenient, safe and quick to responding to user feedback.
Read more...
---
Advantages of palm vein biometrics
Fulcrum Biometrics Access Control & Identity Management
Fulcrum Biometrics Southern Africa offers five key differentiators when comparing the reliability and accuracy of palm vein biometrics with other modalities.
Read more...
---
Identity and access management spend to reach $26 billion
Access Control & Identity Management News
A new study from Juniper Research has found that global spend on identity and access management solutions will rise from $16 billion in 2022 to $26 billion by 2027.
Read more...
---