printer friendly version
Security, convenience and comfort
Access & Identity Management Handbook 2019 Access Control & Identity Management, Integrated Solutions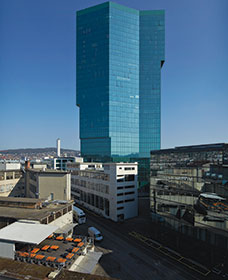 Jutting up to a height of 126 m, the 36-storey Prime Tower is Zurich's tallest building and number two in Switzerland. Its 40 000 square metres of floor space can accommodate more than 2000 workplaces. It is striking with its futuristic architecture and dark green reflective exterior. The tower's impressive details include a 10 m-high entrance hall and the CLOUDS bar and restaurant on the top floor boasting an unmatched view far out across the surrounding landscape.
The operator relies on Bosch to keep the building safe and secure. And to meet the Prime Tower's requirements, the company's experts recently implemented a modernisation project.
One of the new system's technical highlights is a combination of electronic and biometric access control. "Our owner, the firm of Swiss Prime Site Immobilien AG, attaches great importance to monitoring who exactly is inside the building at all times," explained Annika Hammes, who heads the trustee department at Wincasa, a building services outfit that was contracted to design and execute the solution.
"Error-free biometric identification is accomplished by reading the vein patterns on the backs of people's hands. This is done contactlessly for very easy, comfortable use. A total of 120 hand vein readers have been installed in the building and connected to the controllers of the eight elevators. Once employees and guests have been biometrically registered, they board lifts that automatically take them to the right floors.
Encrypted ID cards are used to access the rental units, thus making sure that persons can only enter zones for which they have been authorised. All relevant security information is collected in a management system so that the responsible employees always have everything in view and can respond quickly when there is a need.
Bosch handled everything for this project: advising the client, and then planning and implementing the system. The modifications were made without interrupting use of the building, which was a major challenge not only for the project team, which therefore had to work very swiftly, but also for the tenants themselves.
"This called for very close cooperation between the Bosch team and the mixed-use site management (MUSM) team of Wincasa AG, which met the requirements for continued building use while the work was ongoing," explained Hammes.
Credit(s)
Further reading:
Improved security health check tool
Gallagher Access Control & Identity Management Products
Gallagher Security has streamlined its free Security Health Check tool, making it easier than ever to protect against potential system risks and improve business efficiencies.
Read more...
---
Suprema showcases integrated security solutions
Suprema Access Control & Identity Management Products
Apart from being an access terminal that supports multiple credentials such as facial recognition, RFID, mobile and QR codes, the BioStation 3 also supports VoIP Intercom and real-time video monitoring features to make it a truly multi-functional reader.
Read more...
---
Success in business process best practices
Technews Publishing Kleyn Change Management Editor's Choice Integrated Solutions Security Services & Risk Management
This month we commandeer time with the woman who is spearheading our national conversation on Women in Security, Lesley-Anne Kleyn, to get to know the lady herself a little better.
Read more...
---
Local electronic locks
Access Control & Identity Management
YeboTech is an electronics manufacturing company, founded in 2005, which designs, markets and sells an electronic key and locking systems, aimed at replacing all conventional mechanical locks.
Read more...
---
Selecting the correct access control system
Enkulu Technologies Access Control & Identity Management
Frazer Matchett, Managing Director of Enkulu Technologies, suggests the right questions to ask when selecting an access control solution; not just the access system, but the integrated solution that fits your requirements.
Read more...
---
Integrated guarding services
XtraVision Integrated Solutions Access Control & Identity Management Industrial (Industry)
XtraVision offers a few tips on how to go about planning and setting up an integrated approach to sustainable and successful security services, from the initial risk assessment to the technology and people required.
Read more...
---
Paxton secures multi-tenant office in Cape Town
Paxton Integrated Solutions Access Control & Identity Management Products
Cecilia Square in Paarl, Cape Town is an office building from where several businesses operate. The multi-tenant site has recently undergone a full refurbishment, including a complete upgrade of its security system for access control.
Read more...
---
AI face recognition OEM module
Suprema News Access Control & Identity Management Products
Suprema AI, a company specialized in artificial intelligence–based integrated security solutions, recently launched its high-performance face recognition OEM module called 'Q-Face Pro' in response to the growing need for contactless security solutions.
Read more...
---
KWAL raises a glass to security upgrade
Turnstar Systems Access Control & Identity Management Products
The Kenya Wine Agencies Limited (KWAL) was in need of an integrated security upgrade. This is where Turnstar came into the picture to provide a solution that would keep KWAL secure and efficient.
Read more...
---
Dahua Insider Series for touchless access
Dahua Technology South Africa Access Control & Identity Management Products
The Insider Series Access Control Solution offers touchless access (via Bluetooth) using the DMSS mobile app; it has three distance modes and two trigger modes (normal and shake).
Read more...
---