printer friendly version
Security, convenience and comfort
November 2018 Access Control & Identity Management, Integrated Solutions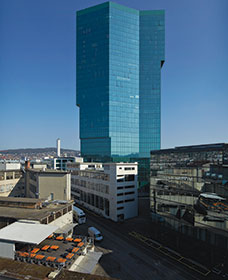 Jutting up to a height of 126 m, the 36-storey Prime Tower is Zurich's tallest building and number two in Switzerland. Its 40 000 square metres of floor space can accommodate more than 2000 workplaces. It is striking with its futuristic architecture and dark green reflective exterior. The tower's impressive details include a 10 m-high entrance hall and the CLOUDS bar and restaurant on the top floor boasting an unmatched view far out across the surrounding landscape.
The operator relies on Bosch to keep the building safe and secure. And to meet the Prime Tower's requirements, the company's experts recently implemented a modernisation project.
One of the new system's technical highlights is a combination of electronic and biometric access control. "Our owner, the firm of Swiss Prime Site Immobilien AG, attaches great importance to monitoring who exactly is inside the building at all times," explained Annika Hammes, who heads the trustee department at Wincasa, a building services outfit that was contracted to design and execute the solution.
"Error-free biometric identification is accomplished by reading the vein patterns on the backs of people's hands. This is done contactlessly for very easy, comfortable use. A total of 120 hand vein readers have been installed in the building and connected to the controllers of the eight elevators. Once employees and guests have been biometrically registered, they board lifts that automatically take them to the right floors.
Encrypted ID cards are used to access the rental units, thus making sure that persons can only enter zones for which they have been authorised. All relevant security information is collected in a management system so that the responsible employees always have everything in view and can respond quickly when there is a need.
Bosch handled everything for this project: advising the client, and then planning and implementing the system. The modifications were made without interrupting use of the building, which was a major challenge not only for the project team, which therefore had to work very swiftly, but also for the tenants themselves.
"This called for very close cooperation between the Bosch team and the mixed-use site management (MUSM) team of Wincasa AG, which met the requirements for continued building use while the work was ongoing," explained Hammes.
Credit(s)
Further reading:
Managing staff effectively
September 2019, dormakaba South Africa, iPulse Systems , Integrated Solutions, Access Control & Identity Management
Workforce management solutions allow organisations to track the relationship between productivity and the cost of employment, incorporating issues such as health and safety, T&A, rostering and more.
Read more...
---
Hennie Lategan joins Centurion as head of exports
September 2019, Centurion Systems , News, Access Control & Identity Management
Centurion Systems has announced the appointment of Hennie Lategan as the head of the company's exports department.
Read more...
---
New AlproMAX7 secures maximum rating
September 2019 , Access Control & Identity Management, Products
Alpro has launched a new range of ultra-secure mechanical mortice deadlocks, the AlproMAX7 which comply with BS EN 12209.
Read more...
---
Increase security efficiency, decrease costs
September 2019 , Security Services & Risk Management, Integrated Solutions
Trackforce offers customisable mobile and web applications to increase security operational efficiency and lower costs.
Read more...
---
ViRDI UBio Tab 5
September 2019 , Access Control & Identity Management, Products
ViRDI Distribution SA (ViRDI Africa) has announced the release of its long-awaited UBio Tablet to the South African market.
Read more...
---
Visitor access control at Ruimsig Country Club
September 2019, Elvey Security Technologies , Access Control & Identity Management, Products
Cost-effective access control solution that would control the ingress and egress of people, without hindering the traffic throughput of members.
Read more...
---
Estate-focused visitor management solution
September 2019, Vox Telecom , Access Control & Identity Management, Residential Estate (Industry)
Vox has expanded its cloud-based visitor management solution to cater specifically for the needs of small multi-dwelling unit estates and large residential estates.
Read more...
---
Biometrics control airport railroad
September 2019, Suprema , Access Control & Identity Management
63 km railroad to Incheon Airport is centrally controlled and secured by Suprema biometric hardware and software.
Read more...
---
Dual energy X-ray inspection system
September 2019, Regal Distributors SA , Products, Access Control & Identity Management
The ZKX6550 X-ray inspection system increases the operator's ability to identify potential threats; the device is designed to scan briefcases, carry-on baggage, small cargo parcels.
Read more...
---
ZKTeco parking barrier
September 2019, Regal Distributors SA , Products, Access Control & Identity Management
The PB3000 parking barrier is an ideal automatic car park barrier for parking lot and security control; it can easily integrate with revenue collection and access control systems.
Read more...
---