printer friendly version
Holistic approach to people management
April 2016 Access Control & Identity Management, Integrated Solutions, Security Services & Risk Management
Access control, time and attendance, payroll and surveillance systems all play an important role in the overall aspect of human resource management in organisations. However, the glue that binds these elements together and extrapolates critical business data, is the workforce management system.
Glenn van der Westhuizen at Workforce Management Solutions says that a workforce management system should monitor people entering and leaving the facilities in conjunction with, for instance, the access control system, which allows management to obtain accurate data about a person by scanning their ID book and using a fingerprint. It also includes a temporary tracking system that allows one to see where the person is moving in the facilities, monitoring the movement of vehicles fitted with temporary vehicle tracking tags and a full T&A system that manages employee working times more accurately for payroll purposes.
John Powell of Powell Tronics adds that the integration of a workforce management solution with all the subsystems of the organisation, for instance HR, production, manufacturing, together with retail, occupational health and safety (OHS) and training systems will ensure that the organisation will reap the highest productivity levels and ensure the most affordable output cost is achieved.
Guenter Nerlich of AWM360 Data Systems says that workforce management entails putting in place measurements, processes and systems to optimise the productivity of employees and the production process on all levels.
According to Walter Rautenbach of neaMetrics (distributor of Suprema), the workforce management concept is very wide and ranges from management styles, tools and reporting to productivity and time management, with all of these being interlinked with labour laws to ensure compliance for the employee, best wage-to-revenue ratios for the employer, meeting client requirements and also reducing human resources (HR) administration.
Workforce management supports a great deal of functionality and on a very basic level begins when employees clock in at work and ends when they clock out of work. Rautenbach comments that it entails the whole process of identifying, employing and allocating resources, measuring and managing performance and cost, being paid for delivered services and ensuring contract extension.
Covering the lifecycle
This lifecycle includes various technology and procedural touch points that enable the effective management of the workforce. These may include platforms with access to resource pools, production and performance management tools, rostering software, time and attendance, payroll, biometric identification and/or ERP systems. A solution could group various elements into an ERP or workforce management platform or it can serve as an integration platform incorporating several external components into one, in order to deliver the end result – more profitable or sustainable business.
Powell adds that while workforce management is normally a function of HR and production, it also extends beyond the typical enterprise software. While hardware and terminals play a major role as the instruments that gather the necessary data, they are often overlooked.
Since workforce management is dependent on the data gathered, attention needs to be given to hardware that can effectively and accurately facilitate its collection. Also, organisations should be encouraged to engage with companies with a proven record of deploying solutions to large volumes of transactions.
Van der Westhuizen points out that access control of all entities and stakeholders (contractors and guarding personnel for instance), not just employees, is required to provide a holistic overview for effective management of people on company premises. He says that the company's workforce management solution is modular, and offers an online dashboard. This allows the automatic gathering of all information in one place as opposed to the traditional method of having to individually interrogate each subsystem.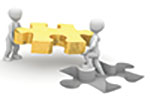 Nerlich believes that workforce management will impact primarily on the IT, security and HR departments. On a security level it ensures that humans move through a facility in the correct manner while with HR it is focused primarily on the people themselves, the roles they play in an organisation, their hours of work, and the assignment of the correct people to the correct areas or projects.
According to Rautenbach, businesses prefer to select solutions to cover focused sections of the business where return on investment is easily measured. For example, a guarding company will select a rostering solution with integrated biometrics for its outsourced guards. Another might merely use a standard T&A solution integrated with payroll for desk job employees, but for practical reasons exclude the directors being measured on how long they spend in the office.
Increasing productivity and profitability
The processes, measurements and subsystems all contribute to the bottom line of the company, so when one is able to more effectively manage people, efficiency and profits increase. In addition, there will be more compliance with both statutory requirements and company regulations. A workforce management system will also consider health and safety aspects and legally sensitive areas. The possession of the correct enterprise data, interpreted in the correct manner, can result in large dividends for companies.
A workforce management solution optimises productivity by managing an employee's functions with the particular skills set that they possess, thereby ensuring that the workforce is doing what they do best at any given time, adds Powell. This automatically relates to an improved level of productivity. Return on investment for time management and workforce management is well proven and the company is able to leverage maximised productivity from the workforce with the added benefits of allowing for proactive management of the workforce and in effect minimising idle time.
Companies often believe that they can simply use their existing software systems already installed in their ERP or finance applications to manage their workforce management processes. While this is partially correct, there are limitations to the functionality provided by these systems. Van der Westhuizen explains that, for instance, a person's time and attendance reports can be sent to a payroll package. However, this will not provide an overview of the best allocation of specific resources to various projects or tasks.
Powell adds that although ERP systems have the ability to perform some workforce management tasks, the issue is rather with the seamless integration of the various business centres and the hardware which is required to gather the data such as integrated tablets to select reason codes and cost centres.
Rautenbach agrees, saying that this would depend greatly on exactly which current systems are being implemented. In his experience, financing packages are not normally geared for workforce management but in many cases they form part of the end-point of a workforce management solution, responsible for functions such as invoicing, payroll and overall financial performance. Therefore, they form a core part of the total solution and the automated integration of workforce management solutions into these packages forms a big part of streamlining the enterprise.
Increase productivity and reduce costs
All interviewees agree that a suitable workforce management system will reduce the number of administration staff required, increase productivity and reduce cost to company. Due to the automated nature of data gathering and resource allocation, even smaller companies will benefit from its deployment. The largest return on investment, however, will obviously accrue to enterprises that employ large numbers of people.
Nerlich emphasises that by ignoring the benefits of a good workforce management system, companies are disregarding a huge potential for profitability and sustainability. He says that his company has deployed systems in companies with varying workforce sizes, from 200 people up to thousands, with the sophistication of the system differing, according to client needs. He advises that organisations should not regard it as a grudge purchase and should furthermore consider adopting a system as soon as possible in their development process to maximise return on investment.
Rautenbach says that in today's global workspace, with a distributed workforce and a demand for lots of collaboration and result-driven outcomes, there is no silver bullet solution. Companies should therefore continue to review their systems and watch out for providers with disruptive technology that effectively adjusts based on individual enterprises.
Although workforce management compromises a variety of solutions or touch points, he continues, specialised workforce management solutions are normally focused on specific enterprises and market segments. He finds that workforce management is popular in outsourced services where performance must be clearly managed to ensure profitability and that the ROI is more effective.
Similarly, workforce management which is used only for internal purposes usually suffices with certain workforce management components such as T&A with integrated payroll. It then makes use of more result-driven and frequently department-specific tools to measure individual and team performance based on results.
A workforce management solution should be used as part of a holistic solution rather than in isolation, thereby linking together a set of processes to create the overall business solution. Human factor management in the workplace will result in the evaluation of collective employee times taken to perform processes, compare this data with the ideal time required for a process to be expedited efficiently, then provide an analysis of whether employees are under- or over-performing in relation to the ideal.
Therefore, an effective workforce management solution should be able to identify and allocate, in an intelligent manner, qualified resources to a specific task and enable the measurement of the performance of the task. Effective resource allocation will ensure the best wage-revenue ratios to secure maximum profits, while meeting client requirements to ensure returning business and business expansion. Proper tools and processes should also drastically reduce HR administration that will allow for the growth of the enterprise, without having a negative effect on clients.
Shop floor data collection
By Jessica Winterbach, Uniclox Technologies.
Within your company it is of utmost importance to track and manage the performance of your staff as well as the use of resources.
Shop floor data collection is the process of monitoring production and staff productivity within your business, allowing you to measure outcomes and deliverables against results. With this solution you will be able to track time taken to complete tasks as well as provide you with assistance in labour disputes as you will be able to provide detailed, factual reports on the performance of your staff during shifts or working hours.
The productivity of your staff is also key to the performance of your business, affecting your bottom line each year. Keeping track of how well your staff perform is imperative. Even in a factory of over 500 staff members, one person who does not perform can cause a disturbance in your entire production line, costing you time and money. Constantly monitoring your shop floor and the efficiency of your staff can equip you with the knowledge you require to streamline your production processes and cut manufacturing costs, which will in turn positively impact your bottom line at the end of each year.
With a shop floor data solution you can monitor access, time and attendance, time taken to complete tasks and whether your staff are productive or unproductive, allowing you to assess where productivity is lacking and equipping you with the correct information to make decisions on how best to streamline your business processes to ensure maximum productivity.
Shop floor data collection is a comprehensive solution to time keeping and management of the productivity of your business, allowing you to be in complete control of your business processes and efficiency.
Further reading:
Smart car parking solution eases traffic flow
Dahua Technology South Africa CCTV, Surveillance & Remote Monitoring Integrated Solutions Products
Ethiopia's first smart parking lot, designed to improve traffic flow and management efficiency, has been built and installed using Dahua Technology's smart parking solutions.
Read more...
---
VMS 7.2 supports the investigation process and adds cloud capabilities
CCTV, Surveillance & Remote Monitoring Integrated Solutions Products
Qognify has launched the second release of its VMS, including extended support for body-worn video, additional functionalities to support investigations, and a new web client architecture. VMS 7.2 addresses the increasing use of body-worn video (BWV) across many sectors.
Read more...
---
Top fraud trends to watch in 2023
News Security Services & Risk Management
Even though financial concerns remain a significant obstacle for companies in implementing new anti-fraud technologies, 60% of businesses expect an increase in their anti-fraud technology budgets in the next two years.
Read more...
---
Be cautious when receiving deliveries at home
News Perimeter Security, Alarms & Intruder Detection Security Services & Risk Management
Community reports of residents being held up at their gate when collecting fast food deliveries at home are once again surfacing.
Read more...
---
Sasol ensures Zero Trust for SAP financials with bioLock
Technews Publishing Editor's Choice Cyber Security Security Services & Risk Management
Multi-factor authentication, including biometrics, for SAP Financials from realtime North America prevents financial compliance avoidance for Sasol.
Read more...
---
Hytera and KZN Police Service roll out digital call handling system
Government and Parastatal (Industry) Asset Management, EAS, RFID Integrated Solutions
Hytera Communications announced that the municipality of Ray Nkonyeni in the KwaZulu-Natal province of South Africa is now using its digital call handling system for the reporting and recording of crimes.
Read more...
---
Smart parking management platform
Access Control & Identity Management Asset Management, EAS, RFID
Parket builds a seamless bridge between supply and the ever-increasing, but fluid – and often temporary – demand for parking bays.
Read more...
---
Visible-light facial recognition terminal
ZKTeco Access Control & Identity Management Products
The SpeedFace-V5L [P] is a visible-light facial recognition terminal using intelligently engineered facial recognition algorithms and the latest computer vision technology.
Read more...
---
Facial and palm verification
ZKTeco Access Control & Identity Management Products
The ProFace X [P] supports both facial and palm verification, with a large capacity and rapid recognition.
Read more...
---
Glide Master High Security 90° Sliding Gate
BoomGate Systems Access Control & Identity Management Products
Boomgate Systems was asked to make a sliding gate that can turn 90 degrees. The gate had to offer high security and be vandal-proof.
Read more...
---