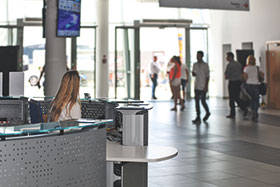 Deploying an integrated access control solution
November 2018, Access Control & Identity Management, Integrated Solutions
At busy premises such as university campuses, residential estates, corporate offices or business parks, the volume of pedestrian traffic can be immense. The challenge of controlling access into these premises and then controlling where staff and visitors go within the premises is one that requires careful consideration and planning and the deployment of solutions that are suited to the specific requirements of the environment.
Gary Chalmers from iPulse Systems says that he continues to be amazed at the amount of money South Africans spend on security and knowing who their staff are, only to allow "arbitrary people onto their premises after they have scribbled some random information onto a piece of paper (the visitor log book). Visitors have been the most neglected aspect of office security for a long time, and given the access to information in South Africa, this is really not necessary."
According to Chalmers, the key aspects to any good visitor system can be encapsulated into three areas:
At perimeter entrances: This is really about vehicles, and tracking the information about the car and the driver. Using one of the many scanners available, it is easy to scan a licence disc, scan a driver's licence, and add some additional information, such as how many people are in the vehicle, or where they are going. Any good visitor system should cater for this, and allow the secure searching of that information to get data, such as 'a white car in the morning containing three people'.
At the reception: This should allow quick, seamless identification, whereby a South African ID number can be verified against one of the many databases available, and for foreigners, a slightly more in-depth review and scan/copy of their identity document. Again, all this should be stored for later retrieval, in a manner which is compliant with the PoPI Act.
In remote areas: This should be handled through a centralised enrolment system, whereby visitors who wish to go to unsupervised or remote areas are first enrolled or added to a system, preferably biometrically, then granted access at a specific date/time by the system to an area through a biometric-controlled access system.
Mike Austen from Powell Tronics says that once the person enters the physical building, biometrics work best in this environment and a number of systems can be integrated into and managed from one single platform. "How secure the institution would like the areas to be would dictate the use of readers in and out of a door or the use of a push button to exit a door. These access control systems can then all be integrated with the CCTV system, alarm system and fire alarm for instance."
Chalmers says that iPulse's VisitorIQ.cloud is a cloud-based biometric access control system, which is completely integrated into IQSuite.cloud, the company's access control system. This allows visitors to be enrolled once, and then 'activated' on the system for a period of time, on a specific sub set of biometric readers, to acquire full control of who goes where in the facilities.
"Most of the data centres in South Africa use this particular system to control access, as it allows clear control and reporting, whilst also providing an additional benefit of incorporating health and safety videos to validate that people have seen the information they need to see. Features like badge printing, integration with web-based portals and calendars add additional flexibility and control," says Chalmers.
In terms of extending these systems to include access to logical assets like the network and business software assets, Austen believes that this would be dependent on how the 'assets' are to be monitored and if an integration is possible. "In other words, will the supplier provide a set of functions and procedures that allow the creation of applications which access the features or data of an operating system, application, or other service (APIs)?"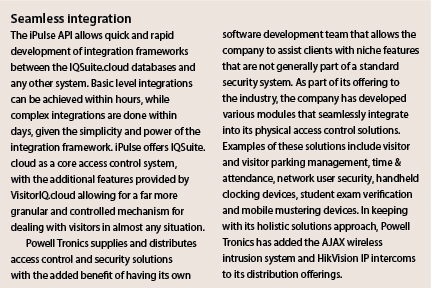 Chalmers says that with a full integration into Microsoft's Active Directory, staff can be granted biometric access to their machines, based on their access rights to the building. Integration can go as far as forcing computers to log off when a person leaves the building, or reporting when a PC is being accessed when the PC's operator is recorded as being off site.
Access control solution providers should be able to reassure clients that certain standards are adhered to in order to ensure their access and identity systems can be integrated with either new or even legacy systems. Chalmers says that in order to achieve this, one should always capture prints in multiple formats to ensure that clients can migrate their database in the future.
He points out that while iPulse uses its own Secugen algorithm for biometric extraction and matching, the system also records the ANSI standard to ensure that the enrolled database can be used by any other system in the future. "Furthermore, the platform uses a tightly controlled API for easy integration into any other system, such as CCTV, existing ticketing systems or almost any piece of hardware, such as breathalysers and tablets, to allow for a seamless view of data from any angle."
Austen adds that once you have established which brands are commonly used on most platforms, you can then decide on the backend system. "It is far more cost effective in the long term to go with a well-known nationally supported brand that integrates and is compatible with most platforms. Some companies have their own in-house development teams that make this type of integration much easier for their clients."
For more information contact
• Powell Tronics, 0861 784 357, marketing@powelltronics.com, www.p-tron.co
• iPulse, 0860 IPULSE, info@ipulse.co.za, www.ipulse.co.za