printer friendly version
They sure don't make them like they used to
Access & Identity Management Handbook 2019 Access Control & Identity Management, CCTV, Surveillance & Remote Monitoring, Integrated Solutions
A doorbell used to be a simple thing: you pushed a button and at the other end of a pair of wires a bell sounded. Then intercoms came along and opened up the possibility of two-way communication (although anyone who remembers the early intercom systems will know the audio quality left a lot to be desired).
These technologies have improved over the years and additional functionalities added, so that nowadays systems are available that add a visual dimension in the form of high-definition video, as well as other features such as mobile communication. We interviewed the following people to learn what the current state of the market is:
Markus Bodenstein, key account manager at Axis Communications SA.
Riccardo Battaini, managing director of Came BPT South Africa.
Chris Lelicanin, access control product specialist at Elvey.
Mohammad Meraj Hoda, vice president of Ring.
Hi-Tech Security Solutions: What are the latest offerings in the market with respect to doorbells and intercoms, and what functionality do they offer?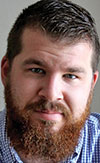 Markus Bodenstein.
Markus Bodenstein: The security market has evolved over the years, and every year new solutions and products are introduced. The same goes for access control, of which intercoms form part. Intercoms specifically have changed and are now intelligent devices that form an integral part of a security network. It is no longer a standalone analogue unit that fulfils only one role.
At Axis we have changed the naming convention because it is no longer an intercom, but a network door station. Axis network door stations combine communication, video surveillance and remote entry control in one single device. The Axis network door station offers a convenient complement to your surveillance installation and helps to keep your premises secure, providing reliable 24/7 identification.

Riccardo Battaini.
Riccardo Battaini: Doorbells are becoming more connected. Today you can have a video doorbell connected wirelessly via Wi-Fi network. This enables you to answer a visitor call from your smartphone. You may also have a PIR motion detector integrated which activates the system if some movement is detected by the entry panel.
Most of these products are coming from the Far East and are very simple, i.e. they are standalone systems that do not allow for expansion, multiple entrances or intercoms between the units. Nevertheless, there is a very important demand in this segment of the market. A big part of the residential solutions in South Africa are single-family houses and, in these applications, if the user is not too sophisticated, the Wi-Fi video doorbell is a good solution in terms of price/performance ratio.
On the intercom side of things, being complete systems, they have developed more in the direction of wide communication, thanks to the IP protocol being used for these applications. Today, in my opinion, we are leading the way with full IP audio and video intercom systems. Our solutions allow direct connection of the entry panel to the Internet, and an unlimited number of entry panels and receivers. The only limitation is the capacity of the network to manage the volume of data generated by the cameras.

Chris Lelicanin.
Chris Lelicanin: Apart from world-class European-engineered voice and video technology, the doorbell and intercom market is seeing a growing trend in the adoption of facial recognition for access, app-based Wi-Fi call forwarding, and integration into other systems such as intrusion.
Fermax's latest Meet system gives a good indication of where the industry is headed in terms of IP systems and features, and functionality versus cost. A large part of this is also the refinement of existing tried and tested technologies, less wires for installation, easier setup, management and deployment of devices.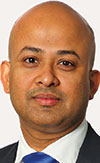 Mohammad Meraj Hoda.
Mohammad Meraj Hoda: Since we invented the Video Doorbell in 2013, these devices have become even more sophisticated. The latest generation of the Video Doorbell offers features such as two-way talk, 1080p HD video, infrared night vision and instant mobile alerts, as well as recording capability.
Hi-Tech Security Solutions: Can these devices be managed by mobile devices, and if so, can multiple people control them via their smartphones?
Markus Bodenstein: With the Axis network door station, you can see, talk to, identify and open the door to visitors regardless of where you are. The network door station can be used to create a two-way communication channel with designated mobile devices, which allows for flexibility and convenience.
Riccardo Battaini: In the intercoms solution, smartphones become an extension of the internal receiver. They can be used to receive calls, initiate calls and activate the entry panels and the cameras connected. IP intercoms are much more powerful. They allow the user to be connected via Wi-Fi while inside the property. This is very interesting in the commercial environment, where until some time ago it was a challenge to allow many entry panels. We have recently worked on a project – and have several in the pipeline – with 60 and 70 entry panels in large commercial compounds.
The IP solutions also allow more sophisticated PC-based switchboard services. Our solutions are even more powerful as we are now capable of integrating all the Came systems in a single platform in the cloud, called Came Connect. With this powerful technology we can control all the Came devices (and partially also some competitors' devices) like gate automation, traffic barriers, door automation, audio and video intercoms, and home automation devices from a single platform.
This solution allows us to provide new kinds of services. For example, the end user can configure the system in order to send a message to their installer if there is a potential problem with the safety devices of their gate automation. In other words, it is the system which initiates a service request, maintenance or provides information. In some cases, the installer can be informed of a potential problem at his customer's site and react immediately.
Chris Lelicanin: The digital age is upon us and you can securely and remotely have a two-way video conversation or grant access to a visitor. You can turn the panel off should you not want to be disturbed and the app can divert the call from the panel to multiple smart devices.
Mohammad Meraj Hoda: Ring's devices were specifically designed to be managed through smartphones, but we have taken it further, allowing people to see a live view and get alerts on their smartphone, tablet and PC. We also allow any number of people to access the Video Doorbell through the app, depending on the type of subscription they have.
Hi-Tech Security Solutions: What security is included to ensure only authorised people are able to gain access and manage these devices?
Markus Bodenstein: Cybersecurity has become a hot topic over the past few years. Axis always goes to great lengths to implement strict security protocols and requirements to ensure that any Axis device on a network is as secure as possible. We also provide hardening guides on cybersecurity, which includes guidelines on how to further enhance the security on your network – all this information can be found on our website.
Riccardo Battaini: Of course, with the connectivity, the security of the technology becomes important. As security comes first, our solutions are cloud-based with the software package sitting in very well protected data centres. Furthermore, all our applications connected to the Internet are user name and password protected. This includes web applications, smartphone apps, but also the devices directly connected to the Internet, like the entry panels.
Chris Lelicanin: Apart from password protection, there are also encryption protocols and standards in use to keep assailants at bay. The systems are well thought out and fortunately there are few points of entry and no data is stored on the edge device, such as the intercom panel.
Mohammad Meraj Hoda: Because the Video Doorbells are linked to a specific Wi-Fi network and a specific device, they are password protected. The 'shared users' function allows people to control who has access to the device, and so avoid the need to give out account information.
Hi-Tech Security Solutions: Are these systems able to integrate into a broader management system for centralised control, or are they standalone solutions?
Markus Bodenstein: The Axis network door station can integrate into existing and new management systems or it can be used as a standalone solution. The intelligence on the device allows it to communicate directly with other devices on the network, to ensure that the system becomes a working solution that can meet your requirements.
Riccardo Battaini: In our solutions we can have third-party cameras connected to the system and even the NVR (network video recorder), if necessary. It is also possible to control – with the limitation of simple output and input signals – third-party devices like competitors' gate automation or barriers.
This is not so much due to the IP technology, but more to the flexibility of our solutions, and we can also interface with elevators and make it possible to send a visitor only to the exact floor where the person to be visited is located. This is convenient and safe at the same time.
Chris Lelicanin: Integration and functionality are essential in today's security solutions and systems. Depending on the size of the implementation the Fermax Meet system, for instance, can incorporate access control, CCTV and motion detection. You can use the video monitor to view CCTV or as a panic. Should you need to scale this or integrate into an existing solution, the panels can be integrated through industry standard protocols.
Mohammad Meraj Hoda: Ring's goal is to make communities safer by helping people create a ring of security around their home. All Ring devices are linked to the app, which allows homeowners to keep an eye on their property through any number of devices.
Hi-Tech Security Solutions: What are the latest solutions your company has on offer, and what features and benefits do they offer?
Markus Bodenstein: Axis offers the Axis A8004-VE and A8105-E network door stations, with benefits and features such as high-quality video and audio, 2-way communication, remote entry control, 24/7 video identification, and SIP Support for IP phone integration. The Axis network door station is also scalable and definitely futureproof, so you are able to add door stations, expand your communication system or upgrade the backbone of your system as you grow, while preserving the value of your investment.
Riccardo Battaini: I think I have explained everything about Came Connect in my answers above. The features of the complete control of all Came installations allow peace of mind, better and more efficient maintenance, and enhanced security for all parties concerned, i.e., end user, installer, facility manager or body corporate.
Chris Lelicanin: Elvey prides itself on fulfilling the security sector's needs. All Elvey solutions are thoroughly researched and tested. The manufacturers we partner with are best in breed and I think in this context a good example is Fermax, which covers the spectrum in terms of quality, functionality at an affordable price, and ease of use. Fermax incorporates the following features into its ecosystems: facial recognition, mobile applications, access control solutions, IP video surveillance, lift control management and integration into home automation systems, to name a few.
Mohammad Meraj Hoda: The professional-grade Ring video doorbell Elite lets homeowners watch over their home and answer the door from their phone, tablet and PC. The system allows them to create and customise their own motion zones, and when anyone enters the motion zones or presses the doorbell, they get an instant alert.
The video doorbell Elite also allows for on-demand streaming of video and audio with live view. This device has built-in night vision sensors and a weather-resistant design. Ring video doorbell Elite installs on standard junction boxes with a flush-mounted finish, and connects to the network via power-over-Ethernet for a reliable connection and non-stop power.
The Ring Video Doorbell 2 comes with adjustable motion sensors, and when anyone triggers the motion sensors or presses the doorbell, homeowners get an instant alert on their phone, tablet and PC, allowing them to see, hear and speak to people at their door from anywhere. The Video Doorbell 2 also offers live view and on-demand streaming video and two-way audio, and features built-in night vision sensors and a weather-resistant design. Ring Video Doorbell 2 comes with an innovative quick-release rechargeable battery pack, so the doorbell can be charged without moving the device.
For more information contact:
Axis Communications SA, +27 11 548 6780, sasha@axis.com, www.axis.com
Came BPT South Africa, +27 11 616 3222, csa.info@came.com, www.camebpt.co.za
Elvey, +27 11 401 6700, info@elvey.co.za, www.elvey.co.za
Ring, +27 11 237 7000, mea@ring.com, www.ring.com
Credit(s)
Further reading:
Improved security health check tool
Gallagher Access Control & Identity Management Products
Gallagher Security has streamlined its free Security Health Check tool, making it easier than ever to protect against potential system risks and improve business efficiencies.
Read more...
---
From the editor's desk: Get Smart
Technews Publishing News
      Welcome to the fourth issue of Hi-Tech Security Solutions for 2023, which is also the first issue of Smart Security Solutions. As noted in previous issues, Hi-Tech Security Solutions has been rebranded ...
Read more...
---
Elvey partners with HALO
Elvey Security Technologies News CCTV, Surveillance & Remote Monitoring
Elvey Group has partnered with HALO Europe to provide Africa's first body-worn solution with zero upfront costs. This includes an IP68-certified body camera and a 4G-connected device.
Read more...
---
Suprema showcases integrated security solutions
Suprema Access Control & Identity Management Products
Apart from being an access terminal that supports multiple credentials such as facial recognition, RFID, mobile and QR codes, the BioStation 3 also supports VoIP Intercom and real-time video monitoring features to make it a truly multi-functional reader.
Read more...
---
Success in business process best practices
Technews Publishing Kleyn Change Management Editor's Choice Integrated Solutions Security Services & Risk Management
This month we commandeer time with the woman who is spearheading our national conversation on Women in Security, Lesley-Anne Kleyn, to get to know the lady herself a little better.
Read more...
---
Local electronic locks
Access Control & Identity Management
YeboTech is an electronics manufacturing company, founded in 2005, which designs, markets and sells an electronic key and locking systems, aimed at replacing all conventional mechanical locks.
Read more...
---
Selecting the correct access control system
Enkulu Technologies Access Control & Identity Management
Frazer Matchett, Managing Director of Enkulu Technologies, suggests the right questions to ask when selecting an access control solution; not just the access system, but the integrated solution that fits your requirements.
Read more...
---
Integrated guarding services
XtraVision Integrated Solutions Access Control & Identity Management Industrial (Industry)
XtraVision offers a few tips on how to go about planning and setting up an integrated approach to sustainable and successful security services, from the initial risk assessment to the technology and people required.
Read more...
---
Paxton secures multi-tenant office in Cape Town
Paxton Integrated Solutions Access Control & Identity Management Products
Cecilia Square in Paarl, Cape Town is an office building from where several businesses operate. The multi-tenant site has recently undergone a full refurbishment, including a complete upgrade of its security system for access control.
Read more...
---
AI face recognition OEM module
Suprema News Access Control & Identity Management Products
Suprema AI, a company specialized in artificial intelligence–based integrated security solutions, recently launched its high-performance face recognition OEM module called 'Q-Face Pro' in response to the growing need for contactless security solutions.
Read more...
---