printer friendly version
CAMPROSA 2015 review
January 2016 Education (Industry), Conferences & Events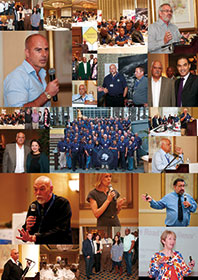 In the second half of 2015, the Campus Protection Society of SA (CAMPROSA) held its annual conference at the Table Bay Hotel in Cape Town. The event was well attended and hosted a number of speakers covering a variety of topics related to securing educational institutions in South Africa.
The event also included presentations and attendance from member of the International Association of Campus Law Enforcement Administrators (IACLEA), an international body CAMPROSA is affiliated with, as well as the Association of University Chief Security Officers (AUCSO).
There were a number of sponsors at the event, hosting tables and displays of their companies' offerings to the education market.
The sponsors included:
• Salto,
• Axis Communications,
• Thorburn,
• Powell Tronics,
• AmaziPro,
• Sukema,
• G4S,
• Securitas,
• IPM,
• FS Systems with Avigilon,
• Bidvest Protea Coin, and
• Vantage MDT with Immix control room software.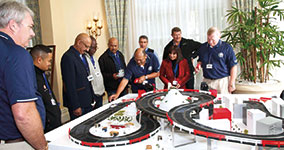 The conference started with a tour of the University of the Western Cape, hosted by Chris Cobb, the institution's director risk and compliance. The following day, the conference began in earnest with an introduction from John Critien, formerly from UCT. CAMPROSA president, Roland September then officially welcomed the attendees and presenters before introducing the event's facilitator, Ken Annandale.
Do you DNA?
The keynote on the first day set the tone for the rest of the conference, assuring attendees they were going to be treated to excellent and educational presentations with much to take home. The keynote was titled "The Power of Forensic DNA Profiling in the wake of South Africa's new DNA Act", and was presented by Vanessa Lynch.
Lynch spoke about the importance of DNA evidence, not only its ability to solve crimes, but the importance of training those responsible to collect it properly so that it can be used for prosecution. Relating her own experience, she told of how the murder of a family member would never be prosecuted because the evidence that may have led to a conviction was mishandled and therefore inadmissible.
The DNA Project was started by Lynch as a free service to educate people about DNA, how to collect the evidence and how to handle a crime scene to preserve evidence. The Project offers free training to all concerned, from police officers through to security officers who would usually be the first people at a crime scene. It is imperative that these people understand the value of DNA and the critical importance of securing a crime scene for investigators.
Lynch also supports the expansion of the national DNA database to ensure the authorities have a secure and accurate system to use in DNA comparison – when they have the required evidence. More information on the DNA Project can be found at www.dnaproject.co.za
Events legislation
Next up was a presentation about events legislation, presented by Michael Langley, SHE Manager at UCT. Langley explained that educational institutions were designed for teaching and learning, but not for events. This means that event management is becoming part of the security function at these institutions as simply organising an event and hoping all goes well is not acceptable, or legal.
There are numerous standards and laws that govern the organisation of an event, such as SANS 0400 as well as the Occupational Health & Safety Act, but each municipality has its own additional regulations when it comes to holding events. The factors that need to be considered in organising an event are many and varied, from parking capacity through to power management and medical issues.
It is the responsibility of the organiser to enact measures that will ensure the safety and security of attendees as well as the security of property at each event. And it's not simply a matter of asking for volunteers or hiring people off the street temporarily for each event. Security and fire officers, for example, must be registered with their various bodies.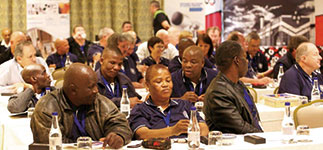 Langley went on to discuss other issues learning institutions need to take cognisance of when events are held on their premises as they can be held liable should something go wrong – which is why public liability insurance is a must. It's also worth noting that for events with over 50 people, written permission must be obtained from the municipality, and a written security plan must be submitted.
Following Langley, Derek Huebsch, head of protection services at Nelson Mandela Metropolitan University hosted a workshop on crime trends on campuses later, designed to collect real information from attendees on what crimes they were experiencing on campus and how they were dealing with them. The crimes in question ranged from stolen property to harassment and more serious crimes such as rape and murder.
Some of the unpleasant figures discussed included, for example, a high rate of negligence that resulted in items being lost as well as a lost item recovery rate of below 10%. Furthermore, less than 20% of incidents end up in court, something the industry wants to work on.
Security vs. fire
Gerard Langenhoven, divisional commander, fire & life safety for Cape Town was also on hand to deliver an eye-opening presentation on the conflict between security and fire safety. He explained that all too often he sees companies (and universities) that are far too concerned with security than they are about life safety. An example would be where fire escape doors are locked for security purposes.
The relevant regulations are clear that provision must be made for unhindered and safe evacuation in the case of a fire, including for the disabled. Not only is it an offense to hamper escape routes, it is also a crime not to report locked fire escapes.
Even those buildings with modern electronic access control systems such as e-locks must ensure that these locks are able to unlock automatically in case of a fire, even if there is no power. Moreover, he also stressed that for traditional locks, having the keys available in a break-glass box is not acceptable; in an emergency one must be able to operate the lock in a single movement.
Langenhoven mentioned many cases he had seen where life and safety regulations were broken in the name of security. These instances are not simply violations, they can lead to a building being shut down by the authorities until they are sorted out.
And while the need for security is understandable and necessary, he asked the question, what is more important – security or life? Universities need to adopt a rational design approach that would ensure their security, but that also took the safety of people into account and made sure exit routes were well planned and accessible.
International input
William Taylor, the president of IACLEA (The International Association of Campus Law Enforcement Administrators), ended the first day of presentations with some insight into the security issues faced on American campuses. IACLEA offers security personnel from universities around the world a forum to discuss issues they face and their potential resolution, and he invited local universities to join the discussions and learn from others. Interested parties can go to www.iaclea.org for more information.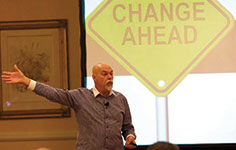 He also gave some insight into the US's Clery Act. This is a piece of legislation that compels universities in the US to share information about crimes on their campuses in order to improve safety and security as well as inform the public. The report these universities have to deliver includes three years of crime statistics, including the university's policies and procedures for dealing with all crimes.
While unlikely, it would be a positive step if local universities were also compelled to produce reports such as this.
Securing the Waterfront
Deon Sloane is in charge of security for the V&A Waterfront, Cape Town's premier security attraction. He spoke on the challenges of securing a large, mixed-use location from all types of security threats as the keynote on the second day. Not only is Sloane responsible for the existing security, ensuring his team and technology keep up with the many threats they face on a daily basis, but the Waterfront is continually expanding, bringing in more people and businesses that need to be sure of the security of the location. Added to this, criminal threats are always evolving, requiring constant attention.
Key to the successes the Waterfront has achieved, which equates to a 70% reduction in incidents since 2009, is focusing on people, property and information. Sloane also notes that a security operation is a "living thing" and must be focused on the proactive prevention of crime using all the intelligence resources available.
A critical point Sloane left the audience with was, "Never allow your weak points to be aligned."
Ken Annandale, who also facilitated the conference, then presented an update on the SHE regulations as they apply to health and safety practitioners in South Africa. The security industry often focuses on its scope of operations, but forgets that there are health, safety and environmental regulations that play an overriding role in all workplace functions. Annandale mentioned some of the regulations, security related and otherwise that all organisations have to take note of and adhere to.
Proof or spoof
Forensic scientist, Dr David Klatzow was up next, asking whether forensic science we put so much confidence in is a science or a religion based on faith. Far from saying that forensics are useless, Klatzow says the weakness in many forensic cases is that the police don't do their jobs correctly and leave gaps in evidence collection – which is not always their fault – which compromises the evidence.
Other issues that cloud the use of forensic evidence and forensics as a science is the cognitive bias that affects many people's thinking. He gave examples of this from real world scenarios that sent authorities on the wrong track.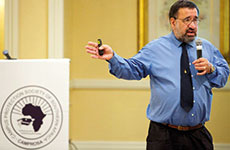 While Klatzow has many stories to tell, and much experience debunking so-called iron-clad forensic evidence, he says we need to be focused on using forensics as a science. Drug analysis, for example, has a good scientific pedigree that can stand up to scrutiny. This does not apply to all disciplines we call forensics. He claims, for example, that handwriting forensics is not scientifically based.
DNA, for example, is a science, but it relies on meticulous logistic and record keeping. There is an example of where 17 examiners were given the same DNA sample to analyse and came up with contrasting results. When they applied their context, cognitive bias changed the results.
The editor of Hi-Tech Security Solutions followed Klatzow's dynamic presentation with a talk on the potential impact of emerging security technologies.
PoPI
Francis Cronje followed with some insight into the PoPI Act (Protection of Personal Information Act) and how that will impact the collection and retention of personal information in the security industry.
Although the act has been a long time in the making, almost all the legalities are now done and it will shortly become law. Cronje explains that once this happens, public and private organisations will have a limited time to comply before they face penalties for not adhering to it.
On the positive side, PoPI will ensure that personal information is only collected for specific purposes, and will be stored securely for a limited time. This will benefit everyone. Of course, what exactly constitutes personal information is open to interpretation, but this is why everybody should be preparing for PoPI and determining what information they hold will be affected.
But PoPI is not only about protecting personal information to adhere to the law. The scourge of data theft globally, which Cronje says results in about 32 records being stolen every second, has made personal data a hot commodity on the black market. To date, companies in South Africa (and elsewhere) that carelessly lose sensitive information they are storing have not faced any type of sanction, but this will change. Therefore, making sure your business manages its data efficiently will prevent data theft and unwelcome legislative outcomes once PoPI is in full effect.
When looking specifically at the security industry, it is therefore important for companies to collect only the information they require, and securely store it. It's also as important to delete the information securely after a prescribed period. This includes everything from access control data through to CCTV footage – again the question of what qualifies as personal information needs to be understood.
The road to resilience
Bernadette Duncan, COO of the Association of University Chief Security Officers (AUCSO), ended the formal presentations with an overview of the need for and benefits of effectively planning for emergencies. She explained that an emergency plan is not the same as a business continuity plan, although the two can work together to resolve a crisis.
In responding to an emergency, Duncan stresses that people are the most important consideration because buildings and other assets can be replaced. Naturally, effective planning will assist in protecting both from serious damage, but people must come first.
Sharing information about your emergency plans is also crucial, and this includes sharing with students so that everyone knows what to do when an incident occurs. The ideal is to ensure everyone works together in a crisis. That said, emergency teams must be prepared and able to work independently in an emergency to ensure the situation is brought under control as soon as possible. They need to be empowered to act when required, and have equipment and supplies to last 24 to 48 hours – the time they may be out of touch when dealing with the crisis.
Preparing for a crisis is part of the campus's requirement for resilience, or the ability to bounce back quickly from a "disruptive challenge". Effective communications is also part of the preparation process which will allow the organisation to keep the public and concerned stakeholders (such as parents) informed and to prevent rumours from spreading.
The AUCSO website has more information on boosting resilience and how universities can prepare for emergency situations more effectively (www.aucso.org.uk).
CAMPROSA 2015 was filled with interesting and pertinent information relevant to universities in South Africa. The conference and adjoining exhibition was given a high rating by all concerned and pushed the bar very high as a challenge for the organisers to do better at CAMPROSA 2016, which will be held at Fairmont's Zimbali Hotel on the North Coast of KZN from the 4th to 7th September 2016. More details are available on www.camprosa.co.za
Further reading:
Securex back with a bang
Technews Publishing Editor's Choice News Conferences & Events
After a long absence, Securex 2022, the 29th edition of the event, went ahead without a hitch and received positive reviews from visitors and exhibitors.
Read more...
---
Salient Systems manages campus security
Education (Industry) CCTV, Surveillance & Remote Monitoring Access Control & Identity Management
The University of Massachusetts Amherst relies on Salient Systems for video, access control operations for flagship campus as it standardises on IP surveillance.
Read more...
---
Hytera showcases security communications at Securex
News Conferences & Events Products
Hytera will be at Securex South Africa 2022 in Hall 2, Stand A07, where it will showcase a variety of security communications solutions, including its latest DMR communications solution, body-worn cameras and Push-to-Talk over cellular.
Read more...
---
Touchless school access control
neaMetrics Suprema Editor's Choice Access Control & Identity Management Integrated Solutions Education (Industry) Products
Wolverhampton Grammar School deployed a Suprema access control solution, integrated with Paxton to resolve its legacy access control challenges.
Read more...
---
Protecting people and infrastructure
Cathexis Technologies Education (Industry)
Effective security and infrastructure management enhances every aspect of an educational facility. Students and staff can prioritise their educational and operational goals because they trust that the ...
Read more...
---
Touchless access to education
ZKTeco Education (Industry)
Visible light facial recognition technology gives one an endless platform to create a full security system without people, especially intruders, having knowledge of them being monitored.
Read more...
---
Installation is only a third of the job
Technews Publishing Education (Industry)
Fire safety is often ignored in student accommodation once the building is completed and the fire safety installation certified, says Michael van Niekerk, CEO of ASP Fire.
Read more...
---
Schools and universities deserve smarter fire detection
Education (Industry)
Gaining more time is a key reason for changing from the familiar point-type fire detectors to aspirating smoke detection (ASD), also known as air sampling detectors.
Read more...
---
Complete campus control
Gallagher Education (Industry)
Creating a secure yet welcoming environment can seem like a complicated task, especially when considering the additional challenges of managing campuses spread across multiple sites and the necessity of reducing energy use.
Read more...
---
The benefits of physical barriers
BoomGate Systems Education (Industry)
Most education facilities and student accommodations require turnstiles as an absolute necessity to ensure secure, yet convenient physical access control.
Read more...
---