printer friendly version
Does your machine deep learn to artificially talk NLP in a Bayesian structured neural pattern?
September 2018
News
So there! Now your very own Hi-Tech Security Solutions magazine is also equipped with the latest deep learning and artificial intelligence capabilities. Using the latest in cognitive neuroscientific algorithms, Hi-Tech Security Solutions is able to automatically integrate, interpret and intelligently create a real-time optical interface into your own neural network where squiggles on dead wood are transformed into human-understandable electrical impulses.
Or you could say we print letters of the alphabet in specific patterns on a page which your eyes transmit to your brain and you see as words which (sometimes) make sense. But what marketing person is going to get paid to say that?
The security industry is no laggard when it comes to jumping on the artificial intelligence (AI) bandwagon. There's no doubt that AI and all its derivatives are going to make a huge difference in the way things are done in nearly every industry, and the impact has already started. However, AI is also the hot buzzword of the moment and everyone has decided they are doing it.
Take video analytics. It's been done for a while with varying levels of success, but today you can't simply offer video analytics, no matter how good your product is. You have to offer AI-enhanced video analytics, even if the only difference is adding the words 'AI-enhanced'.
At a recent consumer show in Berlin people were confronted with the same issues. It seems that having your stove or fridge (or whatever) AI-enabled is a must have, regardless of whether the enhancement does anything or is something you want.
One household name has things that can do everything for you. If it sees you're looking at a recipe for lasagne and knows you have all the ingredients, it can start the process for you, switch on the stove and provide guidance on what you need to do. You need to be using a couple of apps for this to work, but it's still classified as AI. And then there's a pan that can turn the heat down if it detects you're burning your bacon – which could actually be useful if it was affordable for mere mortals like me.
The absolute worst about the whole AI thing is that the vendors, developers and everyone else responsible seem to think AI is all about interruption. Your phone or house or stove or car (etc.) will spend all its time interrupting you and asking you or telling you irrelevant things. And of course, nothing is integrated so every electronic thing will be on its own mission.
"Person X is in your contact list and they are driving 20 metres behind you, would you like to call them?"
"No."
"Would you like to message them?"
"No."
"Shall I tell them you're here?"
And that's when Person X suddenly finds his windscreen has been hit by a flying smartphone.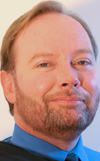 And it doesn't stop at your car or kitchen. A new word I learned today is Teledildonics, (also known as cyberdildonics, according to Wikipedia). I could tell you more about it but then I would be in trouble, again, so I'll just end by noting that Google and the others are going to be collecting much more private information about you in future.
Andrew Seldon
Editor
Credit(s)
Further reading:
A contact-free hotel experience
Issue 7 2020, Technews Publishing , Access Control & Identity Management
Check-in and go straight to your room without stopping at the reception desk at Hotel Sky in Sandton and Cape Town.
Read more...
---
New hires at iPulse
Issue 7 2020, iPulse Systems , News
iPulse has welcomed two new employees into its ranks. Shai Weil has been appointed as operations director, while Corneli Botha is the new customer sales liaison.
Read more...
---
HID Global acquires Access-IS
Issue 7 2020, HID Global , News
HID Global acquires provider of miniaturised reader devices that combine key technologies for mission-critical markets.
Read more...
---
Securing digital transformation
Issue 7 2020 , News
Schneider Electric partners with Fortinet to strengthen ability to secure operations across the business lifecycle and unlock the advantages of a secure IIoT.
Read more...
---
Suprema integrates with Paxton's Net2 access control
Issue 7 2020, Suprema , News
Suprema has announced it has integrated its devices with Paxton's access control system, Net2.
Read more...
---
Free cybersecurity courses
Issue 7 2020 , News
Check Point Software partners with Harvard and MIT-founded edX to deliver free online courses to help close the cybersecurity skills gap.
Read more...
---
Fidelity partners with Auto & General Insurance
Issue 7 2020, Fidelity Security Group , News
Fidelity Services Group in partnership with Auto & General Insurance has launched Fidelity InSure, a comprehensive vehicle, home, and building insurance offering.
Read more...
---
More apps for open camera OS
Issue 7 2020 , News
The App Challenge will result in 21 new apps running on the Security & Safety Things' camera OS, based on the Android Open Source Project.
Read more...
---
Milestone Systems announces Thomas Jensen as new CEO
Issue 7 2020, Milestone Systems , News
Milestone Systems announced that its board of directors has appointed Thomas Jensen as chief executive officer. Jensen will assume the role on October 1, 2020.
Read more...
---
Suprema announces its first virtual event
Issue 7 2020, Suprema , News
Suprema will be hosting its first virtual event, Suprema Connect 2020, which is scheduled to take place over one month from September 15.
Read more...
---