printer friendly version
Does your machine deep learn to artificially talk NLP in a Bayesian structured neural pattern?
September 2018
News & Events
So there! Now your very own Hi-Tech Security Solutions magazine is also equipped with the latest deep learning and artificial intelligence capabilities. Using the latest in cognitive neuroscientific algorithms, Hi-Tech Security Solutions is able to automatically integrate, interpret and intelligently create a real-time optical interface into your own neural network where squiggles on dead wood are transformed into human-understandable electrical impulses.
Or you could say we print letters of the alphabet in specific patterns on a page which your eyes transmit to your brain and you see as words which (sometimes) make sense. But what marketing person is going to get paid to say that?
The security industry is no laggard when it comes to jumping on the artificial intelligence (AI) bandwagon. There's no doubt that AI and all its derivatives are going to make a huge difference in the way things are done in nearly every industry, and the impact has already started. However, AI is also the hot buzzword of the moment and everyone has decided they are doing it.
Take video analytics. It's been done for a while with varying levels of success, but today you can't simply offer video analytics, no matter how good your product is. You have to offer AI-enhanced video analytics, even if the only difference is adding the words 'AI-enhanced'.
At a recent consumer show in Berlin people were confronted with the same issues. It seems that having your stove or fridge (or whatever) AI-enabled is a must have, regardless of whether the enhancement does anything or is something you want.
One household name has things that can do everything for you. If it sees you're looking at a recipe for lasagne and knows you have all the ingredients, it can start the process for you, switch on the stove and provide guidance on what you need to do. You need to be using a couple of apps for this to work, but it's still classified as AI. And then there's a pan that can turn the heat down if it detects you're burning your bacon – which could actually be useful if it was affordable for mere mortals like me.
The absolute worst about the whole AI thing is that the vendors, developers and everyone else responsible seem to think AI is all about interruption. Your phone or house or stove or car (etc.) will spend all its time interrupting you and asking you or telling you irrelevant things. And of course, nothing is integrated so every electronic thing will be on its own mission.
"Person X is in your contact list and they are driving 20 metres behind you, would you like to call them?"
"No."
"Would you like to message them?"
"No."
"Shall I tell them you're here?"
And that's when Person X suddenly finds his windscreen has been hit by a flying smartphone.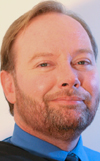 And it doesn't stop at your car or kitchen. A new word I learned today is Teledildonics, (also known as cyberdildonics, according to Wikipedia). I could tell you more about it but then I would be in trouble, again, so I'll just end by noting that Google and the others are going to be collecting much more private information about you in future.
Andrew Seldon
Editor
Credit(s)
Further reading:
Helping South African university students and staff to stay safe
News & Events
Buzzer is a free mobile app that allows users to quickly and easily report incidents of crime, violence, or harassment to campus security and other relevant authorities.
Read more...
---
Tech developments lead hologram growth in 2024
News & Events Security Services & Risk Management
Micro-lenses, micro-mirrors and plasmonics are among the rapidly-emerging optical devices that have evolved on the back of holographic and diffractive technologies, and are seen as part of the natural evolution of optical science by R&D teams.
Read more...
---
Trellix detects collaboration by cybercriminals and nation states
News & Events Information Security
Trellix has released The CyberThreat Report: November 2023 from its Advanced Research Centre, highlighting new programming languages in malware development, adoption of malicious GenAI, and acceleration of geopolitical threat activity.
Read more...
---
People are craving connection
News & Events
As 2023 nears its close, global security manufacturer Gallagher Security is sharing key observations from some of the year's biggest industry events, chief among them the rising importance of community building these events facilitate.
Read more...
---
ePSiRA online system
PSiRA (Private Security Ind. Regulatory Authority) News & Events
[Sponsored] As part of the digitisation of the security industry, the Private Security Industry Regulatory Authority (PSiRA) introduced the ePSiRA online system, which allows clients to transact online.
Read more...
---
New generation of cyber-focused controllers
Gallagher News & Events Access Control & Identity Management Products & Solutions
The C7000 gives users an opportunity to leverage their hardware and firmware to build a platform designed to catapult their organisation into the future, with cybersecurity baked in from inception.
Read more...
---
New T&A terminal features revolutionary AI technology
Suprema News & Events Access Control & Identity Management AI & Data Analytics
Suprema has launched BioStation 2a, the world's first deep learning-based fingerprint recognition solution, providing powerful access control features and an improved ability to extract templates from low-quality fingerprints.
Read more...
---
South African Cyber Risk Survey 2023
News & Events
Aon South Africa has released its 2023 Cyber Risk Survey for South Africa, providing insights on current trends in cyber risk governance practices being deployed by South African companies in various market segments.
Read more...
---
Africa Online Safety Fund announces grant winners
News & Events Information Security
The Africa Online Safety Fund (AOSF) has announced the winners of this year's grants; among them are five organisations operating in South Africa to educate people about online risks.
Read more...
---
Service orientation and attention to detail
Technews Publishing Editor's Choice Risk Management & Resilience
Lianne Mc Hendry evolved from working for an accounting firm to an accomplished all-rounder familiar with the manufacturing, distribution, and system integration aspects of the security industry value chain.
Read more...
---