printer friendly version
Increasing safety levels through risk evaluations
September 2015 Fire & Safety, Conferences & Events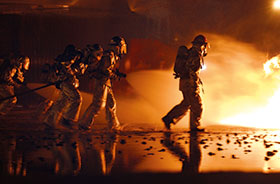 Millions of Rands of damage to property and person are incurred by undetected or uncontrolled fires every year. A three-pronged solution is required to address this problem: thorough risk assessment; appropriate installation; and education of end users. Hi-Tech Security Solutions chats to industry players about the correct modus operandi to implement.
Nichola Allan, MD of G2 Security, says that the fire risk is dependent on the environment. For instance, in households, the biggest risks come from flammable materials such as curtains, while in office buildings the risk would be more apparent in stacked boxes and papers. It is critical to ensure that fire suppression equipment is available should a fire break out.
Keith Norgate, CEO of Fire Systems Training, adds that the kitchen is often the point of highest risk in a home, with electrical appliances and cooking oil being big risk contributors. In township environments, the paraffin and other incendiary fuels are often the cause of fires. Similarly, overloading of electrical points is a large red flag for fire services.
Allan says that occupancy is another consideration when undertaking a fire risk assessment. Typically, houses are occupied at night and in part during the day whereas offices generally have a higher occupancy during the day. Because businesses are governed by SANS 10400: Part T – Fire Protection, they are obliged to be designed, constructed and equipped so that in the event of fire the occupants or people using the building will be protected. In addition, the spread of the fire as well as generation and spread of smoke should be minimised.
While there is no regulation governing the installation of fire/smoke detection and suppression equipment in homes, it is advisable to consider that the benefits of containing a fire and thereby minimising its impact on the structure, occupants and other movable items far outweigh their costs.
Norgate says that any building of more than 5000 m² falls under the SANS regulation and therefore requires a fire detection system. It is important to consider the correct number of fire extinguishers and fire hoses required as well as the most conducive placement of these items. Due consideration also needs to be given to the correct inspection and service intervals pertaining to these items.
Failure to follow legislated maintenance programmes could result in non-payment of insurance claims at best and in liability lawsuits at worst. Insurance companies are well within their mandate to ask for proof of a service record and if an injury or death occurs, businesses could find themselves subject to civil or criminal prosecution.
Continual evaluation
Primary evaluations take place in new buildings, with subsequent evaluations being conducted if the internal layout of the building changes at all. This is especially relevant in office blocks, where according to Allan, companies often remove dry walling and change the density of people in each area without giving consideration to the fire risks they are imposing.
She says that it is advisable to re-evaluate the positioning of gas and smoke detection and suppression equipment once a building is occupied to ensure that the original plan matches the actual location of the employees. Factors such as the highest density walkthrough areas only become apparent once the people move into the building and this could affect the placement of the required systems.
Evaluations are undertaken by both the Fire Department and private rationalisation consultants, with the former being the only ones qualified to provide a complete risk analysis. Allan says that Fire Department is increasing education regarding the detection, suppression and prevention of fire through a concerted and systematic programme.
Government education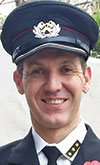 Alex Gloster.
Alex Gloster, manager of training at eThekwini Metro Council Fire & Emergency Services says that the educational programme the department is rolling out predominantly to the public is growing in demand. The aim of this programme, which takes place at recognised fire stations as well as in the form of a roadshow, is to effectively decrease the number of fires and consequent injuries and deaths.
The initiative, while still in its infancy, has already been experienced at 200 points of contact during the past year, including schools and retirement villages, as well as commerce and industry. The goal is to help people identify what habits are dangerous and to correct these, as well as to inform them of and reinforce safe habits and practices. The department also exposes delegates to awareness of fire extinguishers, testing of the suppression equipment, and emergency evacuation procedures.
The length of each contact session is based on the attention span of the target group as well as their available time. Sessions which include basic training of employees require extra time as they are more complex. Gloster hopes to increase the intensity and reach of the programme as more Fire & Emergency Services become available to assist.
The schools programme, which includes age-dependent videos, is based in part on the American Learn not to Burn programme, with Africanised content. Gloster says that the department's desire is to have fire awareness become part of the national school curriculum, a drive that was started some time ago but has yet to come to fruition. Every Tuesday and Wednesday the eThekwini Metro Fire & Emergency Services holds educational sessions at its regional headquarters where learners are shown videos, can inspect the fire trucks and equipment, and can participate in fire and hose drills.
Training is also available to commerce and industry and generally takes the form of a one-day basic fire training course, comprising half a day of theory and half a day of practical exercises. In addition, a four-day advanced course can be provided.
Training and standards
Norgate says that his company is the only one currently providing fire standards and installation training. The training differs from that provided by suppliers of specific fire detection and suppression equipment in that it provides a comprehensive and general overview of what is required. The bureau also provides verification to ensure the expensive outlay of a fire system is compliant with national standards and is going to function correctly in the event of an emergency.
Allan references the Institution of Fire Engineers as a notable source of information regarding the application of scientific and engineering principles, rules, codes, and expert judgement, based on an understanding of the phenomena and effects of fire and the reaction and behaviour of people to fire.
Norgate notes the work done by the SAQCC-Fire to assist with the regulation and training of technicians in the field of fire detection and gas suppression as well as servicing fire equipment, in accordance with SANS 1475. Fire extinguishers need to carry the SABS mark of approval as per SANS 10400.
The lack of governmental controls over the fire industry lead to organisations like ASIB, FDIA, FSIB and SAQCC Fire driving forward to self regulate the industry and uplift standards and provide safe buildings for the public.
For more information contact:
• G2 Security, +27 (0) 87 940 9322, ht@g2security.co.za, www.g2security.co.za
• Fire Systems Training, +27 (0)82 444 1776, admin@firesystraining.co.za
Credit(s)
Further reading:
Avenar fire alarm panels
Issue 7 2020, Bosch Building Technologies , Fire & Safety
Avenar panel 2000 and 8000 are new fire alarm panel platforms offer connectivity and scalability from small to large-sized installations.
Read more...
---
Linear heat detection under difficult conditions
Issue 5 2020, Technoswitch , Fire & Safety
Securiton's SecuriHeat ADW535 linear heat detector prevails where conventional fire detectors reach their physical limits.
Read more...
---
High-precision aspirating smoke detectors
Issue 5 2020, Technoswitch , Fire & Safety
The SecuriSmoke ASD range by Securiton offers three VdS approved models and makes the lightning-fast detection of fires both scalable and cost-effective for any area.
Read more...
---
Competency in the fire industry
Issue 5 2020, FDIA (Fire Detection Installers Association) , Fire & Safety
Persons who design, commission, install or service fire protection equipment or systems should have the required level of competence for the task they perform.
Read more...
---
Public address/voice alarm partnership
Issue 5 2020, Johnson Controls Global Products , Fire & Safety
Johnson Controls customers now have single-source access to a complete line of fire detection products, including high-quality PA/VA systems.
Read more...
---
Hochiki Europe's L@titude system distributed by XtraVision
Issue 5 2020, XtraVision , Fire & Safety
Hochiki Europe's L@titude range of fire alarm control is both sophisticated, yet simple to use.
Read more...
---
Hochiki shines a light on luxury
Issue 5 2020, XtraVision , Fire & Safety
Luxury hotel chooses fire safety equipment from Hochiki as part of extension and restructuring works.
Read more...
---
Self-test for fire alarms
Issue 4 2020, Johnson Controls Global Products , Fire & Safety
Johnson Controls notification appliance self-test technology receives UL Verification Mark.
Read more...
---
New FireClass addressable fire alarm panels
Issue 4 2020, Johnson Controls Global Products , Fire & Safety
Johnson Controls has introduced two new FireClass addressable fire alarm panels, the FC702 and FC708, to its range of fire detection solutions.
Read more...
---
University of Sudan tackles heat and dust with life safety solutions
Issue 4 2020, Hochiki Europe , Fire & Safety
To guarantee the safety of students, staff and visitors, Sudan University chose fire safety devices from Hochiki with the ability to withstand the harsh Sudanese environment.
Read more...
---