printer friendly version
Security industry continues to impress
August 2015 Editor's Choice, News, Conferences & Events
Hi-Tech Security Solutions took some time out to visit IFSEC UK once again this year to keep an eye on what's happening internationally in the security market. As always, IFSEC did not disappoint. It's impossible to compare the size of IFSEC to any local event, it is simply huge. You can't go and wander around in the hopes of having a good experience, you need to plan your trip, decide who and what you want to see.
All the major brands were there with impressive displays and the latest technology on show. One thing we quickly realised as we moved through the various stands was that the days of selling cool technology are over. The fact is that there are few companies with systems that are completely unique, especially when it comes to hardware. You can come out with a new product today and find that a couple of weeks later others are doing the same, so it's about how your product integrates and offers value to the customer.
Every company we spoke to now focuses on selling solutions. The solutions may be an integrated combination of in-house hardware and software, or an open system that allows third parties to build additional functionality into your systems.
What we found
Among other interesting finds, DVTEL is pushing its 4K cameras, but has also adopted a vertical solution focus and has released a cyber defence solution – about time. DVTEL has stolen the lead in the cyber security arena within the physical security market, but it won't be long before others start offering similar solutions.
Hikvision is branching out into access control, again to be able to offer a full solution, and it's focusing on verticals. You should also expect to hear more from Hikvision when it comes to software as the company is pushing its own VMS, a free version and a more advanced paid-for version.
Nice has a suspect identification application which it has patented. The system allows you to look for suspects in real time or through historic video footage. The suspect can be entered into the system from existing video footage or a photograph, or a composite can be created for the system to search for (the composite is a description of the suspect when no images are available). That made for an impressive demonstration.
The various analogue HD formats are also engaging in a battle for supremacy. The competition between TVI, CVI and AHD (and whoever else may decide to get involved) will be good for consumers both in terms of technical innovation and price. It'll be interesting to see who grabs the market in the end.
Below we highlight a few companies and what they were doing at IFSEC we must note that this is by no means an exhaustive list, but it represents a few highlights that stood out for us while touring the show. Some companies are not mentioned in this article, but their news has been included in the Management Platforms feature in his issue.
Pelco makes a comeback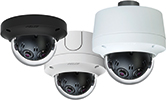 Pelco's Optera.
One of these companies is Pelco. The company has launched a new VMS that is far ahead of its previous offerings. In addition, Pelco also introduced visitors to its Optera multi-sensor panoramic cameras and Spectra Enhanced PTZ dome systems.
The Optera systems offer video images over 180°, 270° or 360° areas using four 3 MP cameras. While the result may seem like another fisheye camera, Pelco assures us it is not. It provides for the viewing and recording of high-quality panoramic views, incorporating electronic pan, tilt and zoom functionality that allows operators to zoom in on areas of interest and see levels of detail more comparable to a PTZ dome.
The image is also seamless as Pelco has developed a way to blend the images from different cameras to avoid the inconsistencies normally associated with stitching video together. The dewarping occurs on the client side, so the four-camera system is viewed as a single camera by the VMS, hence requiring a single licence.

Optera panoramic image of Chennai Port.
The Spectra Enhanced Full HD, high-speed PTZ dome offers 20X or 30X optical zoom options at an impressive 60 frames per second. It also includes functionality such as electronic image stabilisation to eliminate vibration noise as well as Pelcos SureVision 2.0 to cater for different lighting conditions. It is also ONVIF G certified for edge recording.
And on the topic of ONVIF, the standards organisation was also at IFSEC. It hosted a Quick Install Challenge for its Profile Q, as well as an interoperability demonstration on Profile S to highlight the functionality of its interoperability specifications. The Quick Install Challenge for Profile Q showcases the easy set-up of the new profile. The challenge saw attendees set up and connect a Profile Q conformant camera and a Profile Q conformant video management system, with a prize awarded to the participant with the fastest time.
Canon was also making its presence felt, launching nine cameras including low-light and WDR options, among others. We know that Canon bought Axis, but the company is still focused on business as usual for the time being, looking to expand its brand and market share internationally – including in South Africa.
And on the topic of South Africa, Cathexis was at the show exporting its CathexisVision VMS system in a big way, and by the exhausted looks of the people on the stand, there was no shortage of interest.
Thermal thermometer

FLIR TCX thermal bullet camera.
FLIR Systems was talking about its FLIR TCX Thermal Bullet camera for intrusion detection during the day or night. The TCX combines 24/7 high-contrast thermal video and high-performance built-in video motion detection.
The thermal offers two resolution options: 480 x 360 resolution with a 90° lens, and 320 x 240 resolution with a 50° lens and user-selectable 16:9 or 4:3 aspect ratios. It is also compatible with ONVIF Profile S IP, MPX (HDCVI) and analogue systems to allow for integration into almost any existing system.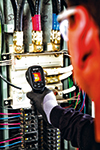 FLIR TG165.
The new TG165 Imaging IR Thermometer from FLIR Systems is a, compact tool that lets you see invisible heat patterns, measure temperatures accurately, and conveniently store images and measurement data for reporting. Built around FLIR's Lepton micro thermal imaging camera core, the TG165 eliminates the blind guesswork of troubleshooting by combining a single spot IR thermometer with a thermal camera.
Its dual lasers visually mark the edges of what is being measured and the cross hairs pinpoint the centre point of the measurement area. It is designed to withstand a two-metre drop, making it rugged enough for industrial professionals. It should be available in South Africa in October and retail for around R8 500.
NUUO's local personnel were on the company's IFSEC stand, highlighting among other things, a vibration-controlled NVR. The market should also look out for a new range of cameras under the NUUO brand.
There's megapixels and megapixels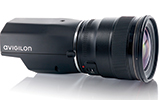 Avigilon HD Pro camera.
Avigilon was also at IFSEC, with a host of products. The most impressive was the demonstration of its single-sensor 7K (30 megapixel) security camera, the 7K HD Pro. Slightly less exciting was its 6K (24 MP) HD Pro. Naturally these cameras are able to cover large areas in fine detail. The 7K camera offers horizontal resolution exceeding 7000 pixels with more than 30 million total pixels. With Avigilon's LightCatcher, they are also able to offer low-light functionality.
Additionally, Avigilon also highlighted its self-learning video analytics. Having bought a bunch of analytics companies/patents recently, Avigilon is in prime position when it comes to analytics and the company says its self-learning technologies exhibit a high level of accuracy – which improves over time.
And if you're wondering how you can transport all these megapixels back to your control room, Avigilon also showed off its Avigilon Control Center (ACC) Edge Solution (ES) High Definition (HD) recorder. It offers intelligent monitoring deployed onsite at the network edge and the ability to store large amounts of HD video data remotely with the ability to view live or recorded video from long distances on demand.
Much more
As noted above, there was much more to see. Essence, a company specialising in home security and elderly care has enhanced its products and is more open to integrating with third-party solutions to provide a complete solution for homes and retirement villages.
Dahua had a large stand with numerous products on display, but the most impressive was its analogue HD systems. With the majority of surveillance installations globally still analogue based, the analogue HD products are in a great position (and price range) to allow customers to obtain better quality images without having to migrate to IP.
Paxton celebrated 30 years in business – an affair worth attending after the show. It also had its range of products on its stand for day visitors.
HID Global gave Hi-Tech Security Solutions some insight into its mobile access technology. Using this technology, you can use a smartphone as an access credential with many of the company's current readers via NFC, or using Bluetooth if the reader has a Bluetooth add-on.
HID was careful to note that while we may see using a mobile as different from the traditional card or fob, the reader doesn't know the difference. The reader simply sees it as an access credential and the same security applies to the mobile device as to a smart card. You can read more about this technology at www.securitysa.com/51353n .
We may be in a period of convergence and poor economic indicators, but the security industry is certainly not sitting back and waiting for better times. The rate of technology expansion is, if anything, increasing and we will see more impressive solutions appearing over the next few years.
Credit(s)
Further reading:
The instruments for investigation
Issue 1 2020, Technews Publishing , Security Services & Risk Management
Regardless of the reason for investigation, the investigation is only as good as the investigators.
Read more...
---
Do we really want simplicity?
Issue 1 2020, Technews Publishing , News
Everything today has to be simple, easy and fast. Even access to your bank account has to fit these adjectives and banks spend significant time and money trying to ensure their web and mobile interfaces ...
Read more...
---
Axis gives a brighter future to children
Issue 1 2020, Axis Communications SA , Editor's Choice
Fully networked camera solution provides visibility and accountability, letting orphanage focus on what's important – its children.
Read more...
---
Security events you can't miss in 2020
Issue 1 2020, Technews Publishing , News
Hi-Tech Security Solutions will host a number of focused events in 2020 to highlight the latest in security technology and the operational benefits they deliver.
Read more...
---
SFP Security & Fire becomes ISF SFP
Issue 1 2020, ISF SFP , Editor's Choice
SFP Security & Fire was sold to ISF in 2019, becoming ISF SFP and attaining Level-1 BEE status.
Read more...
---
Janu-worry or Twenty-Plenty?
Issue 1 2020 , Editor's Choice
If the available security spend right now is somewhere between limited and non-existent, here are just a few suggestions.
Read more...
---
CCTV surveillance needs are critical in defining types of camera deployment
Issue 1 2020, Leaderware , Editor's Choice
Cameras by themselves do not reduce crime; they need to be implemented as part of a considered strategy of crime prevention and detection.
Read more...
---
Leaders in risk and security: You have to know it to manage it
Issue 1 2020, Technews Publishing , Security Services & Risk Management
Hi-Tech Security Solutions profiles Nash Lutchman, Senior Vice President and Head of Protection Services at Sibanye-Stillwater.
Read more...
---
Trends 2020
Issue 1 2020, Technews Publishing , Editor's Choice
Hi-Tech Security Solutions asked a few people from diverse companies to join us in a round-table discussion about what they expect to see happening in their environments in the coming year.
Read more...
---
Seven key trends for 2020
Issue 1 2020, Hikvision South Africa , Editor's Choice
Hikvision looks at a few trends that will affect the security industry in 2020 and beyond.
Read more...
---