printer friendly version
Estate expansion requires access convergence
Residential Estate Security Handbook 2018 Access Control & Identity Management, Integrated Solutions, Residential Estate (Industry)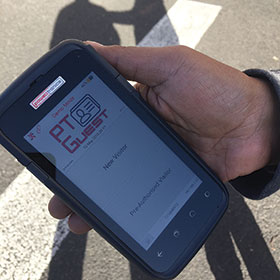 The award-winning Val de Vie Estate is set to expand following the acquisition of a portion of the farm Kliprug, belonging to neighbouring Pearl Valley Golf & Country Estate. This, combined with the recent purchase of the adjoining Levendal Development from the Power Development Group will make the expanded Val de Vie the benchmark for secure country estate living, as well as provide Val de Vie residents with direct access to Pearl Valley's renowned Jack Nicklaus Signature Golf Course.
Before any celebrations could happen, however, the combined estate needed to ensure that the security offered to residents and visitors was up to the already high standards Val de Vie's management required. More than simply combining two security infrastructures, Val de Vie's Danie Bosman explains that a major issue the security team had to deal with was the combining of two mature access control systems that were running independently on each site.
This would require confirming and integrating the tagholders (residents, contractors and historical transactions) from each database into a single source of information for the whole estate.
In addition to this, although both sites were independently using Impro IXP400 access control systems, which both were happy with, Val de Vie wanted to upgrade to the latest web-based access technology. The decision was made to migrate to the newer Impro Portal Enterprise solution as it allowed for newer capabilities, such as more customisable reports, capturing of tagholder information, and it was primarily web based.
The new Portal solution would also allow the estate to use the newer CT50 visitor management scanners from Powell Tronics, which have extra features that the older Dolphin scanners did not have.
The plan comes together
To get the ball rolling, Val de Vie made use of Thorburn, the estate's existing security company and Powell Tronics to work with Bosman and develop a solution that would meet the estate's immediate needs and keep it on par with new technical developments in future. Thorburn was to be responsible for the installation of the hardware, such as the controllers, biometric readers and new access points; while Powell Tronics and Bosman handled the setup of the newer PT Guest visitor management solution and the merging of the database.
After some technical problems in the merging process, which Impro was able to assist the estate in resolving, the project went ahead. Bosman says, "We managed to achieve what we planned and are starting to reap the rewards of custom reports, effortless enrolment and PT Guest data capturing. And, as expected, the web-based system creates a better workspace for all our users."
Bosman adds that while the users were trained on the new system, the gap between the training and the system upgrade was too far apart. "It is definitely best practice to allow for training of the end users no more than two weeks before an upgrade or new system implementation."
A project of this size will always have sticking points which cause those in the trenches no small amount of stress. However, Bosman worked closely with the technical and development divisions at Powell Tronics and says "their persistence and assistance were found to be world-class. This project could not have been a success without the assistance of Powell Tronics".
Val de Vie fact file
• 29 vehicle entrance and exit lanes to control.
• 68 biometric readers installed.
• 4500 residents.
• 2500 to 3000 contractors on site daily.
• The Val de Vie main gate deals with 27 000 to 30 000 entrances and exits per month (in one lane only).
• There are six visitor scanners on site.
• PT Guest handles between 7000 and 8000 guests per month.
Credit(s)
Further reading:
Econz Wireless Timecard assists with employee screening
Issue 4 2020 , Access Control & Identity Management
Essential workers across a wide range of sectors are using Econz' Timecard application to check employees' current wellness status before starting work.
Read more...
---
WizzPass COVID-19 screening solution
Issue 4 2020 , Access Control & Identity Management
WizzPass provides COVID-19 screening solution for both staff and visitors in one system.
Read more...
---
Foot operated door opener
Issue 4 2020 , Access Control & Identity Management
Pro-Tech and Falcon Security have launched the new Foot Operated Door Opener (FODO), aimed at assisting in the creation of touchless 'hands-free' access control solutions.
Read more...
---
Infection control access solutions
Issue 4 2020, Gunnebo Africa , Access Control & Identity Management
With many organisations planning to resume operations, the implementation of social distancing and infection control in these environments is a challenge.
Read more...
---
Protecting staff with contact tracing software
Issue 4 2020 , Access Control & Identity Management
Gallagher's latest development, the Proximity and Contact Tracing Report, is supporting organisations with fast and efficient contact tracing during the COVID-19 pandemic.
Read more...
---
Suprema enhances cybersecurity
Issue 4 2020, Suprema , Access Control & Identity Management
Suprema BioStar 2 is a web-based, open and integrated security platform that provides comprehensive functionality for access control and time and attendance.
Read more...
---
Visitor management for businesses and office parks
Issue 4 2020 , Access Control & Identity Management
Managing visitors is an essential security task for organisations of all sizes, but especially large businesses that need to keep tabs on who enters and exits their premises and their reason for being ...
Read more...
---
Weatherproof Bluetooth padlock
Issue 4 2020, ASSA ABLOY South Africa , Access Control & Identity Management
The new ABLOY BEAT locking solution includes a novel digital key, a mobile app and an IP68-rated, weatherproof Bluetooth padlock.
Read more...
---
Touch-free face recognition terminals
Issue 4 2020, Hikvision South Africa , Access Control & Identity Management
Hikvision announces touch-free MinMoe face recognition terminals for easier access control and time and attendance.
Read more...
---
Contactless T&A
Issue 4 2020, LD Africa , Access Control & Identity Management
Matrix COSEC APTA is a mobile-based employee portal, allowing COSEC users to monitor and manage all their time and attendance, total working hours and leave options.
Read more...
---