printer friendly version
A worthwhile three days
July 2015
Conferences & Events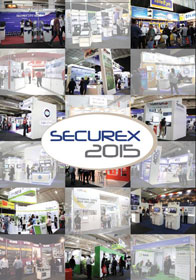 This year's Securex was an event worth attending. As a whole, the exhibitors and visitors Hi-Tech Security Solutions spoke to were happy with the event and the companies and technologies on display. Generally exhibitors were impressed with the good quality of visitors they spoke to on their stands and were happy with the leads they obtained during the exhibition. The Hi-Tech Security Solutions stand was busy and our ice cream machines worked overtime. It was an opportunity to catch up with some familiar faces and meet some new ones, broaden our subscription base and eat too much ice cream.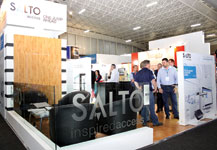 Walking around the show was an interesting undertaking. Overall it was an interesting event that covered the majority of what one expects at these shows. The presentations offered at this year's event were also popular and well attended. The organisers really pulled together a good selection of topics, especially those pertaining to PSIRA and the potential new shareholding legislation and got the people into the presentation theatre.
In a short review like this, we can't touch on every exhibitor and technology at the show, but we can highlight a few that drew our attention.
The first worth a mention is ZKTeco, who had a large stand demonstrating a variety of its products, from turnstiles to biometric, and a portable fingerprint biometric reader that was thrown on the floor a couple of times to demonstrate its durability. There's nothing quite as impressive as a demo that involves bouncing technology across the floor.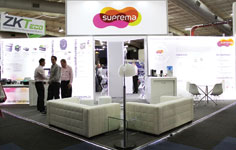 In other biometrics news, Suprema was proud of its new products and Web-based management system, and it had a large stand that was divided in two. The second half had the feel of a lounge, making it easier for visitors to speak to the onsite staff about their solutions. See the IP Access Control Product Update in this issue for more on the new products.
Morpho also had a stand at which it displayed its current and new biometrics offerings. The product that stood out (for Hi-Tech Security Solutions at least) was the new MorphoWave. The company has been talking about its 'Finger-on-the-Fly' technology for some time and it had the first unit in South Africa at the show.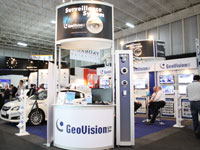 The Wave is an incredible system that reads four fingerprints as you wave your hand over the reader. The user doesn't touch anything and the reading happens almost instantly. In an interview, the company explained that the device has already recognised your first fingerprint before the fourth has gone over the sensor. We had to test the device and the enrolment took less than a minute, you simply swipe your hand over the sensor three times. Recognition was almost instantaneous. Of course, the database of fingerprints on the show floor was small, so an enterprise with thousands of people enrolled might take a little longer.
Ideco hosted its usual coffee bar where visitors could chat to the onsite staff and enjoy a well-earned caffeine boost. The company was also demonstrating the use of Morpho's Android tablet, allowing users to register themselves on the go. It also demonstrated one of its own developments, aimed at banks, for example, in which a user gains access via a fingerprint, but if under duress, the user uses another finger and, while being granted access, the system raises a silent alarm.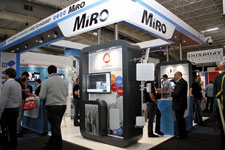 Large surveillance presence
Milestone had a number of its international staff on its stand, backing up the small, but growing local contingent. In an interview with Hi-Tech Security Solutions, the company laid out its plans to set up a permanent office in South Africa, as well as the more professional approach the company is taking to ensure its products are implemented and supported efficiently. Of course, this will be undertaken without losing its entrepreneurial flair.
This is good news for the local Milestone partner and user base. Look out for the announcement of its Professional Services operation in the near future. Hi-Tech Security Solutions will elaborate more about Milestone's plans after its local partner event later this month. You can find out more about the event at http://goo.gl/1N9Ona.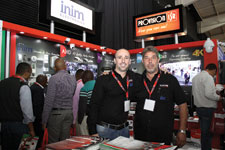 On the surveillance camera front, Hitek Security had an entirely new range of goodies, from cameras to storage devices and switches, including a demonstration of its new AHD (analogue high definition) cameras that provide HD quality over your old coax cables. It also launched its INIM range. INIM Electronics is an Italian company that specialises in intrusion control products.
Axis Communications also had a large stand with a host of new technologies on display. This included its new Zipstream technology that reduces the bandwidth required by HD video significantly. In busy environments, like Securex, the reduction in bandwidth is not extreme due to the constant movement, but the technology works very well in normal environments. IPVM.com has an excellent test of Zipstream for those interested.
Among the other technologies on the stand was the Axis access control offering, which is sure to find a good reception in smaller companies, as well as its LightFinder technology for seeing in the dark. The company also introduced a technology aimed at the transport sector that smoothes the video stream of objects in motion, allowing viewers to actually see what is happening.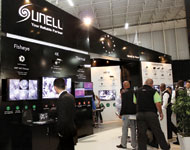 Chinese companies Sunell, ZNV, Hikvision and Dahua were also at the show in a big way, highlighting their products and proving their intent to compete with the leaders in the surveillance market. These companies spent significant resources on their stands and displays, a positive sign of their commitment to the local market. And of course, it was a good opportunity to demonstrate a variety of analogue, HD analogue and IP technologies they have available.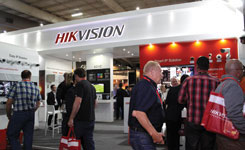 And if you want to transfer video streams at low bandwidth, Graphic Image Technologies has a solution that even allows you to use South Africa's cellular network for video streaming.
Canon South Africa was a first timer and it made an impact with its camera range as well as four VMS integration partners, Milestone, Mirasys, Cathexis and Digi-IT at the stand, along with local distributor, Security & Communication Warehouse.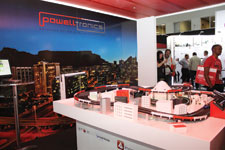 Local facial recognition expertise
Another newcomer to the scene was Ndende. This is a local company that specialises in facial recognition. It had a demonstration on its stand where it showed its systems tagging people as they walked past, guessing their gender and age with unsettling accuracy. Analytics like this will play a significant role in the retail market, for example, allowing companies to correctly assess the demographics of their shoppers.
Another very useful feature is the ability to identify passersby according to previously flagged images. A known criminal could be identified by the system the moment he enters a mall or shop. This functionality on its own is worth the investment. The Ndende founders say their systems are "easily deployable within days, scalable across multiple sites and easy to operate with minimal training". This is a company we will be hearing more about.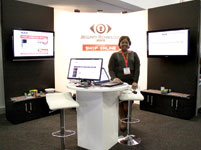 On his bike
Local surveillance company Cathexis was also at the show, with the opportunity for one visitor to its stand to win a Harley-Davidson Motorcycle. Sadly, Hi-Tech Security Solutions was not in the draw and the prize went to Cobus Myburgh.
As mentioned above. We only have space for a brief review of Securex. The above companies were those that stood out to us on the day. There were a host of other companies and interesting technologies on the show which visitors found interesting.
Further reading:
Residential Estate Security Conference 2022
Technews Publishing Residential Estate (Industry) Conferences & Events
The first Residential Estate Security Conference since March 2020 discussed the people, technology and processes involved in mitigating risks to deliver smart, secure living.
Read more...
---
Hikvision aims for solutions
Technews Publishing Hikvision South Africa Editor's Choice CCTV, Surveillance & Remote Monitoring News Integrated Solutions Conferences & Events
Hikvision recently held a roadshow titled Industry X, where the company highlighted its latest products and solutions, supported by partners and distributors.
Read more...
---
ESDA's annual charity fundraiser
ESDA(Electronic Security Distributors Association) News Conferences & Events Associations
The ESDA Annual Charity Fundraiser, part of the Electronic Security Distributors Association's Golf Day, will take place at Benoni Lake Golf Course on Wednesday, 21 September 2022.
Read more...
---
IDEMIA and Ideco demonstrate their value stacks
Technews Publishing Ideco Biometrics IDEMIA Conferences & Events Access Control & Identity Management News
Ideco and IDEMIA recently hosted a travelling show where attendees were given an update on the companies, as well as the full value stack they offer.
Read more...
---
Sustainability, trust and predictability
Technews Publishing Bosch Building Technologies Conferences & Events CCTV, Surveillance & Remote Monitoring News Integrated Solutions
The future for Bosch Building Solutions is focused on predictive solutions based on sustainability and trust in an AIoT world of cloud services.
Read more...
---
Securex back with a bang
Technews Publishing Editor's Choice News Conferences & Events
After a long absence, Securex 2022, the 29th edition of the event, went ahead without a hitch and received positive reviews from visitors and exhibitors.
Read more...
---
Hytera showcases security communications at Securex
News Conferences & Events Products
Hytera will be at Securex South Africa 2022 in Hall 2, Stand A07, where it will showcase a variety of security communications solutions, including its latest DMR communications solution, body-worn cameras and Push-to-Talk over cellular.
Read more...
---
Securex, A-OSH Expo, Facilities Management Expo and now Firexpo confirmed for 2022
Editor's Choice News Conferences & Events
Specialised Exhibitions has announced that its A-OSH Expo and Facilities Management exhibitions are confirmed to go ahead for 2022 along with Securex South Africa, which now includes Firexpo.
Read more...
---
KITE 2022 provides return to one-on-one industry-supplier interaction
Conferences & Events
KITE 2022 was the first trade show of its kind in South Africa to open its doors after an industry trade show hiatus of almost two years.
Read more...
---
Training that delivers
Technews Publishing Leaderware ESDA(Electronic Security Distributors Association) BTC Training Africa Editor's Choice Security Services & Risk Management Conferences & Events Training & Education
Hi-Tech Security Solutions hosted a virtual conversation to address the challenges and solutions related to effective and measurable training and education in the security industry.
Read more...
---