printer friendly version
Cybersecurity is not hype
June 2018
News
Regular readers of Hi-Tech Security Solutions will know that we have upped the amount of content we have about cybersecurity, whether it is aimed at the physical security market or not. This is not some attempt to appear 'with it' in an age where we all hear about cyber-attacks on an almost daily basis, but something that is very necessary.
When you read something about the 'always connected' world we live in, you probably roll your eyes. We've been hearing that for years and we all know that we are connected and whatnot. It's a bit of a boring cliché these days.
But it's not. We really are always connected and always online, even when we think we're not. There are cybersecurity issues we all have to deal with on a daily basis, whether as an individual, a family or a business. And while the headlines get excited about the big data breaches, the real threats are often overlooked.
It's really hard to break into a bank's internal network, even for very experienced hackers. Similarly, the large enterprise companies generally (we hope) have their cybersecurity under control. But their suppliers, the small and mid-range companies are not in the same boat, and cybercriminals – like burglars, rapists and murderers – will focus on the easiest target that enables their crimes.
So a small supplier to a bank may have limited access to the procurement application of the bank, perhaps via a web browser, but that is enough. A good cybercriminal will target the small company with limited cybersecurity – maybe a firewall and antivirus on its computers – and weasel its way into the bank's system after infecting and gaining access to the small company's network.
Perhaps it could gain access to the small company's network by sending a phishing email, or by attacking one of the employees via their smartphone – who doesn't connect their phones to their employer's Wi-Fi network? Perhaps that specific employee has kids who like playing games or signing up for every new app or game on social media? One bad click and they are compromised and soon their parents will be as well.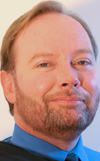 And yes, I'm a nobody and you wouldn't make a fortune hacking me, but if you can get into my company through me there's more to be had. And if you can get into a bank through my company, the returns would be worth the time and effort.
The point is not that you should never make a mistake and be paranoid, but that we are all connected and some people are making use of that connectivity to get personal information that can be used for crime and fraud. And the worst is they will probably get away with it.
An executive of a 'white hacker' company told us recently that they had caught the same person involved in scamming banks three times already. This individual was never prosecuted because there was no way the NPA could present evidence and make a case. So he's at it again and maybe he's the one sneaking around in your network to get the passwords you use to make bank payments?
Andrew Seldon
Editor
Credit(s)
Further reading:
Spend on cloud to accelerate across Africa in 2023
News
More than two-thirds of companies using cloud computing across major African markets plan to increase their spending on cloud services in 2023.
Read more...
---
ChatGPT's impacts will be social, not technical
News
ChatGPT is truly a remarkable achievement, an artificial intelligence (AI) that you can have a conversation with and ask to do everything from writing essays to coding computer programs.
Read more...
---
Artificial intelligence in Africa: levelling the narrative
News
While AI can benefit multiple industries, in Africa the key sectors that stand to gain are financial services (specifically fintech) and agriculture.
Read more...
---
Improving data security for a hybrid society
News
Researchers from Tokyo University of Science develop a method that can perform computations with encrypted data faster and at a lower cost than conventional methods, while also improving security.
Read more...
---
Cybersecurity in 2023: The latest trends and developments
News
In 2023, experts predict that several trends will shape the cybersecurity landscape, including the growing use of artificial intelligence (AI), the increasing focus on the Internet of Things (IoT), and the rise of quantum computing.
Read more...
---
What to do in the face of growing ransomware attacks
Technews Publishing Cyber Security Security Services & Risk Management
Ransomware attacks are proliferating, with attackers becoming more sophisticated and aggressive, and often hitting the same victims more than once, in more than one way.
Read more...
---
Texecom launches the Midnight Black Collection
Technews Publishing Perimeter Security, Alarms & Intruder Detection Products
Working in harmony with darker environments, the Midnight Black Collection has been created for businesses and sites that require or prefer a security solution which offers discreet protection that compliments their surroundings.
Read more...
---
SAN market set for growth
Technews Publishing News IT infrastructure
Storage-area network (SAN) market to hit US$ 26,86 billion in revenue by the end of 2029 due to factors like widespread adoption of Hybrid SAN-NAS solutions.
Read more...
---
Optimising remote technical support
Technews Publishing Asset Management, EAS, RFID Products
Sanden Intercool Kenya improves efficiency, removes manual processes with FIELDForce from MACmobile, making its technical backup and support staff more productive, while also optimising record keeping.
Read more...
---
Enterprise threats in 2023
News Cyber Security
Large businesses and government structures should prepare for cybercriminals using media to blackmail organisations, reporting alleged data leaks, and purchasing initial access to previously compromised companies on the darknet.
Read more...
---