printer friendly version
Cybersecurity is not hype
June 2018
News
Regular readers of Hi-Tech Security Solutions will know that we have upped the amount of content we have about cybersecurity, whether it is aimed at the physical security market or not. This is not some attempt to appear 'with it' in an age where we all hear about cyber-attacks on an almost daily basis, but something that is very necessary.
When you read something about the 'always connected' world we live in, you probably roll your eyes. We've been hearing that for years and we all know that we are connected and whatnot. It's a bit of a boring cliché these days.
But it's not. We really are always connected and always online, even when we think we're not. There are cybersecurity issues we all have to deal with on a daily basis, whether as an individual, a family or a business. And while the headlines get excited about the big data breaches, the real threats are often overlooked.
It's really hard to break into a bank's internal network, even for very experienced hackers. Similarly, the large enterprise companies generally (we hope) have their cybersecurity under control. But their suppliers, the small and mid-range companies are not in the same boat, and cybercriminals – like burglars, rapists and murderers – will focus on the easiest target that enables their crimes.
So a small supplier to a bank may have limited access to the procurement application of the bank, perhaps via a web browser, but that is enough. A good cybercriminal will target the small company with limited cybersecurity – maybe a firewall and antivirus on its computers – and weasel its way into the bank's system after infecting and gaining access to the small company's network.
Perhaps it could gain access to the small company's network by sending a phishing email, or by attacking one of the employees via their smartphone – who doesn't connect their phones to their employer's Wi-Fi network? Perhaps that specific employee has kids who like playing games or signing up for every new app or game on social media? One bad click and they are compromised and soon their parents will be as well.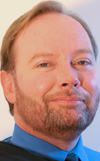 And yes, I'm a nobody and you wouldn't make a fortune hacking me, but if you can get into my company through me there's more to be had. And if you can get into a bank through my company, the returns would be worth the time and effort.
The point is not that you should never make a mistake and be paranoid, but that we are all connected and some people are making use of that connectivity to get personal information that can be used for crime and fraud. And the worst is they will probably get away with it.
An executive of a 'white hacker' company told us recently that they had caught the same person involved in scamming banks three times already. This individual was never prosecuted because there was no way the NPA could present evidence and make a case. So he's at it again and maybe he's the one sneaking around in your network to get the passwords you use to make bank payments?
Andrew Seldon
Editor
Credit(s)
Further reading:
UJ and Schneider Electric launch 4IR Experience Room
News
Schneider Electric and the University of Johannesburg (UJ) Faculty of Engineering and Built Environment (FEBE) have officially unveiled the 4IR Experience Room, a first for UJ and situated at the university's Auckland Park Campus.
Read more...
---
SafeCity Guarding rolls out across 14 suburbs in Johannesburg
News Security Services & Risk Management
In a major drive to provide communities across Johannesburg with additional safety, Vumacam, in partnership with Fidelity ADT and other security providers across the region, rolled out the innovative SafeCity Guarding initiative in 14 suburbs.
Read more...
---
Providing an interactive branding platform
Securex South Africa News Conferences & Events
Now in its 30th year of providing security technology and services providers with a platform for increasing their brand exposure, Securex South Africa will be held at the Gallagher Convention Centre in Midrand, from the 6th to 8th June 2023.
Read more...
---
ALX sponsored learning programmes for 2023
Training & Education News
With a mission to harness Africa's abundant human capital by developing two million ethical and entrepreneurial young leaders from the continent by 2030, ALX has launched four fully sponsored (at no cost) tech programmes for 2023.
Read more...
---
LockBit ransomware gang most apt to leak stolen victim data
News
Trellix has released The Threat Report: February 2023 from its Advanced Research Centre, combining telemetry collected from the world's largest network of endpoint protection installs and its complete XDR product line with data gathered from open- and closed-source intelligence reports.
Read more...
---
Schneider Electric is looking for your bold idea
News
Schneider Electric has launched this year's Schneider Go Green, an annual competition that invites university students from across the globe to share their ideas for innovations that can help make the world cleaner, more inclusive, and more sustainable.
Read more...
---
Paxton Introduces new rewards programme to South African installers
Paxton News
Paxton has launched Paxton Rewards, offering the first opportunity for installers in South Africa to earn rewards by participating in training, installing Paxton solutions, and completing activities or achievements. The programme is available via the Paxton Installer app.
Read more...
---
Keeping students, staff and communities safe
Vumacam News CCTV, Surveillance & Remote Monitoring Security Services & Risk Management
South African schools are facing increasing security challenges, making effective surveillance systems more important than ever. To address this issue, Vumacam is offering advanced security solutions with security partners, aimed at keeping students, staff, and the community safe.
Read more...
---
Arcules and IMMIX announce integration
News CCTV, Surveillance & Remote Monitoring Products
Arcules has announced that its integration with Immix Central Station and Guard Force is available. The integration provides Central Station and Guard Force users a way to manage, verify, and respond to security events, while using Arcules-managed video feeds.
Read more...
---
From the editor's desk: Drive to survive
Technews Publishing News
Nobody is surprised by the horrible driving habits of many people on South Africa's roads. Lack of policing, except when collecting money, and the related overall acceptance and encouragement by government ...
Read more...
---