printer friendly version
A decade of providing advanced access control solutions to the trade
April 2018
Access Control & Identity Management
Powell Tronics, a local and national value added distributor, is celebrating 10 years of dedicated solutions, support and service to its well-established customer base, through a network of branches and a highly focused and dedicated team.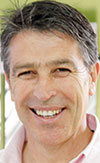 John Powell.
Company CEO, John Powell, believes the company has achieved this landmark through the strength of the team and their willingness to find customer-centric solutions. Through loyal and well-established supplier relationships, the company has been dedicated in its pursuit to be the first-choice provider to the trade for the products/solutions within its portfolio.
To this end, the company recently has made a large investment in moving the Durban and Johannesburg offices to customer-friendly premises. "We have moved to another floor within the Durban building which housed our previous offices. This has resulted in a floor design that carefully considers traffic flow from the entrance, past our product display rooms to the reception area," says Powell.
"We have also moved to centrally-located premises in Rivonia, Johannesburg. This provides a better customer experience, and sees our logistical team now based on the ground floor, which has resulted in improving the customer experience in our northern region, where most of our African market exports are facilitated.
"To further improve operations within the company, Matthew Bushell was appointed as operations coordinator, allowing Powell to focus on the strategic elements of the business.
In addition, the company has increased its sales staff complement by adding Deidre Martins to the Johannesburg offices and Quintan Aylward has come into the technical team in Cape Town, which paved the way for Stephan Wessels to move into sales, while Brian Atkinson has joined the Durban sales department. Together, these initiatives will allow us to bolster our support function and provide customers with enhanced benefits."
An exhibitor at Securex for the past seven years, Powell Tronics' offerings have been refined in the last decade and today offer end-users enhanced security through advanced access control, decreased absenteeism through software, such as ATOM, and student verification and examination attendance using the company's PT-Rollcall.
"Tall oaks from little acorns grow. Ten years ago, Impro Technologies proudly welcomed Powell Tronics into our distribution network. Over this time, we have seen the business grow from one small regional office to a national concern – a truly great achievement.
Today, our partnership continues to pioneer the access control industry and, as we celebrate its 10th anniversary, we look forward to another great 10 years. Congratulations!" says Impro's Vikki Vink.
"As a manufacturer, IDEMIA strives to bring cutting-edge technology to the market, but without local partners such as Powell Tronics, the journey would not have been as successful.
Amongst others, Powell Tronics has developed state-of-the art solutions geared towards the education sector using our Android-based biometric tablets as their platform of choice. We are looking forward to many more years of cooperation," says IDEMIA's Nicolas Garcia.
"On behalf of the entire Powell Tronics team I would like to take this opportunity of thanking all of our regular customers for their support over the years. We will continue to bring them additional world-class solutions in the future," says Powell.
For more information contact Powell Tronics, 0861 787 2537, marketing@powelltronics.com, www.p-tron.com
Credit(s)
Further reading:
Econz Wireless Timecard assists with employee screening
Issue 4 2020 , Access Control & Identity Management
Essential workers across a wide range of sectors are using Econz' Timecard application to check employees' current wellness status before starting work.
Read more...
---
WizzPass COVID-19 screening solution
Issue 4 2020 , Access Control & Identity Management
WizzPass provides COVID-19 screening solution for both staff and visitors in one system.
Read more...
---
Foot operated door opener
Issue 4 2020 , Access Control & Identity Management
Pro-Tech and Falcon Security have launched the new Foot Operated Door Opener (FODO), aimed at assisting in the creation of touchless 'hands-free' access control solutions.
Read more...
---
Infection control access solutions
Issue 4 2020, Gunnebo Africa , Access Control & Identity Management
With many organisations planning to resume operations, the implementation of social distancing and infection control in these environments is a challenge.
Read more...
---
Protecting staff with contact tracing software
Issue 4 2020 , Access Control & Identity Management
Gallagher's latest development, the Proximity and Contact Tracing Report, is supporting organisations with fast and efficient contact tracing during the COVID-19 pandemic.
Read more...
---
Suprema enhances cybersecurity
Issue 4 2020, Suprema , Access Control & Identity Management
Suprema BioStar 2 is a web-based, open and integrated security platform that provides comprehensive functionality for access control and time and attendance.
Read more...
---
Visitor management for businesses and office parks
Issue 4 2020 , Access Control & Identity Management
Managing visitors is an essential security task for organisations of all sizes, but especially large businesses that need to keep tabs on who enters and exits their premises and their reason for being ...
Read more...
---
Weatherproof Bluetooth padlock
Issue 4 2020, ASSA ABLOY South Africa , Access Control & Identity Management
The new ABLOY BEAT locking solution includes a novel digital key, a mobile app and an IP68-rated, weatherproof Bluetooth padlock.
Read more...
---
Touch-free face recognition terminals
Issue 4 2020, Hikvision South Africa , Access Control & Identity Management
Hikvision announces touch-free MinMoe face recognition terminals for easier access control and time and attendance.
Read more...
---
Contactless T&A
Issue 4 2020, LD Africa , Access Control & Identity Management
Matrix COSEC APTA is a mobile-based employee portal, allowing COSEC users to monitor and manage all their time and attendance, total working hours and leave options.
Read more...
---