printer friendly version
RFID expands its security credentials
May 2015 Asset Management, EAS, RFID, News, Integrated Solutions, Security Services & Risk Management, Editor's Choice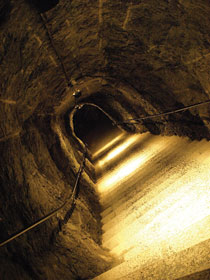 Swift is a South African company that has developed a host of innovative solutions integrating RFID, specifically Active RFID and sensor technologies. The company has a long history in the RFID market with many success stories behind it.
Traditional RFID systems are passive, meaning they are powered when held up to a reader; Active RFID has a battery built in, which means they are self powered and can function at longer distances, creating new opportunities for the technology.
Hi-Tech Security Solutions spoke with Swift's Hennie Vorster to learn what the company was doing and to gain a better understanding of how Active RFID has and will make a difference in the world of security.
History
The story begins long before Swift was formed into a company. In 2006, Vorster and the company he was then with were tasked with using RFID to improve operations at a mine. The task was to reduce injuries to staff in the mines as well as the downtime caused by accidents, which left miners injured, sometimes fatally injured. Every mine is responsible for its miners' safety and when a fatal incident occurs, the mine is required to shut down the area until an investigation is completed.
The mining industry is heavily regulated and there is no way around the process of shutting down a shaft while an investigation is conducted into a fatal injury. After surveying the underground environment, however, Vorster was able to devise a plan using active RFID technology that would ensure that miners were safer.
The mine in question saw many injuries due to the conditions in which the miners worked, as well as mistakes and carelessness by the miners themselves. The solution devised was to put RFID readers at critical points underground and connect them to a central controlling computer. The miners were equipped with tags which could be read at a distance, and which would inform the central computer if and when the miners were in a dangerous area.
The RFID units were installed in blast proof housings which meant there was no need to remove it from the face when blasting occurred. The system could also be used to conduct shaft clearance to ensure that miners were in a safe area prior to blasting.
The result of this project saw zero injuries or fatalities during the implemented period. The system was recommended for mine-wide implementation by the project team.
Locomotive damage
In 2008, another mine approached Vorster and his team with yet another problem that was causing fatalities, serious injury, damage to equipment and downtime. This particular mine had a long rail system underground and locomotives were used to ferry rocks from blasting sites to the dumping areas. The problems they faced included the fact that there was one rail track that was used to support two-way traffic. Furthermore, there were work areas along the tracks and enormous ventilation doors that had to be opened and closed as the locomotives went through.
While there were areas where one rail convoy could pull off the main tracks to let a locomotive coming from the opposite direction through, as with all the issues faced, there was no early warning that one was approaching. Bends on the tracks were also blind, creating yet another danger area.
The solution Vorster and his team came up with was to place RFID beacons at all the danger areas – for example, at the ventilation doors, the work areas etc. They also installed a controller in each locomotive. Each of these beacons was given a unique identifier to identify what kind of danger area it was. The range was set to 100 m which meant that the locomotive drivers would be warned well in time when approaching a door or a bend, as well as when another locomotive was approaching in the opposite direction. This made it possible to avoid collisions and unnecessary wastes of time and possible personnel injuries. In the case of a work area or a rock fall on or near the tracks – which people would immediately start clearing – the miners used a portable unit that would alert drivers of the human obstruction in advance, giving them enough time to stop.
Here again, the mine had no incidents after the system was installed. Moreover, the company could stop replacing ventilation doors as the drivers had time to stop before they reached them. On average the mine was replacing 30 ventilation doors a month due to accidents. This alone was a cost saving to the mine. The system was run on the underground power system which provided lighting to the miners, but the beacons had built in batteries to ensure work continued even if there was a power failure.
Labour consent
Vorster says an important part of the process was talking to the miners and their union (NUM) to obtain approval and acceptance to install the system. He says it is important to let them know that the RFID tags workers carry are not there for punitive purposes – to check who's where, when – but for the safety of the miners.
Knowing there are miners in a danger area, or working on the tracks is critical to protecting them. Simply by carrying an RFID tag/portable warning unit, miners can be sure they are safe while working. As the system could also be used for shaft clearance shift supervisors will know if everyone who went down the shaft came back up at the end of their shift. The system had such potential for enhancing miners' safety that it was approved by NUM.
Swift innovations today
Fast forward to today and we find Vorster and Swift expanding the use of RFID into new areas. From markets such as manufacturing to logistics and even handgun safety. By combining RFID systems with GPS, GPRS, satellite and sensor technology, Swift allows companies in these markets to improve their quality, security and business intelligence.
Swift collects data from its various products via the cloud, from where it is stored in a database to provide real information to businesses to help them optimise their operations and prevent crime.
As an example, Vorster describes a solution to transporting goods via road – although with GPS technology, this applies to global logistics as well. Swift has developed a unique system that prevents anyone opening the cargo doors locally.
Via RFID, the system can track what goods are loaded and unloaded – if the company wants to go this far. Using GPS, the control room can keep track of the vehicle's location at all times, even setting the route for the driver to follow (Geofenced). If the truck deviates from the route, or moves outside of the area he should be in, the control room knows instantly and can contact the driver or dispatch an armed response team and the police.
Other sensor technology can be installed to measure the way the vehicle is driven, recording speeds (via GPS technology) and so forth to ensure the company has a complete record of each journey.
A unique locking security system with full GPS and cloud connectivity is also available for installation to improve cargo security from point of dispatch to destination.
Due to its security application more information can only be made available on request.
Who fired the shot
Another interesting development from Swift is in the firearms industry. The company has developed a G-Force sensor that can be embedded in the handle of a Glock. This sensor records every time the weapon is fired. If the user is wearing a reader – on their belt, for example – it uploads the event to a central database and also records the event date and time on the central database. If the reader is not present, the weapon will store the information until it comes within range of a reader and then upload its historical data. Vorster says this will allow gun owners to exercise stricter control over their weapons.
Vorster says the integration of the above technologies provides a wide range of opportunities for Swift and its customers to control and collect information from areas that have traditionally been blind spots. From tracking the location and temperature in a container as it is shipped overseas, to using sensors to detect motion, G-Force and more, the application of these on board/embedded technologies are almost endless.
The term The Internet of Things is popular in the media nowadays, and the solutions Swift brings to market are the beginning of our ability to track, monitor and control almost any technology, anywhere in the world. In future issues of Hi-Tech Security Solutions we will be delving into Swift's bag of innovations to bring you more technical solutions for real problems in a variety of industries.
For more information contact Hennie Vorster, Swift Wireless Intelligent Frequency Technology, +27 (0)79 164 9376, hennie@swiftrfid.com, www.swiftrfid.com
Further reading:
Social media and intelligence-led surveillance
July 2019, Leaderware , Editor's Choice, Integrated Solutions, Security Services & Risk Management
Social media has become a major feature of most people's lives in the last few years and they can be invaluable as a source of information for companies and security organisations.
Read more...
---
The 4th Industrial Revolution
July 2019, Wolfpack Information Risk , Editor's Choice, Cyber Security, Security Services & Risk Management, Industrial (Industry)
Most major industries have turned to and are reliant on technology to run their operations. This is a time of great promise, but also one of frightening peril.
Read more...
---
You can't isolate, so integrate
July 2019, Axis Communications SA , Industrial (Industry), Integrated Solutions
One of the most exciting trends to emerge from the Industry 4.0 revolution is that technologies and hardware that were originally developed for the security market are increasingly being co-opted to enhance organisational productivity.
Read more...
---
Data protection more challenging
July 2019 , Editor's Choice, IT infrastructure
The number of businesses unable to recover data after an incident nearly doubled from 2016, according to the Global Data Protection Index surveying 2 200 IT decision makers from 18 countries.
Read more...
---
Controlled intelligence
July 2019 , Industrial (Industry), Integrated Solutions
Connected intelligence and 5G technology are set to profoundly impact the way the industrial sector approaches quality control.
Read more...
---
Fear of the unknown
July 2019, Kaspersky Lab , Cyber Security, Security Services & Risk Management
Fear of the unknown: while there's still interest in cryptocurrencies, just 19% locally understand how they work.
Read more...
---
Ingo Mutinelli moves to IDEMIA
July 2019, Technews Publishing, IDEMIA , Editor's Choice, News
IDEMIA, the security and identity management company has announced that Ingo Mutinelli will be taking on the post of regional sales director for the southern Africa region.
Read more...
---
TAPA EMEA appoints Thorsten Neumann as president and CEO
July 2019, TAPA (Transported Asset Protection Association) , News, Asset Management, EAS, RFID
The Transported Asset Protection Association (TAPA) has appointed Thorsten Neumann as its first full-time president & CEO.
Read more...
---
Residential Estate Security Conference 2019: Integrating man and machine for effective security and operations
July 2019, Technews Publishing , Editor's Choice, News, Residential Estate (Industry), Conferences & Events
The Residential Estate Security Conference 2019 will delve into how estates and their service providers can better integrate man and machine for more effective security and operations.
Read more...
---
Milestone appoints new VP for research and development
July 2019, Milestone Systems , Editor's Choice, CCTV, Surveillance & Remote Monitoring, News
Milestone Systems has appointed Tom Bjerre as its new VP for research and development. He will oversee planning, development, testing and release of Milestone Systems' video management software.
Read more...
---