printer friendly version
Securex 2015 is here
April 2015
News & Events
Securex and the co-located exhibition A-OSH Expo 2015, which will be held at Gallagher Convention Centre in Johannesburg from 12 to 14 May, provides visitors with an opportunity to view, discuss and source products and services from leading South African and international manufacturers and suppliers.
The event will bring education to the fore through a number of targeted seminars and conferences. These educational sessions focus on building a professional future for risk mitigation within organisations and addressing current security and fire issues.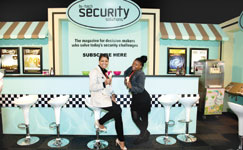 Don't forget to visit the Hi-Tech Security Solutions stand!
"We have revised the Securex brand in line with our Africa-centricity and a number of new features have been added to our popular existing features, to bring further value to visitors," says Joshua Low, Securex event director at show organiser Specialised Exhibitions Montgomery.
The new features at Securex 2015 include:
* Installer Workshop – this interactive educational platform evolved from a growing need in the expanding installer market to find out more about the latest technology trends and best practice from specialists in the field. Knowledge sharing and practical hands-on sessions promise to fill this long-standing void in the industry. Topping off the programme, an installer competition will be run on 14 May.
* New Products Showcase – to be erected in a prominent area at Securex 2015. This will allow visitors to preview the latest technology in a number of security and fire modalities.
* Global Meetings Programme – this new initiative will see visitors matched up with those exhibitors who are deemed best able to devise solutions to their threats and risks. In order to become part of this programme, visitors need to register to attend the exhibition and register for the business matchmaking service at www.securex.co.za. The Securex 2015 team will then send each registered visitor a list of those exhibitors who match their pre-selected criteria and requirements, up to five weeks prior to 12 May. This will enable visitors to plan their visit to Securex 2015 in a structured way by contacting the relevant exhibitors and arranging to meet them at the show.
* Fire Hazard Identification Challenge – Fire Protection Association of South Africa (FPASA) will run a Fire Hazard Identification Challenge throughout the three days of the exhibition. The Challenge is based on a simulated office environment with six to eight fire hazards that will need to be identified by participants. Entry will be open to all, limited to one entry per person, with entry forms completed while entrants walk through the simulated office area and then deposited on exit. All the correct entries will be entered into a draw for a voucher to attend the FPASA Fire Prevention and Strategies five-day course.
* InFIReS Seminar – this one-day seminar is being run by the Fire Protection Association of South Africa (FPASA) and can be booked through saritha@fpasa.co.za
* SAIS/ASIS CPD conference – SAIS and ASIS will be running a half day, CPD-accredited conference for security professionals (content and speakers still to be confirmed).
Associations backing Securex 2015
By forging symbiotic relationships with industry-relevant associations, Securex 2015 is able to bring a larger offering to the marketplace. According to Joshua Low, Securex Event Director at show organiser Specialised Exhibitions Montgomery, each carefully selected association lends weight to the drive instituted by Securex 2015 to strengthen its position as the all-inclusive exhibition for the security and fire market sectors.
The list of associations that have endorsed Securex 2015 reads like a 'Who's Who?' of the industry. Association endorsements include ASIS International, ESDA, FFETA, FPASA, SAEFIA, SAIS, SAQCC-Fire, SASA and SIA. ASIS International is the largest organisation for security professionals, with more than 38 000 members worldwide.
ESDA (Electronic Security Distributors Association) promotes the interests of members who are responsible for the importation, distribution or manufacture (or a combination of these) of electronic security technology products, or the provision of services directly related to such importation, distribution or manufacture.
FFETA (Fire Fighting Equipment Traders Association) promotes high standards in equipment, workmanship, maintenance and service to the public. The Association meets regularly with the South African Bureau of Standards and its members ascribe to the highest level of safe working practices and hold a FFETA recognised certificate of competence for each employee engaged in service maintenance.
FPASA (Fire Protection Association of Southern Africa) provides a specialised fire safety management, technical and training service to industry, commerce, insurers, institutions, local authorities and society at large. FPASA will run a Fire Hazard Identification Challenge throughout the three days of the exhibition.
SAEFIA (South African Electric Fence Installers Association) represents the fence installation industry, in the promotion and advancement of their interests and the promotion of knowledge and skills of its members and the fence installation profession as well as health and safety issues within the industry.
SAIS (South African Institute of Security) is committed to heightening and maintaining the level of excellence and professional competence of security practitioners, including the professional recognition of security practitioners through skills development training (Sector Safety and Security Training and Education Authority) and diplomas/degrees through the University of South Africa (UNISA).
SAQCC-Fire (South African Qualification & Certification Committee for the Fire Industry) assists with the regulation and training of technicians servicing fire equipment, in accordance with SANS 1475. Through the use of qualified training personnel, information and technology, SAQCC-Fire aims to uplift the level of the fire industry's service technicians in South Africa to world class standards. SAQCC-Fire works closely with the SABS and DoL to ensure standards are met and technicians and servicing companies adhere to the law.
SASA (South African Security Association) was formed as a representative for all security aspects in South Africa, an advocate for industry and a custodian of professional business practices. SASA ensures industry representatives and businesses are professional institutions who are compliant and abide by the laws that govern the industry.
SIA (Security Industry Alliance) is an alliance of security associations in South Africa. As the united voice for this industry, SIA plays a key role in communicating common interest to its members who include electronic manufacturers, service providers and distributors across the entire spectrum.
"Not only do we expect a great deal of interactive knowledge sharing between the various stakeholders at Securex, but the educational programme we are rolling out will add impetus to our drive to increase skills and capabilities in the industry. A classic example is the introduction of the Installer Workshop," says Low.
PSiRA gives Securex 2015 its backing
PSiRA (Private Security Industry Regulatory Authority) has given Securex 2015 its stamp of approval by endorsing the exhibition in a reciprocal partnership that will benefit exhibitors and visitors at this year's event.
The primary objectives of the Authority are to regulate the private security industry and to exercise effective control over the practice of the occupation of a security service provider in the public and national interest and in the interest of the private security industry itself.
Manabela Chauke, the director of PSiRA, says that the opportunity to partner with Securex 2015 came at a time when the organisation had taken a decision to explore ­opportunities to strengthen its relationship with its key stakeholders and had identified the need to promote various special categories that it regulates.
"Our key priority is ensuring effective regulation of the entire private security industry. We view this platform as critical towards us ensuring that all sectors within the private security industry are effectively regulated and relations with all our stakeholders are continuously strengthened. We believe such initiatives will assist in promoting and creating awareness of the electronic security sector and that the partnership will mutually benefit all the stakeholders involved," continues Chauke.
"As the Authority, we also see the platform as critical towards promoting transformation within the private security industry. The participation of emerging service providers in Securex 2015 will definitely have a positive contribution to the overall economic and industry growth. Moreover, the partnership will enlighten the industry and the consumers regarding the various services of the electronic sector that are regulated by PSiRA."
For more information on Securex 2015 or to register, visit the website at www.securex.co.za
Further reading:
Pentagon appointed as Milestone distributor
Elvey Security Technologies News & Events Surveillance
Milestone Systems appointed Pentagon Distribution (an Elvey Group company within the Hudaco Group of Companies) as a distributor. XProtect's open architecture means no lock-in and the ability to customise the connected video solution that will accomplish the job.
Read more...
---
Re-introduction of the booking system
PSiRA (Private Security Ind. Regulatory Authority) News & Events
[Sponsored] PSiRA is reintroducing the booking system for branch visits. Effective Monday, 4 December 2023, clients will be required to book a slot to visit any PSiRA branch.
Read more...
---
From the editor's desk: A sad but exciting goodbye
Technews Publishing News & Events
Welcome to the final monthly issue of SMART Security Solutions. This is the last issue of the year and the last monthly issue we will print. The SMART Security Solutions team wishes all our readers and advertisers a relaxing festive season and a peaceful and prosperous 2024.
Read more...
---
Regal celebrates successful golf day
Regal Distributors SA News & Events
Regal Distributors held its first official Regal Golf Day on 18 October at the Glendower Golf Course in Johannesburg. SMART Security Solutions was there on a hot summer's day to meet many players and sponsors around the course.
Read more...
---
Gallagher Security releases Command Centre v9
Gallagher News & Events Access Control & Identity Management Integrated Solutions
Richer features, greater integrations, with the release of Gallagher Security's Command Centre v9 security site management software designed to integrate seamlessly with various systems and hardware.
Read more...
---
Regal launches direct-to-branch WhatsApp communication
Regal Distributors SA News & Events
With a quick scan of a QR code and a few taps on your phone, installers, integrators, technicians or even end-users can chat directly with the team at their preferred Regal branch via WhatsApp
Read more...
---
FM Expo highlights industry trends and challenges
Securex South Africa News & Events Facilities & Building Management
Keeping tabs on what is happening within the building/facilities management arena can be frustrating, however, a quick way to find out what current trends, challenges, and solutions are available can be found at the Facilities Management Expo.
Read more...
---
South Africa shows a 1200% increase in deepfake fraud
News & Events Risk Management & Resilience
Sumsub released its third annual Identity Fraud Report of the year, analysing identity fraud across industries and regions based on millions of verification checks across 28 industries and over 2 million fraud cases.
Read more...
---
Projections for 2024's Advanced Threats Landscape
News & Events Information Security
Kaspersky Global Research and Analysis Team (GReAT) experts offer insights and projections for 2024 in the Kaspersky Security Bulletin, with a focus on the evolution of Advanced Persistent Threats (APT).
Read more...
---
Helping South African university students and staff to stay safe
News & Events
Buzzer is a free mobile app that allows users to quickly and easily report incidents of crime, violence, or harassment to campus security and other relevant authorities.
Read more...
---