printer friendly version
Balancing technology and manpower
April 2015 Security by Industry Sector, Editor's Choice
Securing large buildings and premises can be a logistical nightmare. Hi-Tech Security Solutions spoke to a property management company and a supplier about the critical balance between technology and guarding manpower in this sector.
According to Donna-Liza Gidlow, strategic resourcing and sourcing procurement manager for Growthpoint Properties, the commercial property sector's biggest threat is to personal security. Reducing risk apparent from unplanned and organised attacks, such as robberies and hijackings, is a primary concern and entails a balance of security technology and well trained manpower.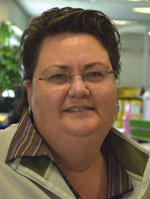 Donna-Liza Gidlow, strategic resourcing and sourcing procurement manager for Growthpoint Properties.
She states that technology continues to play an increasingly important role in crime detection and prevention in this sector. While there is definitely a need for security guards, adoption of technology not only allows end users to enhance their security profile, but also provides an alternative to the issues faced with the inclusion of manpower. She cites continual labour negotiations and ever-increasing wages as factors that negatively influence decisions to selectively concentrate on manpower.
Technology, she adds, allows end users to institute preventative security measures whereas manpower is more reactive. While it is true that most people welcome the physical presence of a security guard, technology is actually a greater deterrent to crime. The two modalities can be readily combined to provide a successful crime fighting initiative if stakeholders are prepared to enter into a collaborative relationship.
In the commercial sector, security stakeholders are typically represented by the security company and the technology supplier. Important issues to consider are whether the security measures are required to be retrospective or retroactive. The choice of technology, for example surveillance and access control, depends largely on the requirements of the specific building. Commonly used technologies include facial recognition cameras and licence plate recognition cameras.
Synergistic partnerships
Gidlow claims that the recipe for a successful relationship between manpower and technology is the formation of a synergistic partnership. Growthpoint Properties does not dictate the percentage of input from each element to its customers but rather aids in the analysis of the best ratio for each individual building. By collectively sharing intellectual property between all stakeholders in a commercial property – the landlord, the tenants and the management company – a solution based on the very specific requirements of each building can be devised and sourced from Growthpoint's 12 carefully selected service providers, who also provide input at a quarterly open forum.
The concentration of manpower decreases at specific times during the day if the building lends itself to either complete or partial lockdown. Office buildings, for instance, are generally easier to lock down than industrial/manufacturing properties or retails centres where restaurants stay open for extended periods of time. In the latter two instances, dependent on the layout of the building and where specific zones are located, partial lockdown could be the answer.
Gidlow says that to provide maximised security assurance, all stakeholders need to have an intimate and comprehensive understanding of the security risks and issues that are involved. In a retail environment, cash in transit becomes a big hotspot. However, if buildings are designed with this risk in mind, then one could place the banking facilities close to cash handling facilities and collection points for cash. Another consideration would be the design and development of ATMs that would resist any attempts to blow them up.
No security plan should be based solely on the available budget. By carefully measuring individual risk areas, such as jewellery stores, one can devise a targeted plan that would see landlords instituting security measures that suffice for the general storeowner but place the onus for additional security on the owner of the higher risk store.
The Eskom effect
Another area that requires additional focus is the impact of power outages on retail environments. In the past, shopping centres were able to determine quite accurately when both pedestrian and vehicular traffic increased and decreased both during the day, on specific days of the month and in certain months.
The introduction of load shedding means that there is no longer an accurate predictor of traffic volumes and therefore alternative power sources are required for technology and additional manpower is needed to ensure that pilfering does not take place. In addition, since many POS areas do not operate effectively on backup power, customers are forced to carry more cash on their persons, thus increasing the overall security risk profile.
Gidlow says that the company is working closely with its legal team to ensure that all landlords are conversant with the PoPI (Protection of Personal Information) Act. "We are aware that certain questions may not be asked of a visitor. This means that all security personnel need to be trained in the art of diplomacy during their interactions with the public. Basic meet and greet skills have to be instilled and guards need to be up to speed on what questions they may ask. Ultimately, a service level agreement (SLA) that outlines both the technology and manpower elements and what is required from each is critical to the success of any commercial security programme."
An integrated holistic approach
Malcolm Thomas, MD at Transaction Control Technologies (TCT), says that the biggest threat faced by the commercial sector is the surprise factor style attacks on businesses (employees, store owners and customers). This can take the form of either criminals who dress like staff or customers who are able to merge readily with the general public, or militaristic style groups who dress in combat gear and undertake attacks on stores with high-value items in an overt and systematically organised manner.
He says that there has been a shift from a reactive approach to crime towards a more proactive tack. Companies are now able to use predictive analysis of trends and events to provide data that will help to prevent similar future events. An example of this is the implementation of licence plate recognition technology which allows security personnel to red flag vehicles that are on a database of stolen vehicles and/or vehicles used in crimes. In order for this to work effectively however, he says that it is critical for buildings to have a threat reaction programme in place to immediately deal with each threat as it becomes apparent.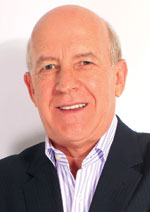 Malcolm Thomas, MD at Transaction Control Technologies.
In line with this, behavioural analysis has increased in popularity in the commercial security space. With the help of special software, specially trained personnel are able to analyse the behavioural patterns of people within a building and algorithms can determine whether their loitering behaviour can merely be attributed to actions such as legitimately waiting for someone/something or perhaps window shopping, or whether the actions are deemed potentially threatening and pose a security risk.
Three-step plan
He cautions that unless you link security systems to a predetermined response action, armed response may be futile. Often crimes take place in a matter of minutes, not allowing time for a reaction unit to be deployed effectively. By instituting a delaying technology such as TCT's SmokeCloak, there will be sufficient time for reaction teams to reach the crime scene and possibly even apprehend the criminals. He suggests a three-step, holistic plan that will close the loop and ensure success:
1) A monitoring and alarm system that will alert security personnel to a crime. This could take the form of surveillance cameras that are monitored in an onsite and/or offsite control room or a panic button that is depressed by a user.
2) A delaying mechanism that is activated by security personnel or users.
3) A reaction team that is able to respond on instruction from the security control system or security personnel.
With regard to security guards, Thomas says that humans are good observers, processors and responders when they are awake and alert. Extraneous factors and state of mind play a great role in the efficacy of security personnel and in order to achieve maximised benefit from guarding personnel it is necessary to supplement their services with technology.
He emphasises that the presence of well trained, alert, well equipped and disciplined guards will provide a deterrent against crime since often technology is hidden and therefore is not perceived as a hindrance to criminals. Technology, he believes, is a bigger deterrent but adds that where interface with customers or other humans is required, guarding has a definite value.
Success will be determined by the adoption of state-of-the-art security technology that is integrated into a remote central control room and provides early warning and verification of true alarms, coupled to an immediate neutralising security measure and the dispatching of response teams.
Further reading:
Social media and intelligence-led surveillance
July 2019, Leaderware , Editor's Choice, Integrated Solutions, Security Services & Risk Management
Social media has become a major feature of most people's lives in the last few years and they can be invaluable as a source of information for companies and security organisations.
Read more...
---
The 4th Industrial Revolution
July 2019, Wolfpack Information Risk , Editor's Choice, Cyber Security, Security Services & Risk Management, Industrial (Industry)
Most major industries have turned to and are reliant on technology to run their operations. This is a time of great promise, but also one of frightening peril.
Read more...
---
Data protection more challenging
July 2019 , Editor's Choice, IT infrastructure
The number of businesses unable to recover data after an incident nearly doubled from 2016, according to the Global Data Protection Index surveying 2 200 IT decision makers from 18 countries.
Read more...
---
Platforms and community lead the future
May 2019, Milestone Systems , Editor's Choice, CCTV, Surveillance & Remote Monitoring, News, Integrated Solutions
Milestone Systems took a look into the future of open platforms and the power of community at MIPS EMEA in Copenhagen in March this year.
Read more...
---
30 years of business continuity
May 2019, ContinuitySA, Technews Publishing , Editor's Choice, Security Services & Risk Management
ContinuitySA is celebrating its 30th anniversary this year and Hi-Tech Security Solutions spoke to CEO Michael Davies about the changes he has seen in the business continuity and disaster recovery markets.
Read more...
---
The consequences of false alerts
May 2019, Leaderware , Editor's Choice, CCTV, Surveillance & Remote Monitoring, Integrated Solutions
Craig Donald discusses the impact of false alarm rates on the utility of intelligent security technology systems.
Read more...
---
The enemy within – insider ­security threats
May 2019, Wolfpack Information Risk , Editor's Choice, Cyber Security, Financial (Industry)
Insider threats in today's financial world are insidious and destructive and your defence against insiders should start long before the person assumes his/her position.
Read more...
---
Protecting people's money, and their data
May 2019, Cathexis Technologies, CA Southern Africa, IDEMIA , Editor's Choice, Integrated Solutions, Financial (Industry)
The temptations inherent to the banking sector, and financial institutions more generally, pit them in an eternal and increasingly high-tech battle to secure themselves against threats from within and without.
Read more...
---
Access authentication with a wave
May 2019, IDEMIA , Editor's Choice, Access Control & Identity Management, Integrated Solutions, Financial (Industry), Commercial (Industry)
Financial organisations are making the move to contactless fingerprint biometrics in order to meet the increasing burden of regulatory and compliance demands.
Read more...
---
The benefits of background screening
May 2019, iFacts, Managed Integrity Evaluation , Editor's Choice, Security Services & Risk Management
Companies need to be more vigilant about the people they employ by making sure comprehensive background screening checks are conducted.
Read more...
---