printer friendly version
Identity theft R us
November 2017
News
There are some people in South Africa thanking whoever they see fit to thank that the government has bumbled to implementation of the PoPI Act for so long. You will have heard about the clever people who exposed personal information, including ID numbers and more of over 30 million South Africans. If PoPI was in effect (and, of course, if it was enforced) these clowns could have been facing millions in fines and perhaps even jail time.
Fortunately for them, cybersecurity at a national level can best be described as "leaves a lot to be desired". But let's not point fingers at the government, perhaps we should be asking how anyone with an ounce of common sense would leave such sensitive information at the mercy of criminals? Were they stupid? Were they careless? Were they naïve? Were they just so greedy to make a buck off this information they got from somewhere that they couldn't be bothered to secure it?
The "IT people" are probably going to get the blame for his/her/their incompetence, and rightly so. But how can a director of a company in this day and age not pay any attention to ensuring sensitive information is secure? The information stolen could be used for a number of criminal acts in your name, and my name.
Perhaps it's just a case of not caring because they know there is not much that can be done in terms of legal action against them – unless some class action complaint is initiated (but what's the chance of that)?
The only relevant question now is: what can each of us do to try to protect ourselves in light of this criminal act?

Access & Identity Management Handbook 2018
On a lighter note, the Access & Identity Management Handbook has just been published with over 100 pages of information about access control and identity management in these troubled times. Ironically, one of the focus areas of the handbook is trust. How do you determine the level of trust to assign to various identities? It also includes information on the latest technologies and trends in this market, as well as insight from a variety of access and identity experts. (Cybersecurity also gets a mention.)
If you don't get your copy in the mail, contact vivienne@technews.co.za and one will be dispatched post haste.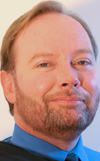 2018 is almost here
Finally, the Hi-Tech Security Solutions team would like to wish all our readers a safe and enjoyable holiday season. May 2018 be a year of miracles and the emergence of some political common sense.
Andrew Seldon
Editor
Credit(s)
Further reading:
A contact-free hotel experience
Issue 7 2020, Technews Publishing , Access Control & Identity Management
Check-in and go straight to your room without stopping at the reception desk at Hotel Sky in Sandton and Cape Town.
Read more...
---
New hires at iPulse
Issue 7 2020, iPulse Systems , News
iPulse has welcomed two new employees into its ranks. Shai Weil has been appointed as operations director, while Corneli Botha is the new customer sales liaison.
Read more...
---
HID Global acquires Access-IS
Issue 7 2020, HID Global , News
HID Global acquires provider of miniaturised reader devices that combine key technologies for mission-critical markets.
Read more...
---
Securing digital transformation
Issue 7 2020 , News
Schneider Electric partners with Fortinet to strengthen ability to secure operations across the business lifecycle and unlock the advantages of a secure IIoT.
Read more...
---
Suprema integrates with Paxton's Net2 access control
Issue 7 2020, Suprema , News
Suprema has announced it has integrated its devices with Paxton's access control system, Net2.
Read more...
---
Free cybersecurity courses
Issue 7 2020 , News
Check Point Software partners with Harvard and MIT-founded edX to deliver free online courses to help close the cybersecurity skills gap.
Read more...
---
Fidelity partners with Auto & General Insurance
Issue 7 2020, Fidelity Security Group , News
Fidelity Services Group in partnership with Auto & General Insurance has launched Fidelity InSure, a comprehensive vehicle, home, and building insurance offering.
Read more...
---
More apps for open camera OS
Issue 7 2020 , News
The App Challenge will result in 21 new apps running on the Security & Safety Things' camera OS, based on the Android Open Source Project.
Read more...
---
Milestone Systems announces Thomas Jensen as new CEO
Issue 7 2020, Milestone Systems , News
Milestone Systems announced that its board of directors has appointed Thomas Jensen as chief executive officer. Jensen will assume the role on October 1, 2020.
Read more...
---
Suprema announces its first virtual event
Issue 7 2020, Suprema , News
Suprema will be hosting its first virtual event, Suprema Connect 2020, which is scheduled to take place over one month from September 15.
Read more...
---