printer friendly version
Eliminate the visitor book
Access & Identity Management Handbook 2018
Access Control & Identity Management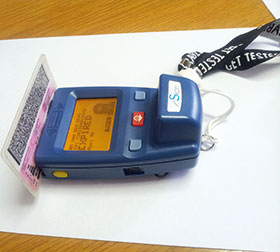 It is common knowledge that the typical archaic visitor book just does not fit the bill as far as reliable visitor and contractor data gathering is concerned. Exid has locally developed and manufactured a solution that obviates the inaccuracies inherent to visitor books.
The eSkan barcode scanner is a robust and cost-effective alternative that allows security officers to quickly and easily validate the owner of the driver's licence card and link them to the vehicle in which they have entered business parks and residential estates. Not only does this provide enhanced security of premises, but furthermore the superior reporting features allow the end user to determine trends in terms of traffic flow to specific areas as well as identify busy time periods, thereby allowing measures to be implemented that decrease bottlenecks.
Exid's Shaun van Tonder says that the company has worked closely with Access Track, a company that specialises in capturing and managing visitor and contractor data, to develop a customised solution that collects accurate information directly from barcoded driver's licence cards and vehicle registration discs.
The customised software developed by Exid is used in Access Track's workflow solution which allows users to set up steps that the security guards need to follow when using the eSkan reader.
Once data is captured by the reader, cloud-based servers at Access Track are used to interrogate a number of interfaces to check criminal and community policing databases. This allows Access Track to quickly notify security providers of potential suspect vehicles while providing visibility of such sightings to law enforcement agencies. Van Tonder points out that since implementation of the system, reaction by security providers based on such sightings has resulted in the successful arrest of suspects.
Deployed at a number of business and residential estates, this access control solution is able to gather information on people and vehicles entering and exiting premises in real time.
Van Tonder explains that the eSkan may be used to automatically check that the vehicle used by a specific driver when entering the premises is the same vehicle in which the driver exits the property. By linking the vehicle to the driver at the outset, an alarm will automatically be activated should a driver try to exit the property in an unlinked vehicle. While different protocols are used on different sites, in general the guard is then prompted to disallow the exit of the driver and further action can then be taken, thereby dissuading criminality.
eSkan lets end users pinpoint exactly where on the premises a visitor is going and allows the setting up of a log specifically for contractor management. This forces all contractors to provide a valid identification for entry into the premises. The system also allows end users to blacklist people and vehicles, further enhancing the scope of the integrated criminal databases.
Applications where eSkan is proving popular include:
• Traffic fine management at car and trailer rental operations;
• Asset control;
• Logistics companies, where one can scan drivers on exit and re-entry and provide information on the times the driver left the facilities and then returned; and
• OHS, whereby one can determine in real time exactly how many visitors and contractors are on site, thus allowing one to quickly see if anybody is missing at a muster point, should an emergency occur.
Because the eSkan hardware is designed and manufactured locally, it is able to cope with the demanding conditions found in South Africa. Furthermore, a large technical support facility, extended warranties and the availability of parts and consumables, means that customers receive a fast turnaround on any technical queries and issues they may have.
"Aftermarket support is one of our big differentiators, coupled with the reliability, longevity and user friendliness of the eSkan unit. Installation is expedited with ease by the end user and licence fees are included in the purchase price, so no further costs are incurred. A rental option is available on request for those end users preferring not to purchase outright. While we have developed a number of standard backend solutions, we are also able to customise solutions that fit the end user's specific requirements," says Van Tonder.
For more information, contact Exid, +27 (0)12 548 0940, [email protected], www.exid.co.za
Further reading:
Gallagher to showcase new Controller 7000 single door
Technews Publishing Access Control & Identity Management Products
Gallagher will be showcasing its latest access control innovation, the Controller 7000 Single Door on its stand at Intersec Dubai from 17-19 January 2023.
Read more...
---
Smart parking management platform
Access Control & Identity Management Asset Management, EAS, RFID
Parket builds a seamless bridge between supply and the ever-increasing, but fluid – and often temporary – demand for parking bays.
Read more...
---
Visible-light facial recognition terminal
ZKTeco Access Control & Identity Management Products
The SpeedFace-V5L [P] is a visible-light facial recognition terminal using intelligently engineered facial recognition algorithms and the latest computer vision technology.
Read more...
---
Facial and palm verification
ZKTeco Access Control & Identity Management Products
The ProFace X [P] supports both facial and palm verification, with a large capacity and rapid recognition.
Read more...
---
Glide Master High Security 90° Sliding Gate
BoomGate Systems Access Control & Identity Management Products
Boomgate Systems was asked to make a sliding gate that can turn 90 degrees. The gate had to offer high security and be vandal-proof.
Read more...
---
Informing, entertaining and communicating across your landscape
Evolving Management Solutions Access Control & Identity Management
For the first time, the attraction of large shopping malls with many stores, entertainment and food courts no longer offers enough appeal to attract customers.
Read more...
---
Suprema's new BioStation 3
Suprema Access Control & Identity Management Products
The brand new BioStation 3 is not only Suprema's smallest face recognition device to date, but it also comes packed with the largest variety of features.
Read more...
---
Suprema renews international privacy and security standard certifications
Suprema News Access Control & Identity Management
Suprema has simultaneously renewed two important international standard certifications regarding information security management (ISO/IEC 27001) and privacy information management (ISO/IEC 27701).
Read more...
---
SuperVision biometric access control
Integrated Solutions Access Control & Identity Management Products
SuperVision is a time & attendance (T&A) biometric access control system Fourier IT has been developing and enhancing for 18 years.
Read more...
---
Manage energy usage with Paxton access control
Paxton Access Control & Identity Management Products
Paxton provides access control systems that can integrate with existing infrastructure and manage a building's energy-consuming activities to save energy and costs.
Read more...
---