printer friendly version
Now your phone is a key
Access & Identity Management Handbook 2018 Access Control & Identity Management, Products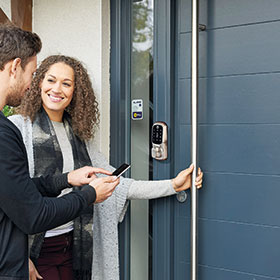 Electronic locks have been around for some time, offering a range of different choices and options for securing doors. In the past, these locks have had their fair share of criticism due to battery life issues and their costs, but their usage is still growing. The benefits of electronic locks range from allowing users to avoid carrying keys (and dealing with the drama of losing them), as well as providing an added sense of security.
Many people have left their houses or offices only to wonder later whether they remembered to lock the door. Alternatively, sometimes one wonders if the kids locked the door when they left the house? With an electronic lock, you can use your smartphone app to check if the door is locked, and lock it (for them) if necessary. You can also unlock the door over the Internet, again from an app, when someone arrives that doesn't have their own access.
From a business perspective, centralised control means that a lock or any number of locks can be controlled from a central console, allowing administrators to grant or deny access as required. Cards, fobs or PINs can be assigned and revoked in seconds, and let's not forget that biometric access is also built into many electronic locks.
Of the many companies promoting their range of electronic locks in Africa, for home and business use, Hi-Tech Security Solutions spoke to SALTO and Yale to gain further insight into electronic locks and what they offer users today.
When asked about the benefits of electronic locks, Clint Jones from Yale SA explains that with greater Internet connectivity and mobile devices, consumers have quickly learnt the benefits of new technologies and easy access on the go, and this has brought a new expectation for everyday activities. "As a result, we at Yale have taken our product portfolio to a new level. Our smart home security is now putting users firmly in control of not only their home alarm, but we have also fully integrated door security into the platform too."
As noted above, this enables Yale users to check the status of their door, issue lock and unlock commands, and even control who has access. For example, Jones says you can issue a user code or RF tag to your domestic and only grant access for certain times and days of the week. If the worker should leave, you can simply revoke the user access to your property via your smartphone or lock.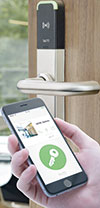 Wouter du Toit from SALTO Systems, sub-Saharan Africa, says that with access control and security in mind, electronic locks offer an electronic master-key system through the software, so never again do you need to change the lock when you lose the key. "For large sites, this is a costly exercise that we deal with on a daily basis. You can also see who goes where and limit access easily, in the short term the cost is higher, but in the long term electronic locks is justified and there is a return on investment (ROI)."
He adds that these devices are actually more secure because mechanical keys can be copied easily, whereas this is not possible with a secure RFID card. "It is also not just a benefit over mechanical locks, but also conventional wired access control solutions and here the roles are reversed, you get the same secure functionality, but from day one being more cost effective and in the long term with less maintenance. These electronic locks can also be used on high security doors with SKG and VDS certification."
But can they survive Eskom?
Whenever we deal with electronic systems in South Africa, one needs to consider the implications of what would happen when the electricity fails – sadly, it is a case of when and not if. Electronic locks are fitted with batteries that have a reasonably long lifespan, but what happens if they die or something breaks in the keypad or RFID reader?
Du Toit says the chances of the battery running out is there, but is very slim. "A number of warnings are built into the product and the software to notify you when you need to replace the batteries."
Nevertheless, if the worst happens, he says SALTO has two ways to override the door and replace the batteries on the safe side. First is to use a portable battery pack, each SALTO product has three holes on the reader head where the unit can be inserted to provide power from the front, but then, for security, you still require a valid card to open the door. Once inside, you can replace the batteries in a couple of minutes.
The second solution is to use a Portable Programming Device (PPD) to power the lock in the same manner, but also open the door through the emergency opening, all of the above is also audited for reporting purposes.
In terms of security, Du Toit adds that SALTO products remain secure if the power fails or the product is damaged, meaning the door will remain closed for security reasons, unlike a magnetic lock that will leave the door open.
Jones explains that Yale locks are toughly tested for not only security purposes, but duty cycles too. "In addition, as our locks run on battery power, they have also been fitted with override terminals where a user can simply power up the lock from the outside should the batteries have become completely exhausted."

Mobile and remote options
The ability to manage locks via mobile apps is mentioned above, but as in all access control software platforms, there are more options than simply locking and unlocking the door.
Yale offers an Internet-based hub and when paired to its Smart Living HOME app. Jones says, "This enables a user to either add Yale Smart Locks (only), or to experience the full Yale home automation security experience.
"Homeowners can extend their system to include additional accessories, such as a power switch to turn home appliances on or off remotely, a PIR image camera to view images inside the home, and to obviously control their Yale Smart Lock to remotely grant access to their property. In addition, we also offer Z-Wave and Control4 solutions to allow easy integration into existing or new installations."
SALTO can operate on Android and iOS mobile devices using BLE or NFC technology and its JustIN Mobile and SALTO KS application offers a number of features to give more options to users that do not want to carry a card – although users can use both mobile and card if they choose.
Du Toit explains:
• Our application allows for multiple keys. One app can receive many secure access credentials from different companies integrated with SALTO hardware. No need for multiple mobile applications or erasing and adding the one I want to use now.
• Bi-directional communication. This means we don't just send info to the user but also receive his transactions and status back. I can also revoke access immediately or change an access plan on the go (for instance if someone loses their phone or receives a new handset). We also allow for a picture of the site, contact number, GPS locations and a short message to be stored in the application. This creates a user friendly experience and makes it easy to contact and navigate to the property.
• Remote openings through SALTO KS. Open the door to your office remotely for a guest to enter. Access alerts with CCTV integration and pre- and post- event video on your mobile wherever you are. Block access from your mobile phone, or put it in office mode to act as a normal door during office hours.
SALTO also makes an API available for companies that wish to integrate with its hardware, but use their own mobile application.
"Our management platform is called SPACE and it is web based and HTML5 compatible, and caters for all your access control requirements. With SALTO KS, it is cloud-based and securely hosted by SALTO so you require no software installation," adds Du Toit. "We also have an enterprise version of software PAE that integrates into CCTV, BMS, fire, alarm, other databases (e.g. Oracle, SQL, Active Directory, my SQL, etc.), handheld devices, biometrics and more."
Emergency exits
A critical aspect to any set of locks, electronic, mechanical or a combination of both, is the ability to support rapid exit functionality in case of emergencies. Do electronic locks support the necessary emergency exit procedures?
The answer is yes. Du Toit says electronic locks can be wireless online and be integrated with the fire system, similar to conventional access controlled doors, but SALTO also offers emergency exit door integration through the push or touch bar. This means the door is part of the access control system and can be monitored without having to cable the door.
"SALTO is integrated with 40 of the leading panic bar manufacturers in the world. These fire doors are also a weak point in the building security with typically no monitoring if it is open, with SALTO we can remove the risk and be compliant."
Jones says the same applies to Yale. "Depending on which model you select, there are different features available. For example, the Yale Monoblok lock has an anti-panic egress handle that ensures fast opening of the door from the inside should an occupant need to exit. Then, additional functions like temperature sensors automatically unlock the door if the internal temperature of the rooms exceeds 60° where occupants would normally become unconscious. This ensures fire or medical personal can gain access to the property to assist."
Latest products
To end the article, we asked both companies what their latest products are and what we can expect from them in the near future.
Jones says Yale's Smart Living portfolio is constantly growing and allowing users greater control of their living space and security. "We offer a wide variety of solutions from our own HOME app, to Z-Wave, ZigBee, Wi-Fi and even connectivity options with many other service providers, such as Alexa, the personal assistant from Amazon."
SALTO will launch its new wireless blue gateways and nodes late in 2017. This gives any BLE-enabled smart lock the ability to connect to the network and be online through its Bluetooth connection instead of using wireless. Traditionally SALTO has used 2,4 GHz wireless connectivity to connect to its devices.
"Our management platform has also been redesigned to be 100% HTML5 compatible and version 4.1 of the software can now also interface with smart elevators from Schindler, making lift control cable free," says Du Toit.
SALTO will also launch its wireless BLE lock and controller for the residential market that can be installed on any cylinder in under
30 minutes, the device will be motorised and can lock and unlock the door for you, and there will also be a small controller for gates and garage doors. It is also integrated with Air B&B and home automation systems through ZWave with further integration into SALTO KS coming next year.
For more information contact:
• SALTO Systems, +27 (0)11 534 8489, info.za@saltosystems.com, www.saltosystems.com
• Yale Security, +27 (0)11 781 9110, za.yale.info@assaabloy.com, www.yalelock.co.za
Credit(s)
Further reading:
Olarm launches the Olarm LINK
Olarm Perimeter Security, Alarms & Intruder Detection News Products
Building on the success of smart-enabling, monitoring and controlling alarm panels and electric fences, Olarm has a new solution for customers to integrate gates, garage doors, pumps and other electrical products with the Olarm APP and Olarm PRO communicator.
Read more...
---
Ultimate smart monitoring and reliability
Olarm Perimeter Security, Alarms & Intruder Detection News Products
Olarm is gearing up to unveil its latest product, the Olarm MAX, set to be available in late 2023, which will redefine smart monitoring by offering unparalleled connectivity options and functionality.
Read more...
---
Cloud-based or on-premises access control
Salto Systems Africa Access Control & Identity Management Products
Choosing between cloud-based and on-premises access control solutions can be a difficult decision, however, the best solution for your organisation, property, or building type will depend on a range of factors.
Read more...
---
New distributed acoustic sensors in EMEA
Perimeter Security, Alarms & Intruder Detection Products
OPTEX introduces new EchoPoint Distributed Acoustic Sensors (DAS) for advanced point location intrusion detection, using intelligent detection algorithms to provide point detection of +/- 6 m in a range of up to 100 km.
Read more...
---
AI technology to empower vertical markets
Dahua Technology South Africa Mining (Industry) CCTV, Surveillance & Remote Monitoring Products
Dahua WizMind is a full portfolio of solutions comprising project-oriented products that use deep learning algorithms to provide more business value to its global customers and deliver reliable and comprehensive AI solutions for vertical markets.
Read more...
---
Improved security health check tool
Gallagher Access Control & Identity Management Products
Gallagher Security has streamlined its free Security Health Check tool, making it easier than ever to protect against potential system risks and improve business efficiencies.
Read more...
---
Maximum fire protection for the most dangerous places
Securiton Fire & Safety Mining (Industry) Products
Africa's heavy mining and resource processing industries are some of the continent's leading economic lights. They also present some of its toughest fire safety challenges on the planet.
Read more...
---
RDC expands its production capabilities
Radio Data Communications Perimeter Security, Alarms & Intruder Detection Products
Local electronics manufacturer, RDC, recently acquired a new SMT (surface mount technology) machine to boost its manufacturing output and meet the needs of its global customer base.
Read more...
---
Suprema showcases integrated security solutions
Suprema Access Control & Identity Management Products
Apart from being an access terminal that supports multiple credentials such as facial recognition, RFID, mobile and QR codes, the BioStation 3 also supports VoIP Intercom and real-time video monitoring features to make it a truly multi-functional reader.
Read more...
---
Unlock seamless security with integrated products
Secutel Technologies Integrated Solutions Products
By combining SecuVue and Secutraq, Secutel has created a system that enables users to configure analytics, facial recognition, pose detection, and XFS among other security triggers modern service providers require.
Read more...
---