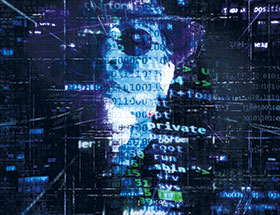 Using biometrics to prevent financial crime
November 2017, Access Control & Identity Management, Integrated Solutions
Biometrics is about more than the fingerprint or retina terminal itself, it's about storing data in forensically-signed databases, that is admissible in a court of law.
Wayne Olsen, Datacentrix security business unit manager.
There's no doubt that fraud in the workplace is a broad-ranging topic, but one of the most egregious kinds is surely financial fraud. It's this type of fraud that directly hits the company's bottom line. So let's look at mitigating those cybercrime efforts that are directed at local organisations with financial crime as their primary strategy.
What is financially-motivated cybercrime?
Electronic fraud is really just the latest evolution of traditional crime. Many professional criminal syndicates have shifted their focus away from the old-world tactics of holding up banks, running black-market importing businesses or trading drugs, for instance. They've chosen an often far softer target: capitalising on the lack of security and stringent processes within many companies.
In recent years we've seen the art of social engineering become ever-more sophisticated, as fraudsters carefully gather data-sets from 'helpful' staff, building up this data to ultimately impersonate different parties. Armed with enough information, they may impersonate a supplier requesting that their bank details are changed; or they impersonate the CFO in requesting that payment orders are executed by his staff. Many have defined this kind of highly-targeted identity theft as 'whaling' – an evolved form of phishing.
The basics brilliantly
Many firms are investing tens of millions of rands in sophisticated security tools that deal with technical threats coming from all directions, but fail to effectively prevent financial losses because the basic processes are just not designed effectively.
Whatever the size of one's company, in the finance department it is essential to segregate financial duties between different people. We often see firms stumbling due to a lack of basic rigour (such as mandating that a purchase order be checked with business unit managers before invoices are released for payment, or confirming that an employee has been fully off-boarded by implementing checks and balances across Payroll, HR, IT and other areas).
The solution
We're generally familiar with the use of biometrics for basic, physical access and 'time and materials' record-keeping, but the opportunities for biometrics extend far further than this:
Each transaction can be biometrically-signed, so there is absolutely no doubt about who authorised a particular payment. With advanced biometrics solutions, full audit logs are created, tracing the journey of a particular transaction through its various stages of approval.
These audit logs can be introduced into a court of law if necessary, as they legally bind the actor (for example the financial administrator) to the transaction. This allows organisations to reach a level of certainty and accountability that was previously not possible with less-secure, password-based systems.
Irrefutable evidence
By positively connecting a physical person to each specific transaction, firms can eliminate the problems of passwords that are divulged or shared, or smartcards, tokens and one-time PIN numbers that can also be passed between individuals.
A biometrics approach can be used consistently across various enterprise applications – to deliver legally-valid transaction evidence, and essentially to act as an impartial witness to sensitive business transactions. By introducing this technology alongside policies (such as payment value thresholds for different members of staff), organisations can not only ensure that any fraud losses are traced back to particular individuals, but they can prevent fraud from happening in the first place.
For more information on Datacentrix' fraud management offerings, please visit http://www.datacentrix.co.za/electronic-fraud-management.html