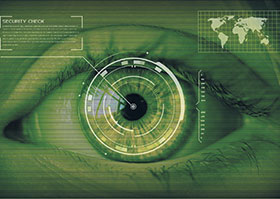 The growth of biometrics
November 2017, Access Control & Identity Management
Biometric verification is the future, we live in a time where a person can be uniquely identified by evaluating one or more distinguishing biological traits. Unique identifiers include fingerprints, hand geometry, earlobe geometry, retina and iris patterns, DNA, etc. Biometric verification has advanced considerably with the advent of computerised databases and the digitisation of analogue data, allowing for almost instantaneous personal identification.
Iris-pattern and retina-pattern authentication methods are already employed in some bank automated teller machines. Hand geometry is being used in some industries to provide physical access to buildings. Earlobe geometry has been used to disprove the identity of individuals who claim to be someone they are not (identity theft). Facial recognition technology has been used by law enforcement to pick out individuals in large crowds with considerable reliability.
No matter what biometric methodology is used, the identification verification process remains the same. A record of a person's unique characteristic is captured and kept in a database. Later, when identification verification is required, a new record is captured and compared with the previous record in the database. If the data in the new record matches that in the database, the person's identity is confirmed.
Many biometric systems are developed for security applications. From bank accounts to personal profiles, passwords have become the default option for verifying a user's identity. Governments and organisations use biometric systems to get more information about individuals or about a populace.
Some new biometric programs are now using information that's more abstract, what you might call 'physical-behavioural' information, to pick someone out of a crowd. With these new innovations in technology new biometric identification programs are certainly getting a lot of attention. Facial recognition, or face scanning, has been added to the three primary biometric platforms, allowing verification by one's face. The scanner uses a camera with infrared features and scans a face to profile it, creating a unique profile of a person in a database, by determining facial features, contours and in some cases even more detailed features such as scars, etc.
Facial scanning is preferred in the market, due to the scanners being inexpensive, and still very much secure allowing 1:1 verification. Facial scanning can be done on long- or short-range, depending on the reader or scanner, allowing faster and more sufficient identification and verification of a person.
Despite all the new advances in the field of biometrics, fingerprints remain the most common type of biometric identifiers, partly because of their essential uniqueness and permanence, and partly because, even before modern biometric technologies were available, law enforcement kept fingerprint identifiers on file. So, with biometrics rapidly advancing in the IT field, and because it offers so many potential applications, we can expect to see more multi-mode biometric designs in the years to come.
For more information, contact ZKTeco (SA), +27 (0)12 259 1047, sales@zkteco.co.za, www.zkteco.co.za