printer friendly version
The growth of biometrics
Access & Identity Management Handbook 2018
Access Control & Identity Management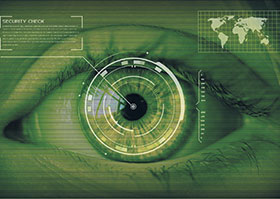 Biometric verification is the future, we live in a time where a person can be uniquely identified by evaluating one or more distinguishing biological traits. Unique identifiers include fingerprints, hand geometry, earlobe geometry, retina and iris patterns, DNA, etc. Biometric verification has advanced considerably with the advent of computerised databases and the digitisation of analogue data, allowing for almost instantaneous personal identification.
Iris-pattern and retina-pattern authentication methods are already employed in some bank automated teller machines. Hand geometry is being used in some industries to provide physical access to buildings. Earlobe geometry has been used to disprove the identity of individuals who claim to be someone they are not (identity theft). Facial recognition technology has been used by law enforcement to pick out individuals in large crowds with considerable reliability.
No matter what biometric methodology is used, the identification verification process remains the same. A record of a person's unique characteristic is captured and kept in a database. Later, when identification verification is required, a new record is captured and compared with the previous record in the database. If the data in the new record matches that in the database, the person's identity is confirmed.
Many biometric systems are developed for security applications. From bank accounts to personal profiles, passwords have become the default option for verifying a user's identity. Governments and organisations use biometric systems to get more information about individuals or about a populace.
Some new biometric programs are now using information that's more abstract, what you might call 'physical-behavioural' information, to pick someone out of a crowd. With these new innovations in technology new biometric identification programs are certainly getting a lot of attention. Facial recognition, or face scanning, has been added to the three primary biometric platforms, allowing verification by one's face. The scanner uses a camera with infrared features and scans a face to profile it, creating a unique profile of a person in a database, by determining facial features, contours and in some cases even more detailed features such as scars, etc.
Facial scanning is preferred in the market, due to the scanners being inexpensive, and still very much secure allowing 1:1 verification. Facial scanning can be done on long- or short-range, depending on the reader or scanner, allowing faster and more sufficient identification and verification of a person.
Despite all the new advances in the field of biometrics, fingerprints remain the most common type of biometric identifiers, partly because of their essential uniqueness and permanence, and partly because, even before modern biometric technologies were available, law enforcement kept fingerprint identifiers on file. So, with biometrics rapidly advancing in the IT field, and because it offers so many potential applications, we can expect to see more multi-mode biometric designs in the years to come.
For more information, contact ZKTeco (SA), +27 (0)12 259 1047, [email protected], www.zkteco.co.za
Credit(s)
Further reading:
Gallagher to showcase new Controller 7000 single door
Technews Publishing Access Control & Identity Management Products
Gallagher will be showcasing its latest access control innovation, the Controller 7000 Single Door on its stand at Intersec Dubai from 17-19 January 2023.
Read more...
---
Smart parking management platform
Access Control & Identity Management Asset Management, EAS, RFID
Parket builds a seamless bridge between supply and the ever-increasing, but fluid – and often temporary – demand for parking bays.
Read more...
---
Visible-light facial recognition terminal
ZKTeco Access Control & Identity Management Products
The SpeedFace-V5L [P] is a visible-light facial recognition terminal using intelligently engineered facial recognition algorithms and the latest computer vision technology.
Read more...
---
Facial and palm verification
ZKTeco Access Control & Identity Management Products
The ProFace X [P] supports both facial and palm verification, with a large capacity and rapid recognition.
Read more...
---
Glide Master High Security 90° Sliding Gate
BoomGate Systems Access Control & Identity Management Products
Boomgate Systems was asked to make a sliding gate that can turn 90 degrees. The gate had to offer high security and be vandal-proof.
Read more...
---
Informing, entertaining and communicating across your landscape
Evolving Management Solutions Access Control & Identity Management
For the first time, the attraction of large shopping malls with many stores, entertainment and food courts no longer offers enough appeal to attract customers.
Read more...
---
Suprema's new BioStation 3
Suprema Access Control & Identity Management Products
The brand new BioStation 3 is not only Suprema's smallest face recognition device to date, but it also comes packed with the largest variety of features.
Read more...
---
Suprema renews international privacy and security standard certifications
Suprema News Access Control & Identity Management
Suprema has simultaneously renewed two important international standard certifications regarding information security management (ISO/IEC 27001) and privacy information management (ISO/IEC 27701).
Read more...
---
SuperVision biometric access control
Integrated Solutions Access Control & Identity Management Products
SuperVision is a time & attendance (T&A) biometric access control system Fourier IT has been developing and enhancing for 18 years.
Read more...
---
Manage energy usage with Paxton access control
Paxton Access Control & Identity Management Products
Paxton provides access control systems that can integrate with existing infrastructure and manage a building's energy-consuming activities to save energy and costs.
Read more...
---