printer friendly version
The question of trust
Access & Identity Management Handbook 2018
News
Access control, identity management, visitor management and whatever else it may be called is all about trust. It's about assigning a level of trust to an identity that will permit that identity to access a physical location or a digital environment.
In a country where criminals, scammers, fraudsters and con artists seem to be in the pound seats, the element of trust is no longer something we can take for granted. As much as one may want to, you can't simply trust people to "do the right thing". There are simply too many bad guys and too little in the way of deterrents that may prevent them from taking advantage, sometimes just because they can.
This year's Access & Identity Management Handbook looks at the issue of trust, how it can be assigned, managed and monitored, both in the physical security world as well as the digital world. While there may be a divide between the companies selling identity solutions for these two worlds, the reality is there is no divide. Information technology is in everything and controls almost everything, and we simply aren't ready.
Consider the apparent ease with which online scammers are able to con people – even those who do know better. Most of us are simply not geared to live in the digital world where it is getting harder to tell the difference between the good guys and the bad guys.
This is why the question of trust is so important. If you are going to take a risk and allow someone to access your building or data, you need some form of assurance that they are who they claim to be and will act within predefined rules. Most often, trust is assigned when they present some form of identity, but how much trust can be assigned to those issuing and maintaining those identity databases?
Which means that monitoring and managing your trust relationships is also important. It's a common cliché these days that if you hire someone in a sensitive position, in finance for example, you need to do a background check to ensure that they are not working for a syndicate and are not under debt pressure and so on. Moreover, you need to do the same check regularly to ensure their circumstances don't change in a way that would make your bank account a tempting target.
Of course, there are always a minority of people that will go off the rails and grab any chance they get, which is another reason for continual monitoring. It's an endless task which, if successful, will deliver absolutely no return on investment apart from the "what if" – what if the task was not done and a fraudster decided his home needed a fire pool at your expense.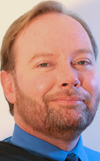 Of course the Access & Identity Management Handbook 2018 contains much more, including articles on new technology as well as old technology still proving its worth. The Hi-Tech Security Solutions team hopes you enjoy the handbook and we always welcome feedback, comments, criticisms and readers letting us know what we missed or what we should be focusing on in future. Send any comments to [email protected]
Andrew Seldon
Editor
Credit(s)
Further reading:
Improving data security for a hybrid society
News
Researchers from Tokyo University of Science develop a method that can perform computations with encrypted data faster and at a lower cost than conventional methods, while also improving security.
Read more...
---
Cybersecurity in 2023: The latest trends and developments
News
In 2023, experts predict that several trends will shape the cybersecurity landscape, including the growing use of artificial intelligence (AI), the increasing focus on the Internet of Things (IoT), and the rise of quantum computing.
Read more...
---
What to do in the face of growing ransomware attacks
Technews Publishing Cyber Security Security Services & Risk Management
Ransomware attacks are proliferating, with attackers becoming more sophisticated and aggressive, and often hitting the same victims more than once, in more than one way.
Read more...
---
Texecom launches the Midnight Black Collection
Technews Publishing Perimeter Security, Alarms & Intruder Detection Products
Working in harmony with darker environments, the Midnight Black Collection has been created for businesses and sites that require or prefer a security solution which offers discreet protection that compliments their surroundings.
Read more...
---
SAN market set for growth
Technews Publishing News IT infrastructure
Storage-area network (SAN) market to hit US$ 26,86 billion in revenue by the end of 2029 due to factors like widespread adoption of Hybrid SAN-NAS solutions.
Read more...
---
Optimising remote technical support
Technews Publishing Asset Management, EAS, RFID Products
Sanden Intercool Kenya improves efficiency, removes manual processes with FIELDForce from MACmobile, making its technical backup and support staff more productive, while also optimising record keeping.
Read more...
---
Enterprise threats in 2023
News Cyber Security
Large businesses and government structures should prepare for cybercriminals using media to blackmail organisations, reporting alleged data leaks, and purchasing initial access to previously compromised companies on the darknet.
Read more...
---
Trends in the proptech industry for 2023
News
By mixing real estate with technology to optimise industries, create new ones, and generate efficiencies or capabilities that improve revenue generation, something as fundamental as the concept of parking has been turned on its head.
Read more...
---
Free-to-use solar score for South African homes
Technews Publishing Editor's Choice
The LookSee Solar Score is one of the first of its kind to provide insight into the potential of solar power for South Africa's residential properties.
Read more...
---
CA Southern Africa unmasks container security
Technews Publishing IT infrastructure Cyber Security
Adoption of software containers has risen dramatically as more organisations realise the benefits of this virtualised technology.
Read more...
---