The question of trust
November 2017, News
Access control, identity management, visitor management and whatever else it may be called is all about trust. It's about assigning a level of trust to an identity that will permit that identity to access a physical location or a digital environment.
In a country where criminals, scammers, fraudsters and con artists seem to be in the pound seats, the element of trust is no longer something we can take for granted. As much as one may want to, you can't simply trust people to "do the right thing". There are simply too many bad guys and too little in the way of deterrents that may prevent them from taking advantage, sometimes just because they can.
This year's Access & Identity Management Handbook looks at the issue of trust, how it can be assigned, managed and monitored, both in the physical security world as well as the digital world. While there may be a divide between the companies selling identity solutions for these two worlds, the reality is there is no divide. Information technology is in everything and controls almost everything, and we simply aren't ready.
Consider the apparent ease with which online scammers are able to con people – even those who do know better. Most of us are simply not geared to live in the digital world where it is getting harder to tell the difference between the good guys and the bad guys.
This is why the question of trust is so important. If you are going to take a risk and allow someone to access your building or data, you need some form of assurance that they are who they claim to be and will act within predefined rules. Most often, trust is assigned when they present some form of identity, but how much trust can be assigned to those issuing and maintaining those identity databases?
Which means that monitoring and managing your trust relationships is also important. It's a common cliché these days that if you hire someone in a sensitive position, in finance for example, you need to do a background check to ensure that they are not working for a syndicate and are not under debt pressure and so on. Moreover, you need to do the same check regularly to ensure their circumstances don't change in a way that would make your bank account a tempting target.
Of course, there are always a minority of people that will go off the rails and grab any chance they get, which is another reason for continual monitoring. It's an endless task which, if successful, will deliver absolutely no return on investment apart from the "what if" – what if the task was not done and a fraudster decided his home needed a fire pool at your expense.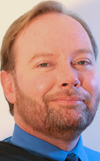 Of course the Access & Identity Management Handbook 2018 contains much more, including articles on new technology as well as old technology still proving its worth. The Hi-Tech Security Solutions team hopes you enjoy the handbook and we always welcome feedback, comments, criticisms and readers letting us know what we missed or what we should be focusing on in future. Send any comments to andrew@technews.co.za
Andrew Seldon
Editor