printer friendly version
Access control predominates in healthcare
August 2014 Access Control & Identity Management, Healthcare (Industry)
Although many factors come into play when considering security systems for the healthcare industry, one element predominates – access control. Hi-Tech Security Solutions discusses the role this critical component plays along with surveillance, fire detection and building management systems.
Firetech Projects CEO, Steve Alberts, says the company has built a solid reputation in the healthcare sector over the past four years, with 22 separate installations across the country. The company has been responsible for installing access control, CCTV, fire detection, evacuation, nurse call/patient TV and building management systems to well-known hospitals like Groote Schuur Hospital, Tygerberg Hospital, Brits Hospital and Vryburg Hospital. In addition, a number of recent contracts have called for baby tagging and asset management systems in for example, Cecilia Makawane Hospital and Mount Frere Hospital, both in East London.
Brits Hospital
"The safety of the patients and personnel is of paramount importance at healthcare facilities, so security systems need to accommodate and resolve the issues surrounding this. In addition, solutions should be scalable, for future upgradeability, be reliable and be able to integrate with other systems. All the systems that we install are IP based and are commonly hosted on one platform," says Alberts.
He points out that Bosch HD CCTV cameras are typically installed in the passageways, entrances and wards, and are viewed and recorded on the Bosch BVMS video management system and Bosch iSCSI storage arrays.
"We use the MicroSound Nurse Call system with optional TV/music control in our installations and this allows patients to summon nursing staff button or alternatively selecting TV and music options. With the Nurse Call feature, the alert can only be cancelled at the patient's bedside. This ensures that all calls are answered and attended to, with reduced risk to the patient," he explains.
The Bosch Plena voice alarm system is a public address and voice alarm system in which all the necessary features for compliance to evacuation standards such as IEC60849, NEN2575 and BS5839/8 are met. This allows for rapid and expeditious evacuation of visitors, patients and hospital staff.
Firetech selected IPSecurityCenter from CNL to provide an independent building management platform to integrate, manage and maintain all the security systems and assets through a single graphical user interface. This includes multiple CCTV, access control, fire and intruder alarm systems, voice evacuation systems, gas and oxygen monitoring, lighting for theatres, and air-conditioning throughout the facilities.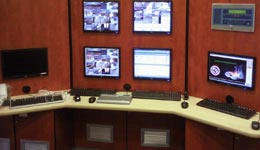 Vrybug Hospital
The company is currently implementing a system via IPSecurityCenter that will see all the selected state hospitals integrated into a common command centre.
He cites the installation at the Kimberley Mental Health Hospital as being more stringent than the other installations. "One must remember that the patients cannot simply leave the facility. There are strict measures in place to ensure that they remain in zones demarcated for them, to ensure both their own wellbeing as well as the wellbeing of others in the facility."
Restricting access
Zulmira Ferraz, technical manager at Powelltronics, says that the company has seen demand grow for its range of Impro IXP220 and Impronet access control solutions for RFID card-based solutions and Safran Morpho's biometric terminals for biometric requirements, to ensure that visitors to healthcare facilities are restricted from employee-only and other sensitive areas. In the past three years the company has successfully implemented systems in collaboration with its dealers at Red Cross Hospital in Cape Town, Hermanus Hospital, Tygerberg Hospital and Worcester Hospital.
"In all instances, the driving factor was managing access of employees to areas such as medicine stores, operating theatres, the financial department and wards outside visiting hours. We assisted with the commissioning and installation of Impronet on 30 doors at the Red Cross facility and on 40 doors at Worcester Hospital. The IXP220 was installed at the remaining facilities as they had fewer doors to monitor, required less functionality and did not require integration capabilities," says Ferraz.
Ferraz believes that healthcare facilities require ease of application, the ability to allow only authorised people access to predefined areas, stability of the system, and an IP solution, especially when integrating with a fire detection system or CCTV system.
She points out that in reaction to a demand from this market for more defined control in terms of employee management, the company recently signed a distributorship agreement with Israeli company Synerion. Synerion Direct is a Web-based workforce management application that can be targeted at the healthcare sector and is able to accurately determine the optimal number of doctors, nursing and cleaning staff required to match the current number of patients in the facility. Other benefits of the software, specifically to the healthcare industry, are the staff scheduling, labour costing, as well as employee and management self-service modules.
She emphasises that it is important to define the needs of the facility at an early stage. This could range from keeping the public out of specific areas, controlling the entry of employees into specific high-risk areas, or the alleviation or reduction of theft. Other considerations include the current infrastructure of the facility. Many hospitals are quite old and one needs to ascertain whether it is possible to lay cables between the various doorways. The structural elements will determine whether a hardwired or wireless solution will be best suited. However, on that note, one also needs to establish that the IT infrastructure is suitable for supporting a wireless installation.
She says that it is advisable to hold preliminary consultative meetings with an appointed representative from each of the security, IT and HR departments. Risks and issues can then be identified and solutions developed that will mitigate against these. It is also important to differentiate between real needs and mere wants and to prioritise the needs in the short term. The appointment of departmental representatives will also provide employees with a conduit should they have suggestions to share or need problems resolved.
"Finally, the flexibility of healthcare worker shifts plays a very important role in this industry and any access control system should be able to finitely limit the access of specific personnel to predetermined time zones," she concludes.
Integrating for success
South Africa is pretty unique in terms of the healthcare scenario. It is commonplace for emergency room stabbing or shooting patients to be further attacked and even killed while undergoing treatment in the trauma unit of hospitals throughout the country.
The crime situation in South Africa is extremely volatile and results in what should be a safe haven often becoming a secondary crime scene. This is according to Neil Cameron, general manager: systems and service, at Johnson Controls. In addition, prescription medication is often kept on site and poses a huge temptation to drug addicts and opportunist criminals. By necessity, security at many healthcare facilities needs to be stepped up to mitigate this risk.
Johnson Controls is very active in the healthcare sector in the USA, with installations in over 60% of the facilities. Cameron says that the facilities in that country are extremely high level in terms of sophistication and integration of resources. This approach provides a clear and paperless record of a patient's time and treatment in the hospital and can be referenced in the event of patient death.
He cites the ability to track critical assets, such as defibrillation machines, as adding great value to the healthcare provider. Medical staff are able to ascertain exactly where mobile lifesaving equipment is located in order to access it quickly and effortlessly. By integrating asset tracking into other functionalities, on a common platform, the benefits are numerous and create an environment where patient care, rather than bottom line, is the priority.
Another example he uses is that of infection control. There have been numerous reports of patients leaving hospitals with an infection or disease that they did not have when admitted to the facility. Due to the large number of patients and visitors, with a wide variety of diseases and germs, passing through the doors daily, the probability of infection transmission is high without controls to eliminate it.
Cameron says that a great deal of research has been undertaken into the importance of controlling airflow within the healthcare environment. The goal is to ensure single direction airflow. In essence, clean air should be flowing into areas where viruses exist, but no viral-laden air should be allowed to flow back into the adjacent atmosphere. The importance of linking a sophisticated air-conditioning system to an appropriate access control system cannot be overemphasised.
"The general problem in South Africa is that many of the hospitals operate standalone, small and inadequate access control and air-conditioning systems. One needs to gather all information around these and the other various hospital systems, including CCTV, gas monitoring, fire detection and building management systems and integrate it on a strong and scalable platform," Cameron explains.
It is important to establish the unique requirements of each facility to ensure emphasis is placed on the ultimate desired outcome. Cameron points out that the integration requirements for a cardiac hospital, where patients should be protected from any cross infection, would be different to a day clinic where the risk of theft or vandalism is more predominant.
Best practice therefore depends on the nature of your patient. Baby tagging systems are now gaining ground in maternity units, but would be less necessary in other hospital wards, whereas tracking of and access to the aforementioned lifesaving defibrillation machines would be vital in a cardiac unit and possibly in the ER.
Integration will allow management to highlight and escalate priorities and access control when under threat. "By feeding back information from, for example the fire detection system, operators can determine exactly where the fire is located and then activate a lockdown of that area, with concurrent measures to control the airflow. It can institute the creation of a vacuum to extract the smoke in the area and to switch off air-conditioning units to starve the fire of oxygen, and to simultaneously close all fire doors. The access control system would alert operators to exactly who is in the area and prevent further influx of people while the presence of CCTV cameras will provide footage on the fire as well as provide complementary verification of the physical location of patients and employees," says Cameron.
Cameron says that South Africa still has a long way to go before integration becomes the norm but there is some promising development in some of the hospitals in the Port Elizabeth and East London areas.
Credit(s)
Further reading:
How to specify the right turnstile finish
September 2019, Turnstar Systems , Access Control & Identity Management
Purchasing a turnstile gives you a large amount of flexibility when it comes to choosing the right finish.
Read more...
---
Distributed architecture lowers TCO, increases scalability
September 2019, Technews Publishing , CCTV, Surveillance & Remote Monitoring, Transport (Industry)
Faced with a number of security challenges and planned future expansion, a major airport decided it was time to implement a scalable security surveillance solution.
Read more...
---
TAPA: The role of an effective treasury function in business risk management
June 2019, Technews Publishing , News
Neil Le Roux, the Founder of Diligent Advisors will speak at the TAPA SA (Transported Asset Protection Association) annual conference on 26 July 2019.
Read more...
---
From the editor's desk: More things change
September 2019, Technews Publishing , News
Welcome to the CCTV Handbook 2019. This year's handbook breaks a long tradition of publishing the handbook in the first half of the year by releasing it along with the October issue of Hi-Tech Security ...
Read more...
---
A platform approach to innovation and value
September 2019, Technews Publishing , Editor's Choice, CCTV, Surveillance & Remote Monitoring, Integrated Solutions, IT infrastructure
Moving to the platform model of doing business holds tremendous advantages for end users and smaller developers, but also for the whole technology supply chain.
Read more...
---
Open does not always mean easy integration
September 2019, VERACITECH, Technews Publishing , Editor's Choice, CCTV, Surveillance & Remote Monitoring, Integrated Solutions
Customers who opt for best-of-breed solutions will have to rely on their integrators to develop customised integrated solutions for them.
Read more...
---
The impact of AI on the surveillance industry
September 2019, G4S South Africa, Hikvision South Africa, Myertal Tactical Security, Technews Publishing , Editor's Choice, CCTV, Surveillance & Remote Monitoring
What the impact of AI will be on companies, the services and solutions they supply, as well as on the jobs people do.
Read more...
---
Video analytics and AI
September 2019, Axis Communications SA, Dallmeier Electronic Southern Africa , Hikvision South Africa, Technews Publishing, Dahua Technology South Africa , Editor's Choice, CCTV, Surveillance & Remote Monitoring, Integrated Solutions
Artificial intelligence has the potential to deliver real benefits in the world of video analytics and many companies are already delivering customer benefits.
Read more...
---
Integration insights
September 2019, Gijima Electronic and Security Systems (GESS), Technews Publishing, neaMetrics , Integrated Solutions
The security industry would be a vastly different place if installers and integrators were not able to make a range of different products work together.
Read more...
---
Taking analogue to HD
September 2019, Dahua Technology South Africa, Technews Publishing, Hikvision South Africa , CCTV, Surveillance & Remote Monitoring
Hi-Tech Security Solutions spoke to two companies that are driving the two primary analogue HD technologies.
Read more...
---