printer friendly version
IFSEC SA 2014 gets it right
July 2014 Conferences & Events, News
The build up to this year's IFSEC SA exhibition was filled with knowing glances and whispers of failure after it was announced that a few of the larger exhibitors of the past would be giving it a miss. While there were a few companies conspicuous in their absence, it seems that the show itself did not suffer at all.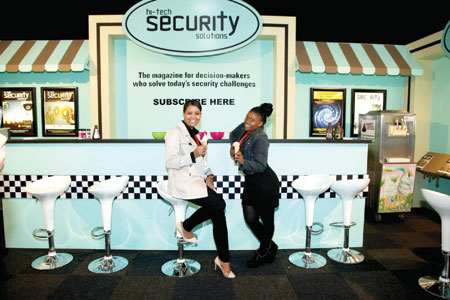 Hi-Tech Security Solutions tempted attendees with ice cream.
In fact, if anything, those companies exhibiting at the show were in a great place to grab some of the attention that would normally have been given to the larger exhibitors. There were also a host of interesting products and solutions on display, with a couple of new entries and some awesome products. And unlike previous years, the presentation theatre was a main attraction with many visitors attending the various talks.
According to the organisers, the exhibition saw 4763 visitors over the three days, of which 25% were first-time visitors, including a large number from other African countries. The profile of visitors to the exhibition included a high percentage of decision makers, responsible for sourcing and acquiring security and fire solutions. Of these, 42% came to source solutions and products and 17,25% had a budget of over R10-million.
Miro Distribution.
The awards ceremony was held on Wednesday 14 May and the award for the 48 m²+ stand went to MiRO Distribution, with second place awarded to ADI Global Distribution and international exhibitor Hikvision taking third place. The winner in the 18-48 m² stand category was AC/DC Dynamics with Sherlotronics and Instacom coming second and third respectively. Indigo Vision scooped first place in the 18 m² and less category, with Hitek Security and Progroup following in second and third places.
In this article we can't cover everything that happened at the show, but we strive to point out a few of the exhibits we found of particular interest. A few of them warrant further investigation and we will be following up with certain companies in future issues this year to find out more about their offerings.
Quick overview
A few of the highlights from the show are as follows:
* Duxbury Networking was one of the newbies on the show for the first time. It highlighted its portfolio of 2N IP (Internet Protocol) communications offerings, ranging from mobile voice solutions to wireless leased line replacement options.
* Magtouch Electronics' hermetically sealed standard batons are housed within a stainless steel corrosion proof case, and can handle an unlimited amount of points and patrols, with software upgrades available as free downloads.
* Gallagher introduced the T20 Terminal; a, robust access control card + PIN reader. The T20 terminal offers an extensible platform, capable of both access control and alarm management.
* ASSA ABLOY's Mul-T-Lock high security mechanical lock is combined with a GPS location system and F+GSM communication to automatically notify owners when their assets are accessed, together with information on the asset's location.
* A hands-on demonstration of Transaction Control Technologies' SmokeCloak drew visitors onto the company's stand. Linked to alarm systems, the SmokeCloak releases a dense white fog to disorient and deter any criminal.
* The Axessor modular safe lock from Kaba Total Access can be networked or used as a standalone unit and is ideal for use in banks, post offices, restaurant chains, retails chains and for cash-in-transit vehicles.
* Zonke was also there with an overview of its key management systems, manufactured in South Africa.
* Clay is Salto Systems' latest locking solution. This cloud-based system comprises ClayIQ, the wireless Clay door lock, the electronic cylinder, the ClayTag (key) containing a secure RFID chip and the Clay repeater, together with the requisite Web app.
* Cathexis was displaying the latest version of its CathexisVision-2015 IP video management software: The new video analytics suite introduces true vector based analytics and includes direction, speed, U-turn detection, left object detection, loitering, dwell times, queue length monitoring and other features. It also includes 3D people counting, which dramatically improves accuracy over traditional standard camera based solutions.
* Centurion Systems was also on show with its wide range of gate automation products.
Integration is key for Suprema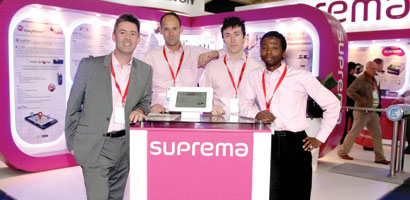 Walter Rautenbach and the Suprema team on their stand.
Walter Rautenbach, MD at neaMetrics, the Suprema distributor for Africa, had the following to say: "For us, IFSEC SA is a platform to meet with new and existing partners, to talk about changes and demands in the market as well as new opportunities that lie ahead. We believe in true value added distribution and believe that software, and not just system, integration is absolutely essential to realise value for end-users. Gone are the days of running separate platforms for security, systems need to talk to each other to exponentially increase their effectiveness and therefore their value.
The Suprema stand showcased some of the integration work the company has undertaken. Some of the integration partners featured this year were Indigovision and SmartProtect (Milestone) on the integrated VMS side as well as Menico and TouchPay on the identity management and biometrics wallet platform. EasyRoster showed its integrated biometric and GPS location-based workforce management solutions focused on 100% operational control and best wage-revenue ratios in the guarding, labour broking and outsourced services market sector. (See below: Integrated solutions from Suprema at IFSEC SA.)
Ideco Biometric Security Solutions once again hosted a lounge where coffee was on tap and visitors could join Ideco for discussions on identity and access management (IAM). The company, perhaps well known for distributing Morpho products, has expanded into supplying other products, and its lounge reflected its move into more of a consulting role in the IAM space.
Graphic Image Technologies (GIT) demonstrated its integrated solution for surveillance. The company has recently inked an agreement to sell DVTel systems in addition to its Servision software which manages camera images and transmission. It also provided a demonstration of BriefCam's video synopsis software, which compresses hours of video surveillance into a few minutes. The latest version of the software allows for intelligent analysis, limiting the compressed video with respect to direction, size, colour etc.
The company also had its wearable camera technology on display, which incorporates a camera, DVR and battery in a vest to allow guards to gather real-time evidence while on their rounds.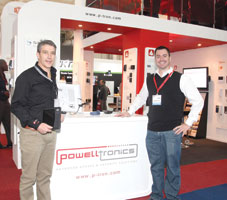 Powell Tronics stand.
Powell Tronics was another regular. The company distributes Morpho, Golmar and Impro and had a host of products on display. However, Powell Tronics prides itself on its integration and software development capabilities which can take its range of products and deliver a working solution customised to the requirements of the end customer. Some of its integration projects were on display for a live demonstration of their capabilities.
Surveillance: clear images and seeing in the dark
IFSEC SA has always had a strong focus on the surveillance market, whether for analogue or IP cameras and this year was no different.
Hikvision is a regular exhibitor and it demonstrated a range of cameras, including its new 2 MP dome and 6 MP fisheye network camera which provides a 360° panoramic view, with multiple viewing modes and virtual PTZ. Possibly the most impressive demonstration on Hikvision's stand was its new DarkFighter camera, which is designed to deliver colour images in almost total darkness.
The DarkFighter camera features a two-megapixel, ½-inch progressive scan CMOS image sensor. Together with a 120 dB WDR (wide dynamic range) and Hikvision's 3D DNR (Digital Noise Reduction) technology, the new camera is able to stream video in full 1080p HD at 60 fps, which results in latency free clear images day and night. A defog feature is also incorporated to improve image clarity in poor weather conditions, such as rain or fog.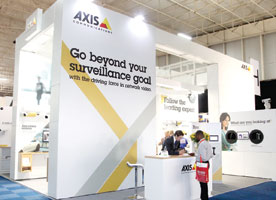 Axis Communication's stand.
Axis Communications, another stalwart at IFSEC had a busy stand with a variety of its products on display, including some of the peripherals that don't normally get the limelight – such as encoders which make it simple to link existing analogue cameras to your IP network.
While it had a range of network cameras on show, including its new range of bullet cameras offering up to 60 fps and Axis' own LightFinder technology, the key for the company this year was to highlight the value of image quality. It doesn't matter how impressive your camera specifications are if you can't get a good image at the end of the day.
And on the topic of image quality, Axis had an impressive 4 K display on show which clearly showed the value of 4 K technology and what users would be able to do with these impressive images. 4 K won't be for everyone, especially in its early phase of evolution, but it's the surveillance industry's equivalent of a killer app for large areas and locations where identification and analytics are important.
Hitek is well known for its Provision ISR range of analogue cameras that it distributes, but the company used IFSEC SA to introduce the new range of Provision ISR IP cameras which are easy to install and manage. Of course, the company also had its HD analogue cameras on show, based on HD-SDI technology.
IndigoVision was also on show and this marks the launch of the company's local office. The company not only has cameras (including a 20 MP camera) and video management platforms on offer, it also offers hardware, such as its new NVR that can support over 700 cameras. Hi-Tech Security Solutions will be following up with IndigoVision in a future issue.
Dahua Technology was also on show, demonstrating a variety of its products, including HDCVI, analogue and IP cameras, as well as its storage solutions. Dahua's, HDCVI offers HD video over coaxial cable, allowing reliable long-distance HD transmission at lower cost. This is the company's advance on HD-SDI.
Making video management simpler
On the software side, Milestone Systems had a busy stand that included solutions from a number of its partners as well as some new offerings from the company. Its IFSEC SA presence coincided with the company launching its local office, which is headed by Michael Metcalfe.
To assist in the move to IP surveillance, Milestone has a new offer for encoders that allow users to run analogue cameras on an IP network. To make it easier to incorporate existing analogue cameras into its management system, the company is charging one camera licence per encoder, irrespective of the number of ports. This means multiple analogue cameras can be attached to an encoder at the cost of a single IP camera licence. This makes it simpler for companies looking to manage a hybrid camera installation.
Milestone was also demonstrating its Husky series of NVRs which offer an all-in-one solution in a box. This is a plug-and-play solution that is easily incorporated into your network and offers solutions from eight ports and up. The company also promises a three-day delivery time from the UK. Companies can, for example, use Husky NVRs to manage remote sites or branches and have the systems connected to a central Milestone XProtect Corporate VMS at their head office using Milestone Interconnect. The Husky systems also includes a free customer dashboard to enable installers to monitor the health of their customers' system remotely and proactively resolve technical issues.
On the IT side
As noted above, traditionally an IT distributor, Duxbury was a first-timer and displayed a host of products pertinent to the security industry, including a line of ACTi IP cameras and NVRs, as well as Axis solutions. It also showcased Lantech industrial grade networking products including switches, converters and accessories, and networking, storage and digital media products from Netgear. Systems from 2 N as well as new-generation wireless networking solutions from the Cambium, Proxim, LigoWave and Deliberant were also on the stand.
Bytes also had a stand for the second year and, among other things, it had an integrated Cisco management system running which handles all security functions, from cameras to access control, through to communications that allow controllers to communicate or enable communications with different people no matter what device they are using.
Motorola Solutions was also displaying its safer city solutions, which offer similar management and communications capabilities for large scale implementations.
Miro distribution, already a well-known brand in the security market also provided visitors with an overview of its wireless networking solutions, including backhaul products such as Radwin, Deliberant, Ubiquiti and others, as well as a host of other products such as its range of cameras from Vivotek and Sunell.
Other notables
Of the many other companies at the event, MicroMEGA was demonstrating its wireless alarm systems and hosted management capabilities. AC/DC had an attractive stand with many products, as well as Ibotix, a new security franchise that Hi-Tech Security Solutions will be featuring in a future issue.
Imperial Armour launched a new range of cash-in-transit shock bags. These are bags that can be safely carried by guards, but if unauthorised people try to grab them, they get a severe and temporarily crippling shock from electronics built into the bags. One can't help wanting to be a witness to an attempted crime.
Finally, Guardian Monitoring Manager is a locally produced Web-based software system that keeps tabs on the status of any electronic equipment. The dashboard keeps managers or those responsible for maintenance updated as to the status of almost any devices and raises the alarm when something fails. Not only does this ensure equipment is always running properly, it also manages the maintenance process, escalating events to more senior people if events are not handled within a specific time.
Guardian is able to monitor multiple locations from the same dashboard and is brand independent, meaning almost any product can be monitored. As a Web-based system, the product is accessible from anywhere the user is connected to the Internet and it is sold for a monthly subscription fee. The company has appointed Pinnacle Security as its initial distributor as it is focused on developing the software, leaving the installation to resellers.
As can be seen in this all-too-brief overview, there was definitely no shortage of interesting products and solutions to view at IFSEC SA this year. We have only touched on a few in this article as it is impossible to cover all the companies and products at the show. It will be interesting to see how these companies outdo themselves next year and whether those who were absent will be back to stake their claim in the security industry's biggest exhibition.
Morpho unveils next generation
MorphoTablet.
Morpho (Safran) has revealed its next generation of biometric products: the MorphoAccess SIGMA Series, the Morpho 3D Face Reader and the MorphoTablet. Each new terminal range is designed to meet users' need for access control and time and attendance by offering a spectrum of features and advantages for every application.
The MorphoAccess SIGMA incorporates value-added functionalities to deliver a terminal that goes beyond what you would come to except from a biometric access terminal. The terminal incorporates a colour touchscreen interface, a media and messaging platform, and video and audio IP intercom capabilities that allows the terminal to be used as a full featured intercom from your smart phone or computer. It is also the first terminal to offer true 1:100 000 user matching with Morpho's algorithms.
In the age of mobility, the MorphoTablet unit aims to change the face of mobile identification. This compact touchscreen device guarantees secure mobile data operations using Morpho's biometrics (fingerprint and facial recognition) and cryptographic functions. Running on Android, it is compatible with Morpho applications, standard applications downloadable form the app store and has a SDK to enable integrators and developers to create custom applications. By combining mobility, versatility and security in a single platform, the MorphoTablet provides trusted services in any sector, anywhere, at any time.
The Morpho 3D Face Reader provides fast, hands-free access to offices and restricted areas. By analysing up to 40 000 points in the three-dimensional structure of the user's face, it achieves extremely accurate matching while ensuring high throughputs. With the Morpho 3D Face Reader, access control is secure and as simple as a quick glance. The 3D Face Reader offers speed, precision, security and convenience.
For more information contact Morpho South Africa, +27 (0)11 286 5800, [email protected], www.morpho.co.za
Integrated solutions from Suprema at IFSEC SA
Some of the solutions on display at the Suprema stand included:
* IndigoVision's Control Center Eagle 11, which has now been integrated with Suprema's BioStar Access Control suite. The integration offers dynamic mapping of BioStar's Access Control Zones, doors and devices with IndigoVision detector and camera zones and allows for feeding BioStar alarms and events into IndigoVision.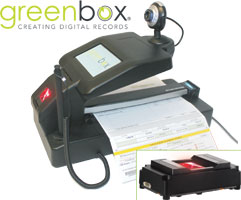 * The GreenBox was developed by Meniko RMS to fulfil a need for a multifunction device that can scan physical documents, identity documents, passports and drivers' licences; scan fingerprints, capture digital signatures and ID photographs. It also includes biometric verification functionality which can be used for the verification of an individual as required by various acts such as FICA and RICA and financial market KYC requirements. GreenBox recently integrated Suprema products, and was launched at IFSEC SA 2014.
* Supreme ProSync pocketOps, the workforce management smartphone application that enables managers to control Suprema devices from their smartphone, view statistics and graphs, manage alarms and interact with the control room – keeping managers up-to-date wherever they are. The latest enhancements include GPS functionality with features such as GPSign-in, photo evidence/collaboration and GPStaff-track. pocketOps is fully integrated with EasyRoster.
* TouchPay, part of the Edge Evolve group, developed an Electronic Funds Transfer (EFT) switch, TranGate, that provides financial and non-financial transacting. The TouchPay switching platform offers various transactions including pre-paid transaction, bill payments, money transfer, cash back and more, delivered through POS, mobile devices, Internet, ATMs and self service devices.
* The integration of TouchPay's transacting platform with BioStar offers users a secure and integrated transaction platform that uses Suprema's fingerprint technology to deliver secure and convenient transacting.
* iPoS is a locally developed point of sale system for Suprema Access Control and T&A management suit. iPoS is designed to make use of identity data stored on BioStar to manage internal sales and supports any combination of card and/or fingerprint authentication. Typical applications include cafeteria sales and issuing of stationary and other consumables.
Credit(s)
Further reading:
Five ways to reduce your cyber insurance premiums
Security Services & Risk Management News
With the global costs of cybercrime expected to soar to $13 trillion within the next five years, cyber insurance is booming as organisations try to mitigate the risk of financial losses.
Read more...
---
What South Africans need to know about smart devices
Technews Publishing Editor's Choice
We live in a world surrounded by smart devices, from our pockets to our driveways and living rooms.
Read more...
---
Collaboration delivers integrated and holistic security
Guardian Eye CCTV, Surveillance & Remote Monitoring News Integrated Solutions
Guardian Eye and Lytehouse have partnered to integrate their speciality solutions and provide a holistic security offering that overcomes the fragmentation of security systems and services.
Read more...
---
Synology enhances functions for advanced surveillance integration
Technews Publishing CCTV, Surveillance & Remote Monitoring IT infrastructure Products
With the capability to function as both an API client and server, Surveillance Station offers a versatile platform for integration, whether it's embedding video streams into other platforms or overlaying external data onto recorded video.
Read more...
---
Elvey Group and Technoswitch part ways
Elvey Security Technologies Fire & Safety News
The Elvey Group (a division of the Hudaco Group of Companies) is relinquishing its distributorship of the Technoswitch brand, following Hudaco's acquisition of Brigit Fire.
Read more...
---
Planning for the worst is key to success
Technews Publishing Security Services & Risk Management
Planning for the worst is key to success when disaster strikes. Amidst frequent load shedding and often unpredictable stages of power outages, many businesses are concerned about the possibility of a total blackout.
Read more...
---
SMART Surveillance Conference 2023
Technews Publishing Editor's Choice CCTV, Surveillance & Remote Monitoring Conferences & Events
Some people think the future is all about cloud technologies, but the SMART Surveillance conference demonstrated that AI is making edge surveillance much more attractive, over distributed sites, than ever before.
Read more...
---
From the editor's desk: Is security the new analogue?
Technews Publishing News
      Back in the old days, when I started with SMART Security Solutions (or Hi-Tech Security Solutions, as it was known then), one of the major 'revolutions' of that time was the imminent demise of analogue ...
Read more...
---
Milestone celebrates women in security
Milestone Systems Technews Publishing Editor's Choice News Conferences & Events
The Milestone Systems' African team wanted to express their appreciation for the incredible contributions of the women in the security industry and held a breakfast in honour of the hard-working women in the industry on 8 August.
Read more...
---
Enhancing innovation with training
Technews Publishing Impro Technologies Editor's Choice
Innovation is key to the success of any company in the security market, but ensuring those who sell and support your product are able to promote and support the brand name is critical.
Read more...
---