printer friendly version
The challenge of effective retail security
June 2014 Conferences & Events, News, Retail (Industry)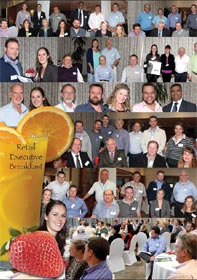 Hi-Tech Security Solutions in partnership with The Consumer Goods Council Risk Initiative (CGCRI) hosted an Executive Breakfast in April focusing on the security issues the retail industry in South Africa faces. There were five presentations in the morning, a hot breakfast as well as an exhibition area where the event sponsors presented their products and services pertaining to the retail environment. Guests were also able to network over coffee with each other as well as the sponsors and presenters.
The sponsors of this event were Cash Connect, Cathexis, Elvey Security Technologies, G4S, Gunnebo, Powell Tronics, Tyco Retail Solutions and VixNet. The CGCRI also provided two lucky winners each with a copy of its CCTV Guidelines booklet.
Crime in retail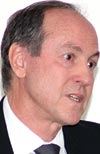 Dr Graham Wright
The keynote presentation was delivered by Dr Graham Wright, previously of Business Against Crime South Africa (BACSA), speaking for the CGCRI. Dr Wright spoke on Crime in the Retail Industry.
Starting out, Wright highlighted the importance of the retail environment to the national economy, contributing over 14% to the country's GDP. He then broke the overall retail industry into different parts and described the market share of various enterprise sizes – micro, small, medium and large enterprises. The size of the market naturally makes it a tempting target for criminals.
The industry has struggled against this crime wave for years and this has been the target for the CGCRI. The association was founded out of 'enlightened self-interest' because retailers realised that fighting crime was a non-competitive issue and a unified approach would assist in combating this scourge.
The CGCRI Mancom members today represent companies with over R300 billion in annual turnover, 250 000 employees and 6000 stores in the wholesale/retail environment. It also includes the Jewellery Industry Initiative. Wright then highlighted the most pressing crimes its members are facing.
He then explained the CGCRI's services it provides to members and demonstrated the success it has had in curbing crime for them. He also stressed the importance of effective collaboration in all aspects of the retail environment, from the supply chain through to law enforcement.
More information can be found at www.cgcsa.co.za or info@cgcsa.co.za.
Balancing criminal and labour law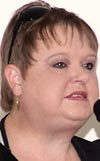 Sonja Joubert
With years of experience in forensic investigations in the retail environment, Sonja Joubert from Ituso Consulting was next, providing attendees with insight into the benefits of data mining CCTV footage for better prosecution of retail criminals. One of the main points she emphasised was that crime or corruption is endemic and retailers are not immune. However, she says retailers should make use of forensic experts when investigating crime.
This is a necessity if retailers want to be able to act against criminals, whether in a court of law or to defend themselves at the CCMA. She says all too often management forgets that courts, the CCMA and bargaining councils have different requirements when it comes to evidence of a crime. What may be accepted in one instance will be thrown out in another.
With this in mind, Joubert went on to describe what CCTV footage would be considered acceptable or not when it came to prosecuting a criminal or defending a dismissal at the CCMA. She also touched on the issue of covert cameras, clarifying where their use is permitted.
While many people seem to consider CCTV footage as dangerous ground, Joubert showed, with examples from local case law, that video is an effective tool in crime fighting – assuming that the footage is usable and follows the correct guidelines.
For more information contact Sonja Joubert, sonjamjoubert@gmail.com.
Inconvenient truths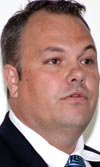 Kelly McLintock
UTM's Kelly McLintock gave the attendees a few inconvenient truths about insider crime in the retail environment. McLintock explained that global shrinkage amounts to about $112 billion annually, but that in South Africa, employee theft accounts for over 70% of all retail shrink (which increased by 5,5% in the 2012/2013 year). Sadly, only one out of 40 employees is caught stealing, meaning 39 are getting away with it and will be back for more.
He says the reason for this is the economic climate we live in: the cost of living has risen, transport and medical costs are up and questionable ethics are common in both the public and private sectors.
To resolve this dilemma, McLintock proposes building a loss prevention strategy on a 'Moments of Truth' framework. He says the framework allows for the development of a Retail Risk Dashboard that is focused on loss prevention and deploying technology in a more cost effective way. The Moments of Truth methodology is to identify and mitigate the areas of largest exposure to shrink within the retail environment as opposed to the blanket approach of the past.
This delivers a better return on loss prevention investments as it identifies the most popular and vulnerable targets and works to combat crime in them. It is also reassessed regularly to ensure the results required are obtained and that the most vulnerable areas are always covered. McLintock ended by noting that it takes hard work as there is no silver bullet to stop shrink.
For more information contact Kelly McLintock, kelly@utmgroup.co.za, www.utmgroup.co.za.
The cash question

Richard Phillips
Richard Phillips from Cash Connect was up next. He addressed the biggest weakness of retailers and the biggest temptation for criminals, cash.
While we hear of cashless societies and the death of cash in favour of cards or mobile payments, cash is still king in the retail environment and as such it presents a tempting target for criminals. Phillips says the SA Reserve bank reported there was R119 billion of cash in circulation last year, an amount that has been growing year upon year. A few years ago, we saw that cash-in-transit (CIT) operators were regular targets for cash heists, but these have dropped as the operators have strengthened their defences. Bank robberies are also down. What's up are the attacks against businesses, including retailers. In fact, Phillips says retailers have a one in five chance of being attacked today.
Phillips then noted that retailers with no cash management solution or sub-standard safes are easy targets. Most robberies are done with insider participation – whether willingly or unknowingly. And to get rid of the common belief that a proper cash handling solution costs money, he gave an example of how money can be saved by implementing one. In his example, a saving of R10 000 per month can be realised.
Referring to a proper cash management solution as a 'psychological bank account', he explained how retailers benefit from using cash hardened vaults, removing third-party intervention and removing cash as a feasible target in stores. This is not only a money saver, but creates a more positive attitude among workers, which rubs off on customers.
For more information, contact Richard Phillips, richardp@cashconnect.co.za, www.cashconnect.co.za.
More than security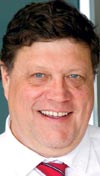 Gus Brecher
The final presentation of the day was from Gus Brecher, MD of Cathexis Africa, who explained how surveillance technology can be used to benefit the entire business and provide a measurable return on investment (ROI).
Brecher explained how 'thinking beyond security' would increase the budget for security operations by delivering value to various other departments within the retail environment. He provided an overview of how security technology can also impact health & safety, shrinkage, marketing, operations, training and personnel.
A key to this expanded impact and improved ROI is using video analytics to assist other areas of the business in doing their jobs better. Integration between different security products is also important, from RFID scanning to access control, as this will provide much more information than merely images of people in your store, allowing retailers to expand the scope of technology and realise measurable returns.
Ending off, Brecher reinforced that instead of simply recording images and raising alarms, security systems can provide business intelligence that empowers companies to achieve an ROI and improve operations in various departments.
For more information contact Gus Brecher, gusb@cat.co.za, www.cathexis.co.za.
Up for grabs
Ending the formal proceedings for the day, Hi-Tech Security Solutions was able to hand out a number of prizes to attendees in a lucky draw. Hi-Tech Security Solutions thanks the sponsors who provided the prizes: CGCRI, Cathexis, Gunnebo, Powell Tronics, VixNet and Glomail.
Credit(s)
Further reading:
TAPA: The role of an effective treasury function in business risk management
June 2019, Technews Publishing , News
Neil Le Roux, the Founder of Diligent Advisors will speak at the TAPA SA (Transported Asset Protection Association) annual conference on 26 July 2019.
Read more...
---
Platforms are us
September 2019, Technews Publishing , News
A conversation I had at the recent Residential Estate Security Conference Hi-Tech Security Solutions hosted in August (which will be reviewed in the October issue) got me to thinking about the security ...
Read more...
---
TAPA conference 2019 explores layered approach to security
September 2019, Technews Publishing, TAPA (Transported Asset Protection Association) , News, Transport (Industry)
The Transported Asset Protection Association (TAPA) held its annual South African conference at Emperors Palace in Johannesburg on 26 July 2019.
Read more...
---
The hunt for the Carbanak group
September 2019 , Editor's Choice, Cyber Security, News
Tomorrow Unlocked has released a free four-part documentary that tells the story of the notorious Carbanak APT group and its $1 billion bank heist.
Read more...
---
Genetec to integrate CylancePROTECT
September 2019, Genetec , Editor's Choice, CCTV, Surveillance & Remote Monitoring, News
Genetec has announced it is partnering with Cylance, a business unit of Blackberry, to bring AI-based antivirus protection to its appliance customers.
Read more...
---
iLegal 2019: Enhancing and empowering your control rooms
July 2019, Technews Publishing , News, Conferences & Events
iLegal 2019 will be held on 12 September 2019 at The Rosebank Crowne Plaza in Johannesburg. iLegal is the surveillance industry's premier one-day conference hosted jointly by Hi-Tech Security Solutions and Dr Craig Donald.
Read more...
---
Residential Estate Security Conference 2019: Managing for efficiency
July 2019, Technews Publishing , News, Conferences & Events
The Residential Estate Security Conference 2019 will be held on 20 August 2019, once again at the Indaba Hotel in Fourways, Johannesburg.
Read more...
---
Spending to save
August 2019, Technews Publishing , News
As residential estates and complexes grow like weeds across South Africa, often promoting themselves as more secure than a stand-alone house, many are finding that close proximity to a neighbour or a ...
Read more...
---
Risk assessment or product placement?
August 2019, Technews Publishing, Alwinco, SMC - Security Management Consultants , Editor's Choice, Security Services & Risk Management, Residential Estate (Industry)
Hi-tech security solutions asked a couple of experts to provide estate managers and security managers with some insights into what a 'real' risk assessment includes.
Read more...
---
Renewable energy for estates and homes
August 2019, Drensky Technologies, Technews Publishing, Specialised Battery Systems , Security Services & Risk Management
While individual homeowners might choose to install solar photovoltaic (PV) systems for when there's load shedding or a power failure, for an entire estate to harness its energy requirements from solar, and particularly their crucial security systems, would require that a large area of the property be dedicated to solar panels.
Read more...
---