printer friendly version
Surveillance is a fishy business
CCTV Handbook 2017
CCTV, Surveillance & Remote Monitoring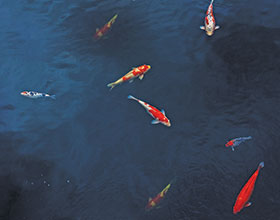 Having been in the security technology field for over 20 years and seen the technologies come and go, we got involved with aquaponics some three years ago.
Aquaponics is the combination of aquaculture in a recirculating system and hydroponics to utilise the nutrients released by fish to grow crops in the same system, the crops in turn clean the water for reuse by fish.
There are many advantages of aquaponics as compared to aquaculture, hydroponics or farming crops in soil. These include higher production levels, fewer disease issues, superb taste of the crops and shorter period to first harvest. Furthermore, as aquaponics is intrinsically a natural and healthy method to produce the crops, we have the opportunity to utilise soft and environmentally appropriate treatment methods to address pest issues that affect the crops, thereby enabling us to produce a wholesome, organic product, along with distinctly more intense aromas and flavours of aquaponically grown crops.
During the installation of our commercially rated system in the suburbs of Pretoria, we embarked on a challenge that stimulated our technical expertise where simple problems that are encountered in such systems around the world need measured solutions. During the early stages, water overflow and the loss of water needed to be managed. Being in a city where the only source of water is municipal and what could be harvested from our roofs when it rains, made the loss of water a priority. Searching the market, we found wonderful systems, which came at a price, of course.
In a recirculating system, water is of utmost importance, not only is it the basis on which the system functions, which fish and plants both depend on, it is a scarce commodity and could become costly.
Aquaponics uses 90% less water than traditional farming because it is recirculated from the fish dams to the plants and back to the dams. The water carries nutrients for the plants, which is cleaned up by the roots and returned as clean water to the fish, and this in itself makes the water even more valuable.
During the building and testing of the aquaponics farm we were constantly faced with water leaks, unbalanced pumps and blockages. This is generally sorted out quite easily and as we progressed to commercialisation, where 4000 fish and 6000 plants are dependent on a balanced system, the normal water leaks were sorted out, but the odd flooding and consequent losses of water just seem to be inherent in systems such as this.
There are many products on the market that could give warning and stop pumps but these are all designed for water management systems and the cost is just too high, never mind the retrofitting thereof.
In such systems, it is reasonably normal to lose a fish or two but if there is a major problem with water quality or the loss of dissolved oxygen where an air blower or pump has failed one could experience drastic losses within a few hours.
Being a security technology company we then looked for solutions within our baseline technologies and started testing. Having cameras that were a natural part of the installation during the building of the system, we readjusted and realigned the cameras with the aim to utilise the analytic function which was intended to give us warning when something changed. In this instance, it was the depth of the water in a 3,5 m fish dam.
We were aiming at the inner edge of the dam at water level, hoping to receive a trigger when the water level drops or rises. The tolerances were so tight and alarms were popping up all the time, and then the penny dropped, place a ball hanging in the centre of the dam which will float with a top and bottom parameter set. When the ball rises too high the alarm triggers and visa versa.
It could be argued that a simple trigger on the cable holding the ball would do the same, but we now have the video footage at our fingertips to review. The use of the video progressed to a point where floating objects such as fish now also trigger an alarm. Once again, for the sake of the sceptics and the aquaculture guys, the fish don't always come to the surface when dead, but at least we know when they do.
General surveillance is used and we also record our water and air temperatures where a camera is aimed at the digital readouts thereof giving us information that we did not previously have utilising one technology that was already available in the system
Gathering information about plant growth has now become a simple video review function where we compare the footage of the plants size two weeks ago, with today.
Controlling access to the facility is naturally done by a biometric system, with an in and out reader and an interlock where footwear is to be cleaned in a shallow foot bath. Simple time-related readouts give us the time and attendance, time spent inside the facility, time in the footbath area and time away.
Driving forward with the process of a sustainable farming entity where power, water, resources and time are contributing factors we embarked on a green journey hoping to not only bring down overheads but also to prove to ourselves and possibly the market out there that green is possible. The first choice is of course the utilisation of a solar system to run the power-related segments such as the pumps and air blowers. A 6.5 kVA solar system was installed and this runs the total farm.
For more information contact Neale Strauch, Techsec Security Services t/a The Lab, +27 (0)12 654 5985, neale@thelabsa.com, www.thelabsa.com
Credit(s)
Further reading:
Reinventing network camera security
Issue 1 2020, Axis Communications SA , CCTV, Surveillance & Remote Monitoring
Now in its seventh generation and celebrating its 20th anniversary, the Axis ARTPEC chip was launched in 1999 designed to optimise network video.
Read more...
---
Cloud-based fleet and driver management
Issue 1 2020, Graphic Image Technologies , CCTV, Surveillance & Remote Monitoring
Graphic Image Technologies (GIT) has announced the availability of a cloud-based dashcam designed to improve on-the-road behaviour and assist in improving fleet management.
Read more...
---
Cathexis specialises in integration
Issue 1 2020, Cathexis Technologies , CCTV, Surveillance & Remote Monitoring
The integration of multiple systems is intrinsic and essential to the goal of creating an effective and efficient operational environment.
Read more...
---
Do wireless networks meet modern surveillance demands?
Issue 1 2020, Duxbury Networking, RADWIN , CCTV, Surveillance & Remote Monitoring
It is predicted that video will account for 15,1 zettabytes (1 zettabyte = 1 trillion gigabytes) of data annually, which is more than any other IoT application.
Read more...
---
Traffic doesn't have to be this way
Issue 1 2020, Dahua Technology South Africa, Axis Communications SA , CCTV, Surveillance & Remote Monitoring
More effective traffic management is something that would save us all a lot of frustration and wasted time, and it's one of the areas where AI and big data can have a significant impact.
Read more...
---
Dahua launches Hunter Series
Issue 1 2020, Dahua Technology South Africa , CCTV, Surveillance & Remote Monitoring
Dahua launches a new dual-PTZ camera that enables flexible and multi-scene panoramic monitoring.
Read more...
---
8 MP fisheye camera
Issue 1 2020, Dallmeier Electronic Southern Africa , CCTV, Surveillance & Remote Monitoring
Dallmeier's new 8 MP fisheye camera combines AI-supported object classification and H.265 in a compact design.
Read more...
---
Using ANPR to enhance security
Issue 1 2020, Duxbury Networking , CCTV, Surveillance & Remote Monitoring
Deep learning and AI-based algorithms enable ANPR cameras and their associated software to detect and recognise number plates with an extremely high level of accuracy.
Read more...
---
AI supercharges surveillance
Issue 1 2020 , CCTV, Surveillance & Remote Monitoring
The ability to analyse live video through AI techniques means that untapped footage from existing, passive cameras can be used to identify patterns, trends and anomalies.
Read more...
---
IDIS launches new cameras with on-board analytics
Issue 1 2020 , CCTV, Surveillance & Remote Monitoring
IDIS has launched a lineup of Edge VA bullet and dome cameras, featuring on-board analytics that will transform the efficiency of security operations.
Read more...
---