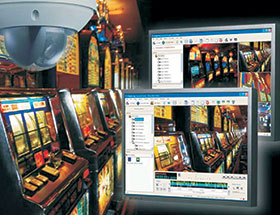 Entertaining surveillance
April 2017, Entertainment and Hospitality (Industry), CCTV, Surveillance & Remote Monitoring
IndigoVision has been awarded its largest ever US contract to supply an integrated IP Video system for the new casino complex at the Mardi Gras Racetrack and Gaming Centre, Hollywood, Florida. This IndigoVision solution is being deployed in full compliance with Florida Gaming Board regulations.
IndigoVision's IP video technology was chosen, following evaluation of several digital video solutions. Redundancy and reliability of the system was an important factor in choosing IndigoVision. Gaming Board regulations dictate that the casino can only use a gaming table or slot machine if video is being recorded; therefore any downtime would have immediate commercial implications.
The key factor for IndigoVision was the performance guarantee that all video would be DVD-quality, 4SIF, 30 fps and that no frames would be dropped. This was a fundamental requirement of the Gaming Board and the casino operator. Any dropped frames within a video clip could hide fraudulent or criminal activity and make any customer disputes more difficult to resolve.
The system will consist of over 550 cameras controlled by Control Center, IndigoVision's enterprise video and alarm management software. Control Center provides control, administration and viewing of the live camera feeds and recorded video over the IP network. Video recording will be achieved with eight server-based networked video recorders (NVRs), with over 70 TB of storage.
For more information contact Management and Supply of Security Solutions (MASS), +27 (0)12 142 0000, info@mass-solutions.co.za, www.mass-solutions.co.za