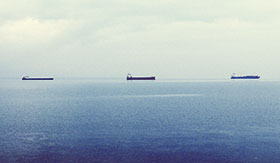 Hardened cameras watch the pier
April 2017, Industrial (Industry), CCTV, Surveillance & Remote Monitoring
Esaco was recently commissioned to design a surveillance solution for an onshore shipping pier for tank ships used by the oil, gas and mining industries. The task required replacing the old analogue system, which was slow and produced poor picture quality, especially after dark. The analogue system included older cameras, some of which were broken and almost useless.
The client required one combined system and one responsible contact for the project. More importantly, it wanted to gain a better overview of its environment, for example, to be able to see intruders at the pier where the tank ships are and the rest of its operational areas clearly, no matter what the light conditions.
The surveillance solution required some 'normal' cameras, but also hardened cameras designed for hazardous areas. Esaco specialises in surveillance projects requiring hardened cameras and systems that operate in hazardous conditions.
The full project required IP cameras to cover the perimeter surveillance of the operational area, pier and tanks. For the pier area, hardened stainless steel cameras were required by the customer to ensure operations even in the case of an emergency. Having completed an analysis of the environment as well as an analysis of different CCTV suppliers for hazardous areas, Esaco decided on R. Stahl equipment as it offers the most flexible solution for surveillance systems usable in hazardous and industrial locations.
"Esaco works with R. Stahl Camera Systems GmbH, which develops CCTV solutions tailored to the specific requirements of the oil/gas industry and chemical/pharmaceutical plants, to provide maximum surveillance coverage of all areas and processes in hazardous environments," explains Preshan Moodliar, process automation engineer at Esaco. "The company provides not only hardware and software, but all relevant services such as project design, project engineering, system configuration, documentation, FAT, commissioning, SAT, service and maintenance. The only thing the company does not do is installations."
Moodliar explains that Esaco's role in the project was to design and source the equipment for the full solution, summarised in part as follows:
• A dedicated IP camera network.
• 12 x Zone 1 Stahl EC-750 dome cameras (18X optical zoom) connected via video encoder. These cameras are explosion-proof.
• 5 x high-speed dome, 32X optical zoom, 1080p Full HD IP dome camera, PoE (high power). The Axis Q6045 was chosen.
• 2 x Axis 1355 HD day/night cameras for driveway tanker pier and office areas.
• Axis video encoders with fibre optic output for the EC-750 cameras.
• Fibre-optic network for long distance communications and to avoid interference.
• Video management software (VMS) from SeeTec, pre-configured for the customer.
• Commissioning of the Stahl camera and VMS training of users.
Although Esaco specialises in R. Stahl IP cameras, the Open CCTV System Solution from the German company makes it possible to combine hazardous or thermal cameras with 'safe area' cameras to ensure an integrated and customised solution. Making use of this functionality, the zone 1 stainless steel EC-750 dome cameras with IP68 ratings were installed and fully accessible from the control room.
The result of the project was an integrated and open surveillance solution that can be expanded as required. It also provides the company with better visibility over its operational environment with clear images 24x7.
For more information contact Preshan Moodliar, Stahl Esaco, +27 (0)11 608 3120, www.esaco.co.za, www.r-stahl.com