printer friendly version
Protecting residents at Eldoglen Estate
CCTV Handbook 2017 CCTV, Surveillance & Remote Monitoring, Residential Estate (Industry)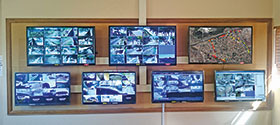 Location, amenities and value for money, all elements that homeowners consider when they choose a house in a residential estate. Added to this is a need for a sense of personal safety and security. The management of the upmarket Eldoglen Estate in Eldoraigne, Centurion, are all too aware of the impact that inadequate security can have on the sense of wellbeing experienced by its residents.
Home to 701 residential properties, including 37 townhouse complexes and communal property that consists of three swimming pools, sports facilities, gardens and entrance gates, Eldoglen Estate is a sought-after destination for hundreds of residents. In 2016, estate manager Jimmie Pugh approached consultant Andy Lawler, from Sentinel Risk Management, to undertake a risk assessment and design a surveillance security system for the estate.
Lawler explains that apart from a few legacy surveillance cameras situated at the entrance/exit gates of the estate, there was little in the way of perimeter surveillance coverage. In addition to the existing technology limitations, the perimeter and communal areas were very vulnerable. A closed tender process was instituted and Rhyco Risk Projects was appointed to supply all surveillance cameras and to integrate any existing technology wherever possible.
"Due to the fact that quite an extensive system was required, we elected to install new cameras where there was no current installation and to try and re-use any legacy equipment where it was deemed conceivable to do so. Working closely with Lawler, the estate manager and the security manager, Riaan Halgryn, was critical in achieving the required specifications in line with a cost-effective budgetary solution," says Gary Swart of Rhyco Risk Projects.
The project, which comprised three phases, was discussed with all residents to ensure complete buy-in for the process. The team explained that the solution would provide homeowners with increased security, which in turn would increase the value of their property since the estate would be deemed an appealing place to live by outsiders. In addition, should the cameras detect events taking place on public property outside the estate, alerts are sent to the SAPS to assist them and Business Against Crime in reducing crime in the neighbourhood, thereby further positively contributing to the reputation of the estate.
Security for the neighbourhood
"In essence, we communicated the benefits to the residents by pointing out that security compliance adds not only to the desirability of the estate for its residents personally, but also to the neighbouring community at large. The sense of personal safety that would be imbued by the system deployment resulted in residents agreeing that the small increase in levies was justifiable due to the immediate value added benefits. Residents were also assured that the cameras would in no way infringe on their privacy," says Lawler.
He adds that other factors that played a role in convincing the residents of the advantage of upgrading the system included the fact that it would not impact on the aesthetics of their properties or the estate as a whole. Furthermore, the robustness of the system, in light of the high incidence of lightning strikes in the areas as well as its ability to continue operating efficiently in the presence of rolling blackouts, was another deciding factor.
Some of the benefits to be delivered by this solution included the provision of an early warning system in the event that the perimeter is breached. Coupled with this is the ability to have full control and management of the system.
The solution
The solution was planned around a fibre backbone from Cathexis, with an array of FLIR thermal cameras combined with Hikvision PTZ cameras and Hikvision static HD cameras. Rhyco installed 33 cameras in the first phase of the project, which saw cameras located along the 3 km-long perimeter wall. The thermal cameras, with a range of up to 300 m were located on the long clear stretches along the perimeter; while the static HD cameras, with a range of 80 m infrared, were deployed on shorter stretches of the perimeter.
Finally, the PTZ cameras, which have a range of up to 200 m infrared, were placed in strategic locations. All cameras are equipped with video analytics to ensure that an alarm is triggered and relayed to the onsite control room, should there be a breach on the perimeter.
Phase 2 involved the calculated placement of 14 cameras in the common areas, such as the clubhouse, tennis court and swimming pools.
Phase 3 involved the upgrading of the surveillance system at the three entrance/exit points, with one section traversing a main road. A total of 40 cameras are situated at the entrance/exit points, with the retention of most of the existing cameras and the addition of a few new cameras. This effectively reduced the cost to the client, while ensuring that quality and reliability was not compromised.
Swart says that leveraging Rhyco's previous experience on other large residential estates as well as on commercial client properties where large perimeter surveillance was involved, ensured that the project was completed seamlessly and to the satisfaction of the consultant and estate management.
For more information contact Rhyco Risk Projects, +27 (0)12 661 1496, gary@rhms.co.za, www.rhms.co.za,
Credit(s)
Further reading:
Reinventing network camera security
Issue 1 2020, Axis Communications SA , CCTV, Surveillance & Remote Monitoring
Now in its seventh generation and celebrating its 20th anniversary, the Axis ARTPEC chip was launched in 1999 designed to optimise network video.
Read more...
---
Cloud-based fleet and driver management
Issue 1 2020, Graphic Image Technologies , CCTV, Surveillance & Remote Monitoring
Graphic Image Technologies (GIT) has announced the availability of a cloud-based dashcam designed to improve on-the-road behaviour and assist in improving fleet management.
Read more...
---
Cathexis specialises in integration
Issue 1 2020, Cathexis Technologies , CCTV, Surveillance & Remote Monitoring
The integration of multiple systems is intrinsic and essential to the goal of creating an effective and efficient operational environment.
Read more...
---
Do wireless networks meet modern surveillance demands?
Issue 1 2020, Duxbury Networking, RADWIN , CCTV, Surveillance & Remote Monitoring
It is predicted that video will account for 15,1 zettabytes (1 zettabyte = 1 trillion gigabytes) of data annually, which is more than any other IoT application.
Read more...
---
Traffic doesn't have to be this way
Issue 1 2020, Dahua Technology South Africa, Axis Communications SA , CCTV, Surveillance & Remote Monitoring
More effective traffic management is something that would save us all a lot of frustration and wasted time, and it's one of the areas where AI and big data can have a significant impact.
Read more...
---
Dahua launches Hunter Series
Issue 1 2020, Dahua Technology South Africa , CCTV, Surveillance & Remote Monitoring
Dahua launches a new dual-PTZ camera that enables flexible and multi-scene panoramic monitoring.
Read more...
---
8 MP fisheye camera
Issue 1 2020, Dallmeier Electronic Southern Africa , CCTV, Surveillance & Remote Monitoring
Dallmeier's new 8 MP fisheye camera combines AI-supported object classification and H.265 in a compact design.
Read more...
---
Using ANPR to enhance security
Issue 1 2020, Duxbury Networking , CCTV, Surveillance & Remote Monitoring
Deep learning and AI-based algorithms enable ANPR cameras and their associated software to detect and recognise number plates with an extremely high level of accuracy.
Read more...
---
AI supercharges surveillance
Issue 1 2020 , CCTV, Surveillance & Remote Monitoring
The ability to analyse live video through AI techniques means that untapped footage from existing, passive cameras can be used to identify patterns, trends and anomalies.
Read more...
---
IDIS launches new cameras with on-board analytics
Issue 1 2020 , CCTV, Surveillance & Remote Monitoring
IDIS has launched a lineup of Edge VA bullet and dome cameras, featuring on-board analytics that will transform the efficiency of security operations.
Read more...
---