printer friendly version
Axis supports the first fully automated drill fleet in Africa
CCTV Handbook 2017 Editor's Choice, CCTV, Surveillance & Remote Monitoring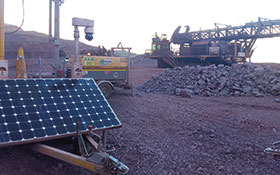 Kolomela Mine, situated in the Northern Cape in South Africa, is Kumba Iron Ore's newest operation. It mines lump iron ore, which is in high demand from Asian-Pacific as well as European steel markets due to its excellent physical strength and high iron content. Kolomela boasts an estimated life expectancy of 29 years, with around 23 years remaining, and has potential for further expansion.
Kumba cemented its position as an early adopter of new technologies when it implemented automated drilling on the Kolomela Mine. This project was the first fully-automated drill fleet in Africa and aimed to increase utilisation, improve safety and performance, boost reliability and productivity, and save costs.
Flanders was commissioned to supply the autonomous blast hole drilling control system, as they are renowned for engineering best-in-class solutions to overcome mining operation challenges. The system promised to improve safety, optimise blast-hole planning, generate more predictable fragmentation, and enhance the performance of the drilling fleet.
Remote drill visual monitoring
Automated drilling presents many benefits as it promises to increase efficiency and reliability, while improving safety, minimising downtime and lowering operating costs. It is best suited for remote and inaccessible locations, and allows for more accurate pressure control and more rapid response to drilling anomalies. Combined with visual monitoring through high-definition cameras, a single person can operate multiple drills from a control room on a 24/7 basis.
The remote command of mining equipment relies on line of sight through remote drill monitoring to honour the guidelines of the Mine Health and Safety Act, specifically guidelines towards Trackless Mobile Machinery (TMM). And, as the preferred supplier to Kumba Iron Ore, Sedna Industrial IT Solutions (Sedna) were asked to provide visual monitoring to support this.
Axis Development Partner, Sedna, specialises in mining systems. Peter Dormehl, director of Sedna, has partnered with Kolomela over the years on technical mining solutions, and therefore understands the requirements and client preferences.
Dormehl commented, "In making our recommendations to Kumba's team, we put Axis forward as the IP camera partner of choice. Sedna has worked with Axis for almost a decade and we're confident in their product's support. We know their hardware can survive demanding environments as we've deployed their cameras in mining operations worldwide."
A few years ago, Sedna built a Geo-Cam for monitoring operations within environments such as opencast mines, where there is no cabling infrastructure. The robust, mobile device is solar powered and locates positional information or tracks a moving object with GPS. The camera communicates via industrial wireless LAN and can be controlled (pan, tilt, zoom) remotely, allowing for remote monitoring operations.
"Part of our solution to Kolomela was to install seven Geo-Cams, which were equipped with the Axis Q6115-E network camera as the base platform for drill and bench monitoring, while the Axis Q8722-E network camera was used as the base for the six thermal Geo–Cams for drill and bench monitoring in poor light or high dust conditions.
"We installed outdoor Axis P3905-RE network cameras on the drills as they're ideal for onboard surveillance. This is recorded and managed on a Milestone platform with the Geo-Cam software," explained Dormehl.
"The drill project deployment was rolled out over eight months by a strong, competent team of experts who helped contribute towards ensuring that our automated drilling delivers against an ambitious growth strategy," concluded Sipho Mathonsi, manager, engineering at Kolomela Mine.
For more information contact Axis Communications, +27 (0)11 548 6780, sasha.bonheim@axis.com, www.axis.com
Credit(s)
Further reading:
Reinventing network camera security
Issue 1 2020, Axis Communications SA , CCTV, Surveillance & Remote Monitoring
Now in its seventh generation and celebrating its 20th anniversary, the Axis ARTPEC chip was launched in 1999 designed to optimise network video.
Read more...
---
Axis gives a brighter future for children
Issue 1 2020, Axis Communications SA , Editor's Choice
Fully networked camera solution provides visibility and accountability, letting orphanage focus on what's important – its children.
Read more...
---
SFP Security & Fire becomes ISF SFP
Issue 1 2020, ISF SFP , Editor's Choice
SFP Security & Fire was sold to ISF in 2019, becoming ISF SFP and attaining Level-1 BEE status.
Read more...
---
Janu-worry or Twenty-Plenty?
Issue 1 2020 , Editor's Choice
If the available security spend right now is somewhere between limited and non-existent, here are just a few suggestions.
Read more...
---
CCTV surveillance needs are critical in defining types of camera deployment
Issue 1 2020, Leaderware , Editor's Choice
Cameras by themselves do not reduce crime; they need to be implemented as part of a considered strategy of crime prevention and detection.
Read more...
---
Trends 2020
Issue 1 2020, Technews Publishing , Editor's Choice
Hi-Tech Security Solutions asked a few people from diverse companies to join us in a round-table discussion about what they expect to see happening in their environments in the coming year.
Read more...
---
Seven key trends for 2020
Issue 1 2020, Hikvision South Africa , Editor's Choice
Hikvision looks at a few trends that will affect the security industry in 2020 and beyond.
Read more...
---
Hundreds of millions to reskill
Issue 1 2020 , Editor's Choice
By 2022 alone, 75 million jobs will probably be displaced across 20 major economies, while 133 million new ones will spring up in industries that are only just gaining traction.
Read more...
---
Slow and steady wins the access race
Issue 1 2020, ZKTeco, Technews Publishing , Editor's Choice, Commercial (Industry)
The commercial sector is slow in migrating to new access control technologies, with the majority of companies remaining with card and fingerprint solutions.
Read more...
---
Client property access integrity
Issue 1 2020 , Editor's Choice
Blind or unquestioned trust is something that we all seem to willingly and unconditionally give our security service providers and their reaction officers.
Read more...
---