printer friendly version
Be prepared for these three cyber threats
April 2017 Editor's Choice, CCTV, Surveillance & Remote Monitoring, Cyber Security, Integrated Solutions
When talking about information security, CIA stands for Confidentiality, Integrity and Availability. It is a model designed to guide efficient information security policies within an organisation.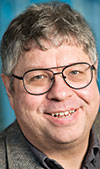 J.O.S. Svendsen, Milestone Systems.
• Confidentiality is roughly equivalent to privacy. This means ensuring that the VMS infrastructure is only accessed by the right people.
• Integrity entails maintaining optimal consistency, accuracy, and trustworthiness throughout the entire data life cycle.
• Availability is best ensured by designing the entire infrastructure to be as robust as possible. It also means maintaining a correctly functioning operating system and continuously updated application environment.
A person or organisation with malicious intent can harm or sabotage a VMS system in several ways. This means that people or assets could be at risk.
Hijacking can happen
A VMS system can quite easily be hijacked, by form of remote control with malign intent or for ransom or espionage purposes. A breached VMS-system's data and recordings can be used in an array of negative contexts. User accounts, camera placement or general VMS data can be used as a stepping stone to get closer to an organisation's total infrastructure.
If the location and capabilities of all cameras and alarms are known, it is easy to plan a break-in. And you're not likely to discover it in the process: Spies do their utmost to avoid detection, as this would lead to countermeasures.
Some of the biggest cybersecurity risks include the following.
Systems with bad perimeter defences
Today's VMS systems are often part of a business IT infrastructure. A successful attack in one part of the infrastructure might lead to confidentiality breaches in other parts. Therefore, it is generally recommended to isolate VMS systems from the rest of the IT infrastructure: If you can't get to a system, you can't harm it.
If the VMS system needs integration to other systems, it should be done via a secure bridge. Software should always be updated to the latest versions, as all serious software vendors will update it as new security threats are discovered.
It is important to remember that this not only goes for computers: All cameras, mobile clients and NVR systems need the same level of attention and precautions. In these cases, it is vital to be able to document the entire security infrastructure to ensure that no devices or computers have slipped under the radar.
Any system functions not needed for visual security should be shut down, like browsers, mail clients and file transfers. Again, if you can't access a function, you can't harm it.
This also means that access to the Internet should be avoided for any device in the VMS infrastructure. In the case of mobile clients, ensure that the mobile server is secured.
Stolen identities
It does not help to have a well-defended VMS system if anyone can guess user accounts and corresponding passwords. A password policy for VMS systems and mobile devices needs to ensure that all necessary passwords are changed regularly.
Depending on the system, stronger types of user identification might be used. Two-level authentication (where a user is identified by more than just a password) is a way of securing the system even further. Biometric identification in combination with a password gives an extra layer of security.
The inside factor
People are an organisation's biggest asset. In some cases, they also pose a risk. As organisations implement increasingly sophisticated physical and cybersecurity measures to protect their assets from external threats, the recruitment of insiders becomes a more attractive option for those attempting to gain access.
An insider is a person who exploits or intends to exploit their authorised access to an organisation's assets for unauthorised purposes. It could be a full-time or part-time employee, a contractor or even a business partner. An insider could deliberately seek to join your organisation to conduct an insider act or be triggered to act at some point during their employment.
Employees may inadvertently trigger security breaches by ignoring rules or through non-compliance due to the work pressure or an oversight.
Physical access controls to VMS-systems should be in place, as should procedures for screening personnel. It is essential that all staff be trained in security measures. A second security system securing the primary security VMS system is becoming a more relevant option as VMS systems turn increasingly business critical.
It is important to harden all VMS systems as much as possible, by following the general guidelines as outlined by CERT (https://ics-cert.us-cert.gov/Standards-and-References, short URL: securitysa.com/*ics) and the Milestone Hardening guide (http://news.milestonesys.com/is-your-network-secure-hardening-guide-for-deploying-milestone-ip-video/, short URL: securitysa.com/*msys1).
A good place to get more informed about all aspects on cybersecurity is the Microsoft cybersecurity blog (https://blogs.microsoft.com/microsoftsecure/category/cybersecurity/cybersecurity-policy-cybersecurity/, short URL: securitysa.com/*mscs1).
Credit(s)
Further reading:
A customised solution for backup power
August 2019, Specialised Battery Systems , News, Integrated Solutions
Specialised Battery Systems designed and implemented a bespoke solution for Stallion Security Electronics to deploy at almost any site.
Read more...
---
Patient critical – healthcare's cybersecurity pulse
August 2019, Wolfpack Information Risk , News, Cyber Security, Healthcare (Industry)
The healthcare industry has become one of the leading cybersecurity attack vectors worldwide for several reasons.
Read more...
---
Milestone partners prove their skills
August 2019, Milestone Systems , News, CCTV, Surveillance & Remote Monitoring, Training & Education
Within the span of one week in mid-May, the Milestone Learning & Performance group celebrated important benchmarks: 200 000 course registrations and tutorial views, and 10 000 certifications.
Read more...
---
ONVIF Hosts 20th Developers' Plugfest
August 2019 , News, CCTV, Surveillance & Remote Monitoring
ONVIF, the global standardisation initiative for IP-based physical security products, hosted its twentieth ONVIF Developers' Plugfest in early June in Tokyo.
Read more...
---
Licence plate recognition camera
August 2019 , Products, CCTV, Surveillance & Remote Monitoring
VIVOTEK has introduced a new licence plate recognition camera featuring built-in licence plate recognition software and edge-computing capability.
Read more...
---
Keeping our changing environment secure
August 2019 , Editor's Choice, Security Services & Risk Management
For a crime to take place there needs to be a victim and a criminal who sees an opportunity. For a cybercrime to take place we need the same set of circumstances.
Read more...
---
Augmented security with drones
August 2019, Drone Guards , Editor's Choice, Integrated Solutions
Drone Guards is moving into an untapped market of using drones to secure residential estates and other high-value assets such as mines, farms and commercial properties.
Read more...
---
The importance of real security risk assessments
August 2019, Sentinel Risk Management , Editor's Choice, Security Services & Risk Management, Residential Estate (Industry)
Andy Lawler, MD, Sentinel Risk Management, says a security risk assessment is an onerous task, but is not something estates can consider optional or a luxury item anymore.
Read more...
---
Risk assessment or product placement?
August 2019, Technews Publishing, Alwinco, SMC - Security Management Consultants , Editor's Choice, Security Services & Risk Management, Residential Estate (Industry)
Hi-tech security solutions asked a couple of experts to provide estate managers and security managers with some insights into what a 'real' risk assessment includes.
Read more...
---
10 things to consider when shopping for a VMS
August 2019, Genetec , CCTV, Surveillance & Remote Monitoring, Integrated Solutions
Today's video management systems (VMS) provide a wide range of tools and capabilities that help make security personnel more efficient by allowing them to focus on what really matters.
Read more...
---