printer friendly version
Do you have a plan for data storage?
CCTV Handbook 2017 CCTV, Surveillance & Remote Monitoring, Integrated Solutions, IT infrastructure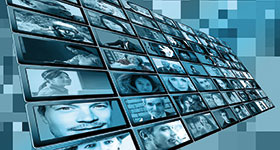 One of the most important (and often overlooked) aspects of any successful surveillance system is choosing the most appropriate type of storage.
We are in an age of 'Big Data', a term which relates both to the volume of information that modern solutions are required to receive and manage, and the content itself. For example, integrating to third-party systems is no longer an aspiration, it is a necessity; data from security, operational and emergency systems for an entire site (or multiple sites) is now often collated, monitored, and controlled through a single surveillance management platform.
Add to this the introduction of HD IP cameras – and more recently the arrival of 4K camera technology – and storage choice becomes a topic you just can't ignore. All of that data has to be kept somewhere. The problem is, if not planned properly, inadequate storage can leave a system unfit for purpose.
In this article, we find out about the key considerations behind surveillance data storage from Synectics' product and technology director, David Aindow, and IT product manager, Sean Kettlewood.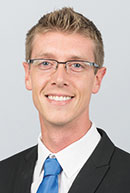 Sean Kettlewood.
What current trend has had the biggest impact on surveillance data storage?
Kettlewood: Without a doubt that would be the transition from analogue to IP with HD and beyond. The shift to digital, using megapixel cameras, makes higher resolution image capture at faster frame rates possible, and that puts increased pressure on storage system infrastructure.
Historically, the digital video recorder (DVR) was the obvious (and possibly only) choice for video storage. But its limitations in terms of finite source inputs, frame rate and typically fixed storage capacity, make it unsuitable for many of today's evolving IP needs – particularly in terms of protecting against failure and managing scalability. Previously, adding a new DVR might have been a relatively simple task, but multiple devices did not easily come together to create a single unified system. Instead they performed as separate devices independently of one another.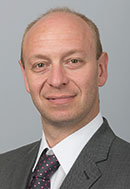 David Aindow.
Aindow: NVRs (network video recorders) with either internal storage or DAS (Direct Attached Storage) devices have become more prevalent, as they can offer greater data throughput, and don't have the physical (geographic proximity) restrictions of DVRs. They typically afford much greater levels of scalability, significantly higher resilience possibilities, and perform as a single, holistic system, regardless of the quantity of devices deployed.
With the digital surveillance revolution, and the trend for whole-site systems integration – unifying video, audio and operational data inputs into one platform – new storage technologies have entered the market and deserve consideration. Users now have the choice not only between DAS, but also Network Attached Storage (NAS) and Storage Area Network (SAN).
What's the difference between DAS, NAS and SAN?
Aindow: Put simply, DAS and NAS systems attach file-based storage either directly to the host device (NVR) or to an existing network. SAN offers increased block storage capacity through a separate network which can be accessed via a server. All enable storage to be shared or scaled up as required.
At the moment, DAS and NAS are more commonplace solutions for storing surveillance related data. There are a number of reasons for this, but the biggest one has been the need for high transmission speed from the host device (NVR) to disk. Until recently, SAN systems just couldn't cope with the throughput demands of real-time video storage. In the past 18 months or so that's changed, and most SAN systems can now transfer data between servers and disks at the similar peripheral channel speeds as if directly attached.
Whereas DAS and NAS devices can be added to a network with minimal impact on system infrastructure (no potential data loss, need for system downtime or extensive reconfiguration), SAN implementation is relatively more demanding in terms of updating infrastructure and personnel training – it's a solution far more familiar to IT departments than surveillance personnel. It is highly unlikely you would deploy SAN purely for video data storage. It lends itself to those applications where there are multiple 'data stakeholders' all with storage requirements – such as an airport where operations, surveillance, risk management and other systems all have vast amounts of data to manage.
SAN's strength is in data depth. Fibre channel technology typically allows data transfers at 8 Gb/s to accommodate enterprise volumes of data to be stored with high levels of redundancy. It's why we are increasingly seeing it used in large-scale applications such as airports, oil and gas plant monitoring, or other forms of critical infrastructure protection.
If there are a number of storage options available, why is planning ahead so important? Can't organisations just adapt what they have as they grow?
Kettlewood: The need to plan storage is more to do with what an organisation wants to achieve with its surveillance system (and by when), than it is about the storage solutions themselves.
In the next five years, how many cameras will I need? Do I want these to be all IP/HD (even 4K) or will a hybrid system still fulfil my needs? Will I have more sites in different geographic locations to cover? What other systems on my sites do I want surveillance to integrate with and how much data will this involve?
The answers to all these questions will dictate purchasing decisions that need to be made now in order to make the right long-term storage investments.
What storage developments are we likely to see in the future?
Kettlewood: While DAS and NAS applications are likely to remain the common choices for surveillance-only storage – along with an increase in the adoption of SAN for large-scale integrated data solutions – more interest in cloud-based surveillance data storage is inevitable. Naturally, concerns regarding data security will inevitably require consideration.
Aindow: The truth is there will never be a 'one size fits all' answer to storage, simply because it depends on the specific security, operational and analytical requirements in play. It's why keeping up to speed with the latest options is so important.
Synergy 3 receives validation
Synectics has announced that its Synergy 3 command and control software is certified as fully compatible with Dell EMC storage solutions.
The certification – achieved by meeting strict performance criteria specified and tested by EMC's dedicated Surveillance Validation Labs – means organisations using an EMC storage area network (SAN) solution can adopt Synergy 3 as their chosen digital recording and video management solution without needing to implement a separate, dedicated surveillance storage depository.
Synergy 3 is a flexible, open architecture software platform that enables video, alarms and events, third party subsystems, transactional and process data to be monitored, managed and recorded from a single, unified interface.
Its third-party integration capabilities and uncapped scalability make it a leading solution for large-scale, complex environments with demanding security and surveillance needs in sectors such as oil and gas, critical infrastructure and transport.
For more information on storage for surveillance projects, contact sales@synecticsglobal.com, or download Synectics' guide to Storage Area Networks (SAN) at www.synecticsuk.com/san-wp.
Further reading:
Reinventing network camera security
Issue 1 2020, Axis Communications SA , CCTV, Surveillance & Remote Monitoring
Now in its seventh generation and celebrating its 20th anniversary, the Axis ARTPEC chip was launched in 1999 designed to optimise network video.
Read more...
---
Cloud-based fleet and driver management
Issue 1 2020, Graphic Image Technologies , CCTV, Surveillance & Remote Monitoring
Graphic Image Technologies (GIT) has announced the availability of a cloud-based dashcam designed to improve on-the-road behaviour and assist in improving fleet management.
Read more...
---
Cathexis specialises in integration
Issue 1 2020, Cathexis Technologies , CCTV, Surveillance & Remote Monitoring
The integration of multiple systems is intrinsic and essential to the goal of creating an effective and efficient operational environment.
Read more...
---
Do wireless networks meet modern surveillance demands?
Issue 1 2020, Duxbury Networking, RADWIN , CCTV, Surveillance & Remote Monitoring
It is predicted that video will account for 15,1 zettabytes (1 zettabyte = 1 trillion gigabytes) of data annually, which is more than any other IoT application.
Read more...
---
Traffic doesn't have to be this way
Issue 1 2020, Dahua Technology South Africa, Axis Communications SA , CCTV, Surveillance & Remote Monitoring
More effective traffic management is something that would save us all a lot of frustration and wasted time, and it's one of the areas where AI and big data can have a significant impact.
Read more...
---
Dahua launches Hunter Series
Issue 1 2020, Dahua Technology South Africa , CCTV, Surveillance & Remote Monitoring
Dahua launches a new dual-PTZ camera that enables flexible and multi-scene panoramic monitoring.
Read more...
---
8 MP fisheye camera
Issue 1 2020, Dallmeier Electronic Southern Africa , CCTV, Surveillance & Remote Monitoring
Dallmeier's new 8 MP fisheye camera combines AI-supported object classification and H.265 in a compact design.
Read more...
---
Using ANPR to enhance security
Issue 1 2020, Duxbury Networking , CCTV, Surveillance & Remote Monitoring
Deep learning and AI-based algorithms enable ANPR cameras and their associated software to detect and recognise number plates with an extremely high level of accuracy.
Read more...
---
AI supercharges surveillance
Issue 1 2020 , CCTV, Surveillance & Remote Monitoring
The ability to analyse live video through AI techniques means that untapped footage from existing, passive cameras can be used to identify patterns, trends and anomalies.
Read more...
---
IDIS launches new cameras with on-board analytics
Issue 1 2020 , CCTV, Surveillance & Remote Monitoring
IDIS has launched a lineup of Edge VA bullet and dome cameras, featuring on-board analytics that will transform the efficiency of security operations.
Read more...
---