printer friendly version
The future is software (and IoT)
April 2017 Editor's Choice, CCTV, Surveillance & Remote Monitoring, Integrated Solutions, IT infrastructure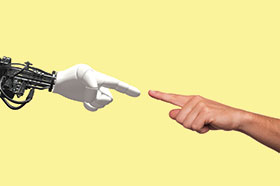 Think the Internet of Things (IoT) has nothing to do with the surveillance industry apart from enabling cyber attacks from unprotected equipment? Think again.
Most people are aware and have some kind of understanding of the Internet of Things (IoT), what it is and what it will eventually do. In a nutshell, Wikipedia describes the IoT as "… the internetworking of physical devices, vehicles (also referred to as 'connected devices' and 'smart devices'), buildings, and other items – embedded with electronics, software, sensors, actuators, and network connectivity that enable these objects to collect and exchange data."
These devices can include sensors that relay simple information, such as temperature, or more complex devices that control industrial plants after collecting information from various simpler devices. It also includes the fabled 'smart home' where everything in a home is connected, as well as buildings where information from systems such as lights, air conditioning, access control are used for management and cost saving purposes. The list goes on.
McKinsey & Co expects the IoT to have an economic impact of between $3.9 trillion and $11.1 trillion a year by 2025 (http://www.mckinsey.com/business-functions/digital-mckinsey/our-insights/the-internet-of-things-the-value-of-digitizing-the-physical-world).
The Middle East and Africa (MEA) Internet of Things (IoT) market is expected to grow by 19.6% in 2017 to $7.8 billion, according to a recent update to the Worldwide Semiannual Internet of Things Spending Guide from International Data Corporation (IDC). This compared to 18.1% growth seen in 2016.
"The MEA IoT market is becoming increasingly competitive, enabling organisations to source a range of innovative digital solutions aimed at transforming business operations, improving the customer experience, and enhancing employee engagement," says Wale Babalola, research analyst for telecommuni-cations, IoT, and digital media at IDC MEA. "Indeed, IoT now offers a myriad of industry-specific solutions that can be easily deployed by organisations in a bid to stay ahead of competition.
"Numerous smart city projects are already underway across the region, and the propagation of such initiatives will continue to fuel IoT adoption by both public and private sector organisations," continues Babalola. "Saudi Arabia and the UAE are leading the charge when it comes to smart cities, so it makes sense that these two countries will account for the highest contributions to overall IoT investment in MEA during 2017, with a combined value of more than $1.6 billion."
Security and IoT
Realistically, anything and everything can be slotted into an IoT definition in some way. The surveillance industry is itself an IoT player since a bunch of cameras connected to a central location forms a type of IoT setup. In 2016 this became very obvious when cyber criminals used surveillance equipment (NVRs and cameras) that were not secured (along with other devices that were connected to the Internet) to launch Denial of Service attacks which, at the time, made history due to the volume of the attacks (see www.securitysa.com/7723r).
Since then, the idea of cybersecurity for security equipment has become an issue with companies seemingly struggling to enforce even basic security protocols on cameras and recorders. For example, a basic protocol would force users to change the default passwords that are globally known (usually the username is 'admin' and the password is also 'admin', or maybe '123456') before they can set up a camera.
Of course, that is only one process among many to improve security in the surveillance industry and security industry in general. It must be noted that while security issues like this have improved dramatically, there are still some companies lagging behind, and others that implement the easy fixes and try to ignore the more complex issues – perhaps in order not to make things more difficult for installers.
Opportunities already in the making
But there is also good news for the surveillance market when it comes to IoT. Another article by McKinsey & Co ( http://www.mckinsey.com/industries/high-tech/our-insights/video-meets-the-internet-of-things) highlights how video analytics – already a fast growing segment of the surveillance market – is finding its place in the IoT landscape and transforming it by creating new opportunities for end users, companies and system integrators.
The article notes that the greatest scope for video analytics by 2020 will be in 'city, retail, vehicle and work-related settings', where it will be used for anything from optimising operations and enabling autonomous functions (in vehicles, for example). Because of the richer data that video analytics is able to analyse, IoT applications using analytics will be able to offer organisations more value than vanilla IoT.
For example, in the city environment it will assist in public safety, traffic control and resource management, while in the retail environment it could be employed in areas such as self-checkout, layout optimisation and smart customer relationship management. Other areas to benefit could be factory settings where predictive maintenance could become simpler and more reliable, or in-home environments where energy management, security and 'chore automation' would benefit people.
The driver for being able to achieve these benefits is the fact that video analytics in the surveillance market has grown into a reliable solution over the last few years. As software and processing power improved, analytical engines have been empowered to make a real difference, especially when it comes to autonomous decisions – which the security market would probably refer to as the 'black screen' approach, or allowing the software to make decisions which are then used to alert human operators.
McKinsey highlights the most important advances video analytics has made as follows:
• The ability to process high volumes of video footage in real time, allowing immediate action to be taken when something happens.
• The improved accuracy and intelligence of analytical applications as compared to only a few years ago.
• The ability to go beyond pure security and offer business insights, for example, demographics and customer behaviour in retail environments.
• The ability to collect and collate data from multiple sources and make sense of it with more intelligent processing.
The McKinsey article highlights examples of video analytical IoT applications in retail and city environments, among others, highlighting how these applications will not only improve security, but add value to businesses and save money. Video analytics will play a more important role in this arena in future.
As a bonus to the security industry, at least those able to take up the challenge, McKinsey also differentiates between 'low-value IoT' which consists of low-complexity sensors and binary data systems most people associate with the IoT, and 'high-value video analytics'. High-value analytics incorporates the intelligent software used to make sense of and extract information from video footage for either security or business benefits. Those companies able to leverage of both in future business models will find themselves in prime position.
Who wins the game?
The question for the security industry in all this is: how can the industry play a part in this IoT world? After all, we have all been talking about integrated solutions for years, and now integration is taking on a new format and it seems that players from other industries, the ICT domain particularly, want to control everything – not that this is new.
The fact is, the IoT is an opportunity waiting for those who understand it and are willing to grab it. Incorporating IoT solutions and added value to surveillance solutions is another arrow in the system integrator's quiver. Integrators can expand their current business model without moving into a completely new environment, enhance their competitive advantage and deliver far more value to customers (and themselves) than ever.
Since many integrators sub-contract with specialists in large projects, the IoT will also assist companies focused on the IoT to find more business in partnership with larger integrators as they apply their knowledge to areas like video analytics, providing the best of the surveillance and IoT world to customers. At the end of the day, the customer will obtain the security solution they required as well
as enhanced intelligence by being able to analyse and make sense of the mountains
of data they have collected for ages, but have never had the opportunity to really understand or make use of.
Then there is also an additional role for consultants who can elaborate on how analytics and IoT can enhance customers' businesses in terms of workforce productivity, customer retention, resource optimisation and so forth.
It is still early days for IoT-based video analytics applications (or video analytics-based IoT applications), but the trend is already there and this is a market that will grow over the next few years as the IoT itself squirrels its way into every aspect of our lives. The security industry, especially the surveillance market, will have to climb on board and lead the way. If not, almost every aspect of the surveillance market will become a commodity governed by price, while good profits are made by those developing and implementing solutions harnessing the value-add and intelligence IoT-linked systems can and will deliver.
Credit(s)
Further reading:
TAPA: The role of an effective treasury function in business risk management
June 2019, Technews Publishing , News
Neil Le Roux, the Founder of Diligent Advisors will speak at the TAPA SA (Transported Asset Protection Association) annual conference on 26 July 2019.
Read more...
---
iLegal 2019: Putting a face on surveillance services
August 2019, Technews Publishing , News, Conferences & Events
iLegal 2019 will be held on 12 September 2019 at The Rosebank Crowne Plaza in Johannesburg. iLegal is the surveillance industry's premier one-day conference hosted jointly by Hi-Tech Security Solutions and Dr Craig Donald.
Read more...
---
Residential Estate Security Conference 2019: Making AI work for you
August 2019, Technews Publishing , News, Conferences & Events
Gerhard Furter will deliver the keynote at the Residential Estate Security Conference 2019, providing a brief introduction into what AI really is and its application in estates.
Read more...
---
From the editor's desk: The difference between potential and skills
August 2019, Technews Publishing , News
This issue of Hi-Tech Security Solutions includes our annual Local Manufacturing feature and it's great to know that local security manufacturers are still going strong, even if the general manufacturing ...
Read more...
---
A customised solution for backup power
August 2019, Specialised Battery Systems , News, Integrated Solutions
Specialised Battery Systems designed and implemented a bespoke solution for Stallion Security Electronics to deploy at almost any site.
Read more...
---
Why rehearsals and drills for crises and evacuation are so important
August 2019, Leaderware , CCTV, Surveillance & Remote Monitoring, Security Services & Risk Management
The rehearsal of concept (ROC) drill has been used extensively in the military, but is just as important when facing risks in organisations and institutions to protect people on the ground.
Read more...
---
Milestone partners prove their skills
August 2019, Milestone Systems , News, CCTV, Surveillance & Remote Monitoring, Training & Education
Within the span of one week in mid-May, the Milestone Learning & Performance group celebrated important benchmarks: 200 000 course registrations and tutorial views, and 10 000 certifications.
Read more...
---
ONVIF Hosts 20th Developers' Plugfest
August 2019 , News, CCTV, Surveillance & Remote Monitoring
ONVIF, the global standardisation initiative for IP-based physical security products, hosted its twentieth ONVIF Developers' Plugfest in early June in Tokyo.
Read more...
---
Licence plate recognition camera
August 2019 , Products, CCTV, Surveillance & Remote Monitoring
VIVOTEK has introduced a new licence plate recognition camera featuring built-in licence plate recognition software and edge-computing capability.
Read more...
---
Double dose of storage security
August 2019 , Products, IT infrastructure
The integration of InfiniBox and SafeNet KeySecure platforms brings data-at-rest encryption together with centralised logging, auditing capability.
Read more...
---