printer friendly version
Wi-Fi for large surveillance systems
CCTV Handbook 2017
CCTV, Surveillance & Remote Monitoring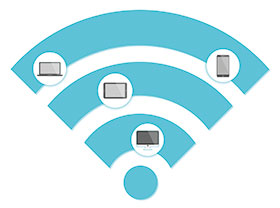 Surveillance systems, even though they have become almost a necessity in today's world, are and will always be a grudge buy. At present, in a market segment where there is no choice because real-time surveillance is an absolute necessity, e.g. the entertainment industry, because of 'tradition' and lack of understanding of the security offered by Wi-Fi systems, users stick to the deployment of wired equipment.
The deployment of wired equipment is lengthy, costly and fraught with difficulty when considering the infrastructure requirements and the enormous cost associated with maintenance and replacement of infrastructure over a period of time. In other market segments, surveillance systems are the Cinderella of all the security installations and therefore are always the last segment of any project that receives the necessary attention. The result is a limited budget and extremely tight timelines. In turn, service providers must sacrifice on quality just to be able to make a profit and ensure the future of their businesses.
This reality is something that is giving the security industry a bad reputation due to poor service delivery as well as unrealistic expectations of clients from low budgets. The question that arises from this is very obviously, what can we do to ensure the quality and reliability of our systems and save customers money and time?
Enterprise-grade wireless solutions
Why has the surveillance market not made the transition to Wi-Fi deployment of the infrastructure network? Wi-Fi networks have two distinct advantages that can address the problems in the surveillance market. Wi-Fi network deployment can provide up to 50% financial saving if compared to a wired solution and installation time can be cut by as much as 80%.
With the limitations of data transfer rates and limited security features, Wi-Fi surveillance has been implemented only in domestic or very small systems. That is the main reason the quality of Wi-Fi cameras supplied for surveillance purposes are below the standard of wired IP cameras. Enterprise wireless addresses all the issues that the surveillance has for not fully deploying surveillance systems on a wireless network.
Firstly, every IP device can be Wi-Fi enabled by connecting a client AP (access point). Data throughput on dual-band access points can handle up to 2.2 Gbps and enables dense deployment of multiple networks. Multi-level authentication and isolation makes it easy to manage network security, which is a serious concern when implementing a CCTV system.
Data security should be a top priority when implementing a wireless surveillance system. Wireless signals often propagate beyond physical barriers, which makes the risk of someone breaking in to your wireless network an imminent threat. Simply securing a wireless network using authentication and encryption just isn't enough. Enterprise WLAN security tools can help mitigate these threats.
WPA2-Enterprise generally requires a Radius server which handles all the authenticating access. Products like IP-COM's AP Access Controllers are dedicated devices that not only manage the authentication of users, but will also provide additional network management functions like intelligent user load balance, auto channel and power assignments, full WLAN analysis and user access management, to name but a few. These access controllers manage the security of the overall network with a temporary secure public-key encryption which scrambled the keys using a hashing algorithm to prevent tampering.
Enterprise mode still has vulnerabilities. Hackers can setup a fake AP and Radius server in hopes of obtaining login credentials. With IP-COM's AP Access Controllers, rogue APs can be detected and stopped from connecting and broadcasting on the network. By providing permission to only certain devices and removing the ability to authorise new servers from users, these attacks can be prevented. All the necessary protocols to protect the information on your network has been implemented. However, the critical element would be the correct configuration to protect against all threats.
Enterprise Wi-Fi management features would provide an absolute game changer for service providers in managing and maintaining their systems. Make network changes up to 98% faster, save up to 80% on operational costs, and detect threats in hours instead of days. These are a few of the multitude of advantages that these systems provide.
In conclusion, every surveillance service provider should be willing to look at deploying enterprise wireless infrastructures to stay competitive. Apart from the financial savings that can be experienced, the additional management features and simplicity these systems should very quickly become the market standard.
For more information contact MEC Security, +27 (0)11 794 8689, sales@mecsecurity.co.za, www.mecsecurity.co.za
Further reading:
Reinventing network camera security
Issue 1 2020, Axis Communications SA , CCTV, Surveillance & Remote Monitoring
Now in its seventh generation and celebrating its 20th anniversary, the Axis ARTPEC chip was launched in 1999 designed to optimise network video.
Read more...
---
Cloud-based fleet and driver management
Issue 1 2020, Graphic Image Technologies , CCTV, Surveillance & Remote Monitoring
Graphic Image Technologies (GIT) has announced the availability of a cloud-based dashcam designed to improve on-the-road behaviour and assist in improving fleet management.
Read more...
---
Cathexis specialises in integration
Issue 1 2020, Cathexis Technologies , CCTV, Surveillance & Remote Monitoring
The integration of multiple systems is intrinsic and essential to the goal of creating an effective and efficient operational environment.
Read more...
---
Do wireless networks meet modern surveillance demands?
Issue 1 2020, Duxbury Networking, RADWIN , CCTV, Surveillance & Remote Monitoring
It is predicted that video will account for 15,1 zettabytes (1 zettabyte = 1 trillion gigabytes) of data annually, which is more than any other IoT application.
Read more...
---
Traffic doesn't have to be this way
Issue 1 2020, Dahua Technology South Africa, Axis Communications SA , CCTV, Surveillance & Remote Monitoring
More effective traffic management is something that would save us all a lot of frustration and wasted time, and it's one of the areas where AI and big data can have a significant impact.
Read more...
---
Dahua launches Hunter Series
Issue 1 2020, Dahua Technology South Africa , CCTV, Surveillance & Remote Monitoring
Dahua launches a new dual-PTZ camera that enables flexible and multi-scene panoramic monitoring.
Read more...
---
8 MP fisheye camera
Issue 1 2020, Dallmeier Electronic Southern Africa , CCTV, Surveillance & Remote Monitoring
Dallmeier's new 8 MP fisheye camera combines AI-supported object classification and H.265 in a compact design.
Read more...
---
Using ANPR to enhance security
Issue 1 2020, Duxbury Networking , CCTV, Surveillance & Remote Monitoring
Deep learning and AI-based algorithms enable ANPR cameras and their associated software to detect and recognise number plates with an extremely high level of accuracy.
Read more...
---
AI supercharges surveillance
Issue 1 2020 , CCTV, Surveillance & Remote Monitoring
The ability to analyse live video through AI techniques means that untapped footage from existing, passive cameras can be used to identify patterns, trends and anomalies.
Read more...
---
IDIS launches new cameras with on-board analytics
Issue 1 2020 , CCTV, Surveillance & Remote Monitoring
IDIS has launched a lineup of Edge VA bullet and dome cameras, featuring on-board analytics that will transform the efficiency of security operations.
Read more...
---