printer friendly version
Wireless works for CCTV
April 2017 CCTV, Surveillance & Remote Monitoring, Cyber Security
Wireless networking is nothing new. It's been used for years in various fields, including the surveillance market, but it hasn't always had the best reputation. There is also often some misunderstanding about what wireless actually means.
Most people understand wireless as Wi-Fi, the network you set up at home or in the office to make network and Internet access available to anyone. While Wi-Fi certainly has it uses, and may even be perfect for a few cameras in your home, it is not a robust communications medium that companies can rely on for critical surveillance installations of multiple cameras.
Moreover, Wi-Fi has a range of about 100 m, excluding any walls or other obstacles in the way which will reduce the range, which isn't really enough for most surveillance installations. Of course is can be extended, but the performance does not match what one wants from a critical surveillance infrastructure.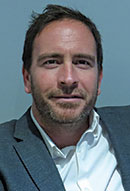 Nick Ehrke.
The wireless networking we're talking about in this article is robust, reliable and able to transport multiple high-definition video streams over varying distances. And perhaps most important of all, it is secure. Radwin's Nick Ehrke says the uptake of wireless networking for surveillance projects has been growing for many years and shows no signs of abating, quite the contrary. Wireless is proving its worth in multiple markets, from city surveillance to residential estates and even mining. In these instances, it is used for voice, video and data transmission.
The benefits of using wireless communications in mission-critical rollouts, according to Ehrke is that, while cables can be cut to disrupt a wired network, wireless is somewhat harder to cut. Apart from that, it's also much easier to install and presents fewer environmental challenges. It is also more cost-effective.
For long-haul networks, where some people promote fibre over everything else, wireless networks can be installed, in a matter of hours or days without requiring any digging or other time-consuming tasks. In cities where wireless solutions can't yet deliver the same bandwidth as fibre, these solutions are often used as bridging solutions while fibre is being installed or maintained.
Planning is critical
Riaan Graham from Ruckus Wireless agrees that wireless networking is on a growth path. Ruckus handles wireless communications for offices, campuses, residential estates and so on. However, Graham says the important aspect of a wireless solution is planning.
Whether you are providing Internet access to the residents of an estate or office, or adding CCTV to the same network, planning is the most crucial aspect of the project. Understanding the environment and how to ensure good coverage is available where it's needed makes all the difference. If you don't do that, you, as the installer or IT department, end up making many trips to find out why 'the network is down' or why specific areas continually seem to give trouble. A properly planned wireless system will not only cover everything it is supposed to over, it will also provide failover should one access point fail or be switched off accidentally.
In addition, when something does go wrong with the network itself, unlike cables which are generally hidden, it's easy to find where your wireless points are and to determine which one is misbehaving. He also notes that it is harder to cut the cables when there aren't any.
And on the matter of security, tier-one wireless networks are definitely not the same as the open Wi-Fi networks in your favourite coffee shop.
Security built in
MiRO's Marco de Ru says users today can rely totally on their wireless networks. He says that most outdoor wireless systems are encrypted, with even mid-range systems using 128-bit encryption and the high-end solutions using up to 256-bits. Some of the higher-end systems even run on proprietary protocols so you can't even see them unless you have the same equipment that is able to detect the network is there.
As far as reliability and bandwidth is concerned, De Ru says that using TDMA networks divides the radio into timeslots so that each camera (or whatever device) gets the opportunity to communicate with the base station. This switch is sub-second in timing so each camera gets to use all the bandwidth during its 'turn'. Today these networks are able to support networking at up to 1 Gbps.
Another problem one can come across when using wireless communications is interference from other networks in the vicinity, which can cause problems. Fortunately, there are ways to deal with this, such as Active Frequency Filtering and others. This ensures only the right radios talk to each other and ignore any intrusions.
Ehrke adds that in Radwin installations, only Radwin stations can see each other. There is no SSID or naming convention so if you aren't a Radwin technology you won't even know it's there. Additionally, the communications are encrypted with 256-bit AES encryption, so even if someone does manage to log in somehow, they won't be able to see anything.
Radwin also offers it new Jet Air wireless communications solution for the residential market. The Jet Air PtMP series includes a base station that delivers 250 Mbps (or up to 750 Mbps) and is built on Radwin's bi-directional Beamforming technology which has been adopted by tier-1 carriers worldwide. Jet Air enables service providers to deliver bandwidth-demanding services such as TV streaming, gaming and online applications for consumers without having to install cables.
For point-to-point networking, De Ru says Beamforming technology forgoes forming a wireless 'cloud' and aims the communications beam at a receiver, which can be kilometres away, depending on the technology chosen. In these scenarios, interference is also eliminated as the transmission only sends and receives from certain registered radios and not to or from anything else. To cater for the growing demand for wireless networking in the surveillance industry, and in other markets, MiRO offers wireless networking products from Radwin, Ligowave and Cambium.
In the case of Ruckus, Graham says the company creates a mesh network in certain environments to boost the reliability and robustness of the network. This means that even if one access point is down or busy, the network automatically reroutes the communications via another route to still get to the intended end point.
He adds that, using specific Ruckus systems, users can get up to 1.7 Gbps. In the 2017 State of the Nation Address (or chaos, depending on your perspective), Ruckus provided communications solutions and made about 270 Mbps available to broadcast the fun and games to the world.
Wireless networking is more than simply and option in the surveillance world, today it is able to handle almost anything surveillance installations can throw at it. However, like any part of a security installation, planning is vital to ensure the network is designed to handle what is thrown at it in a reliable, robust and secure manner. Wireless planning is not any different to planning for camera placements, anyone can do it, but you need someone with the training and experience to do it so that it works as required and is reliable and robust enough to avoid having technicians employed fulltime fixing randomly occurring problems.
For more information:
MiRO: www.miro.co.za,
Radwin: www.radwin.com,
Ruckus: www.ruckuswireless.com
Refer to Hi-Tech Security Business Directory ( www.hsbd.co.za) for further details on these companies.
Credit(s)
Further reading:
Patient critical – healthcare's cybersecurity pulse
August 2019, Wolfpack Information Risk , News, Cyber Security, Healthcare (Industry)
The healthcare industry has become one of the leading cybersecurity attack vectors worldwide for several reasons.
Read more...
---
Milestone partners prove their skills
August 2019, Milestone Systems , News, CCTV, Surveillance & Remote Monitoring, Training & Education
Within the span of one week in mid-May, the Milestone Learning & Performance group celebrated important benchmarks: 200 000 course registrations and tutorial views, and 10 000 certifications.
Read more...
---
ONVIF Hosts 20th Developers' Plugfest
August 2019 , News, CCTV, Surveillance & Remote Monitoring
ONVIF, the global standardisation initiative for IP-based physical security products, hosted its twentieth ONVIF Developers' Plugfest in early June in Tokyo.
Read more...
---
Licence plate recognition camera
August 2019 , Products, CCTV, Surveillance & Remote Monitoring
VIVOTEK has introduced a new licence plate recognition camera featuring built-in licence plate recognition software and edge-computing capability.
Read more...
---
Securing Savannah Hills Estate
August 2019, Rhyco Risk Projects , CCTV, Surveillance & Remote Monitoring, Perimeter Security, Alarms & Intruder Detection
Savannah Hills Estate in Midrand planned a security upgrade which was awarded to Rhyco Risk Projects. The project started in March 2019 and was completed in May 2019.
Read more...
---
10 things to consider when shopping for a VMS
August 2019, Genetec , CCTV, Surveillance & Remote Monitoring, Integrated Solutions
Today's video management systems (VMS) provide a wide range of tools and capabilities that help make security personnel more efficient by allowing them to focus on what really matters.
Read more...
---
How far are we really at with artificial intelligence?
August 2019, Axis Communications SA , Editor's Choice, CCTV, Surveillance & Remote Monitoring, IT infrastructure, Residential Estate (Industry)
Justin Ludik unpacks exactly how far AI has come and what it potentially can do for society and more importantly, surveillance.
Read more...
---
Enhancing security with AI
August 2019, Hikvision South Africa , CCTV, Surveillance & Remote Monitoring
Hikvision explains how residential estates can revolutionise their security strategies and outcomes with artificial intelligence.
Read more...
---
More than simply a camera
August 2019, Forbatt SA, Secutel Technologies , CCTV, Surveillance & Remote Monitoring, Residential Estate (Industry)
With the human element being the weakest link in all security solutions, Hi-Tech Security Solutions looks at the pros and cons of using body-worn cameras in estates.
Read more...
---
The importance of effective perimeter security
August 2019, Elf Rentals - Electronic Security Solutions, Stafix , Editor's Choice, CCTV, Surveillance & Remote Monitoring, Residential Estate (Industry)
Protecting the perimeter is critical for any residential estate; how does one go about making sure your perimeter is as secure as possible?
Read more...
---