printer friendly version
Analogue still pushing higher resolutions
CCTV Handbook 2017
CCTV, Surveillance & Remote Monitoring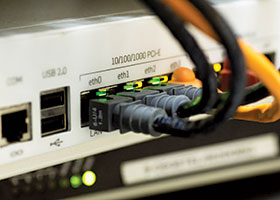 HD analogue technology seems to be given the cold shoulder by many of the leading surveillance brands the world over, but these solutions have found a home in the lower end of the market. Their adoption is partially due to the low cost of HD analogue systems and partially to the interoperability with older analogue installations.
When HD analogue first appeared on the scene, it offered high definition images (just), which for a short time was impressive for analogue. However, the technology has advanced to where it is today and it's not uncommon to find 3 MP or 4 MP systems. Of course, technology never stops evolving and the various manufactures are still at work, with some now boasting 4K resolution.
Today there are basically three players in the HD analogue field:
• Analogue High Definition (AHD) developed by Korea's NextChip and sold by OEMs such as Samsung and ProVision, among others.
• HD-CVI (Composite Video Interface) was developed by Dahua and has since been licensed to a few others, such as FLIR and Honeywell.
• HD-TVI (Transport Video Interface) developed by Techpoint and sold by Hikvision and other smaller companies.
In the CCTV Handbook 2016, we mentioned that the jury was still out as to which HD analogue technology would be the eventual winner, and it still is. However, it seems the various formats of HD analogue have decided to cooperate rather than compete.
To find out more about what is happening in the HD analogue world, Hi-Tech Security Solutions asked three vendors for some insight into the field. We spoke to Dahua, Hikvision and Hitek Security (a company that sells the ProVision-ISR brand).
Which to choose?
While HD-TVI has been Hikvision's HD analogue format of choice, when asked about what standard it supports and the latest developments in this format, Matthew Guo, technical director for Hikvision Africa says, "The main HD analogue solutions include TVI, CVI and AHD. The developments in these technologies have seen the resolutions available reaching Ultra-HD, 3 MP, 4 MP, 5 MP and 8 MP, and also to the convergence of those technologies as they become compatible with each other."

Matthew Guo.
The Hikvision HD analogue solution, Turbo HD, goes to ultra-HD according to Guo, supporting up to 8 MP and 4K HMDI output. It's a HD-TVI camera, but is compatible with other HD analogue standards. It also supports PoC (power over coax), to further simplify installation and save on costs.
Dahua, on the other hand, supports HD-CVI (High Definition Composite Video Interface), which was developed by the company. "In 2016, Dahua released HD-CVI 3.0 with the core values of full compatibility, simplicity, Ultra HD and intelligence. We launched the very first HD-over-coax technology that achieves 4K Ultra-HD (8 MP) and the transmission distance now reaches up to 700 m. Furthermore, HD-CVI provides full compatibility with almost all popular formats on the market."
The final contributor is Tomer Elhadad, CEO of HiTek Security. He advises that Hitek supports the AHD format, which now offers 4 MP cameras and DVRs.
The compatibility question
In many cases, the prime target for the HD analogue kit would be those companies that have analogue solutions installed and are looking to upgrade to megapixel video, but want to save on the cost of IP video and make as much use of their existing kit as possible. But how realistic is this?
Is it simply a matter of putting down a new camera and off you go? Or do you need to change DVRs and some of the other little things people never consider when costing an installation?
Elhadad says that most of the Provision cameras and DVRs of up to 2 MP still support analogue input, so users can upgrade the DVR and use old analogue cameras or buy AHD HD 2 MP cameras and use them as analogue systems.
Dahua says that with the deployment of HD-CVI systems, customers are able to seamlessly upgrade traditional analogue systems simply by replacing their DVRs and some or all of their analogue cameras. "Current cabling can be preserved, whether it is coaxial cable, UTP or Cat 5 cable."
Moreover, users need not be concerned with power cabling because HD-CVI supports PoC and, according to the company, HD-CVI has very good tolerance to imperfect cable conditions and guarantees long-distance transmission. It supports up to 700 m for 4 MP/4K UHD, 800 m for 1080p Full HD video via coaxial cable, and up to 300 m via UTP cable.
Guo notes that Hikvision's Turbo HD solution also supports PoC as one coaxial cable carries both the video signal and the power supply. "That means the existing cables can be well utilised, users only need to replace the devices without the trouble of re-cabling. This translates to reduced installation time, which also translates to a reduction in both installation and material costs."
Market uptake
As noted above, the primary market for HD analogue has been smaller installations. At the same time, the uptake of IP surveillance continues to grow. However, according to Dahua, there is still a large group of customers staying with analogue systems because of its simplicity, information security and good cost-performance ratio.
The company also sees high demand for upgrading traditional analogue systems to HD analogue around the world. "The HD-CVI system is a better choice, especially for applications where it is inconvenient to change the cabling. Based on our statistics, sales of HD-CVI solutions keep rising year on year."
Guo adds that IP and HD analogue will still co-exist for a long time. "For price-sensitive customers and those with limited technical skills who still require high resolution, HD analogue is a very suitable and cost-effective solution."
In Elhadad's experience, in the mid-market AHD is the preferred option due to price and value for money, but at the corporate level and for complex installations IP is still the first option.
Looking ahead
When asked what we can expect from their products in the near future, Guo says Hikvision will soon release its latest generation of Turbo HD solution, the Turbo HD 4.0. This solution will offer Ultra 4K output, 8 MP resolution, PoC, and the range will also include models incorporating Hikvision's Darkfighter technology, providing ultra-low light illumination. It will also feature enhanced encoding technology based on H.265, which is touted to reduce bit rate and bandwidth by over 50% compared to H.264, without compromising image quality.
Elhadad says the AHD models Hitek sells have moved away from 1.3 MP systems and standardised on 2 MP. In addition, in a few months the 4 MP systems will be available as the standard. While from Dahua we have a 4 MP HD-CVI system as well as a 4 MP Fisheye HD-CVI camera available.
For more information:
Dahua: www.dahuasecurity.com
Hikvision: www.hikvision.com
Hitek Security: www.hiteksecurity.net
Refer to Hi-Tech Security Business Directory ( www.hsbd.co.za) for further details on these companies.
Credit(s)
Further reading:
A step up in safety
Issue 4 2020 , CCTV, Surveillance & Remote Monitoring
With the COVID-19 pandemic, body-worn cameras (BWC) now play an even more important role in safety and accountability than ever before, ensuring a more significant option in the protection of employees.
Read more...
---
Latest Longse thermal technology
Issue 4 2020, LD Africa , CCTV, Surveillance & Remote Monitoring
Longse thermal IP cameras include remote monitoring, a video server and high-definition camera functions.
Read more...
---
LenelS2 enhances VRx VMS
Issue 4 2020, UTC Fire & Security SSA , CCTV, Surveillance & Remote Monitoring
LenelS2 announces enhancements to VRx video management system, uses deep learning and native NetBox ecosystem integration for a unified security management experience.
Read more...
---
Empowering verticals with AI
Issue 4 2020, Dahua Technology South Africa , CCTV, Surveillance & Remote Monitoring
Dahua Technology has released WizMind, a portfolio of project-oriented products delivering AI solutions to verticals including government, retail, energy, finance and transportation.
Read more...
---
Touch-free face recognition terminals
Issue 4 2020, Hikvision South Africa , Access Control & Identity Management
Hikvision announces touch-free MinMoe face recognition terminals for easier access control and time and attendance.
Read more...
---
Safety and productivity for retailers
Issue 4 2020, Dahua Technology South Africa , CCTV, Surveillance & Remote Monitoring
Dahua Technology launches retail epidemic safety protection solution to enhance store operation safety under COVID-19.
Read more...
---
Non-contact and visual protection measures
Issue 4 2020 , CCTV, Surveillance & Remote Monitoring
Non-contact and visual protection measures to contain the coronavirus – Geutebrück extends its product portfolio by three DSGVO-compliant video solutions.
Read more...
---
Smart is the new black
Issue 4 2020 , CCTV, Surveillance & Remote Monitoring
The idea of 'smart' is becoming a reality in almost every aspect of our business and personal lives, from home security and lifestyle, through to smart buildings and smart working processes.
Read more...
---
Smarter monitoring with AI
Issue 4 2020 , CCTV, Surveillance & Remote Monitoring
Deep Data's DeepAlert is changing the security monitoring market (remote and on-site) with deep learning and cloud services.
Read more...
---
Upgrade your current security system with SecuVue
Issue 4 2020, Secutel Technologies , CCTV, Surveillance & Remote Monitoring
Cloud-based analytics can be added to existing CCTV solutions to upgrade the efficacy and value the installation adds.
Read more...
---