printer friendly version
Power over Ethernet primer
April 2017
CCTV, Surveillance & Remote Monitoring
The continual push towards ever-faster data transmission is a phenomenon with which we are all familiar. In a relatively short space of time, Internet speeds have increased from the bad old days of dial-up, through the advent of ISDN and then ADSL, to today's rapid uptake of fibre and the proliferation of wireless. In parallel with these developments has been a commensurate evolution in the speed of Ethernet, which forms the backbone of a typical office's or factory's local area network.
Governed by the IEEE's (Institute of Electrical and Electronic Engineers) 802.3 grouping of standards, Ethernet speeds have climbed from 10 megabits per second (Mbps) when it was introduced in 1983, to the 1 gigabit per second (Gbps) and 10 Gbps rates commonly deployed today. In one aspect, though, for a long time traditional telephone systems had Ethernet licked: they could transmit power as well as voice signals. That changed in 2003 when the IEEE 802.3af standard (Power over Ethernet, or PoE) was ratified.
Based on the same 48 V d.c. voltage used in plain old telephone service (POTS) analogue circuits, the first PoE standard provided for the transmission of up to 15,4 W over the same category network cable used for data. Since category network cable has four pairs of wires, and only two are used for data transmission, the remaining two are available to carry power.
The reason for the 15,4 W power limit is the wires inside category network cables are very thin, and therefore cannot carry much current before their internal resistance starts to significantly inhibit the flow of energy through them. What's more, attempting to carry too much current through the cable poses a risk of overheating, and ultimately a fire hazard. The same consideration is behind the use of 48 V, rather than the 12 V and 24 V more commonly used throughout the security industry: the higher the voltage, the less current is needed to supply the same amount of power.
In 2009, a second PoE standard – IEEE 802.3at – doubled the power ceiling to 30 W. Called PoE+, it is governed by the same 100 metre distance limit as any other modern Ethernet cable (PoE included) but greatly enhances the flexibility and adaptability of Power over Ethernet deployments by meeting the power requirements of a broader variety of devices.
Although power sourcing equipment (PSE) such as PoE-enabled network switches are intended to support plug-and-play according to the IEEE standards, not all are created equal. For example, one can expect cheaper PSE to have inferior internal power supply circuitry, which may result in less than the necessary power being available to the powered device (PD) at the other end of the cable. It is also not uncommon, even in more expensive and higher-quality switches, that the rated output power cannot be supplied by every PoE-enabled port, or all those ports at the same time.
Some vendors are also pushing power boundaries by offering products that can supply up to 60 W using all four wire pairs in a Cat5e cable. While this is more than the current standard allows, it is not an absolute no-no provided the device is meticulously designed and manufactured according to a robust regime of electrical principles. To meet the growing power hunger of modern applications, the IEEE is busy working on a new standard aimed at supporting up to 100 W using all four pairs of balanced twisted-pair cabling, in addition to achieving lower standby power and specific enhancements to support IoT applications such as lighting, sensors, and building automation. That standard – IEEE 802.3bt – is expected to be ready early next year, and silicon chip makers have products available to support equipment vendors that are already doing R&D and looking to become early adopters.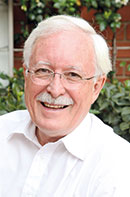 Rob Anderson.
As Power over Ethernet's power limits have increased, so too has the number of potential use cases. What began as a solution adopted mainly for voice-over-IP phones, Ethernet switches and IP cameras, is now becoming more widely used in the security industry, according to Rob Anderson from consulting firm Adamastor Consulting. "It has grown rapidly over the last year," he says. "Nowadays switches, CCTV, access control and LED lighting all form part of the PoE/PoE+ ecosystem."
Although he says it is generally the case that equipment from different vendors play nice with each other, Anderson warns that "the biggest problem is surge protection. We have witnessed massive damage to data connections during the year. It seems that not all the suppliers of surge protection have found the magic solution for a cable carrying power and data. There is lots of work to do in this area."
Anderson summarises by explaining that the choice of whether to use Power over Ethernet in a particular installation depends on several factors, chief among which are cost versus savings in labour. He also warns that "there is lots of pushing the envelope to increase the power available and the distance of power transmission. There will be some burnt fingers I am sure."
For more information, contact Adamastor Consulting, +27 086 099 5269, rob@adamastor.co.za, www.adamastor.co.za
Further reading:
Milestone partners prove their skills
August 2019, Milestone Systems , News, CCTV, Surveillance & Remote Monitoring, Training & Education
Within the span of one week in mid-May, the Milestone Learning & Performance group celebrated important benchmarks: 200 000 course registrations and tutorial views, and 10 000 certifications.
Read more...
---
ONVIF Hosts 20th Developers' Plugfest
August 2019 , News, CCTV, Surveillance & Remote Monitoring
ONVIF, the global standardisation initiative for IP-based physical security products, hosted its twentieth ONVIF Developers' Plugfest in early June in Tokyo.
Read more...
---
Licence plate recognition camera
August 2019 , Products, CCTV, Surveillance & Remote Monitoring
VIVOTEK has introduced a new licence plate recognition camera featuring built-in licence plate recognition software and edge-computing capability.
Read more...
---
Securing Savannah Hills Estate
August 2019, Rhyco Risk Projects , CCTV, Surveillance & Remote Monitoring, Perimeter Security, Alarms & Intruder Detection
Savannah Hills Estate in Midrand planned a security upgrade which was awarded to Rhyco Risk Projects. The project started in March 2019 and was completed in May 2019.
Read more...
---
10 things to consider when shopping for a VMS
August 2019, Genetec , CCTV, Surveillance & Remote Monitoring, Integrated Solutions
Today's video management systems (VMS) provide a wide range of tools and capabilities that help make security personnel more efficient by allowing them to focus on what really matters.
Read more...
---
How far are we really at with artificial intelligence?
August 2019, Axis Communications SA , Editor's Choice, CCTV, Surveillance & Remote Monitoring, IT infrastructure, Residential Estate (Industry)
Justin Ludik unpacks exactly how far AI has come and what it potentially can do for society and more importantly, surveillance.
Read more...
---
Enhancing security with AI
August 2019, Hikvision South Africa , CCTV, Surveillance & Remote Monitoring
Hikvision explains how residential estates can revolutionise their security strategies and outcomes with artificial intelligence.
Read more...
---
More than simply a camera
August 2019, Forbatt SA, Secutel Technologies , CCTV, Surveillance & Remote Monitoring, Residential Estate (Industry)
With the human element being the weakest link in all security solutions, Hi-Tech Security Solutions looks at the pros and cons of using body-worn cameras in estates.
Read more...
---
The importance of effective perimeter security
August 2019, Elf Rentals - Electronic Security Solutions, Stafix , Editor's Choice, CCTV, Surveillance & Remote Monitoring, Residential Estate (Industry)
Protecting the perimeter is critical for any residential estate; how does one go about making sure your perimeter is as secure as possible?
Read more...
---
Security playing speedcop
August 2019, Axis Communications SA, Hikvision South Africa , CCTV, Surveillance & Remote Monitoring, Residential Estate (Industry)
Estates now have a legal precedent to manage their traffic and fine people in the estate for violations of the rules; all they need do is find solutions that will support them.
Read more...
---