printer friendly version
Body-worn cameras to surge?
CCTV Handbook 2017 CCTV, Surveillance & Remote Monitoring, Integrated Solutions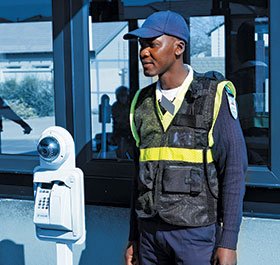 The consumer market has seen a dramatic uptake in wearable technology over recent years, and in the security market we are seeing a similar trend. Body-worn cameras are becoming must-have accessories for police forces the world over, with numerous studies showing their efficacy in reducing crime and unwanted conduct, both from the public and the police.
Unfortunately, in South Africa these devices have not taken off as one would have hoped. Nevertheless, the potential of body-worn cameras is enormous and the market has reacted to this growing trend. Technavio is a market research company and it published a report into the 'global wearable security devices market,' and its results say that the market will see a compound annual growth rate of about 19% by 2021.
Of course, as in all surveillance operations, the body-worn camera market does not only depend on the devices themselves, but also on the communications technologies, the storage, the mechanism for downloading and working with the video data, and most important of all, the people involved.
To find out more about these devices, Hi-Tech Security Solutions asked three body-worn manufacturers operating in South Africa for some insights into the market and what they offer. Reflecting the potential of the local body-worn market, two of the companies are local, producing their own devices and software, while the third is Kedacom, a Chinese company that recently launched in South Africa – with considerable fanfare.
When focusing on the area of body-worn cameras, one must ask why this technology has not seen as much traction in South Africa, both in terms of public and private security services, as it has in America, Europe and Asia. Keith Lawrence, CEO of local designer Betatrac Telematic Solutions, admits it is taking a bit longer for local people and companies to accept that body-worn cameras are great products for assisting and supporting security service providers in gathering information.
"However, while we do receive more enquiries into body-worn cameras as we go along, there are concerns that the video data is not live to enable real-time reaction, for example. However, he says it does not have to be live, as long as the data is accurate, safely stored upon manual download and managed, and that all the evidence for a post analysis is available."
Moreover, he says that there are different body-worn models for different situations and those situations that warrant live video feeds can easily be catered for.
Sam Zou from Kedacom (distributed in South Africa by Forbatt SA), says that while body-worn cameras are being adopted to record the process of law enforcement in the USA and Europe, providing evidence of whether police officials act within their boundaries, in SA the safety conditions are much worse and providing evidence afterwards is not the ultimate requirement.
Zou says that in South Africa, real-time alarms and protecting police officers or security staff is much more important. "That's the reason body-worn cameras have not been widely adopted in SA yet."
Yet, it's not simply a matter of not wanting to use body-worn cameras or not seeing value in them. Kevin Croft from Body Cameras South Africa, another local player in this market, says that in his experience, both private security companies and government organisations are excited about the technology and clearly see the potential benefits, but are not yet ready to spend the money.
Some benefits Croft sees from body-worn cameras include:
• Evidence collection is far more cost-effective.
• Protection for the public against rogue police officers and other security personnel.
• Protection for security officers and police as it helps them justify their actions (such as the use of lethal force).
• Procedure compliance as officers tend to follow procedures properly.
"There have been some very successful pilot projects (for example, CCID in the Western Cape), but businesses are reluctant to be first movers when significant investment (of both time and money) is required in the current economic environment. The other potential concern is that legislation tends to lag technology. In other words, how do security companies and/or police officers successfully make use of the evidence collected from body-worn cameras without clear legal guidelines. "Another question is what impact does legislation like the PoPI Act have on the collection and use of video surveillance files?"
The bandwidth bugbear
One of the issues with body-worn cameras, and mobile security solutions in general is that the costs of transmitting video while on the move can be enormous. As noted above, some environments don't require live streaming, but the benefit of these devices is that the wearer can push a button and alert a control room when something goes wrong. In these instances, the controllers need to see what is happening so they can react and send assistance or do whatever is required. Therefore, some form of live transmission is normally required, even if it does not entail continual live streaming.
Croft agrees that streaming video continuously is not required, but that there must be occasions when it can be done reliably and in real time. "One of the products we sell only starts streaming when the control room logs into the camera. This ensures that there is no unnecessary expenditure on data, even though the video stream is compressed while the local recording stays at full resolution."
Lawrence concurs that, in general, a live-streaming body-worn camera would have compression technologies such as H.264, which helps in reducing the size of the data streamed. "In SA, unfortunately, our [cellular] networks are among the highest in the world on data charges, and this is a dampening and limiting factor of implementing live body-worn cameras."
The question of coverage is also a concern as tests have shown that even when a mobile operator claims there is 3G or 4G coverage in an area, as soon as one starts streaming you find very poor quality images. "To overcome this problem, Betatrac created a Wi-Fi real-time video streaming body-worn camera," says Lawrence. The requirements of a Wi-Fi setup with great signal and bandwidth with a sufficient footprint area is all that is required. This type of installation saves hugely on network data charges."
Zou adds that certain scenarios, like jails for example, would be ideal for Wi-Fi cameras. A WI-FI network offers good coverage in a restricted area such as this, meaning users don't need to worry about the transmission issue. Kedacom also used H.264 to compress the video its body-worn cameras transmit and will be making use of H.265 in future, which promises even better compression without quality loss.
Kedacom also provides an innovative technology called KWTP (Kedacom Wireless Transmission Protocol), which is able to dynamically adjust the frame rate, size and time gap of each packet. This makes wireless transmission more stable and smooth.
Finger trouble
Another issue many have with using body-worn cameras is that of theft and damage. These devices are a tempting target for thieves, while people wearing them may decide to drop them or damage them in some way to hide what they are up to.
"All of our cameras are password protected and have built in memory," says Croft. "This ensures that recorded footage cannot be erased from the device and users cannot 'accidentally' lose the memory cards. Our top of the range unit has a built-in GPS with live tracking and this enables control rooms to track the physical location of the camera.
"Additionally, all our cameras are designed to be inconspicuous, unlike some other products that could draw attention to themselves (and potentially endanger the officer) by making use of an outward facing screen."
Kedacom's cameras are also GPS enabled for real-time tracking. They are also designed to prevent accidental erasure of footage, and they are built to withstand a drop of up to two metres.
Live streaming cameras generally have a GPS and some modules accommodate a panic button with supportive software to be able to monitor the location, adds Lawrence. This is obviously not required when live streaming is not used. Betatrac has developed a hybrid to overcome these shortfalls (more on this later).
And it's not all about technology, notes Croft. "What happens if an officer wants to lose or destroy their camera? We always advise our clients to implement any new technology in conjunction with a built-for-purpose SOP (standard operating procedure). This document needs to outline the user's responsibility and the consequences for failing to adhere to it."
Integration is integral
It's all well and good to talk about the products and their benefits, but since body-worn devices are a fairly new idea in South Africa, the reality is that most companies looking at adopting these systems will already have some security solution in place. The ability to integrate the new body-worns with the existing infrastructure is a critical buying decision.
If the system is not plug-and-play with existing equipment, there must at least be some way in which the body-worn data can be integrated with the other security information the company collects.
Kedacom provides its own docking station and uploading solution that is easy to use and secure, however, Zou says it also provides standard compatibility through ONVIF or RTSP streams that can easily be directly integrated to other vendors' systems. The company also provides its software development kit (SDK) for deeper integration.
When it comes to integrating live streams, Lawrence says these body-worn systems are generally supplied with their own monitoring software. "To integrate into other database or VMS systems, some minor development will need to be applied to allow a plug-in. As for historic playback SD storage systems, there are many aftermarket software packages to assist in the storage and filing of these video clips."
Body Cameras South Africa does not dictate what storage solutions must be used in conjunction with its product. "We do supply media management software (at no additional cost) and our live view and tracking software is purpose built for our cameras, but the storage of mass data is something that each customer must decide for themselves in terms of what makes the most sense for them," says Croft. "We can consult on the issue and help them decide what to do, but ultimately this decision must tie into their data retention policy."
Products available now
While the ins and outs of body-worn cameras is a subject we will no doubt be hearing about for many years to come, each of the companies represented here have their own solutions to offer the market.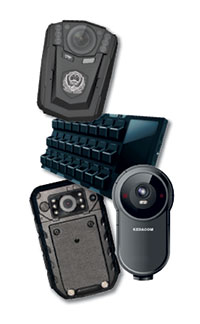 Body Cameras South Africa offers a range of products from an entry level camera through to a fully connected system. "All of our cameras have video and audio recording in various resolutions, infrared night vision and laser guided focus," explains Croft. "Our entry-level model comes with a spare battery, while the more advanced cameras boast up to nine and ten hours of continuous recording time.
"Our top-of-the-range model has built-in GPS, Wi-Fi, 3G/LTE and Bluetooth. Our cameras are currently being used in the following services/situations: cash-in-transit, armed response, firearms training, the police, mining and private investigations."
For Betatrac, Lawrence says, "Our RapidCam-100 system is a historic playback via SD card solution. What makes our system so unique is by adding our eGuard Armband which utilises telematics over the GSM network. We have now created a unique hybrid solution with a real-time position update every 30 secs, plus the advantage of having a panic button, with all the audio and video data available upon manual download.
"Our RapidCam-200 is a Wi-Fi live streaming system, provided there is Wi-Fi footprint to take advantage of live streaming. It also comes with a panic button. Our RapidCam-300 is a combination of Wi-Fi and 3G/4G live streaming. The system defaults to Wi-Fi, but if not available it automatically switches to 3G/4G. It comes standard with built in GPS, a panic button and supportive monitoring software."
Zou says that Kedacom has a range of solutions that cover the devices on the edge to the control room and servers. On the front end, apart from body-worn cameras, Kedacom also provides body-worn surveillance phones which allow companies to install versatile apps for surveillance monitoring. In addition, the company also provides 'invisible cameras' such as button cameras and ear-hook cameras for clandestine recording.
In the mid-end, Kedacom provides a docking station for recording downloading recorded video and video management, while at the back-end the company provides a VMS for central management and storage.
"The central management software is used for real-time management and communication among multiple persons, with snapshot and audio functionality available," Zou says. "This equipment is deployed in a private network rather than public network, which makes the system safer.
"For small to medium-sized clients, we provide a solution-based NVR for real-time transmission and video management. And the body-worn cameras themselves can be integrated into normal surveillance systems for unified management."
For more information:
Betatrac Telematic Solutions: www.betatrac.com
Body Cameras South Africa: www.bodycameras.co.za
Kedacom: www.forbatt.co
Refer to Hi-Tech Security Business Directory (www.hsbd.co.za) for further details on these companies.
Credit(s)
Further reading:
Smart water management
Axis Communications SA CCTV, Surveillance & Remote Monitoring Integrated Solutions
South Africa is currently facing a water crisis, with scarcity and inefficient water management posing significant challenges to sustainable, consistent access to water. Smart technology and powerful partnerships may offer a proactive solution to SA's water crisis.
Read more...
---
Helping retailers optimise monitoring and security
Guardian Eye Retail (Industry) CCTV, Surveillance & Remote Monitoring
From a smart retail perspective, it is crucial to understand that monitoring stock and other assets through camera surveillance and a variety of Internet of Things (IoT) sensors stretches further than the stores themselves.
Read more...
---
Empowering Istanbul's public transportation
Dahua Technology South Africa CCTV, Surveillance & Remote Monitoring Integrated Solutions
Dahua's intelligent transportation solution, using technologies like DSM and AI-based passenger flow counting, has facilitated an intelligent system upgrade for nearly 6 400 minibuses and electric buses in Istanbul.
Read more...
---
Smart manufacturing redefined
Hikvision South Africa CCTV, Surveillance & Remote Monitoring Industrial (Industry)
AI and intuitive visualisation technology allows managers to monitor manufacturing sites, production, and operational processes, and to respond in real time in the event of an issue – helping to drive efficiency and productivity.
Read more...
---
AI is getting smarter, and critical infrastructure is set to benefit
Axis Communications SA CCTV, Surveillance & Remote Monitoring
With technology advancing at an astonishing pace, AI has emerged as a defining trend in today's business arena. Enterprises across all sectors are prioritising this technology, embracing its transformative potential to drive change and growth.
Read more...
---
Collaboration delivers integrated and holistic security
Guardian Eye CCTV, Surveillance & Remote Monitoring News Integrated Solutions
Guardian Eye and Lytehouse have partnered to integrate their speciality solutions and provide a holistic security offering that overcomes the fragmentation of security systems and services.
Read more...
---
Manage security systems remotely
Hikvision South Africa CCTV, Surveillance & Remote Monitoring IT infrastructure Products
Hikvision launched a new generation of smart managed switches that, in conjunction with the Hik-Partner Pro mobile app, enable installers to remotely deploy and configure security systems with comprehensive operation and maintenance capabilities.
Read more...
---
Synology enhances functions for advanced surveillance integration
Technews Publishing CCTV, Surveillance & Remote Monitoring IT infrastructure Products
With the capability to function as both an API client and server, Surveillance Station offers a versatile platform for integration, whether it's embedding video streams into other platforms or overlaying external data onto recorded video.
Read more...
---
SMART Surveillance Conference 2023
Technews Publishing Editor's Choice CCTV, Surveillance & Remote Monitoring Conferences & Events
Some people think the future is all about cloud technologies, but the SMART Surveillance conference demonstrated that AI is making edge surveillance much more attractive, over distributed sites, than ever before.
Read more...
---
Supporting CCTV intelligence with small and big data
Leaderware Editor's Choice CCTV, Surveillance & Remote Monitoring
The increasing development of AI and its role in enhancing investigation-led surveillance, and the increasing capacity of control rooms and local analysts to deliver data in return, can increase the synergy between intelligence and surveillance.
Read more...
---