printer friendly version
How the types of surveillance impact on control room and workstation design
April 2017 Editor's Choice, CCTV, Surveillance & Remote Monitoring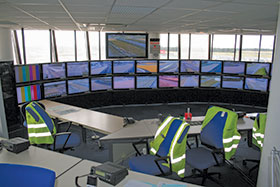 People often speak about CCTV surveillance as a relatively simple thing. In a sense, installing a control room and cameras is seen as a one size fits all process. However, there are many aspects to surveillance which impact on the infrastructure, control room design, monitor configuration, controls, and people and training that are needed for delivering performance.
The sites or areas, situations, targets, camera profiles, and information usage will all impact on the type of surveillance done. The types of crime and manner in which they are carried out will define what needs to be looked for, and the type of camera would also change how things should be displayed.
The use of thermal cameras introduces additional complexity in some aspects. Even the range of a camera can impact on what is displayed and needs to be identified on monitors. In some cases, video analytics may be used effectively, while in others it may produce excessive false alarms and detract from effective performance. I've highlighted a few surveillance types below to highlight how what is being viewed can influence the workstation design and types of equipment being used.
Types of surveillance
Presence
Presence relates to whether a particular object or person exists in a place where it shouldn't be. This is usually related to time, but can also involve types of areas.
Camera patrols is one aspect of this where the operator switches camera on one screen, or systematically views a set of screens for any presence. In CCTV traffic monitoring, congestion and illegal use of roadways is relatively clear and violations are easy to spot. A car in a bus lane, for example, is difficult to miss if you are monitoring the screens and they have been laid out effectively. Use of blank screen technology where motion detection is used and screens are activated is another example of this. Viewing and classification of presence issues is relatively simple and the size of the camera image displayed can be relatively small.
Movement and positioning
The detection of movement or positioning becomes slightly more complex than mere presence. For example, movement of people towards a fence line rather than along it. Also, stopping of movement at particular points which are known risk areas.
People waiting near high risk or vulnerable areas where subsequent actions may be directed at such areas. People moving in a pattern which indicates that they may be looking at a way through or over a perimeter area rather than moving past in a conventional way.
Times of day have a big implication in this respect, and use of thermal or infrared cameras for detection at night or use of conventional cameras in lit up areas are common applications. Video analytics for such activities needs to be relatively complex. It is not just movement detection, but directional movement, or even lack of movement from people staying still in a particular area.
In many of these cases, having larger camera images on large screens or having dedicated monitors are necessary. Some anticipation and interpretation are necessary in viewing such behaviour, and early detection can allow a prediction of what is to come.
General behaviour
General behaviour of people such as movement in a plant, on a street, access points for estates, or shopping area that is useful in that deviations from more obvious behaviour highlight that something is going on. Problem situations characterised by bunching of people, delays in processing of vehicles, obvious movement away from threats, and blatant crime situations like armed robberies stand out in this scenario.
Similarly, where timing is changed, or speed of movement is different, such incidents can be detected. Screen displays should be of a sufficient size to observe general behaviour, although it needs to be considered that predication of crime behaviour is sometimes difficult when observing general behaviour.
Crime behaviour
Behaviour linked to a particular type of crime, for example shoplifting, or theft of gold bearing material, usually requires some closer viewing of people. This requires a view of the person and surroundings in order to observe the behaviour and put it in context. The general body language of an individual needs to be observed in this context.
The screen display size should allow for this. The surveillance approach in the City of Cape Town provides a good example of this where a spotter in the control room identifies potentially suspicious activity in an area, and then hands this off to an operator who then views the suspect more closely on a dedicated monitor.
Subtle crime behaviour
Crime characterised by small and subtle behaviours in a working place or town centre environment requires close up monitoring of people and a sensitivity to small and subtle body language. Something like diamond theft, street exchanges of drugs, pick pocketing, food and beverage theft, and some shoplifting examples fall into this category.
There is a need to check hand movement and placement, quick movements and interactions, and specific body clues. Usually, full monitor viewing of suspects is required for detection in these kinds of conditions.
Profiling
Extended viewing of particular suspects requires tracking of people and their activities, interactions, work and personal habits over extended periods. This usually requires dedicated monitors, or in some cases, the use of grouped camera views in order to track people between areas seamlessly.
Use of large screens with a set of clearly viewable camera views is the ideal for these. The ability to use PTZ cameras is also an element of this.
Reviewing
Reviewing of video either takes place when auditing previous surveillance footage, or specifically looking at an event or behaviours that have been identified for closer inspection, or when an incident has been identified. Investigations personnel would also use this approach to examine footage.
Dedicated camera views, if necessary on large screens, need to provide clear views of areas and body language. As in profiling, it may also mean that groups of camera views can be used on a large screen. Given that there is a combination of both crime and subtle crime behaviour being looked at, there should be the possibility of clear views of individual behaviour, including subtle behaviour cues.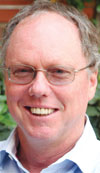 Control room and workstation design should therefore be fit for purpose. It is important to clarify exactly what kinds of surveillance you are wanting to do, and you may have several different workstations within the same control room with different functions. The nature of the layout, screens, access to features can all have a significant effect on the success of the type of surveillance work being performed.
Dr Craig Donald is a human factors specialist in security and CCTV. He is a director of Leaderware which provides instruments for the selection of CCTV operators, X-ray screeners and other security personnel in major operations around the world. He also runs CCTV Surveillance Skills and Body Language, and Advanced Surveillance Body Language courses for CCTV operators, supervisors and managers internationally, and consults on CCTV management. He can be contacted on +27 (0)11 787 7811 or craig.donald@leaderware.com
Credit(s)
Further reading:
Why rehearsals and drills for crises and evacuation are so important
August 2019, Leaderware , CCTV, Surveillance & Remote Monitoring, Security Services & Risk Management
The rehearsal of concept (ROC) drill has been used extensively in the military, but is just as important when facing risks in organisations and institutions to protect people on the ground.
Read more...
---
Milestone partners prove their skills
August 2019, Milestone Systems , News, CCTV, Surveillance & Remote Monitoring, Training & Education
Within the span of one week in mid-May, the Milestone Learning & Performance group celebrated important benchmarks: 200 000 course registrations and tutorial views, and 10 000 certifications.
Read more...
---
ONVIF Hosts 20th Developers' Plugfest
August 2019 , News, CCTV, Surveillance & Remote Monitoring
ONVIF, the global standardisation initiative for IP-based physical security products, hosted its twentieth ONVIF Developers' Plugfest in early June in Tokyo.
Read more...
---
Licence plate recognition camera
August 2019 , Products, CCTV, Surveillance & Remote Monitoring
VIVOTEK has introduced a new licence plate recognition camera featuring built-in licence plate recognition software and edge-computing capability.
Read more...
---
Keeping our changing environment secure
August 2019 , Editor's Choice, Security Services & Risk Management
For a crime to take place there needs to be a victim and a criminal who sees an opportunity. For a cybercrime to take place we need the same set of circumstances.
Read more...
---
Augmented security with drones
August 2019, Drone Guards , Editor's Choice, Integrated Solutions
Drone Guards is moving into an untapped market of using drones to secure residential estates and other high-value assets such as mines, farms and commercial properties.
Read more...
---
The importance of real security risk assessments
August 2019, Sentinel Risk Management , Editor's Choice, Security Services & Risk Management, Residential Estate (Industry)
Andy Lawler, MD, Sentinel Risk Management, says a security risk assessment is an onerous task, but is not something estates can consider optional or a luxury item anymore.
Read more...
---
Risk assessment or product placement?
August 2019, Technews Publishing, Alwinco, SMC - Security Management Consultants , Editor's Choice, Security Services & Risk Management, Residential Estate (Industry)
Hi-tech security solutions asked a couple of experts to provide estate managers and security managers with some insights into what a 'real' risk assessment includes.
Read more...
---
How far are we really at with artificial intelligence?
August 2019, Axis Communications SA , Editor's Choice, CCTV, Surveillance & Remote Monitoring, IT infrastructure, Residential Estate (Industry)
Justin Ludik unpacks exactly how far AI has come and what it potentially can do for society and more importantly, surveillance.
Read more...
---
The importance of effective perimeter security
August 2019, Elf Rentals - Electronic Security Solutions, Stafix , Editor's Choice, CCTV, Surveillance & Remote Monitoring, Residential Estate (Industry)
Protecting the perimeter is critical for any residential estate; how does one go about making sure your perimeter is as secure as possible?
Read more...
---